Rice Flour Banana Pancakes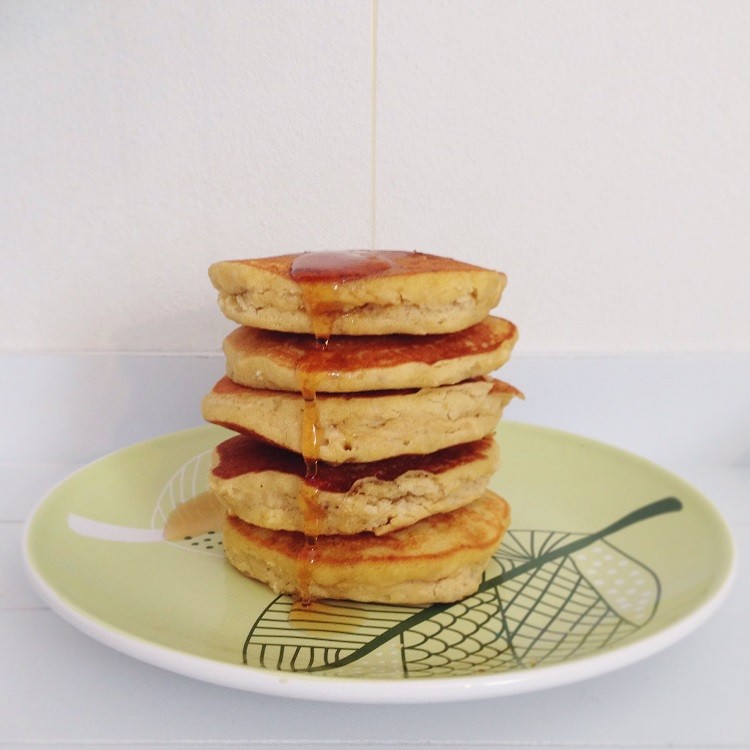 Pancakes! I think it's safe to say that everyone loves them. You can have them for breakfast, brunch, lunch, dessert, dinner.. At least I think so! And there are so many different options and combinations you can use to make the pancake batter. I personally love all banana combinations. I recently came accross a recipe by The Roasted Root and decided I had to make these pancakes as soon as possible. I couldn't wait until "Pancake Sunday" so I decided this Friday should be "Pancake Friday", slightly adapted the ingredients and reduced the amounts in the recipe to serve 1 (or at least I thought that was the case)* and had the pancakes today.
Ingredients (makes 5 medium pancakes):
3/4 cup rice flour
1/8 tsp cinnamon
1/8 tsp salt
1/2 tsp baking powder
1 egg
3/8 cup rice milk
1/2 tbsp olive oil
1/2 tsp vanilla extract
1/2 tbsp pure maple syrup (I use grade B)
1 ripe banana, mashed
Instructions:
1. In a mixing bowl, mash the bananas with a fork until mostly smooth.
2. Add the egg, milk, oil, vanilla extract and agave. Mix with an electric mixer until combined and fluffy.
3. In a separate bowl, combine the flour, salt, baking powder, cinnamon, and cardamom. Stir to combine.
4. Incorporate the flour mixture into the banana/egg mixture and mix with the electric mixer just until combined.
5. Heat a skillet to medium heat and add some oil.
6. Form small pancakes on the skillet (2 tablespoons each) and allow them to cook a couple of minutes, until the sides begin to set up and you can see that the bottom has browned when you slightly lift it with a spatula. Carefully flip to the other side and cook for about another 3 minutes until pancakes are cooked all the way through.
7. Serve with maple syrup, Homemade Healthy Nutella, plum jam or any other topping you like.
*Note: These pancakes are extremely filling. I could hardly eat three, so these amounts can easily serve 2 if you have them with nutella or lots of fruits and jam. They also are slightly more dense than the regular fluffy american pancakes.
Comments