How do you fit 17 exciting and busy days into one blog post? I don't know, to be honest. And I hope I'll manage to tell you everything there is to know when travelling for a good two weeks around the West Coast (California, Arizona, Nevada). Do ask away if there's anything I won't cover in this post – I'll be happy to answer.
We travelled to California on October 21st and stayed until November 7th. This time of the year turned out to be the perfect time to travel there, since the temperatures were mostly still very warm, but the crowds of spring and summer were all gone. When people in spring for example wait in lines forever at the Universal Studios, we ran from one attraction to the other, mostly waiting no longer than 5 minutes. It did get a little cold at the Grand Canyon and Antelope Canyon, but we didn't have one day that wasn't super sunny. It does get dark quite soon (the sun set no later than at 6 pm) so do keep that in mind when planning your day.
Three days in LA
We landed at LAX at 3 pm and before we could get through customs, get an Uber and check in to our Airbnb (I highly recommend the Hancock Park Oasis) it almost got dark. We grabbed an Uber to the Walk of Fame and walked around a little and then just called it a night. If you're going there, I recommend going to the crossroad of Hollywood and Highland – there's Chinese Theatre really close and some of the more famous stars on the sidewalk. We also bought a SIM card with unlimited internet at TMobile – it cost 64 EUR and it is kind of a must (especially if the car you rent won't have GPS), but don't expect great coverage. When you see people not getting coverage in the middle of a city in movies – it's all true!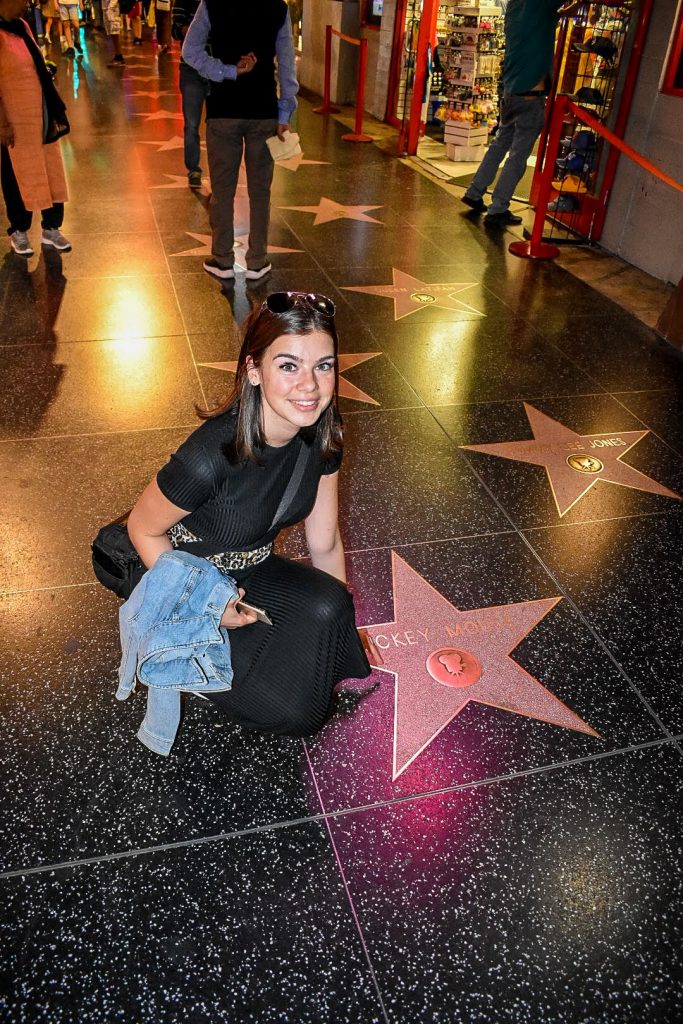 The second day was reserved for exploring and it started with some wine tasting and visiting rescued animals. Not bad, not bad at all. We took an Uber up to Malibu to visit the Malibu Wine Safaris – home of some great wine and a giraffe named Stanley. He starred in Hangover III and the Skittles commercial. Now he's enjoying his life and eating romaine salad at the ranch. We got to taste 8 different wines (and since we were there on a slow day, only 8 of us were on the tour which meant – more wine for us ;)) and see some cute animals (the llamas have the coolest names like Barack Ollama and Kendrick Llama). All in all a great start to the day apart from the fact that unfortunately their WIFI was down and there's almost no signal, so it took us more than 1 hour to get an Uber. Word of advice – order an Uber in advance. 
Price: 80 EUR per person (+ some nerves trying to get an Uber)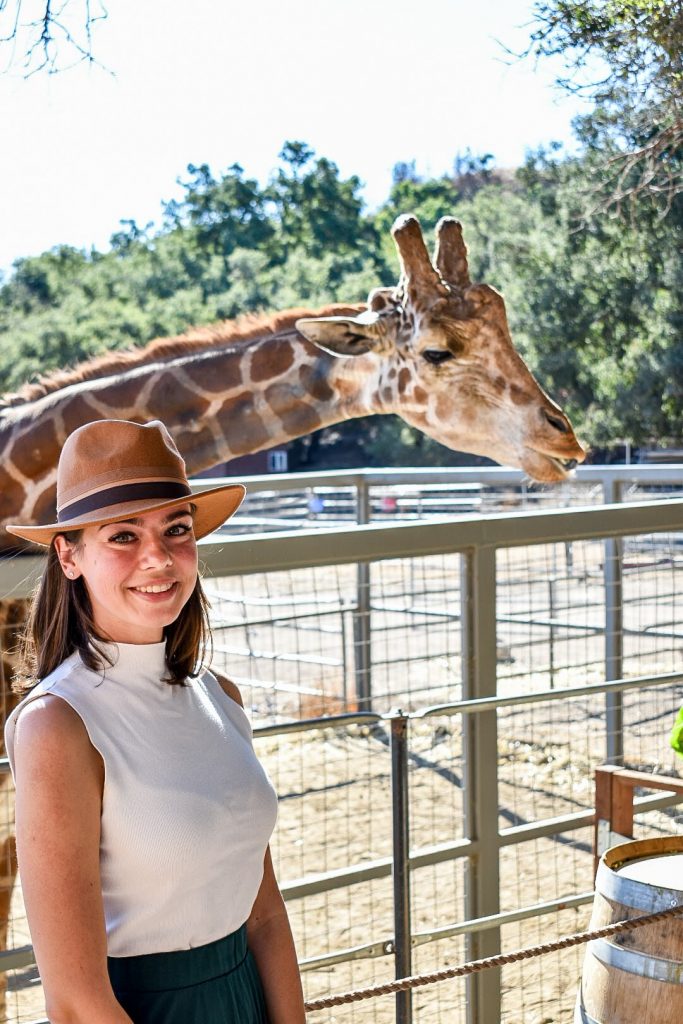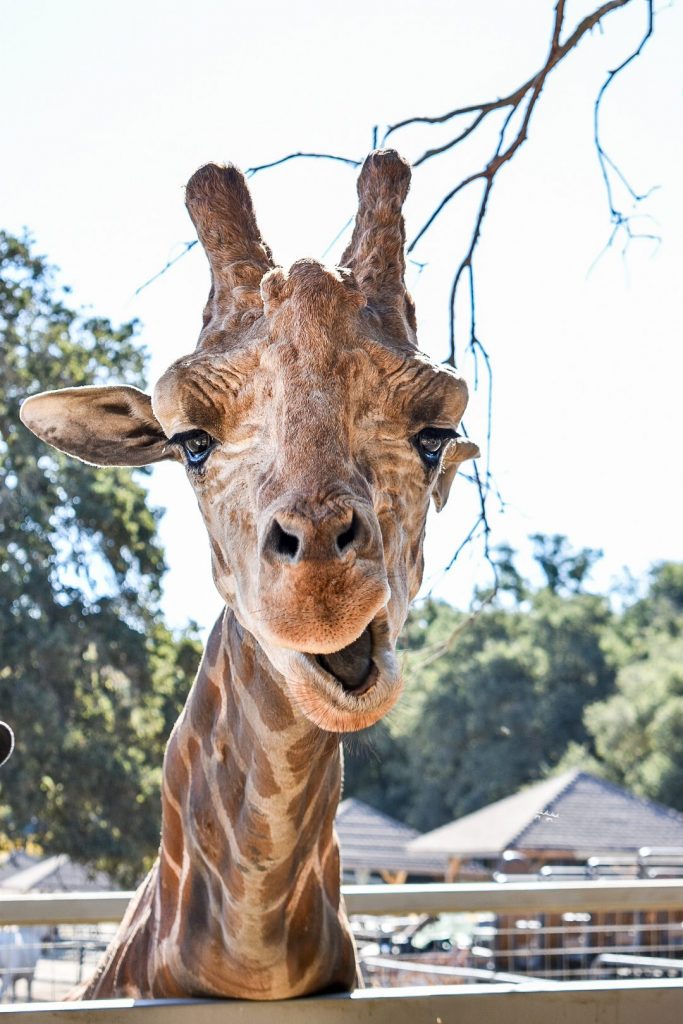 Once we finally got an Uber we went straight to the Santa Monica Pier and Venice Beach to dip our toes into the (cold) ocean and to taste the famous Japadog – it's a hot dog with a Japanese twist and Anthony Bourdain recommended it for a reason!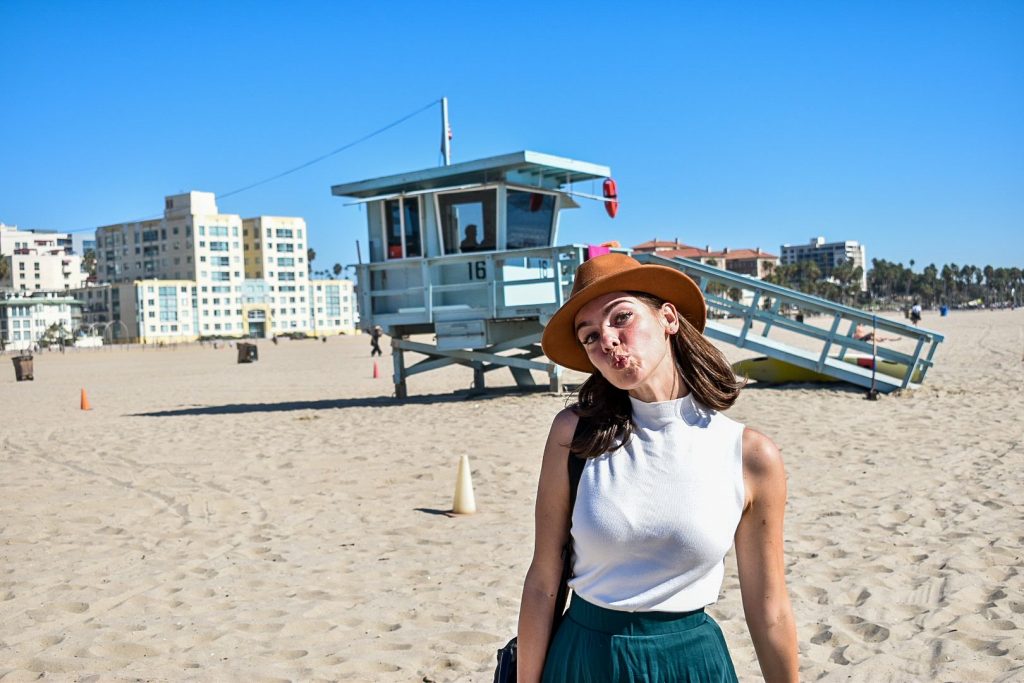 Next stop: OUE Skyspace and the Last Bookstore. The first one is where you can get some amazing views of the city and photos with the wings, and the second is where you can get some amazing book deals and.. photos with the books. We asked at the entrance why it is called the Last Bookstore. The answer – because it's the last real, big bookstore in LA and, according to its owners, because it's the last bookstore you'll ever want to go to.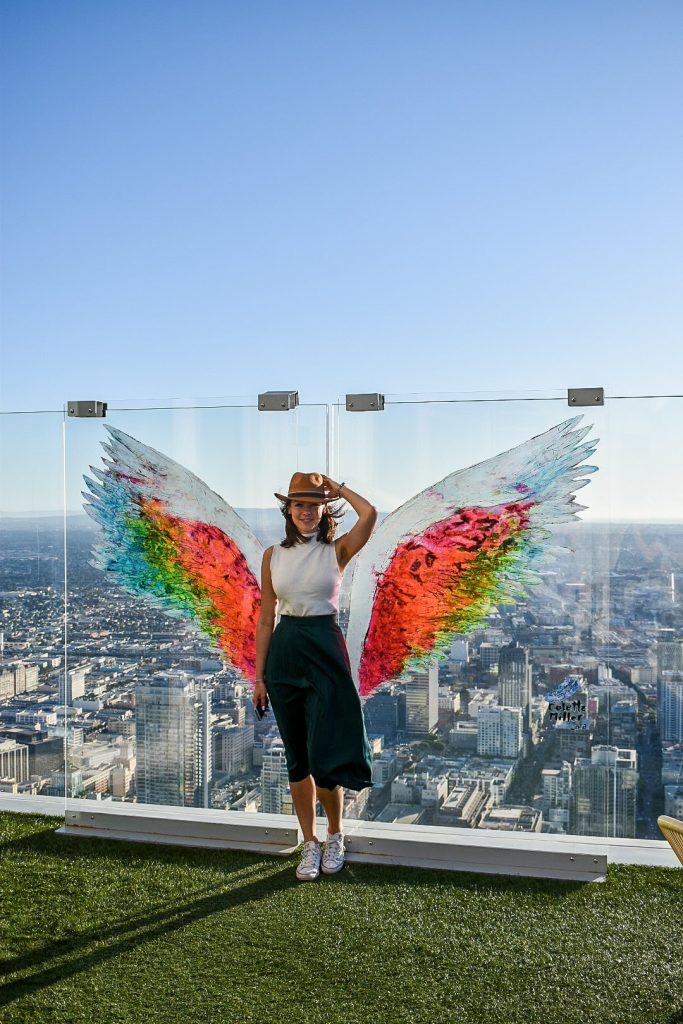 Price for the OUE: 26 EUR per person
Last day in LA was reserved for a serious, adult activity – visiting the UNIVERSAL STUDIOS HOLLYWOOD! It opens at 10 am and closes at 6 pm and we were there the whole time! The place is so magical, full of attractions like the Harry Potter ride, Transformers, Jurassic Park, the Simpsons and so on. And there are restaurants and bars such as Moe's Tavern that looks exactly like the one in the cartoon. The prices are quite high (a beer was 16$), but if you look at it as an experience, it doesn't "hurt" that much. Our favourite were the Harry Potter ride, the Simpsons, the Transformers and the Minions – they are all so well made you feel like you're actually flying, falling and right in the middle of all the action. Plus, I got to meet Bumblebee and Optimus Prime!
Price: 100 EUR per person (and it's worth it!)
Shop in Desert Hills Outlet and enjoy Palm Springs
We were supposed to get a car at Sixt in the morning but we didn't end up getting it. Why? Because apparently in the USA, only a credit card (and they prefer Mastercard) is considered worthy of getting you a car. No debit cards (potentially you can get a car with a debit card but the process is complicated and doesn't guarantee success), no Revolut or N26 (they consider them prepaid and thus not worthy), no bank cards, just credit cards. And if you're unlucky like we were and they require a PIN number (and you don't know it because you only shop online), you're likely to be left without a car. And without a plan. So there we were, a "few" teardrops, a meltdown and a call to the bank (to order a new PIN number) later, waiting for a 115$ Uber to take us to the Desert Hills Outlet. Nothing like some retail therapy, right?
We shopped until we dropped because they have some great deals on American brands such as Michael Kors, Guess, Under Armour, Tommy Hilfiger, Ralph Lauren and some others. We spent the night in Palm Springs where, on Thursdays, they have street fair in the city center plus we found a great place called Maracas with great margaritas, snacks and all-day happy hour at the bar.
We started the next day enjoying breakfast at Ruby's diner and exploring King's Road and its surroundings (I've done a whole research on where to find amazing doors and this one was the easiest to find. It does look a lot like a gated community though, so don't be too intrusive with your camera). It has some amazing houses with colourful doors. Ruby's diner was probably our favourite diner both because of the interior as well as the food and the friendly but not pushy waitress.
Enjoy the Phoenix summer
Since we still didn't have a car, a friend (Artjom, who lives and works in Phoenix and whom we were planning on visiting anyway) was kind enough to come pick us up in Palm Springs to take us to Phoenix (forever grateful!). We took a "detour" through the Joshua Tree National park.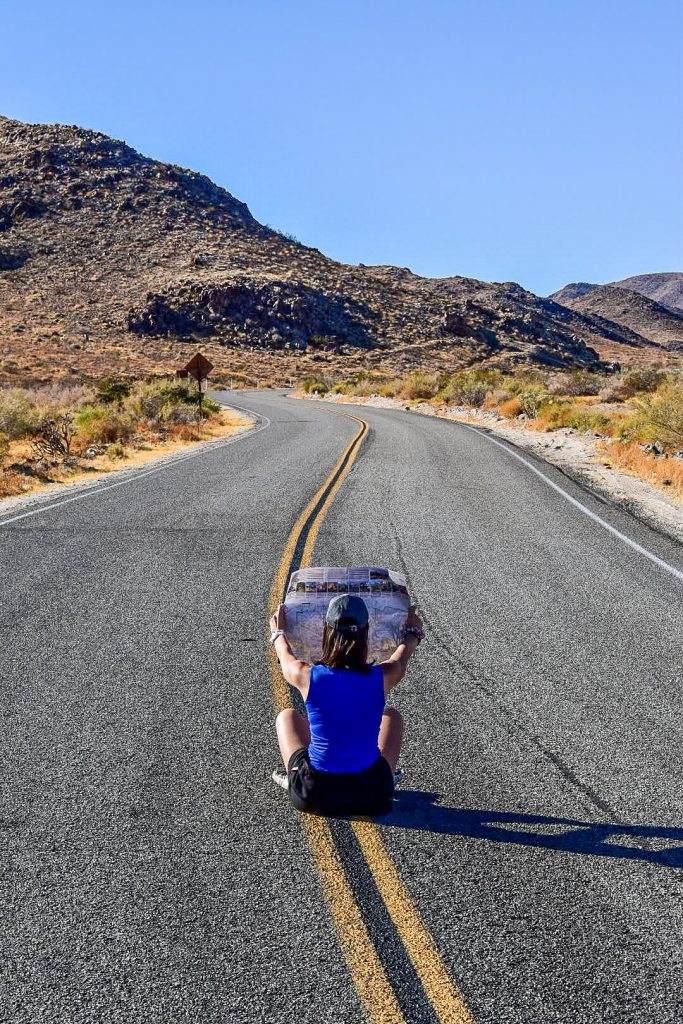 Price: 72 EUR (80 USD) for an annual national parks pass (it's a pass that's valid for a calendar year and an entire car) and you can use it for all the parks that are covered by the pass so if you plan on going to at least three of them, you already get a bargain out of this pass.
Since there's not that much to do in Phoenix (well, I am sure it is, but it was really hot (even end of October) so we didn't really want to stay outside), we took this time to rest a little, shop at Marshalls (it's an awesome store with mostly expensive brands for very very good prices) and go people watching at Walmart. I also took a photo walk around the Phoenix murals (there is so many and the artists are so, so talented) – I found it in the Airbnb experiences section and the guy is like an instahusband you rent for an hour or so, taking photos of you more patiently than your boyfriend/fiance/husband ever will. We also took a trip to Sedona – it's like a cowboy town in the middle of Arizona, well worth the visit. And make sure you stop by at the Outlaw Grille for some burgers and sweet potato fries.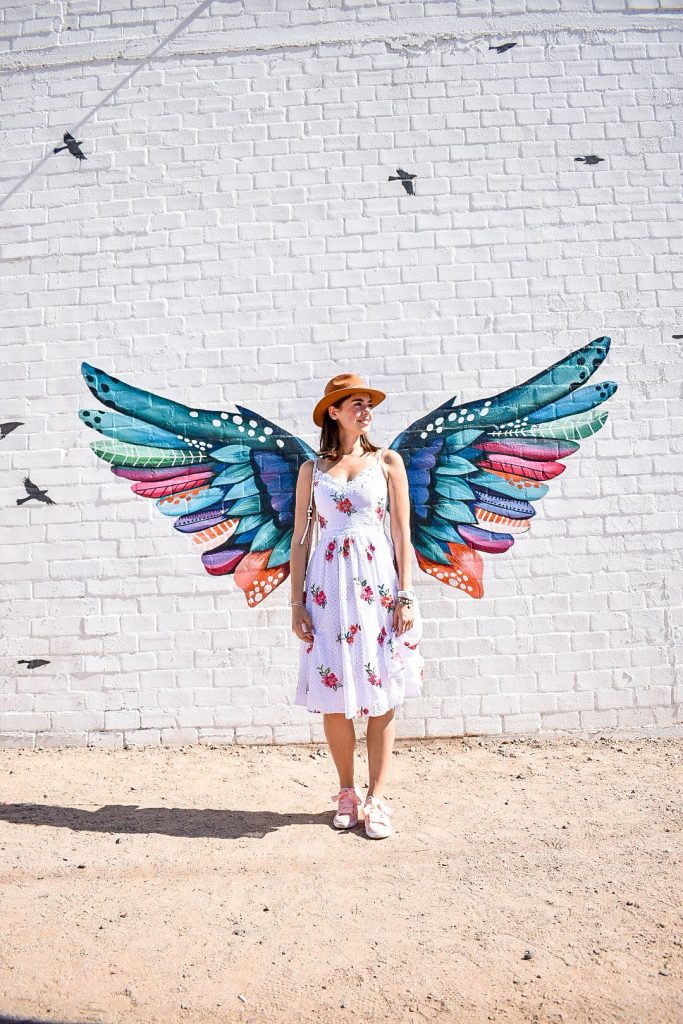 Another really cool place in Phoenix is Scottsdale where you will feel like you walked into a western.
Be amazed by the Grand Canyon and Antelope Canyon
Since it was so hot in Phoenix, we almost left all our warm clothes there, knowing that we will return to Phoenix before heading towards Vegas (because, well, at that point we STILL didn't get a new PIN number for the credit card and had to find a solution to catch our Antelope Canyon reservation – enter: Turo. You basically rent a car from someone who doesn't need it at the moment, so most of the time you have to return it to the same spot) and that would be a BIG MISTAKE. What I want to say is – make sure you check the weather forecast before both when packing as well as heading up there. While we were basically cooking in Phoenix, it was between 6 and 10 degrees Celsius (42 to 50 degrees Fahrenheit) up there and it was even snowing at night in Page (entry point to the Antelope Canyon), so make sure you pack everything from swimsuits to an Autumn/early Spring jacket as well.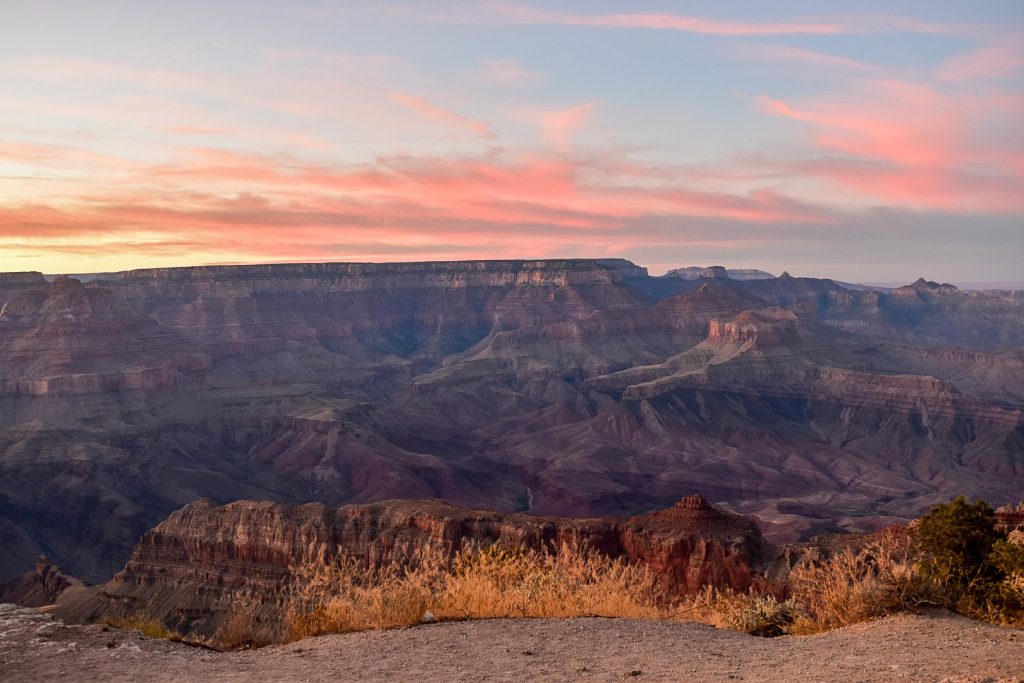 When you see photos of the Grand Canyon, you are amazed, but wait until you see it in real life. I could try and describe it for you but it wouldn't do it justice either. It's so huge and breathtaking, you just have to see it for yourself. You get a map when entering the park (another park where you can use the annual pass) and you just choose the point you want to see. The parking spots are clearly marked and you won't have trouble finding them. The walking paths are also easily accessible (don't know how the paths for actually entering the canyon are, so make sure to read relevant posts and advice about that before emerging onto your path into the big old canyon) and you won't have trouble walking around. But when you think you've seen it all and sit into your car to head out of the park (on the road going East towards Page), you'll see how huge the canyon actually is – we were driving a good 30 minutes and all the time the canyon was "following" us. We were even lucky enough to be there at the golden hour and got to see some wild animals minding their own business at the side of the road.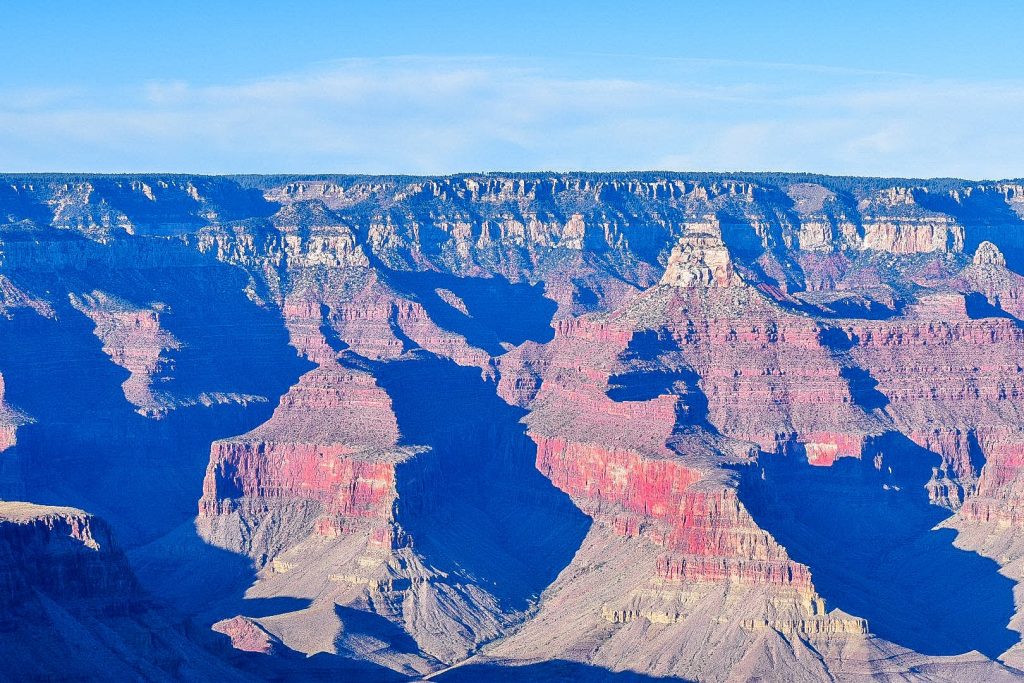 The next part of the trip was not as fun – dark hit us midway and we still had a good hour or two of driving to go to get to the city of Page. Roads were not lit and we only saw some lights far out, probably of people living in trailers there, with a car or two every half hour passing by. It was a really scary ride and I think if our tire broke there, we would just keep driving. We reached our hotel and called it a night, getting ready for an exciting next day.
Antelope Canyon, a slot canyon in the American Southwest, is that orange canyon you most likely saw photos of already, and if you did, I am sure you want to go there. You can only visit as part of a guided tour and you have to choose between Upper and Lower antelope canyon. We chose lower and took a tour with Dixie Ellis tours and were not disappointed. An actual Navajo native american (fun fact: Navajo means "those who farm") took us around the canyon and he was so knowledgeable but fun at the same time, that we really enjoyed it. Make sure you book well in advance if you are on a tight schedule (we booked in June for October). They do offer tickets on the spot, but you need to be really lucky to get in, and I would hate for you to miss this beauty. Before or after the tour, make sure you stop at the Horseshoe Bend as well. It's really close by and just breathtaking.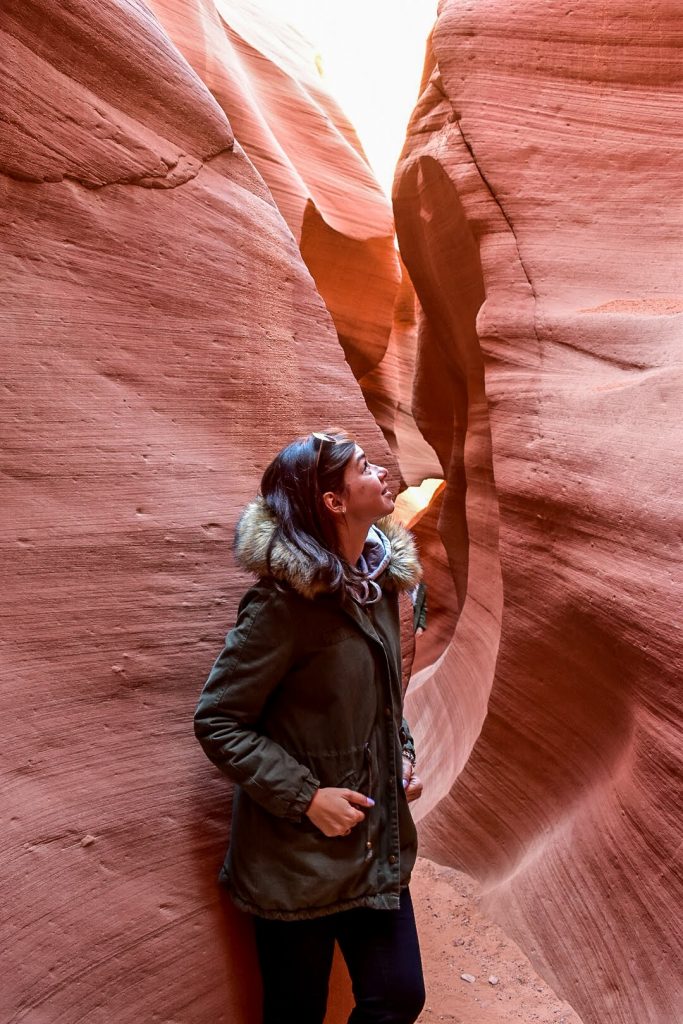 Viva Las Vegas
Next up – Vegas! Initially, our plan was to go to Utah, stay the night in St. George and continue to Vegas so this is something you can most definitely do. It would be a long day of driving but the views in Utah are supposed to be amazing. Unfortunately we needed to return to Phoenix to return a car (and get a new one, for which, while we did need a credit card, they did not require a PIN number, so that was "fun"), and took off towards Vegas the next morning. The ride is easy and picturesque, and it takes you over the Hoover dam. We didn't stop to go see it because we heard it's not worth it, but feel free to do so. 
Finally, we made it to Vegas. We were staying at the Pink Flamingo hotel which is right on the strip and close to everything, but at the same time not that expensive. Caesar's Palace is right across the street and the Venetian and other big names are all within walking distance. People are walking around with giant glasses filled with cocktails, lights are everywhere, even during daytime, people are dressed in almost anything you can imagine and you feel like you just entered a different world. Make sure you book a restaurant in advance if you have anything in particular in mind and also make sure you hit a casino as well. You don't have to spend much – we, for example, sat at the bar at one of the computer games, where you can play black jack and poker and such, and just bet really small amounts – bonus – if you gamble, you drink for free. And check out times in Vegas are late, so enjoy!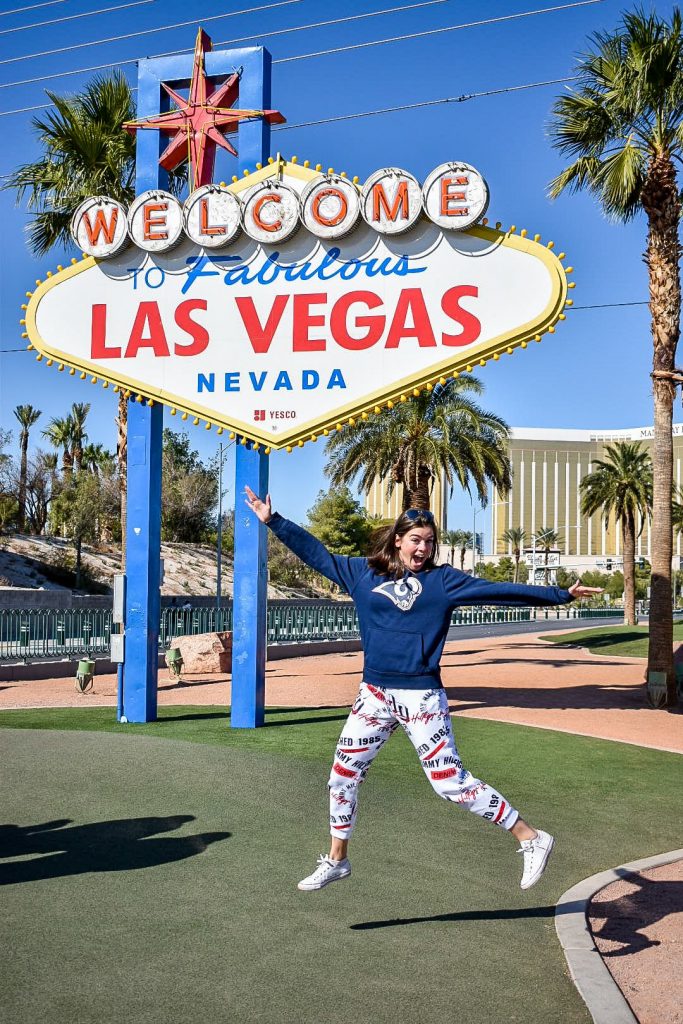 A few days for nature
Following the craziness of Las Vegas, we had a few days of nature planned. First, we stopped at the Seven Magic mountains, and then passed through the Mojave Desert and drove to the Kelso Dunes. These are actual dunes as you would see in Morocco or other African countries, right there in California. It's actually a huge pile of sand, very hard to climb, so we turned around before we even got to the steep part. The road there (the last part) is full of holes, so I don't recommend going there with a low Mustang or something.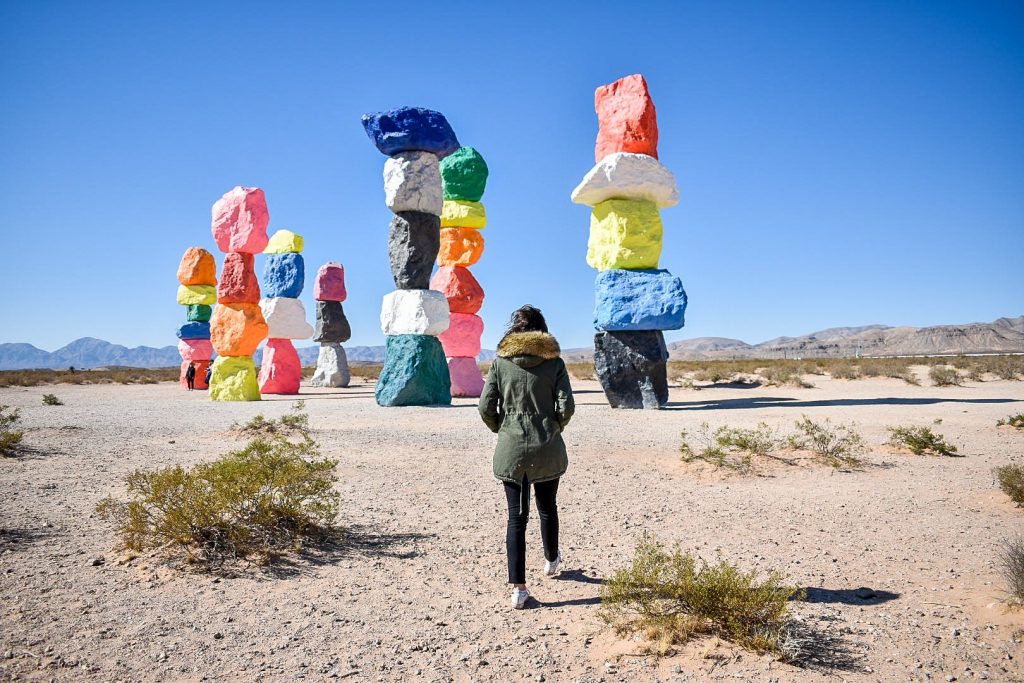 Our plan for the next two days were the Sequoia national park and the Yosemite national park. Both are covered by the annual pass I mention above and both are accessible by car. Accommodation is offered quite close to the entrance of both parks, but it is usually more expensive. What we did was stay in Bakersfield and Fresno (you might have heard of both in movies and you might have heard they are also not the safest, but hey, we just drove to the hotel and spent the night so it wasn't that bad) and drove to each of the parks in the morning – it was still only an hour-long ride, which by USA standards is probably like driving to the nearest store. 
The spots you'll want to hit in Sequoia are:
– General Sherman Tree
– Tunel Log
– Moro Rock
– Giant forrest
– Kings Canyon Scenic Byway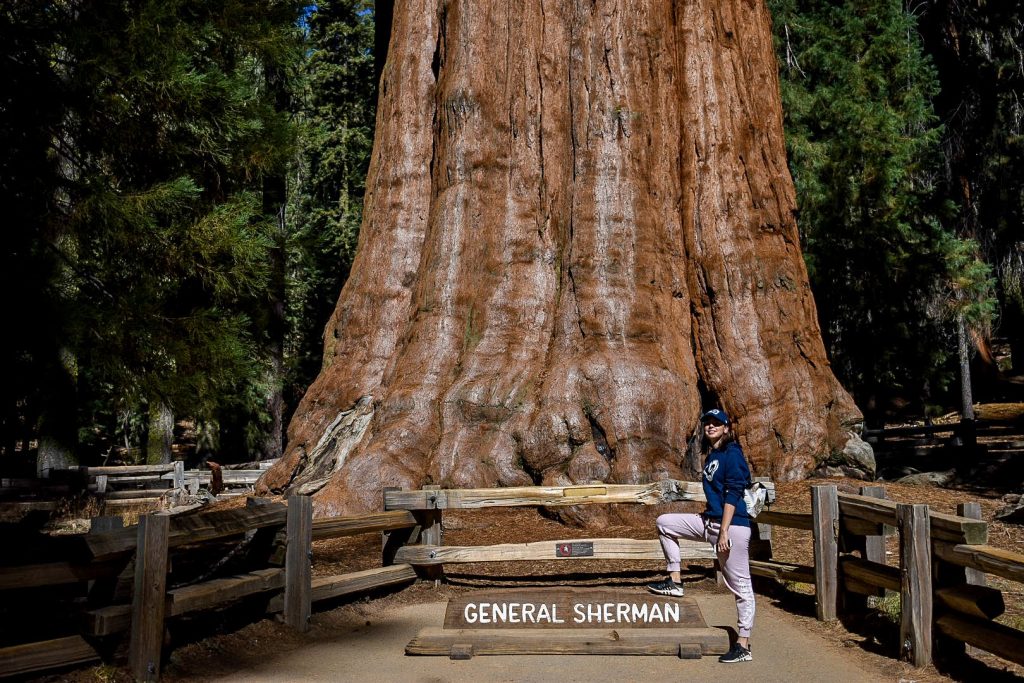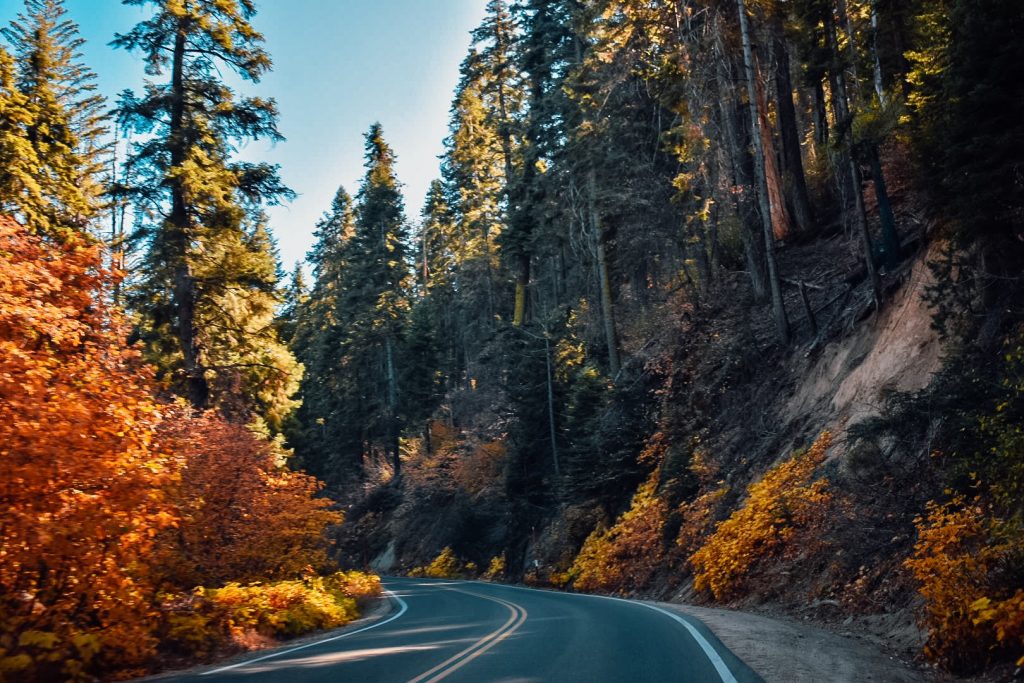 And in Yosemite I chose:
– Tunnel view outlook
– Yosemite valley
– Tuolume Grove Trailhead
– Yosemite falls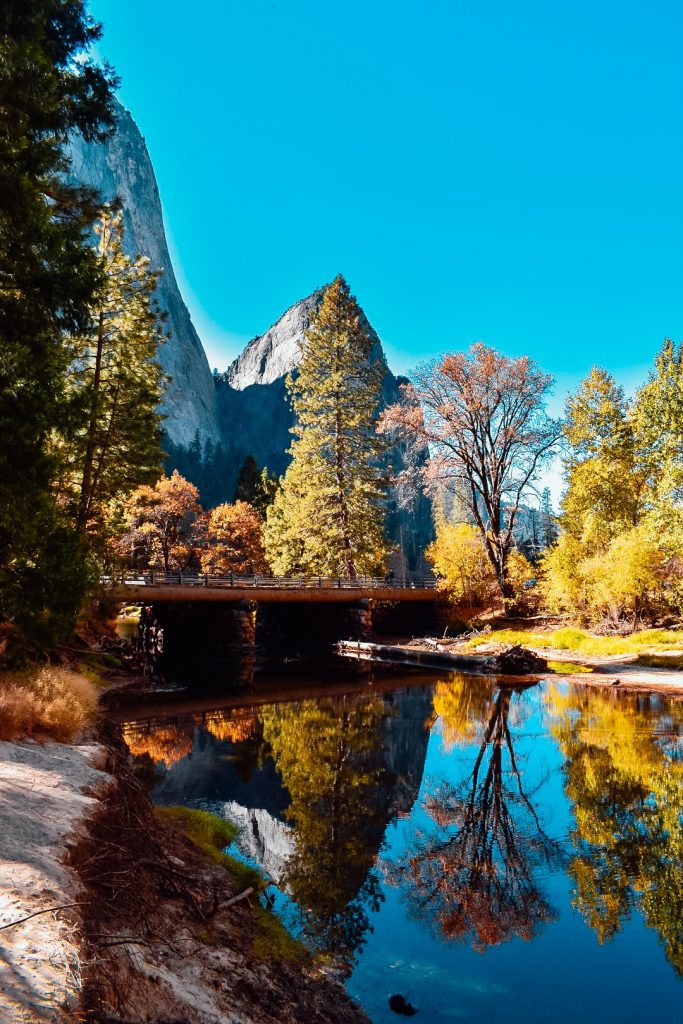 Of course you can spend days there and do a lot of hiking, but if you are on a tight schedule, just pick a few spots that are accessible by car and stop there for a few gorgeous photos. 
From Yosemite, we drove directly to San Francisco. It's not far and if you didn't do a lot of hiking, you can easily get all the way to San Francisco in the same day. You can also do a detour to the Napa valley, but you'll probably either need to be really short in Yosemite or spend the night somewhere along the way as well.
If you're going to San Francisco
When in San Francisco, I am sure as in many big cities, you can spend months exploring it and still not know where all the cool spots are. We only had two days there so we hit the regular tourist spots like Pier 39, the Golden Gate bridge, Lombard street and such. Keep in mind the driving across the Golden Gate Bridge out of SF is free, but going back you'll need to pay. There are no toll booths along the way so you have to either pay online or go to one of the locations across town, or (like us) get charged on your credit card by your rental company – the later costs 25USD but hey, you can learn from our mistakes haha. The Lombard street is said to be closed for traffic now, but driving on it was so much fun, almost like a rollercoaster. The Pinted Ladies (you can find them in Google Maps if you type this in) are also worth a visit. Oh, and the Salt & Straw ice cream!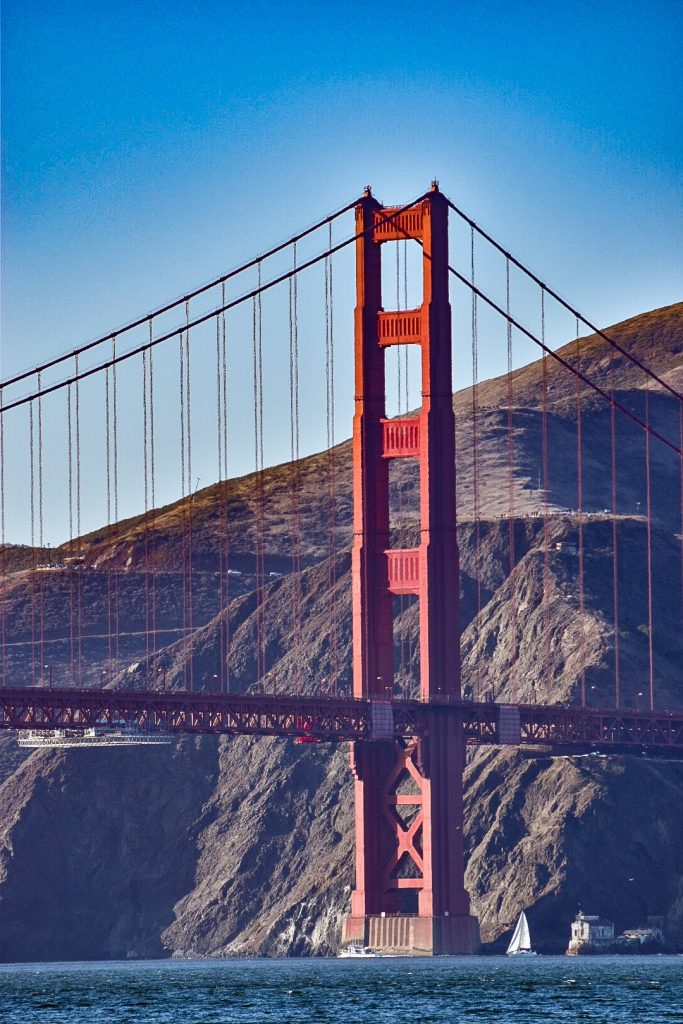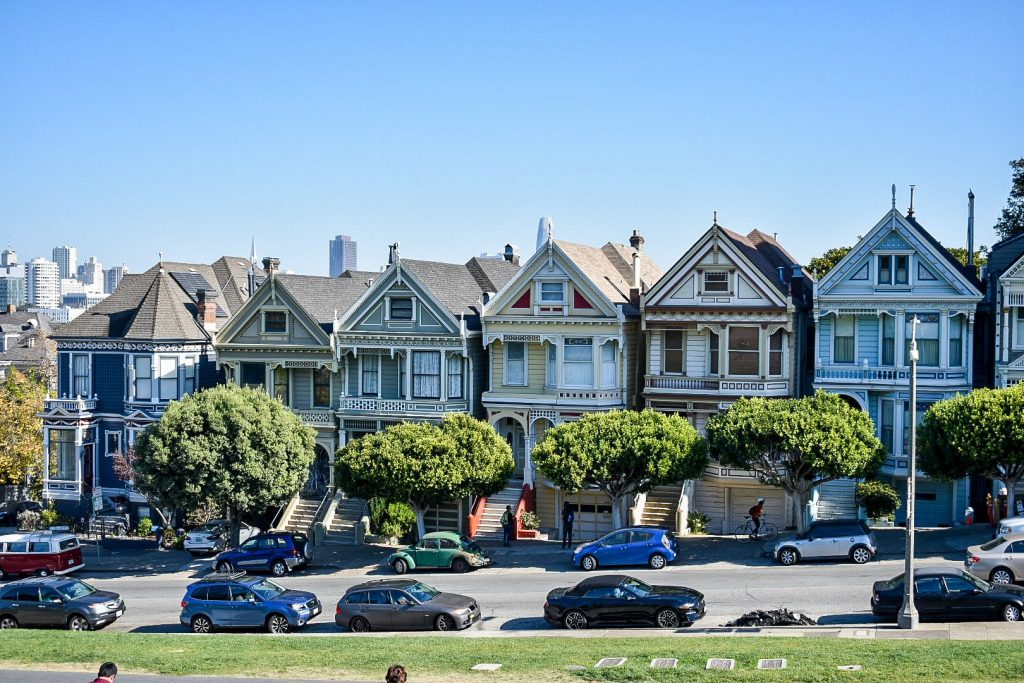 The scenic California 1 State Route
The last part of our trip was getting from San Francisco back to LA where our flight was from (little did we know that our flight would later be cancelled and we would fly from LA back to San Francisco instead of to London). We took the scenic route 1, following along the coast, and stopping at Carmel by the Sea (a lovely fairytale town), through San Simeon (you get to see sleepy AND SMELLY sea lions there!), Big Sur, Piedras Blancas, Pismo Beach, and spending our last night in Buellton. Why Buellton, you might ask. No reason at all. It is close enough to LA to catch a flight the next day, and far enough to have more wallet-friendly accommodation prices. We found Sideways Inn and it was the best of all our stays – it's a cute motel-like hotel, with a pool, amazing design, the loveliest bar and breakfast brought to your room. Oh, we also stopped in San Luis Obisbo for the Bubble Gum valley but I am not sure I would recommend you visit it – it's quite disgusting since it's chewed up bubble gum all over the wall.
And the costs?
It's not cheap, I can tell you that. For 17 days, including airplane tickets, car rentals, all admission fees, food, fuel, and everything, we spent a bit north of EUR 5.000. We were lucky enough to spend quite a few nights at our friends in Phoenix and San Francisco, and spent 798 EUR on accommodation. We mostly ate at fast food restaurants, with a few "normal" ones here and there, bought a lot of food at supermarkets and spent almost 800 EUR on food as well. Fuel is cheap, rental can be cheap if you pick up and drop off the car at the same location (which we didn't because we could get a car until we got to Phoenix, but returned it in LA), entrance fees can be expensive (but worth it) and, if I've learned anything, it's that there's always unexpected expenses. Don't forget your international travel insurance and international drivers license, and also don't forget about the VISA or any other document you might need to enter the country. All these also come at a price. Last but not least, save up in advance and don't worry about the costs as much along the way so that it doesn't ruin all the fun.