Scotland has (almost) become our annual one week trip in January and I am not complaining. You can find 10 tips for travelling around Scotland and an idea for your one week itinerary on my blog already, so now it's time for another one week itinerary in case you've already seen the parts I wrote about or maybe even followed my tips already.
This year we started our trip just outside Glasgow (although we did again fly into Edinburgh and collected our car there (at Sixt), but then we travelled to Hamilton to attend Flagging New Year in Raivenscraig) and then headed North-East, across Perthshire to Aberdeenshire and back to Edinburgh. 
If you are a whisky and castle lover – this post is for you!
DAY 1: from Hamilton (or Glasgow or Edinburgh) to Perth
Start your day early if you travel in the winter, otherwise, you can take your time. We always travelled in January so we needed to start early to get the most of the day as it gets dark quite fast. Start the trip by visiting the Bothwell castle (if you are starting from Hamilton or Glasgow) and make your way to the Kelpies.
They are two majestically large horse heads that can also be seen from the highway. Kelpies is a word for shape-shifting water spirits and they really look like spirits rising from the small water pond around them. They are especially majestic in the night when the lights shine through the holes in the construction, but if you are on a tight schedule, daytime Kelpies are just as breathtaking.
One of the few castles open in the winter as well, is Castle Campbell. Hidden above the town of Dollar, it takes a little courage to get up there due to the narrow and steep road, but it is worth it. A short walk from the parking lot will allow you a glimpse of the castle (I always love how they are so well hidden that you can only see them from one or two specific points and from nowhere else). The castle is in quite good condition and you get to walk around and see photos of how it used to look like and what each room was intended for. 
Last stop of the day is Perth, where we suggest you stay at Beechgrove which is just across the bridge from city center and offers nice views. It is owned by a lovely couple and the lady makes such a delicious breakfast that I do not think we had a better one through the entire trip (good and delicious breakfasts are hard to find in Scotland). Just take a stroll around the city and finish your day at the Venue with their large selection of gins and whiskeys and some delicious food.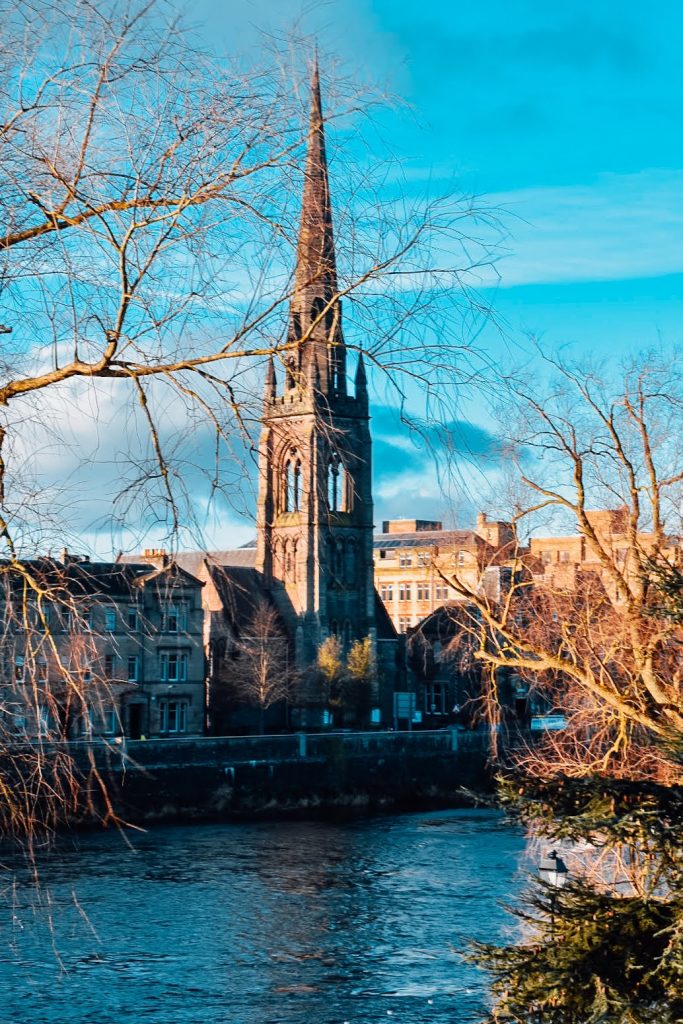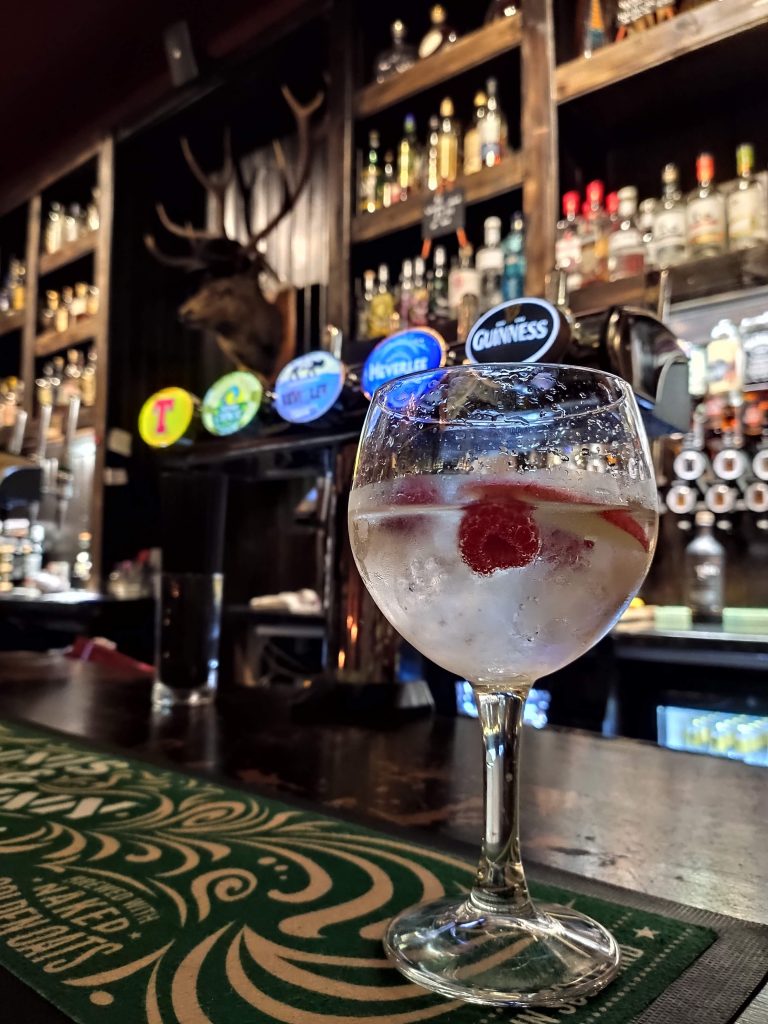 If you travel after April, you can also stop by at Drummond Castle and Monzie Estate which are closed for the winter.
Stay at: Beechgrove
DAY 2: from Perth to Elgin
From Perth head up north towards Elgin, but ignore the navigation which would take you on a faster but less picturesque way up there. Instead, set your course to The Bridge House (Google Maps will find it but keep in mind that it requires a sudden left turn in the middle of nowhere which we missed and had to go back). It says it is actually a guesthouse/hotel, but when we were there it seemed empty – meaning, perfect for a photo shoot.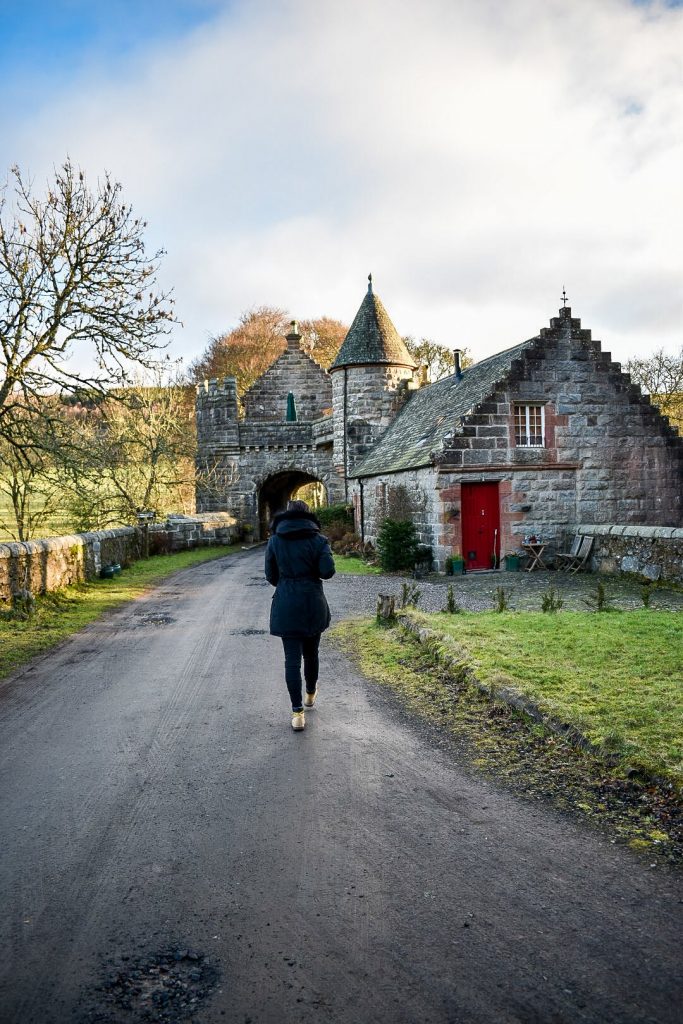 Make your way north and stop at the Braemar Castle. It rises in the middle of a huge grass patch and allows for some amazing photos of the entire castle. The Castle's original owners, the Earls of Mar were among the earliest rulers of Scotland and their power continued down the centuries. In 1628 the 2nd Earl built Braemar Castle as a base for his hunting excursions to his lands in the Braes of Mar but also to remind the local population who was in charge. It is (like most castles) closed for the winter, but you can reach it easily in January as well (some castles are behind high walls or hidden inside castle gardens, preventing you from seeing them, but this is not the case with Braemar Castle.
Finish the day with some whisky tasting. There are two distilleries quite close to each other – the Macallan distillery and the Aberlour distillery. Since I am not a big whisky drinker, I cannot comment which is better, but Aljoša chose Macallan as our destination (pro tip: even if tickets appear to be unavailable online, try calling or visiting them and they might have a spot for you – we did the same). The Macallan just recently renovated the entire estate and it looks amazing. The building itself looks like something from Lord of the Rings or Teletubbies, and the inside is modern and sleek. The whole tour was one of the best I've been to, with lots of interactive exhibits and an amazing tasting location. Also, good news for the designated drivers: they provide you with small bottles to take the samples home and taste them after you no longer need to drive for the day.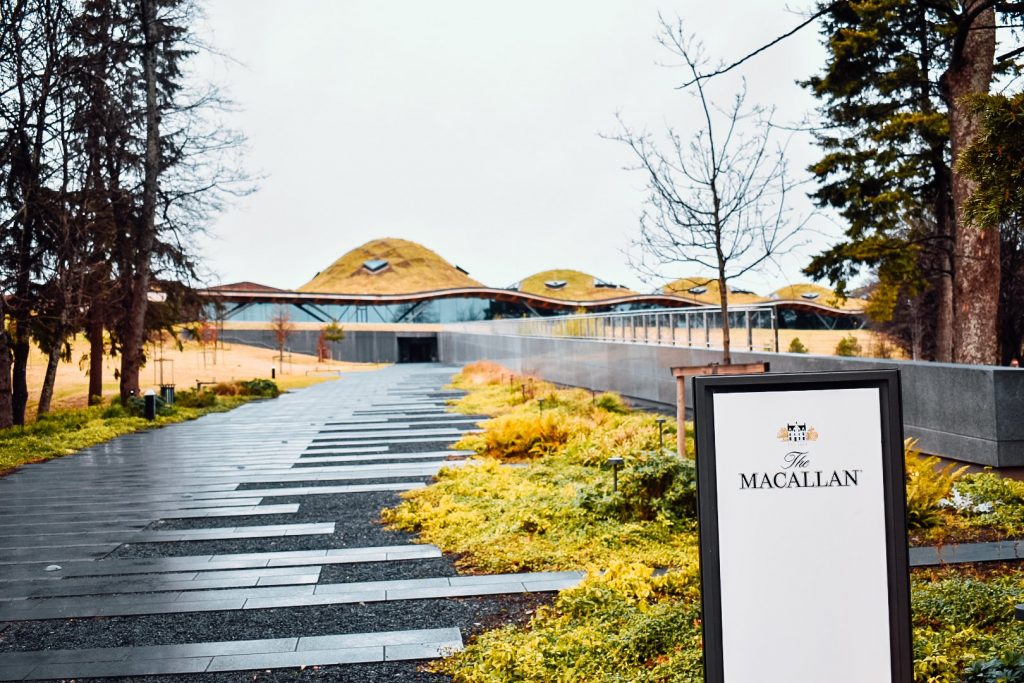 Again, if you visit after April, you can visit the Balmoral Castle and Ballindaloch Castle as well. They will be open and the day will be longer so you will be able to squeeze them in as well. 
Stay at: Mansion House Hotel, it is an actual old mansion which looks majestic both during the day as well as during the night and it makes you feel like you are actually staying with a count.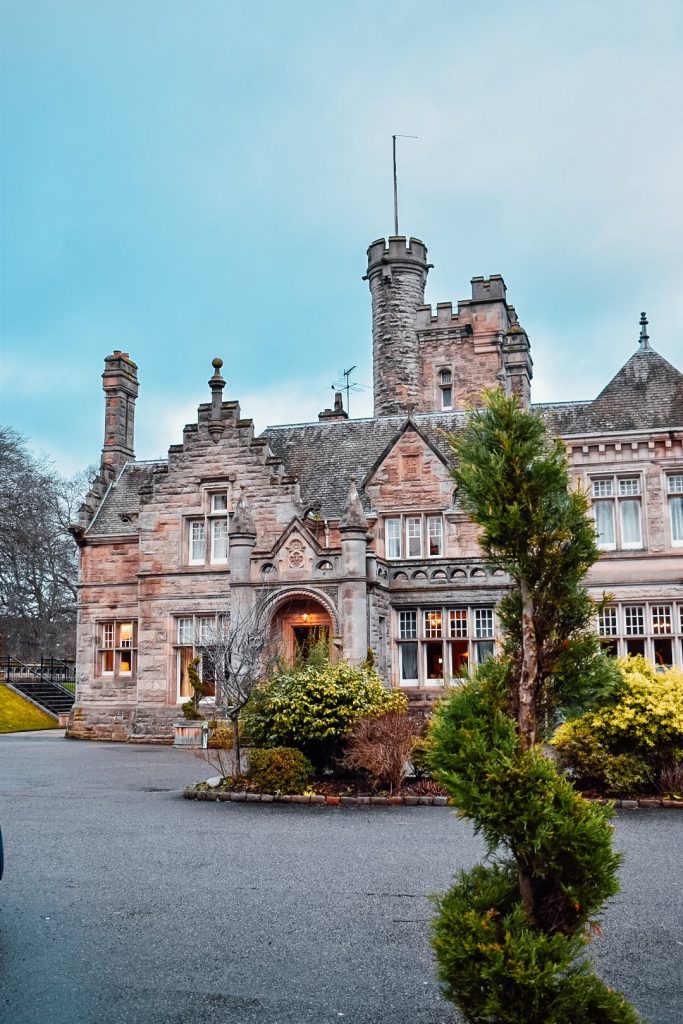 DAY 3: Elgin to Aberdeen
Driving from Elgin to Aberdeen, you will get some of the most amazing seaside views possible. The navigation will try to make you turn more into the inside of the land, but ignore it this time and follow the road closest to the sea all the way to Aberdeen, and you will be going "wow" and "ahh" almost every turn you take.
Our first stop was the Bow Fiddle Rock, a natural sea arch near Portknockie on the north-eastern coast of Scotland. It is so called because it resembles the tip of a fiddle bow. You stop in a cute little town by the sea and take some photos, there's not much else to do there though.
The amazing scenery (remember, follow the roads by the sea and resist the urge to follow the navigation) will lead you to the Museum of Scottish Lighthouses. We actually stopped there just to look at the lighthouse next to it, but we then decided to look around the museum as well. It offers interesting exhibits about the history of lighthouses and the entrance fee is not excessive.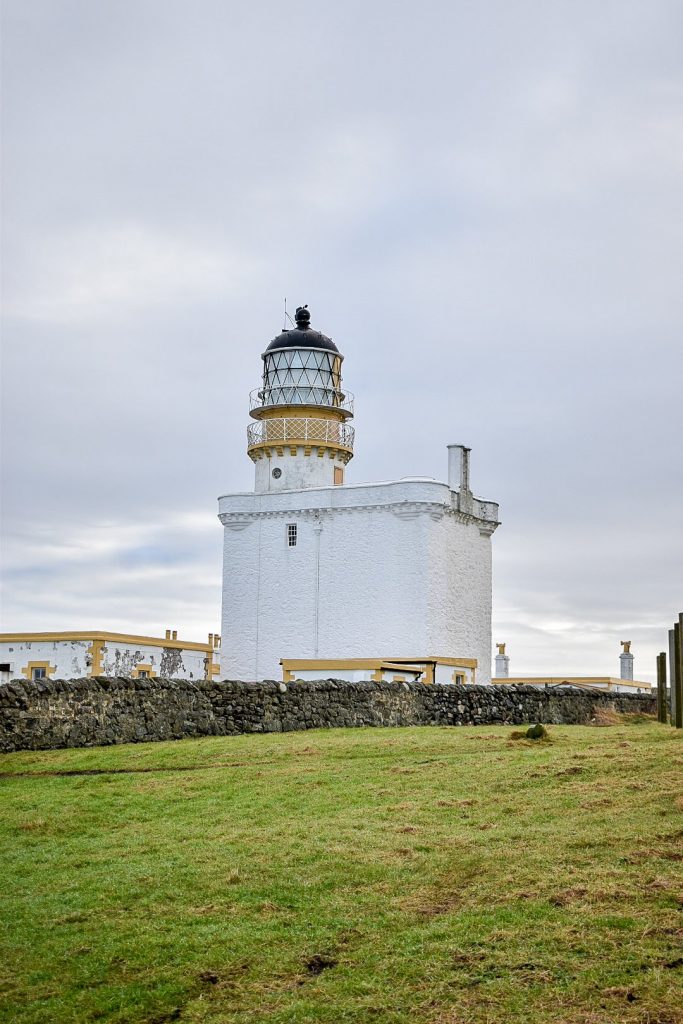 Last but not least – the Slains Castle! I have been looking forward to this ever since I've seen it on Instagram. It lays right on top of a cliff and only the walls are still standing, there is no roof. It looks so majestic, just standing there, defying time and the power of wind and sea. I didn't have the guts to walk inside the castle, but we did take some amazing drone shots.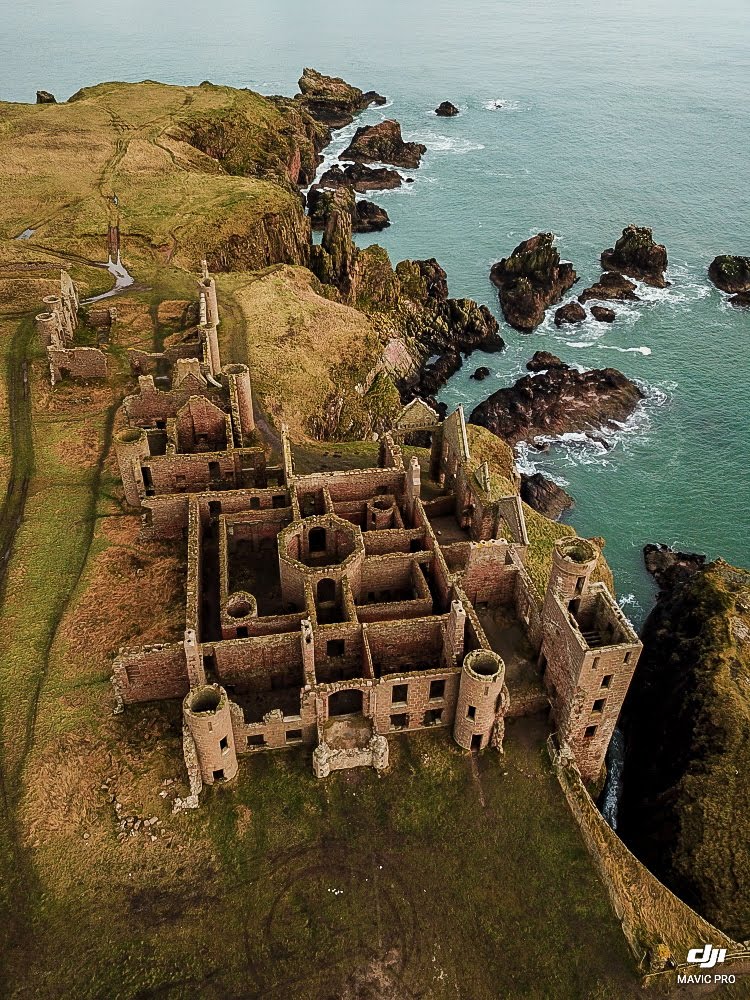 Stay at: Ferryhill House Hotel in Aberdeen which is walking distance from the city centre. We had dinner at the Zizzi on Union Square – delicious pizza and cocktails and cute interior.
DAY 4: Aberdeen to Banchory
Day four was a day for castles for us (as if all previous days didn't include at least one, haha). 
First stop:  Fyvie Castle, a magnificent fortress in the heart of Aberdeenshire and a sterling example of Scottish Baronial architecture. It has a huge garden estate all around and you can get quite a few lovely shots of the castle both from the ground as well as from the sky (with a drone). The castle itself is closed during the winter (and maybe also now during the COVID-19) but the garden gates are open and you can drive up to the castle.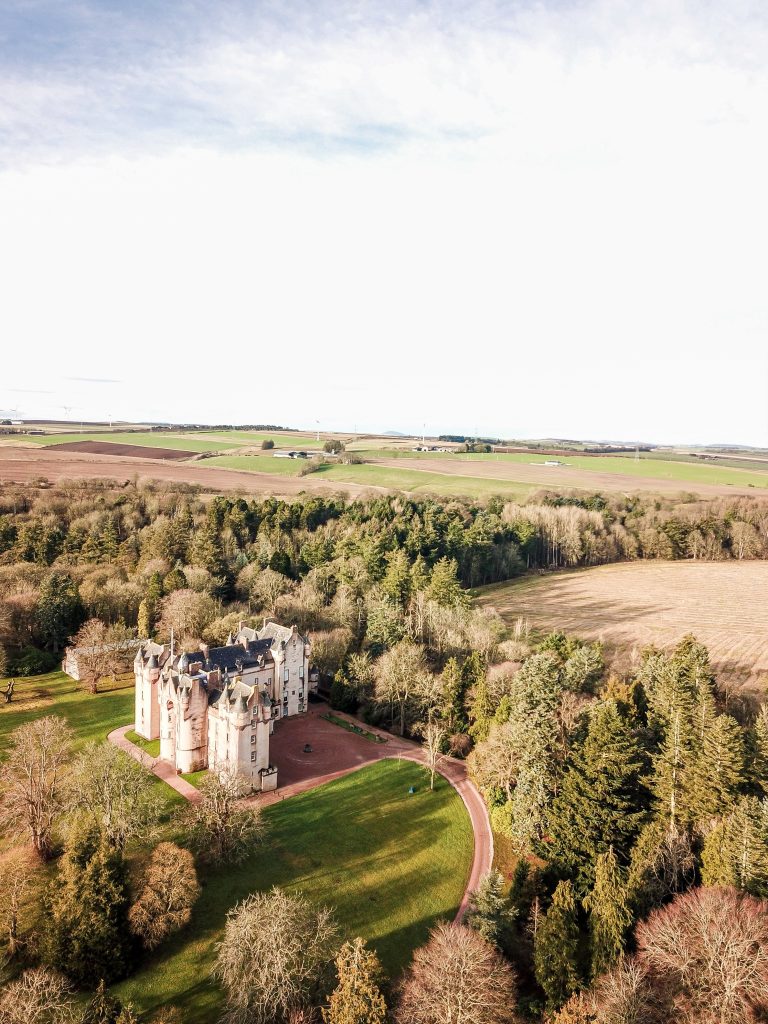 Castle Fraser is actually a tower house and one of the largest in Scotland to be exact. Actually, if you are a castle lover you will often find that what is called a castle by name is not actually a castle vy function. Most "castles" are tower houses, fortresses and similar, and only a few are actual castles. I have been taught by my fiance that castles need to have walls around them and a yard inside the wall to actually be castles by function. Nevertheless, castle Fraser is a sight to see and worth the stop.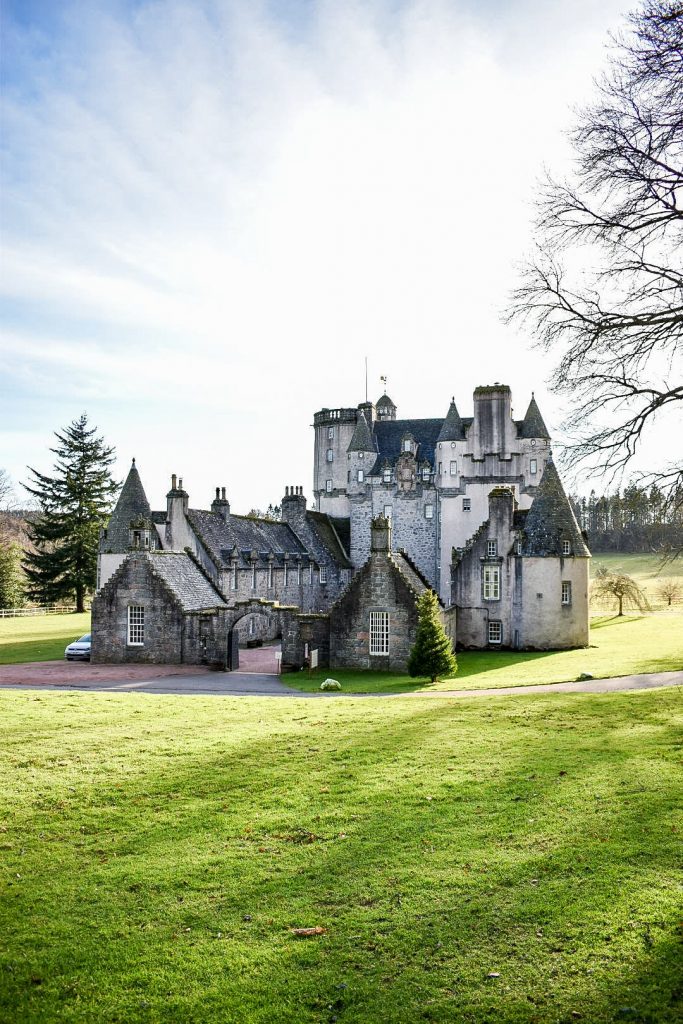 Last but not least, the Craigievar Castle. A PINK CASTLE! It looks like something taken out of a fairytale or a Disney movie, all tall and pink in the middle of a forest. Another must stop on you way to Banchory lodge.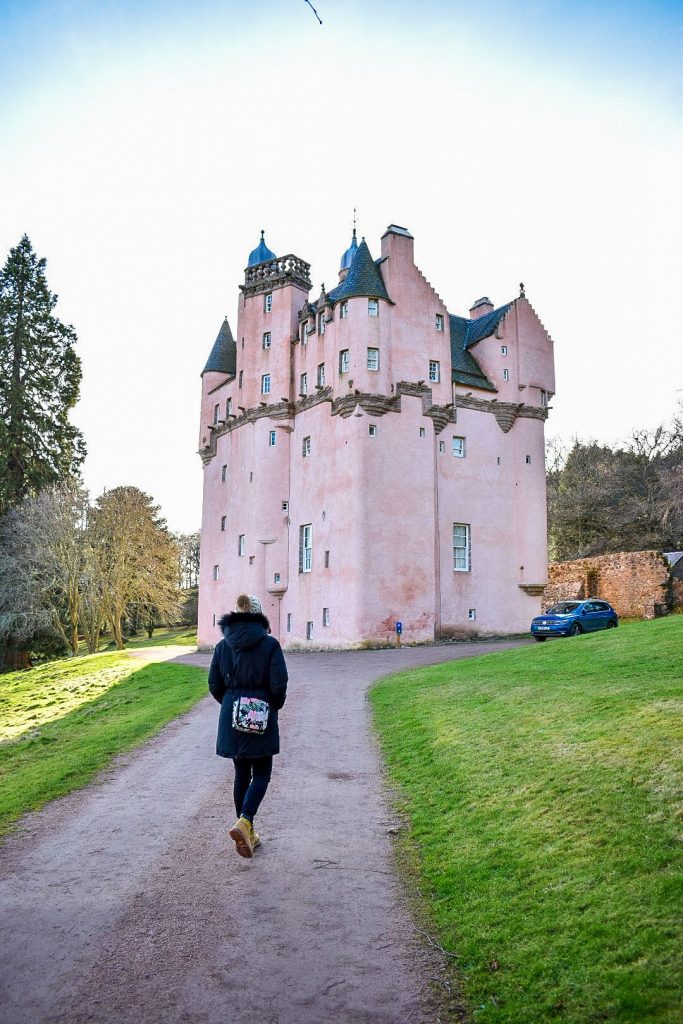 None of the castles were open but you can visit all of them in the winter as well, since there is either no gate or the gate is open during the day. 
Stay at: Banchory Lodge Hotel; we actually could have gotten further away from Aberdeen in one day but I really wanted to stop here. Just look at this cool interior with the highland terriers and the plaid sheets!
DAY 5: Banchory to Dundee
Enjoy a lovely breakfast with river views and get ready for another day of castles. Crathes Castle – Standing against a backdrop of rolling hills and set within its own glorious gardens, Crathes Castle is every inch the classic Scottish tower house (I copied this from the NTS webpage, I am not that smart with words myself haha). Regardless of which castle you choose to visit I highly recommend visiting the National Trust of Scotland webpage which offers detailed information about what is open and what is not (they even tell you separately if the castle is closed but the gardens are open and so). It helped us plan the trip a lot.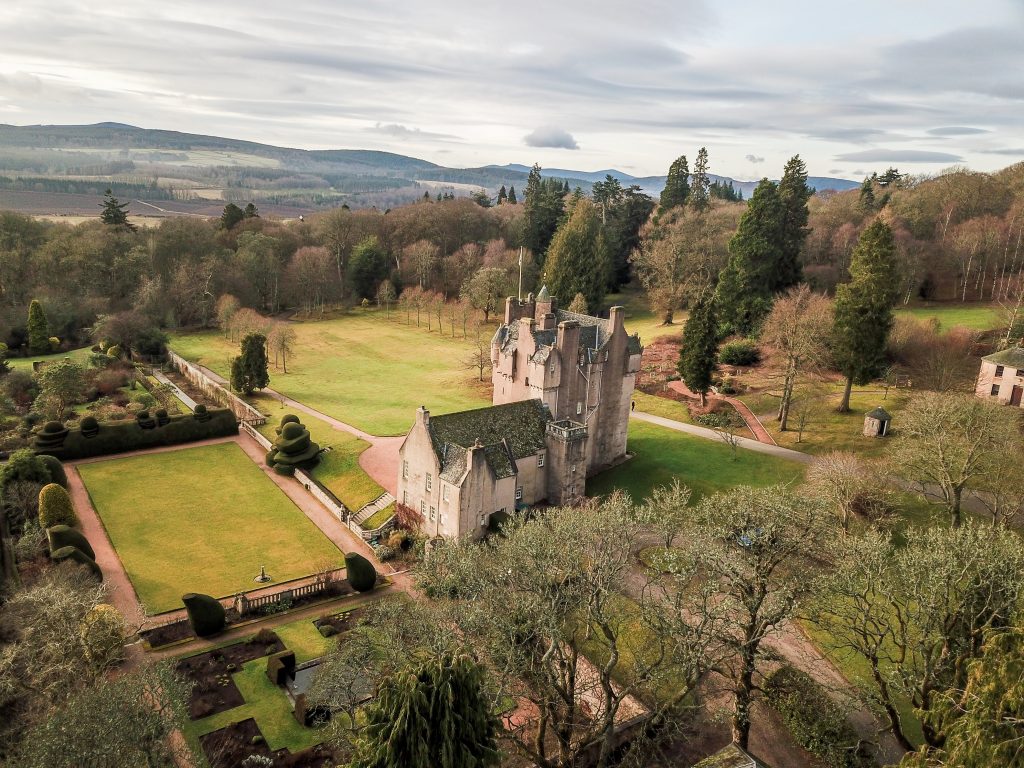 Drum Castle – one of Scotland's oldest tower houses which allows you to walk inside the yard even in the winter and even has an outside toilet for all of us needing to pee every hour or so. Do check the NTS webpage for updated details on opening times, though.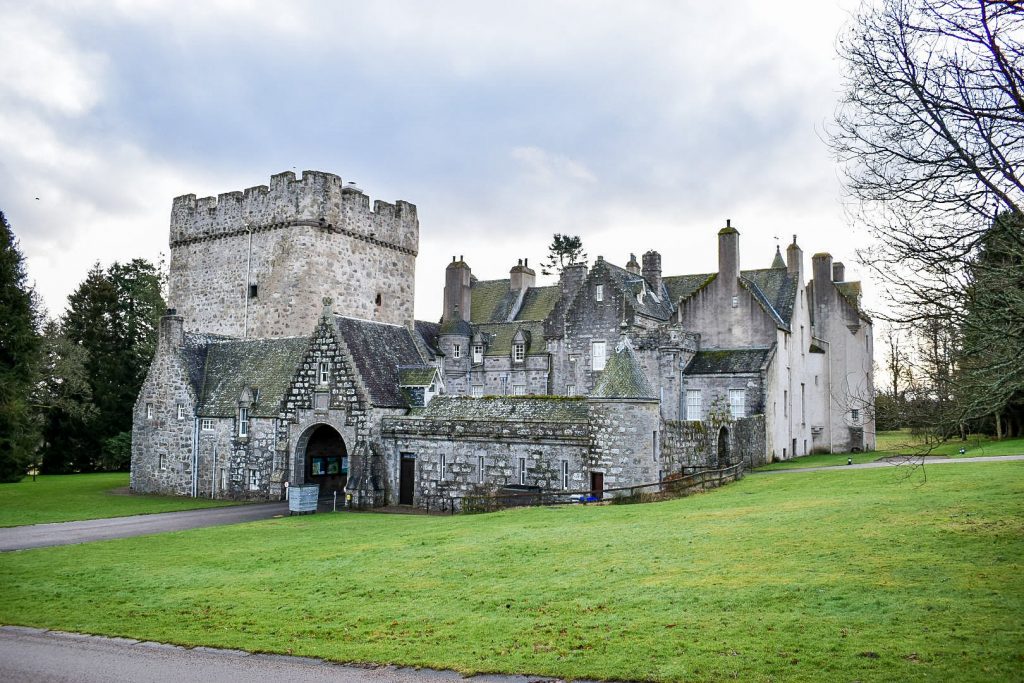 Dunnottar Castle is one of the few castles that is open during the winter as well. A narrow path takes you down from the top of the cliff all the way down to the sea level and then rises back up to the castle grounds. It offers some amazing views and there are said to be puffins there as well but I guess they are not there in the winter. Keep an eye out for them in spring or summer, though.If I had to choose top two castles from this trip, one of them would definitely be the Dunnottar castle. And the other? Well, Slains castle of course!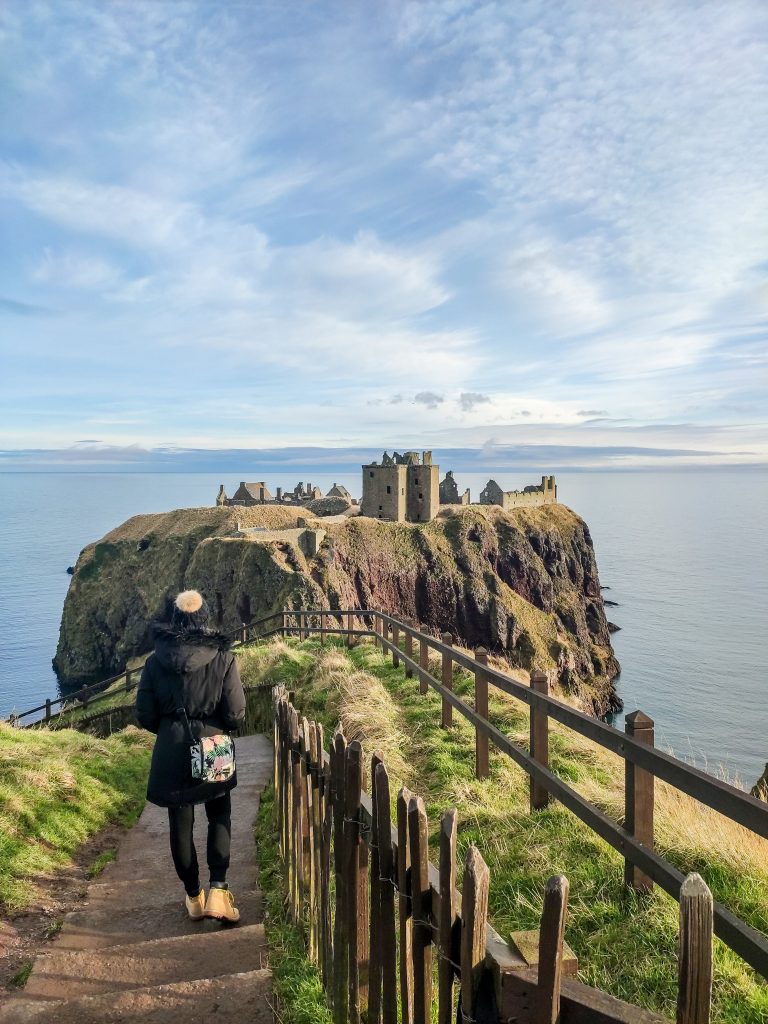 Enjoy an evening walk around Dundee (we basically just got lost in the streets, with no special destination) or maybe even catch a movie at Dundee Contemporary Arts. Be prepared to watch it without subtitles, though. We are used to watching movies with English subtitles just so you understand even the weirdest accents. Well, not in Scotland. So we had to concentrate really hard to understand but it was a cool experience. 
Stay at: Hotel Indigo – Dundee; they are part of the IHG group and you can collect points by booking directly with them and we even got upgraded. I loved their interior and the breakfast was by far one of the best throughout the entire trip.
DAY 6: Dundee to Edinburgh
Heading south towards Edinburg, make sure you stop in St. Andrews. It was the only day with bad weather so we headed to the St. Andrews Aquarium which is quite small but well kept so it is a good choice for a rainy day. Otherwise just walk around, visit the St. Andrews Castle and cathedral and check out their university which is not only old and very prestigious but also the place where Kate and William met 😉
Make your way to Edinburgh if your flight is from there and just chill. It was our 9th day of travelling around so we just stayed in and made some dinner, but you can just stroll around the city center and enjoy some amazing views instead. 
Stay at an Airbnb or Holiday Inn Express
DAY 7: Edinburgh to home
Depending on when your flight home is, you can spend some time exploring Edinburgh, for which there are some tips in my previous blog post.