Everybody knows the seven wonders of the world. Or at least they should know about them. COVID-19 situation brought us to a situation, where we are mostly "locked" on our couches, thinking about how much we would like to see any wonder in the world, but we can't. Therefore, we started to think about which places in Slovenia we should go discover as soon as the restrictions are over. And there was a particular place that caught my eye. It's called Butul, and it's a family farm in Manžan (Istria, Slovenia). The fun fact is that they don't have any village saints and for all the village parties they had, they had to "dedicate" them to beans ("fižoleti") (it is tradition in Istria to name the local festivities after the saint of the village). 
I found out about the Butul family at a Noir Food event (you have to check them out, they have the best wine tasting and food events online and in-person) where we were tasting natural Malvasias. Their Koza nostra took over my mouth immediately; the taste was incredibly sweet (and I was so thrilled when I "guessed" the same taste as Marcel de Cocq which is one of the best natural wine experts). You didn't have to tell me twice that I should Google them and find out where they are. It's in Slovenian Istria, and it's only three minutes of driving from the sponsor of Aljoša's flag football team Ljubljana Frogs. It wasn't a hard choice, so we planned the whole weekend of culinary excitement and wine tasting. After lunch in Snack Bar 1964 (one of the best fancy fast food venues in Slovenia) we drove to Padna, Koštabona, Kodarin mill and Pomjan, all the way to Manžan. 
You know that feeling when you arrive somewhere, and you immediately feel as if you came home to your (second/third?) family? That's exactly the feeling we had. Mitja (the father) was waiting for us at the entrance, he welcomed us with a broad smile on his face and took us to the room, where we slept after all this food and wine. Because we both want carefree culinary experience and wine tasting, we always decide to eat, drink and sleep at the same place. Only this way you can enjoy carelessly and at the same time take care of the safety of yourself and others.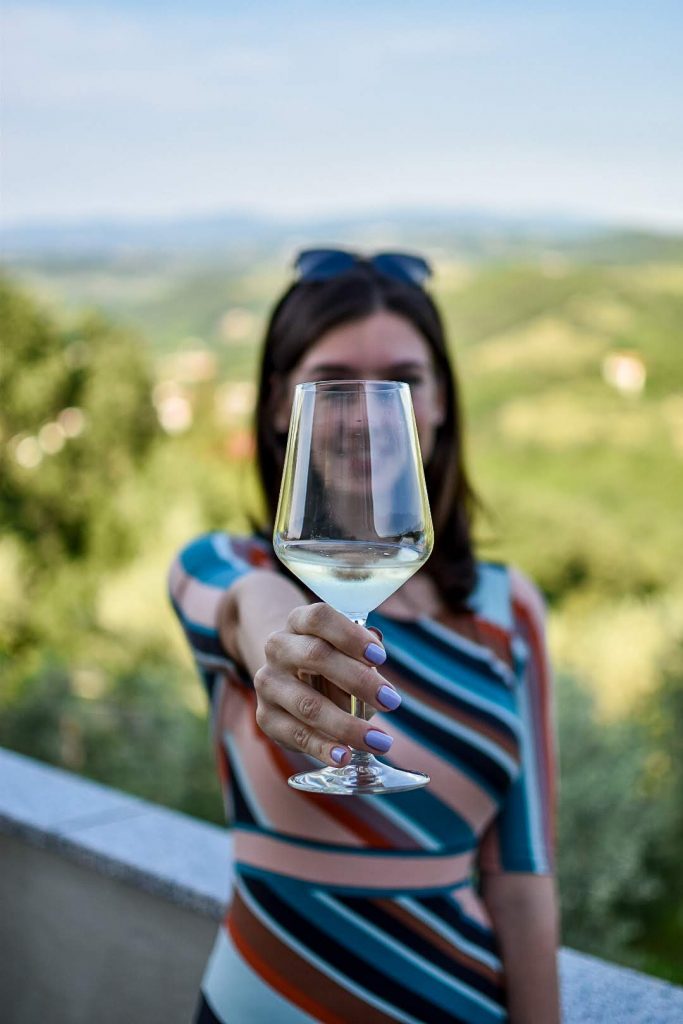 This small boutique family farm stay can accommodate a maximum of 16 people at a time (well, some more can be "squeezed in" if you ask them politely). From our experience, we found that they prefer everyone to come at the same time and taste the same plates together at once. This way, they can dedicate themselves to each guest to the maximum. They love answering the questions and educating guests about the history of their property and about each wine.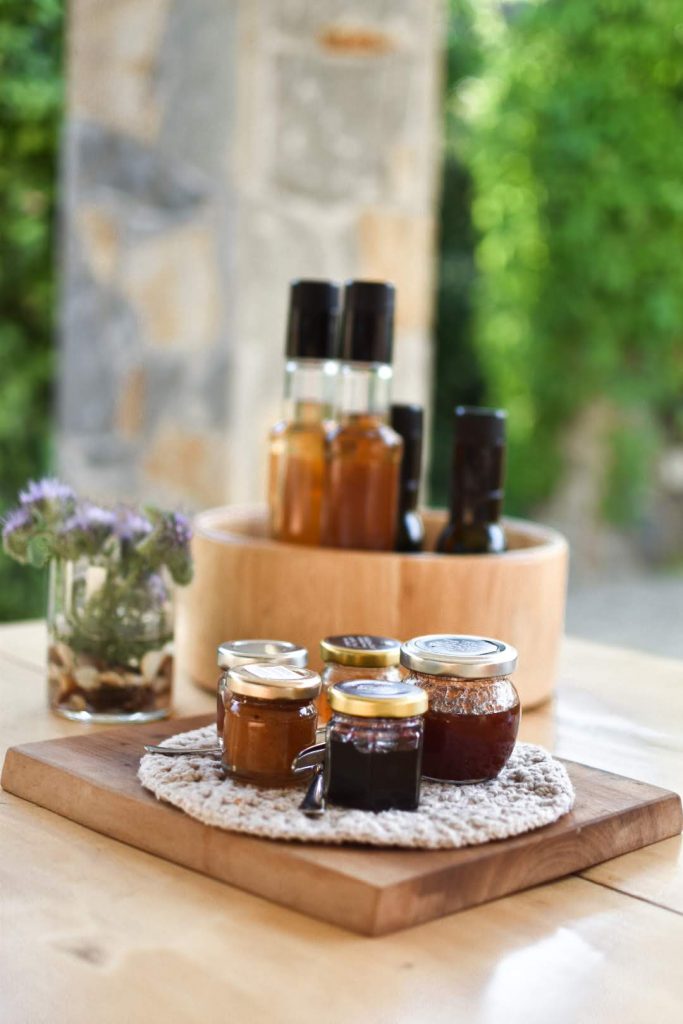 In the main room (which looks more like a sizeable home dining room than a restaurant), there were 2 tables for 4 people, where chef Črt Butul (son) and Tatjana (mother) served us a glass of sparkling wine with a smile (you just can't start without it). The first conversation was as relaxed as if we had resumed a chat from a couple of months ago, even though we had never seen each other before. Mitja took us around the whole estate, showed us the herb garden, fruit trees (they even have a pomegranate!). We even saw the apiary, while Aljoša preferred to wait in the reception area due to the unbelievable amount of pollen that day. He "sacrificed" himself and tasted some more wine with Črt. 
Soon, the dinner was served. Črt prepared a 6-course tasting menu. His culinary skills reach a really high level, although he did not attend a single day at the tourist school in Izola. He says that "such nonsense (he talked about fermentation and other elements of chemistry in cooking as well as his other experiments in the kitchen) is not taught in school (laughs)". Tatjana, on the other hand, is a true master and connoisseur of all home-grown produce, which she carefully pickles, and conjures a real culinary journey in our mouth. 80% of their crops are home-grown, and what is not home-grown, they almost certainly had their fingers in the making of it (coconut sugar offered in the morning with coffee, for example, they helped cook in Indonesia themselves). Reading the following text is at your own risk – I ensure you you will drool and get a strong desire to visit their farm stay.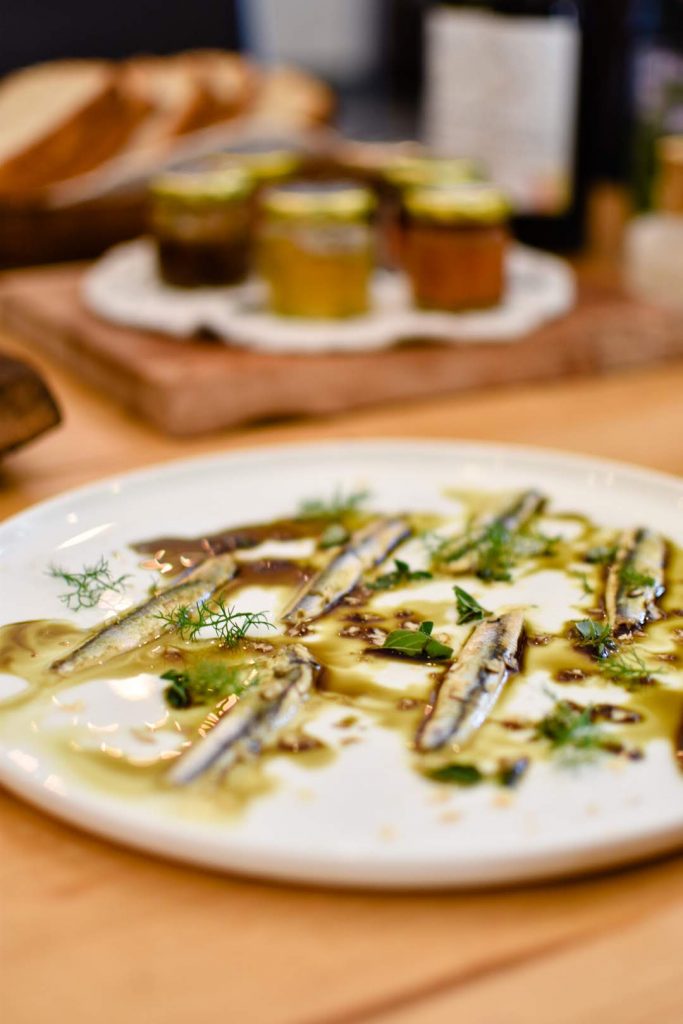 Already with the appetizer, their sense for guests, relaxation and excellent service is quickly recognized. First, Črt (with a little bit of help from Drožomanija) made home-made bread with yeast from Prekmurje wheat, with 68% hydration and 10% olive oil. On the table were also products such as lavender and rosemary syrup, as well as various home-made wine jams. Yep, WINE JAMS. 
Tatjana pitched in with some plates of pickled olives, string beans with peppers, home-made pickled purslane, lobodika and sweet and sour green tomatoes on the table. The taste of green tomatoes is hard to describe. It's crazy. Well, Tatjana says they could have been a little spicier, if you ask her.
But it wasn't over yet (far from it!). On one side, anchovy fillets marinated in home-made refošk vinegar, topped with pumpkin oil, covered with marjoram and wild fennel were calling our name. Sounds crazy, right? The taste is even better. 
On the other side, there were five types of cheese on the wooden board, namely: young cow's cheese, aged cheese with lavender, Tolminc (it's a unique Slovenian cheese) from the year 2016, cheese with dehydrated persimmon, and aged cheese with olive leaves. 
This was followed by Bakalar with spring onions and phacelia. DIVINE. I could eat this dish every day. If they gave me one big barrel to take home, I would grab it and run. Probably would run out of it in a week or two tops. We continued with an omelette with wild asparagus, lobodika, bacon from Krškopolje's pig (also Slovenian authentic) and fermented cottage cheese from 2018 with their oil.
An incredibly exciting dish was cottage cheese from Potok (Potok is a village, not a stream, as some people think (potok means stream in Slovenian)  – "we don't milk fish to get this cottage cheese" says Črt). Sprinkled with seasonal black truffles and topped with truffle oil. It was delicious. 
Of course, we couldn't go without dried meat, so we got a whole plate of Prata-pancetta from the Trček farmstay in Hrastovlje. 
And when you think you have already experienced and eaten everything, the main course is just around the corner. Črt prepared beef breast baked at a low temperature in a reduced home-made refošk sauce, with summer Bosnian polenta, dried autochthonous garlic, asparagus, and burnt aubergine.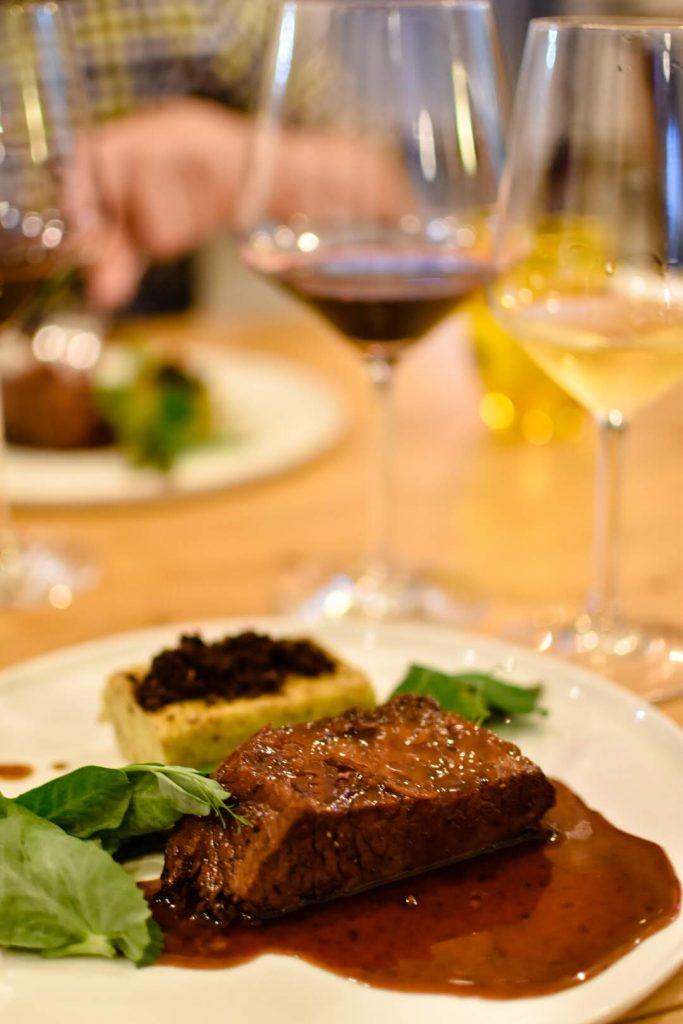 For the end, Tatjana prepared a very light dessert with home-made crumble with cottage cheese and strawberries, topped with home-made rosemary syrup, and rose leaves ("I just quickly went to the garden to decorate your dessert with some fresh rose petals" she said).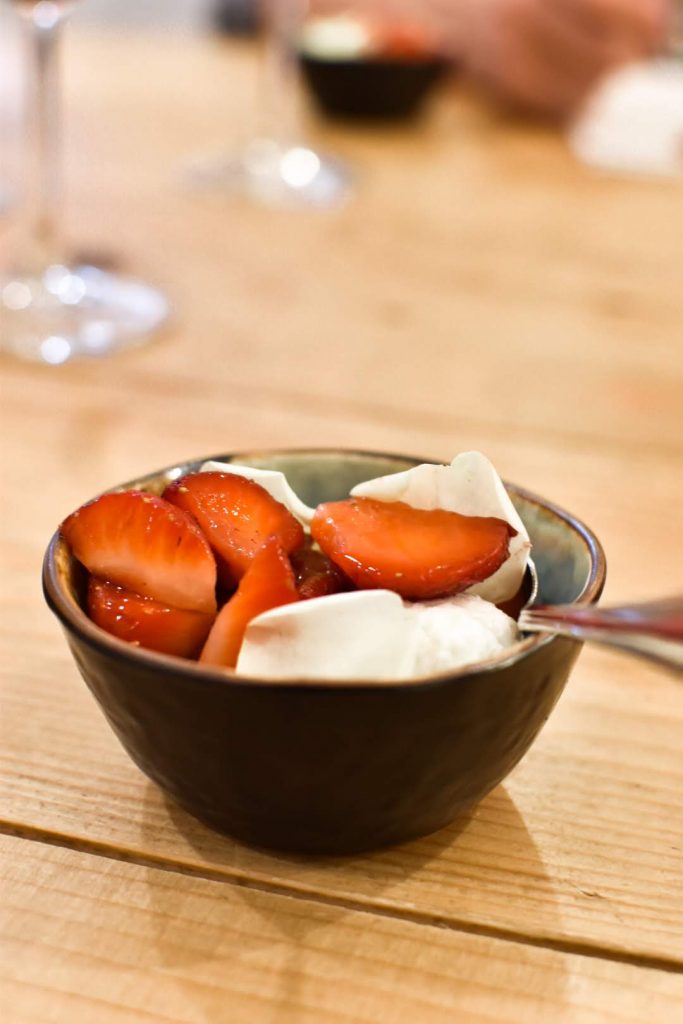 With each dish (or rather several times per plate), Mitja took us through an incredible range of wines. We tried 11 wines. 6 white, and 5 black.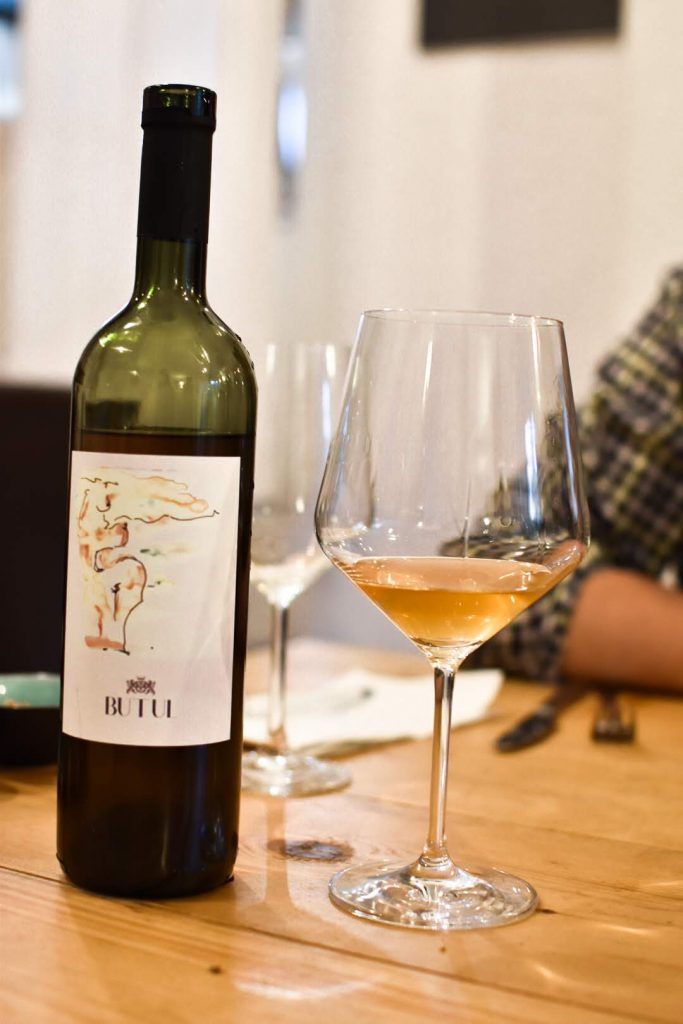 We started gently, with natural Malvasia 2018, which goes by the name Koza (goat) Nostra. They say they got the idea for the name in Sicily, where they asked local people if they would mind if they named their wine Koza Nostra. You can look up the reference in a gangster movie. But theirs has nothing to do with it – it means "our goat".
We continued with the excellent natural Malvasia 2017 Nos tra koza, which was kept in a wooden oak barrel. The third wine on the list was a 14 days macerated Malvasia 2019, which goes by the name Baby Orange – baby because it is "guarded" by the yeast as its "mommy", made with the help of grape seeds, and which help it retain this peculiar and EXCELLENT taste.
Only 300 bottles of Ptička (bird) Malvasia 2017 were produced by Butuls, so this is a wine you simply must have at home (if you are a collector). Ribca (fish) is another work of art by Črt (yes, when he was little he wanted to be an artist).  Mitja served us Malvasia with the label of a fish and a cluster of grapes, which was picked in 2016 together with Istrian Muscat from a neighbour's vineyard, which adds a wonderful smell and crazy taste. 
For the wine that followed, Mitja says it tastes like hitting a G spot. And given that there are only 150 bottles of this macerated (3 weeks in 2016) Malvasia in the world, he was right. Malvasia G 2016 was a real hit! When you try it with Bakalar, it takes you into a new world.
After white wines, well, they are more orange than white, but the Butuls prefer to call them macerated white wines, we almost started with red ones. But Mitja surprised again with another white (but really "orange"), which is still in barrels, but they have tested it by bottling it in ten bottles. It doesn't have a name yet, but the two of us called it Nagababa (naked lady) because this wine is also adorned with a label with Črt's ​​artwork, in which we recognized … Well, a naked lady. 
Malvasia of the year 2017, which has been in a stainless steel barrel for a year and without added sulfur, is now waiting for the right moment to be bottled in a used wooden 225 l used oak barrel.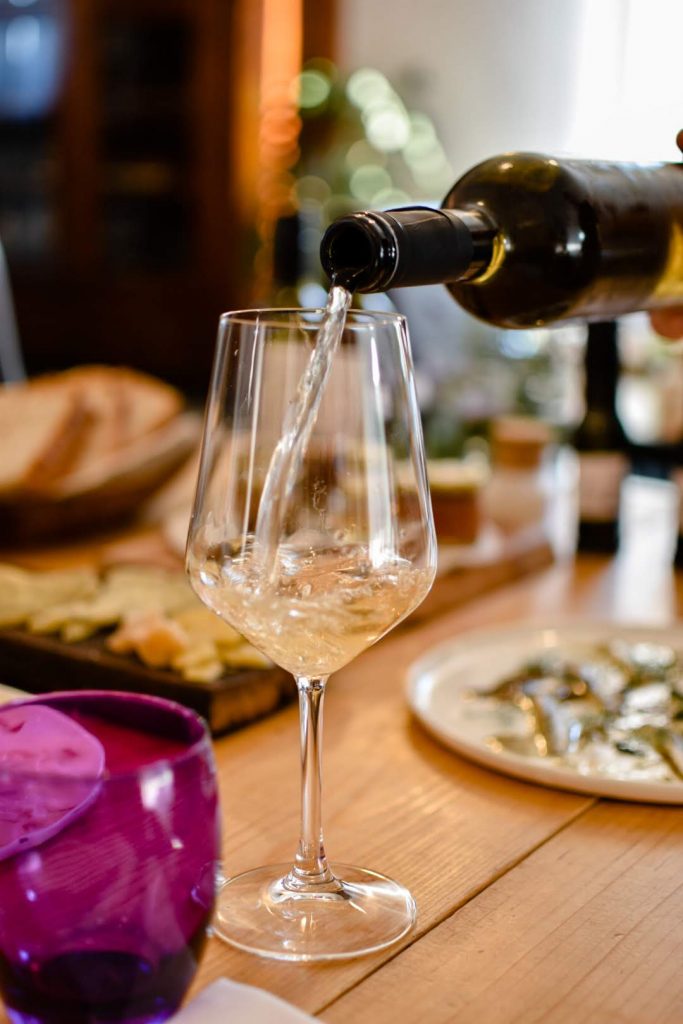 And now come the red wines. Refosco. First was Black 2018, fresh, full of flavour, which until recently was on lees, and which on the retro label is named the Black baby. Currently, there are only 300 bottles of it.
One of our favourite Butul reds, well as they call them, black wines, is Boškarin 2017. Because of the taste (I admit, I don't like red wines a lot, but I liked all that the Butuls brought to the table) and because of the story behind it. "Tradition is our mission" is the slogan of the Butul family. And they introduce this tradition in many ways. One of these ways is to name one of their wines Boškarin. Boškarin is an Istrian working cattle, and autochthonous ox, which was almost brought to extinction – and now you can see it in the Škocjan Bays Nature Reserve. He is cute right?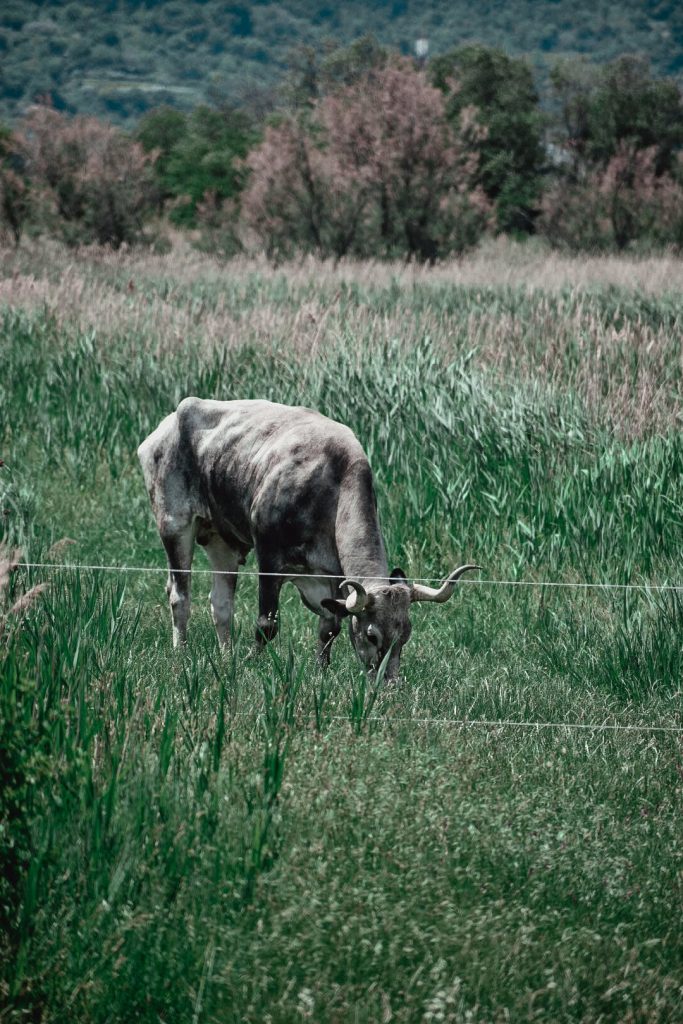 Boškarin's older brother is Refošk 2015, which was kept in a stainless steel container for 3.5 years. The highlight of the "Butul wine selection" was Refošk 2013. After a month of maceration, or contact with skins of Refosco grapes, two and a half years of ripening in a wooden, used barrel followed by another two and a half years in a stainless steel container, this wine was ready to enter the bottle. The wine is simply so good that I would always have it at home.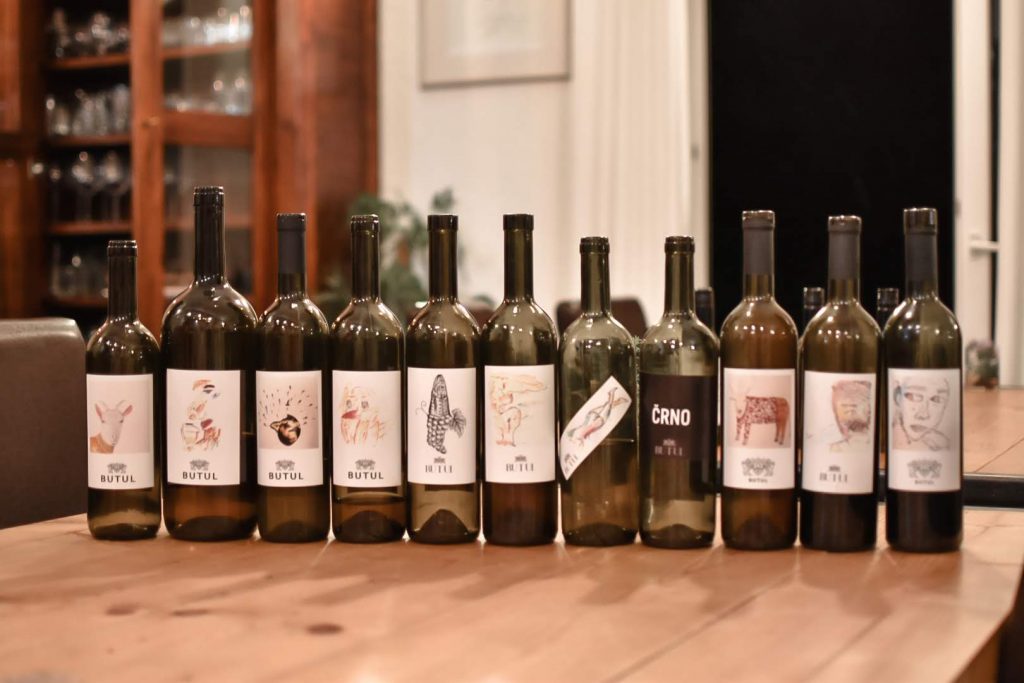 The next day, breakfast was waiting for us – (usually) my favourite part of staying anywhere. Well, I couldn't choose my favourite part here, but the breakfast was top notch too. When we got to the table, Tatjana was waiting for us with a smile, and bread, butter, coffee, tea, home-made yoghurt, cereals and strawberries, all already on the table. Great, let's eat! (as if we were starving the day before.) Well, that was far from all. Omelettes, meat, cheese, cottage cheese, cooked flakes with cranberries, and more and more were piled on the table. Yummmm!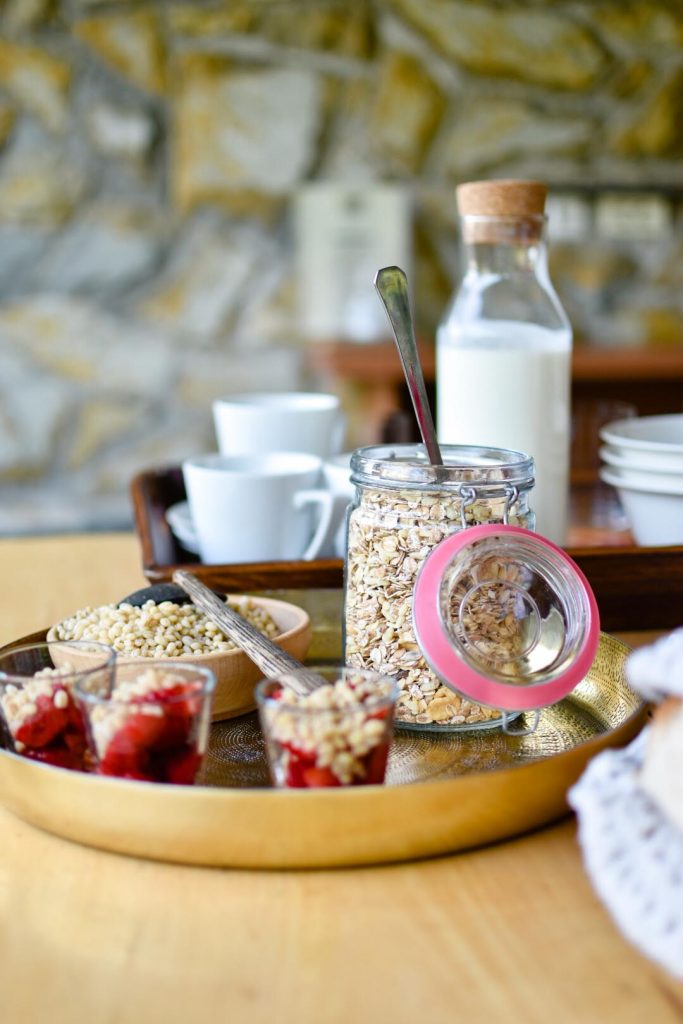 There are no words to describe all these experiences we gained in one evening. The prices vary depending on how long you want to stay, when you come and what is in the "package", but they will give you more than a fair price, believe us. We even bought 2 bottles of wine and brought it home. How long have we been choosing and buying these two bottles? That's another story for another time. As if we couldn't say goodbye, we had so much more to say, and in the end, we headed home with a crate of wine, home-made syrups, tea, a natural insect repellent spray, and lavender ointment.
We name Farmstay Butul one of the seven wonders of Slovenia, which goes alongside the Repovž Restaurant in Šentjanž. So, that's all for today, but in the coming months, we will explore (at least) 5 more destinations that we hope to be able to rank in the remaining prestigious spots within the seven wonders of Slovenia.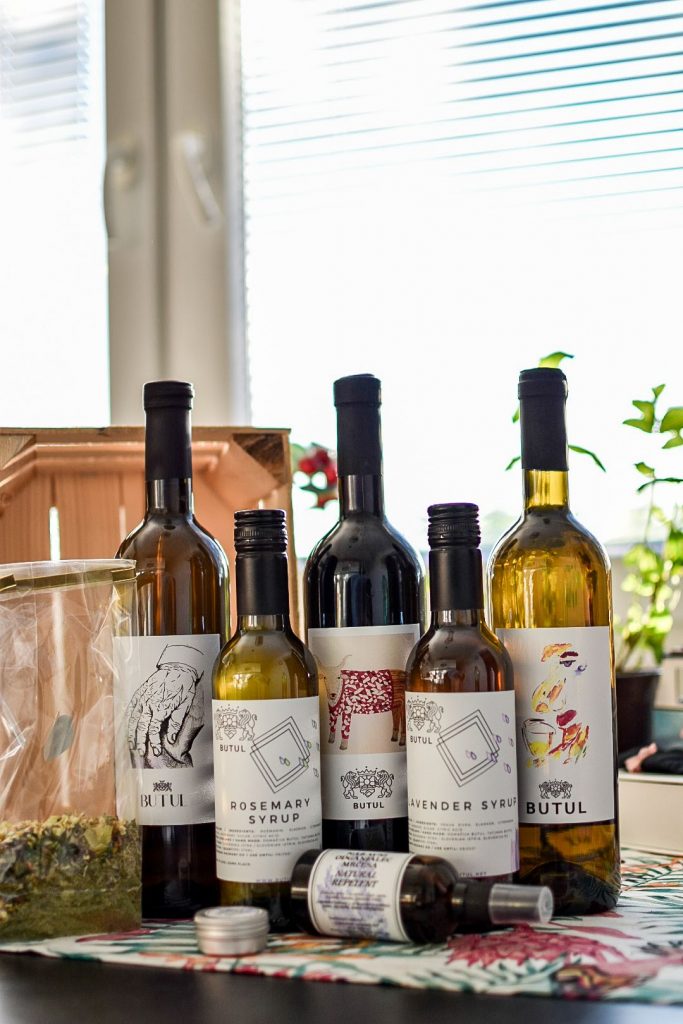 For more information go to their website www.butul.net or write and email to tatjana.butul@gmail.com.
Food 10/10
Wines 10/10
Service 10/10