Until recently, it had never occurred to me that out of all the countries in the world, Germany would be the one I would choose for my trip. Somehow, I am always drawn either to the seaside, or to somewhere far away, by plane, to warm places, or to somewhere that has been on my bucket list for years.
But it so happened that plane connections were unreliable due to the effects of the epidemic, the conditions for entering countries were changing daily, and we bought a new car and Aljoša wanted to go to the flagfootball tournament in Utrecht. All this logically led to the conclusion – let's go on a roadtrip through Germany, slowly to Utrecht. It was also helped by the fact that somewhere north-west of Frankfurt is Eltz Castle, which has also been on my bucket list for a while thanks to Instagram. And what can I say – I really recommend Germany!
Below you can find some of the most interesting places to visit, along with suggestions for parking, entrance fees, accommodation and other practical tips. Enjoy!
Castles of Ludwig of Bavaria
We decided to visit Neuschwanstein Castle. We were lucky that the tourists (April 2022) hadn't fully returned yet, so the castle wasn't overly crowded, there was plenty of parking, and we had no trouble getting a ticket even just a week before. If you are travelling at a time when tourism is back in full swing, I would advise buying tickets at least 1 month in advance, especially if (like us) you have a tight schedule and not much room for manoeuvre as to the day and time to visit the castle.
Parking is available at the bottom of the hill and is charged for the whole day and is €8-10. Please note that it is quite a walk to the castle and it is uphill the whole way. You should therefore plan your visit so that you have enough time to reach the castle in time for the guided tour. Also, check whether masks may still be required – we forgot ours, but we could buy them from the information desk in the castle.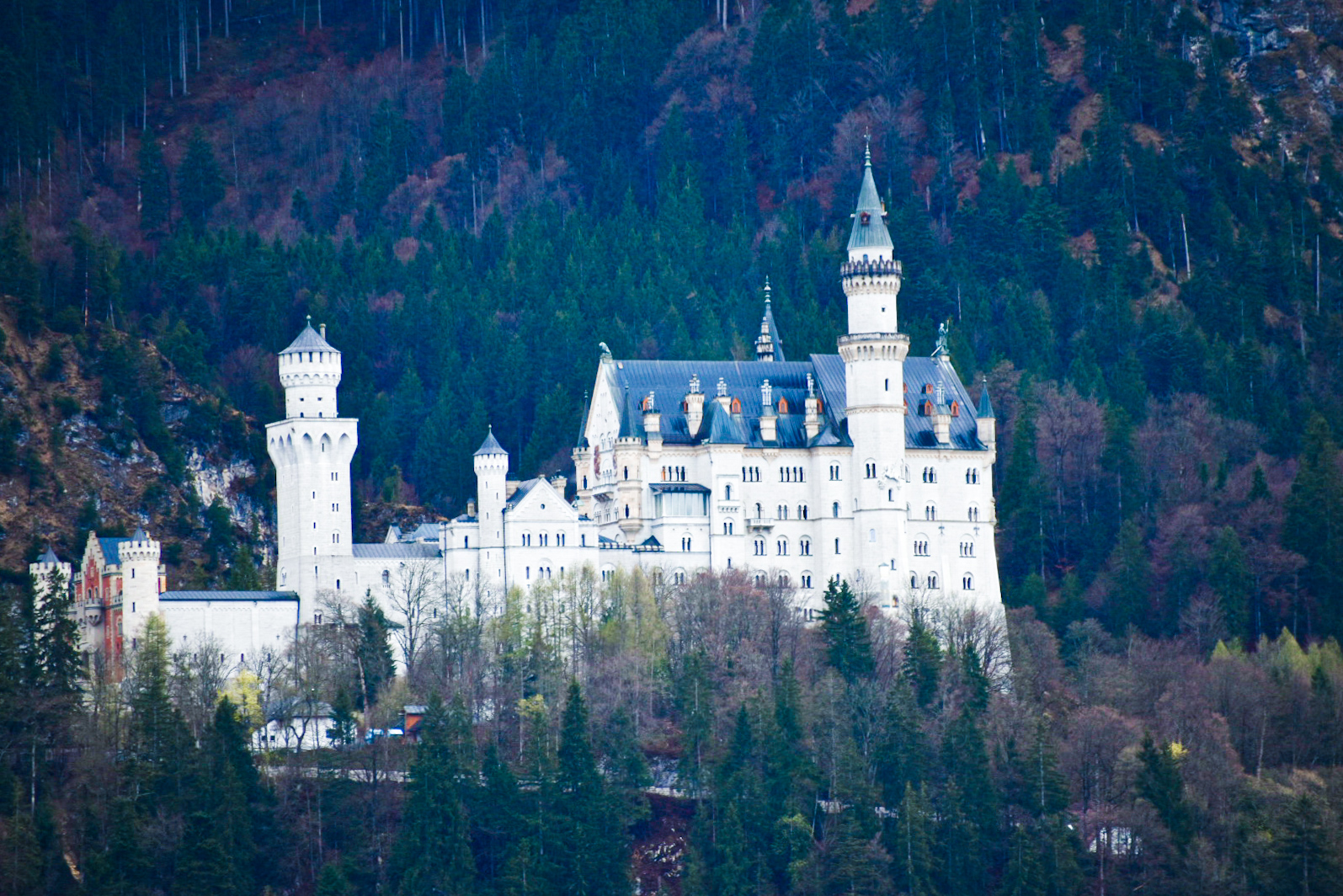 Admission is €15 per person + €2.50 per ticket extra cost for online purchase. You can also buy on site (down by the car park) without a fee, but I advise against buying on site, especially in the more touristy months, as you may end up without tickets.
For overnight accommodation (you can also stay the day before, for example, so you can catch the first guided tour the next day), I highly recommend Hotel Casa Maria (92 EUR incl. breakfast) which is just a 10-minute drive away, has free parking and a restaurant next door with pretty tasty pizzas. 
The next castle on our list was Lichtenstein Castle. A small castle over a high precipice, it looks great, but (if you don't opt for the guided tour) it takes a whole 5 minutes to see it (the garden included). The entrance fee to the garden is €4 and you can't actually see the castle without that, as it's behind high walls. The price of the guided tour is 12 EUR. The parking is right next to the castle and was free during our visit, but there are ramps on site, so I guess (like all car parks in Germany) there is usually a charge.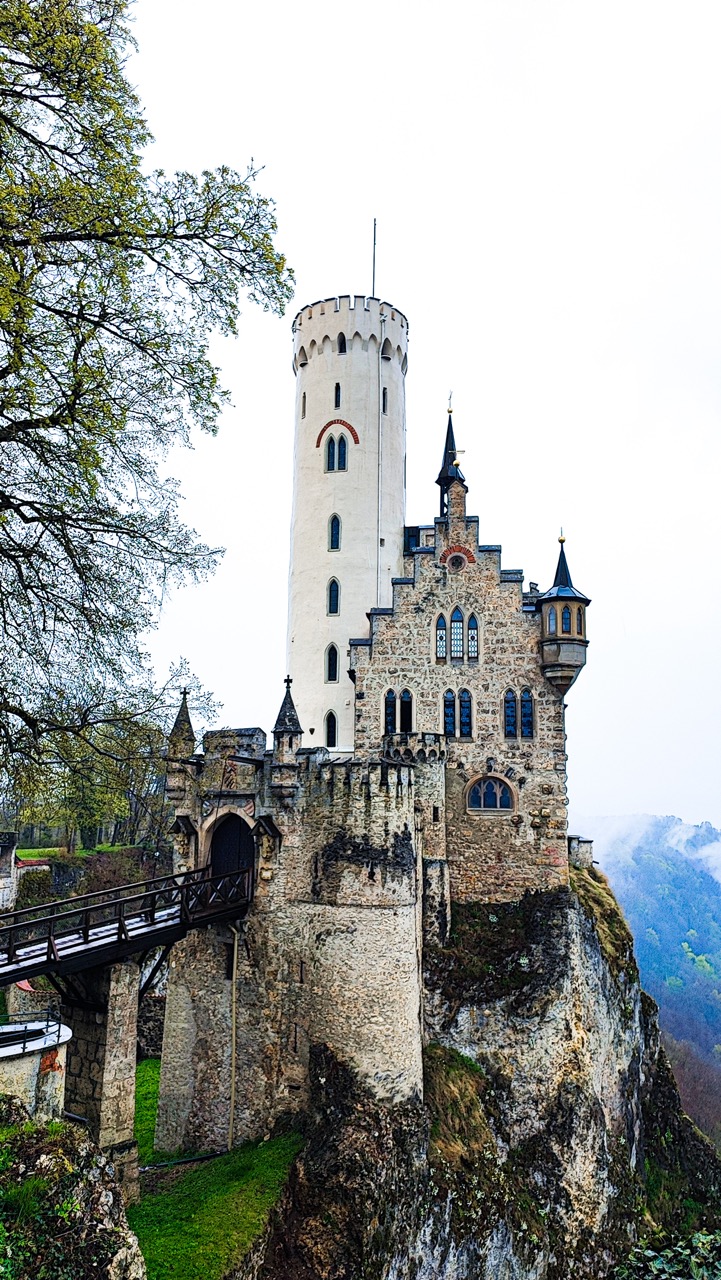 The last castle of the day was Hohenzollern Castle. Tickets for the castle can only be bought online and for adults start from €22. Parking higher up (and closer to the castle) is only possible for ticket holders, for others the parking is lower down the hill and the walk to the castle is up a fairly steep hill and partly up steps. Unless you intend to visit the castle from the inside (and therefore pay the entrance fee), the walk to the castle is rather pointless, as there are no nice views and the castle is nothing special up close. The most beautiful and impressive view is from the valley, from the road leading to and from the car park, and it looks like this: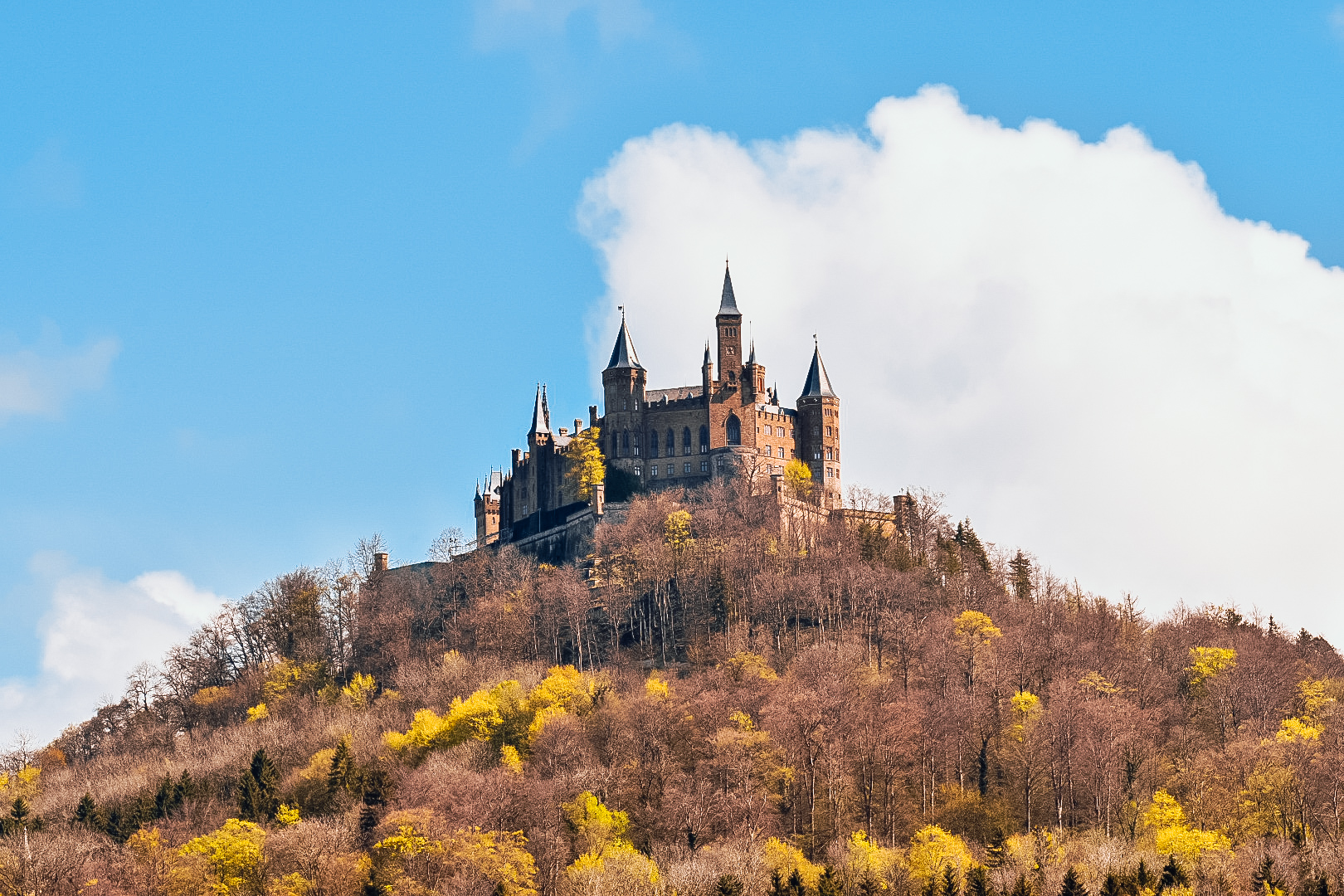 Outletcity Mezingen is also a quite interesting stop. Unlike the usual outlet centres and villages, which are completely artificial and somewhere in the middle of nowhere, Metzingen blends in with the village in which it is set and at times you don't even notice that you are in a shopping centre. The houses, the paths, the cafeterias and even the car park have been so cleverly and innovatively built that it blends in and really looks like a real town. The prices (at least when we were there and there were no special extra discounts) compared to those in Slovenia, were not much cheaper, so we haven't bought anything, but it was still a nice stop. 
The route took us from the castles towards Stuttgart, but for the first night we decided to spend the night just outside the city. Why? Because there's a V8 hotel there, which has some themed rooms where the beds are made out of cars (as befits a city like Stuttgart). If you want to choose a specific room (and possibly get a better price quote), I'd advise contacting the hotel directly (rather than booking through booking.com).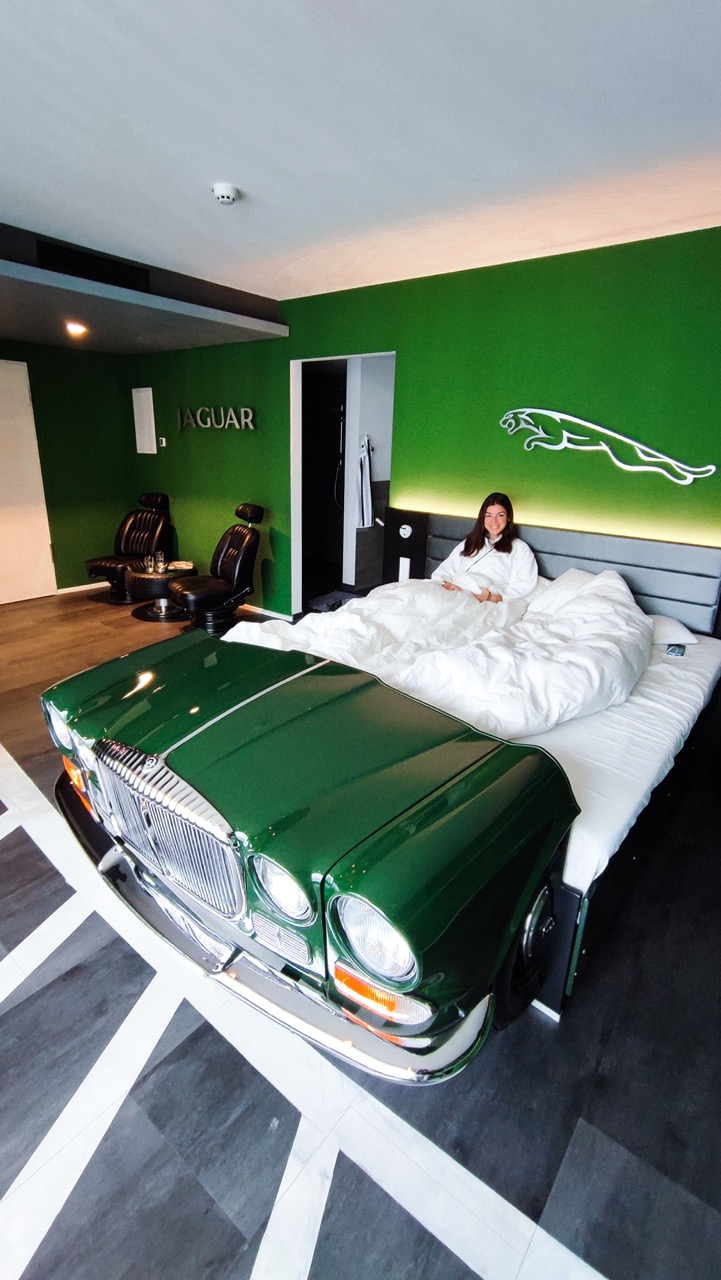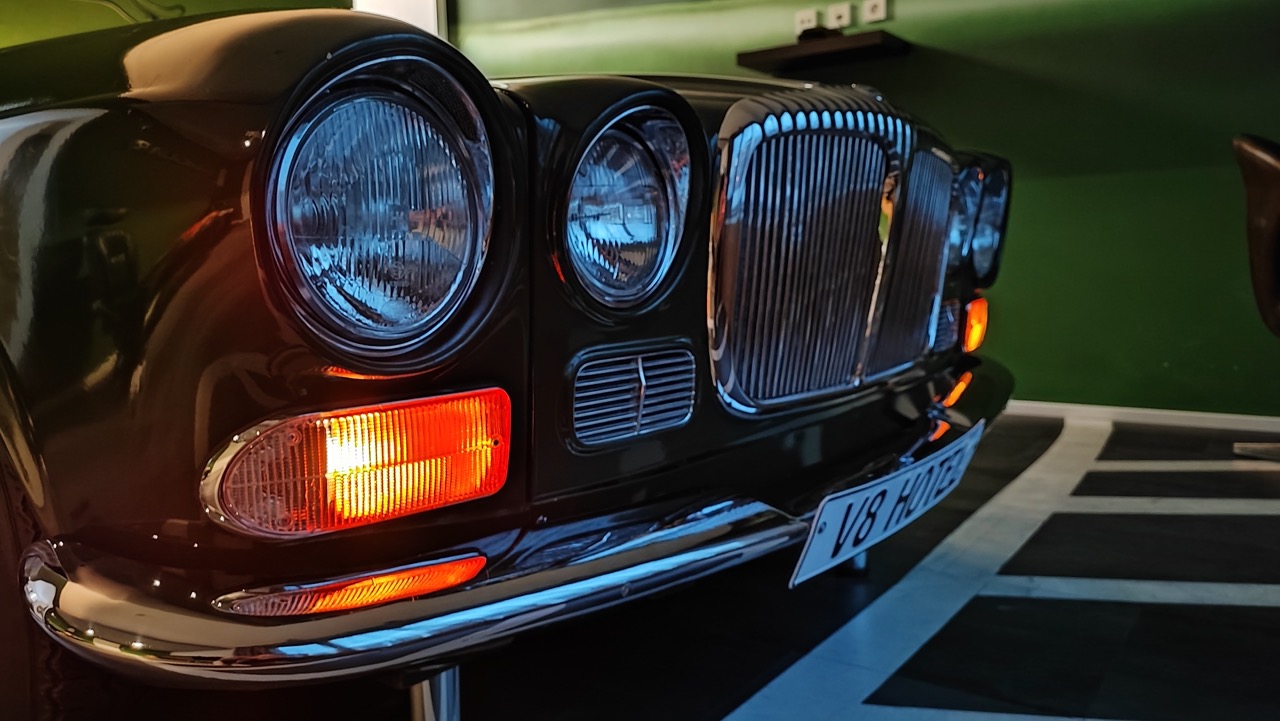 After a full day of driving and castle sightseeing, we planned our next day in Stuttgart so that the driving was more or less minimal (but there was quite a bit of walking as a result). On the list was brunch at Earl Eberhart, where I advise booking a table. The location is beautiful, and parking is quite practical, as the garage is practically in the next building.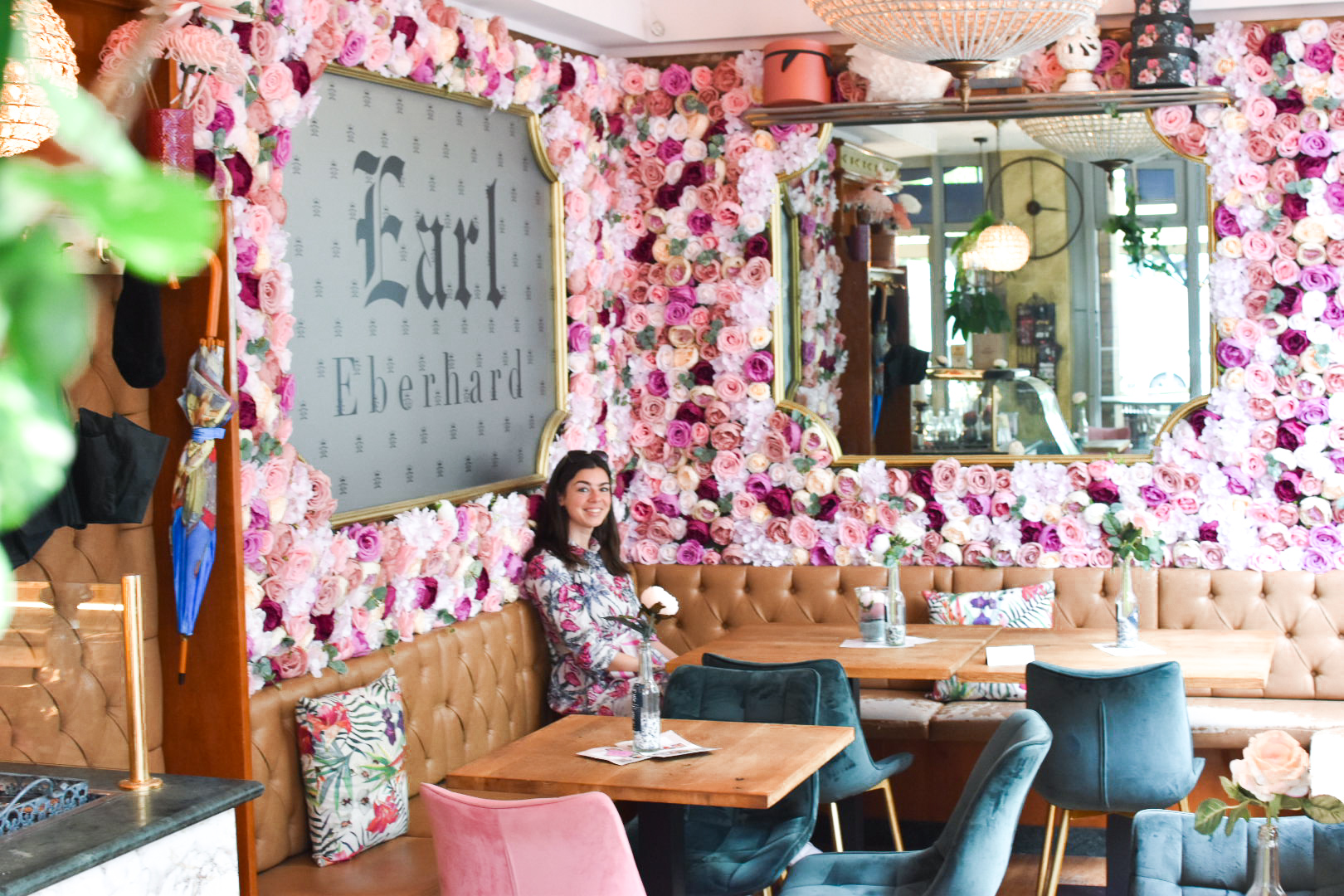 The rest of the day was devoted to a visit to Stuttgart's beautiful city library (parking is most practical in the garage of the Milaneo shopping centre .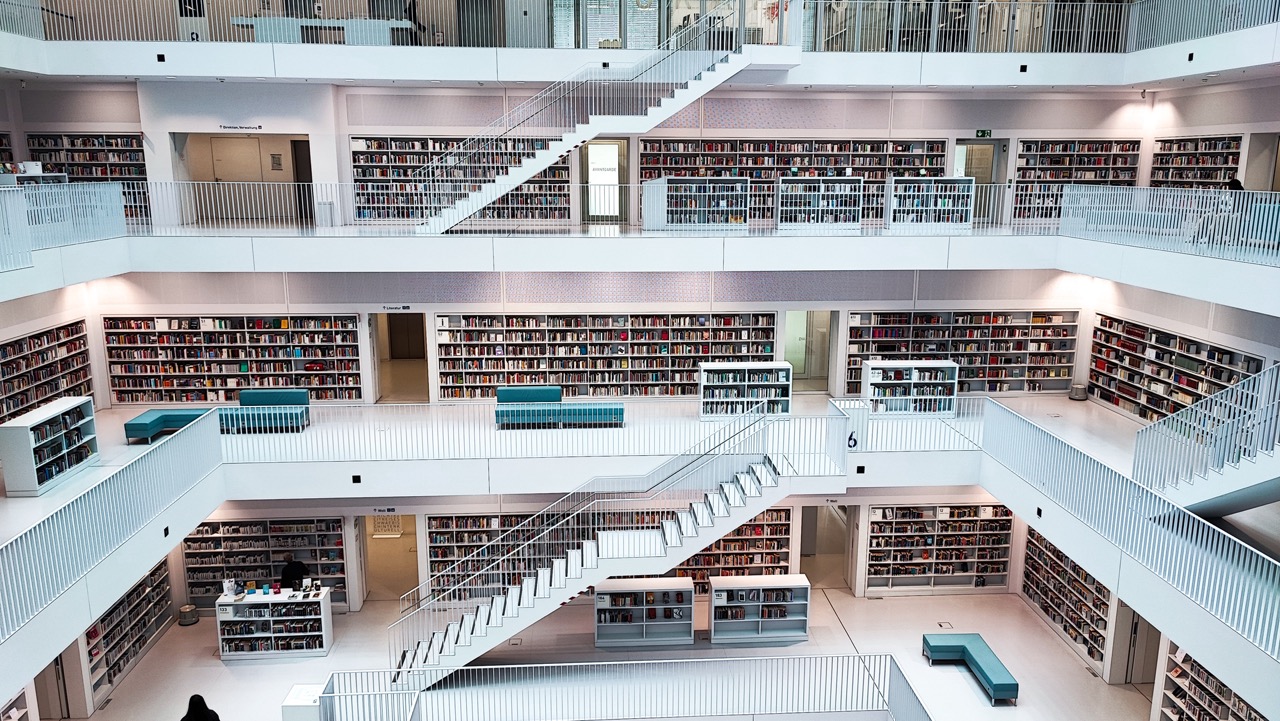 In Stuttgart, I would also recommend a visit to the Mercedes Benz Museum, where the entrance fee is 10 EUR and tickets can be bought on site. There is also a large parking garage at the museum, where the parking fee is 2 EUR per hour and is not included in the ticket price. The museum is huge and really very informative, and the cars are simply beautiful.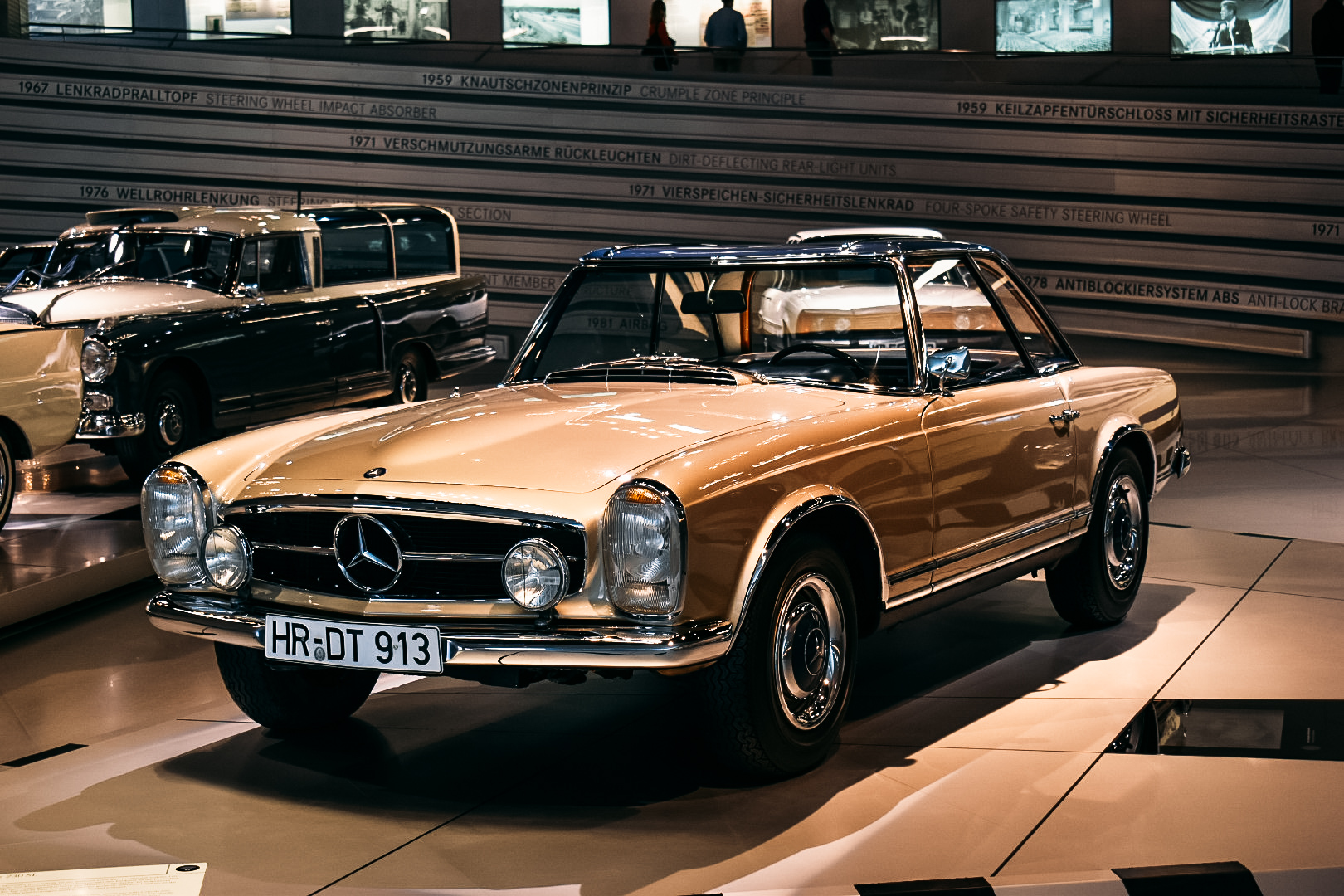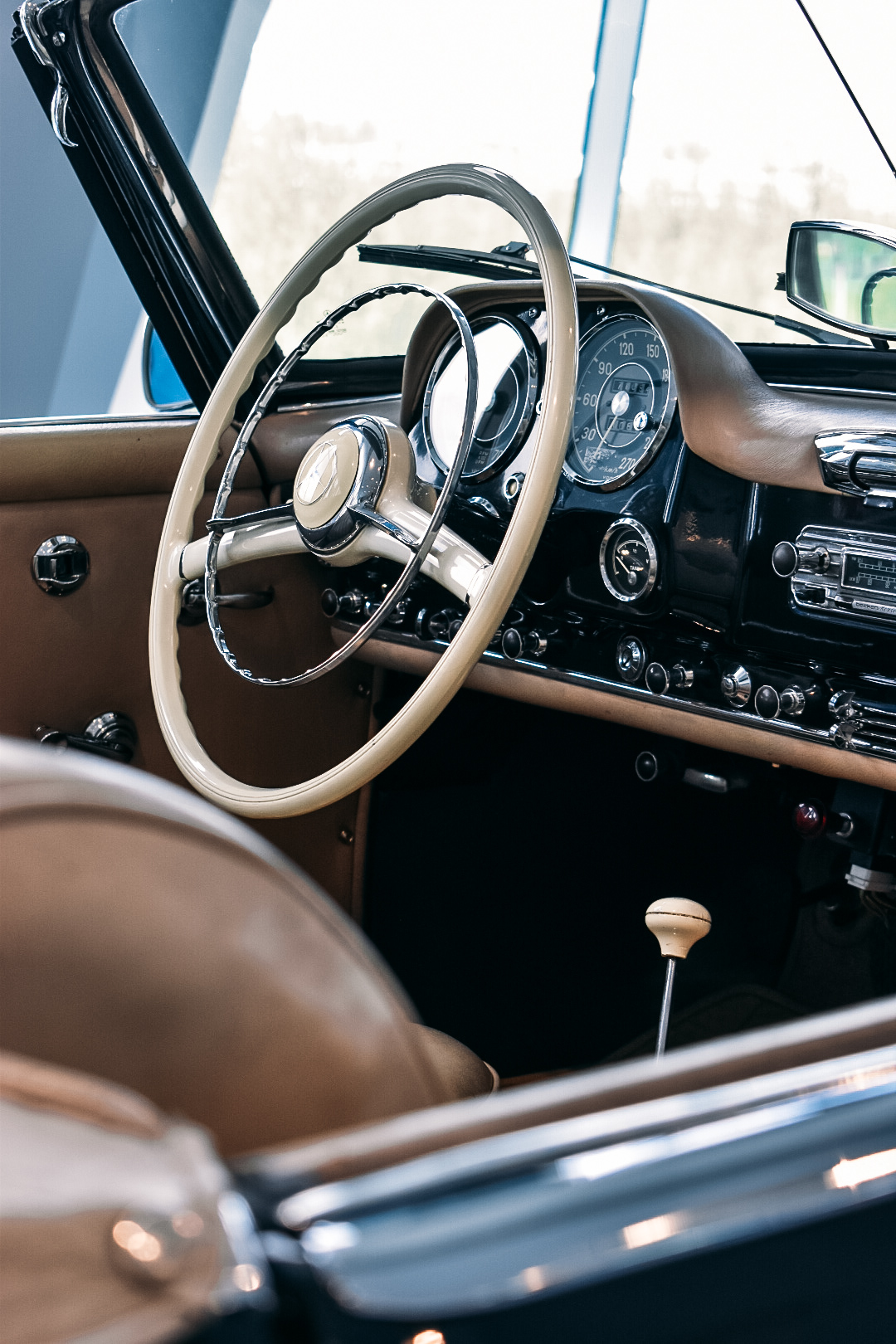 If you're already in Stuttgart, you can also visit the Porsche museum for the price of €10 per ticket, and €4 for up to 6 hours of parking. The museum is smaller and you can get around much quicker, but it's much less interesting (at least to me) compared to the Mercedes one.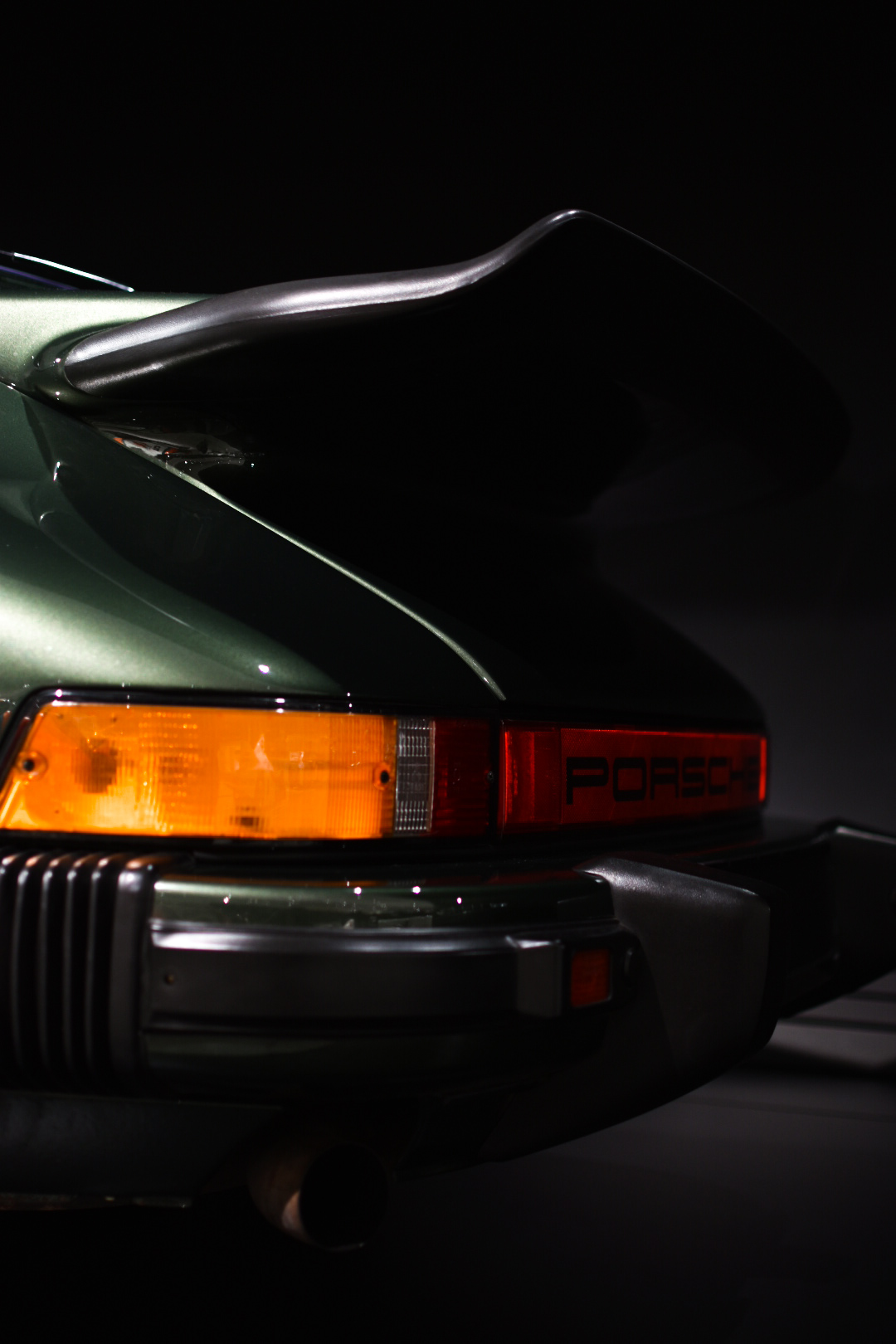 Overnight: above Stuttgart, in the village of Ludwigsburg (which by the way is also extremely cute and has really tasty burgers at Friend's Burger Saloon (and chairs made to look like you're riding a horse!)), we stayed at the HARBR. hotel, where bed and breakfast was 98 EUR (and there's a 20 EUR parking fee per 24 hours for an extra charge).
From Stuttgart, the road took us through some twists and turns towards Frankfurt. First stop was the village of Schwäbish Hall, where there are many pretty (and very photogenic) houses along the river, worth a short stop. You can park in Park P2 Schiedgraben, which is slightly above the town, but it's a really quick walk down between the houses to get to town, and it has a toilet and costs €1.5 per hour, which (we found) is pretty cheap for German conditions (regardless of the size of the town).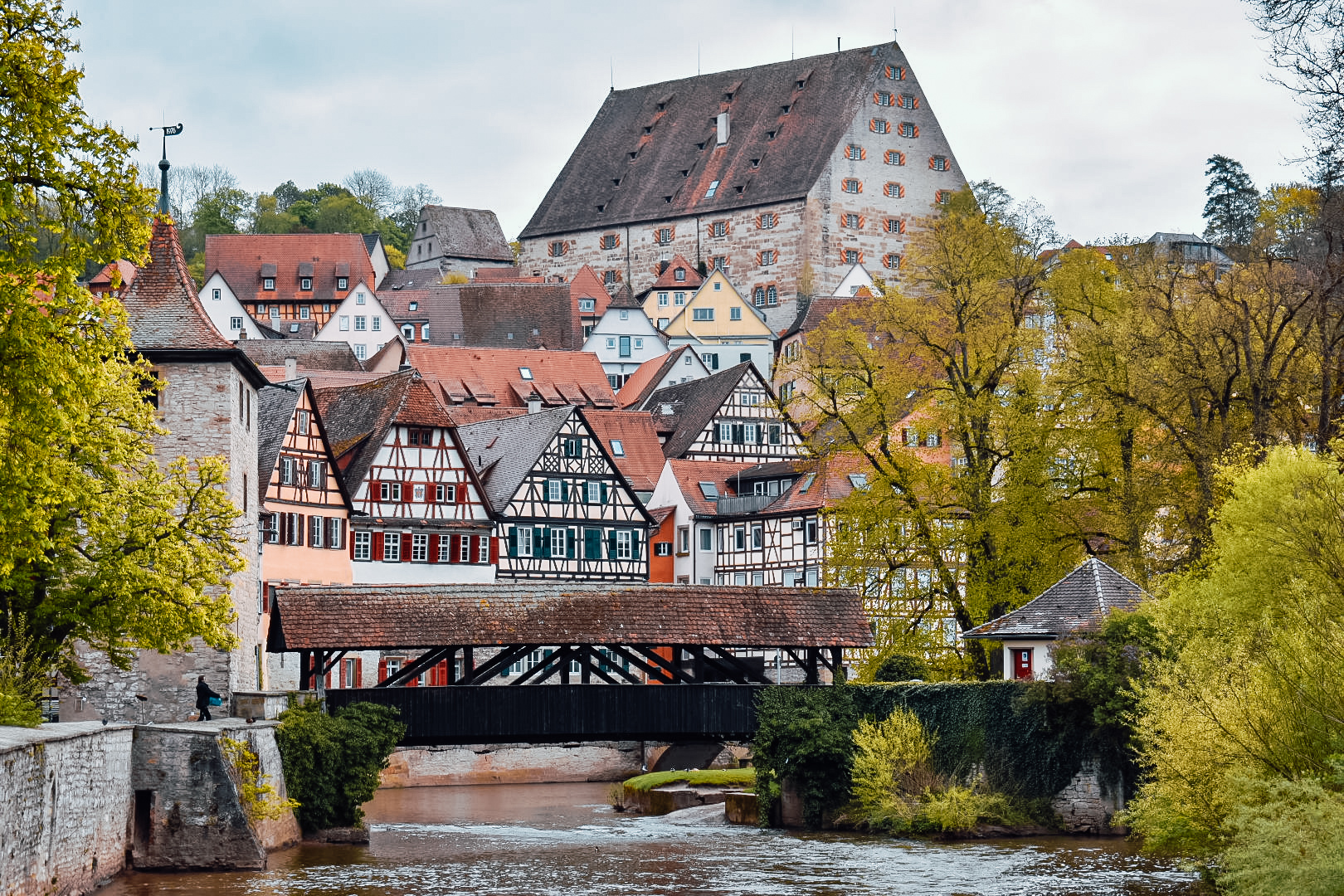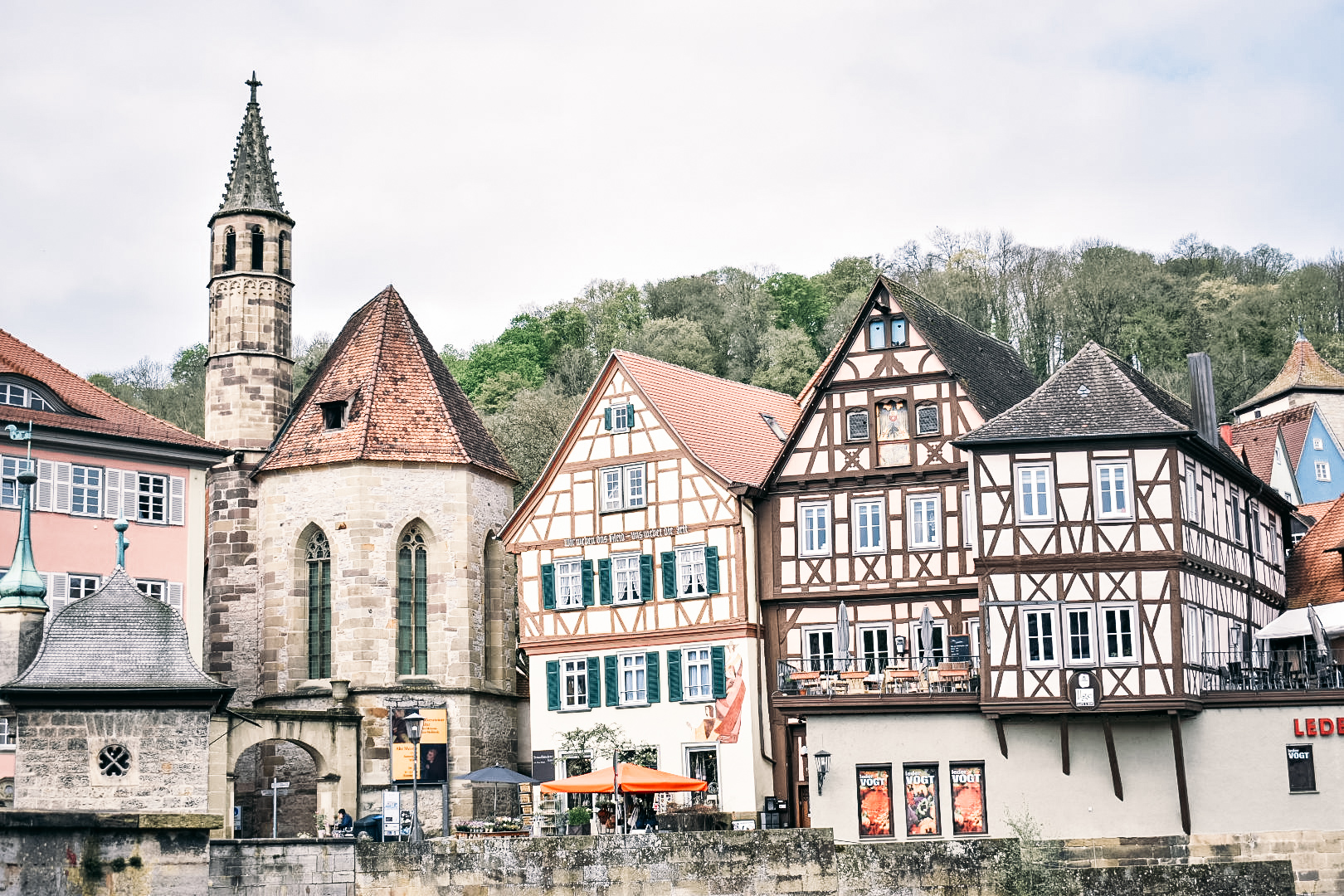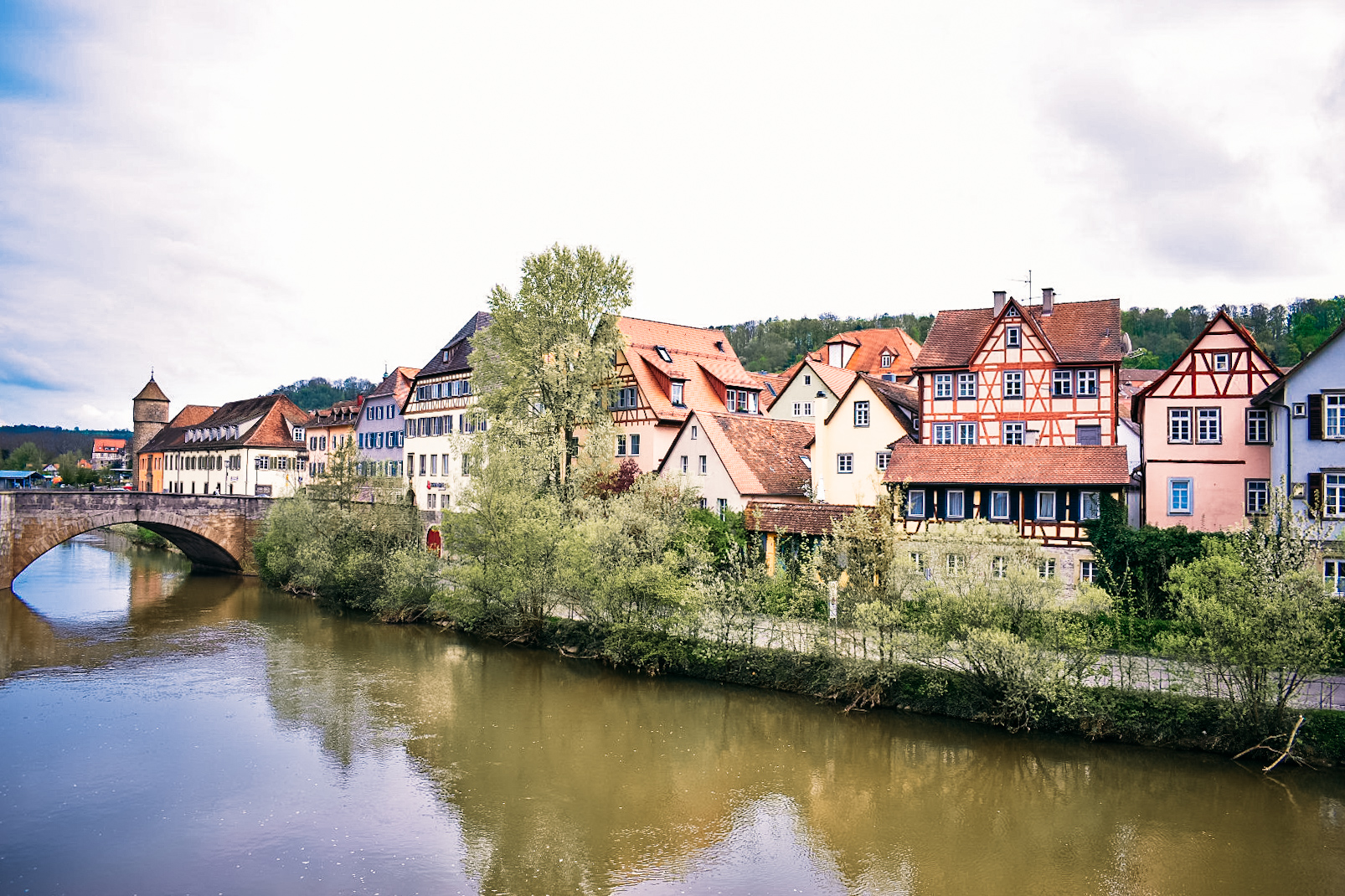 Christmas and decoration lovers won't want to miss this stop! This small town (we parked right at the Aldi above the town, because we bought a snack there anyway so we felt like we were customers who could leave their car there a bit longer) is a town where it's Christmas all year round! Not only Kathe Wohlfahrt's shop, which is why we stopped in the town in the first place, but also the other smaller shops had Christmas decorations, houses with lights and all sorts of Christmas-related things in their windows even at the end of April. A really cute stop on the way.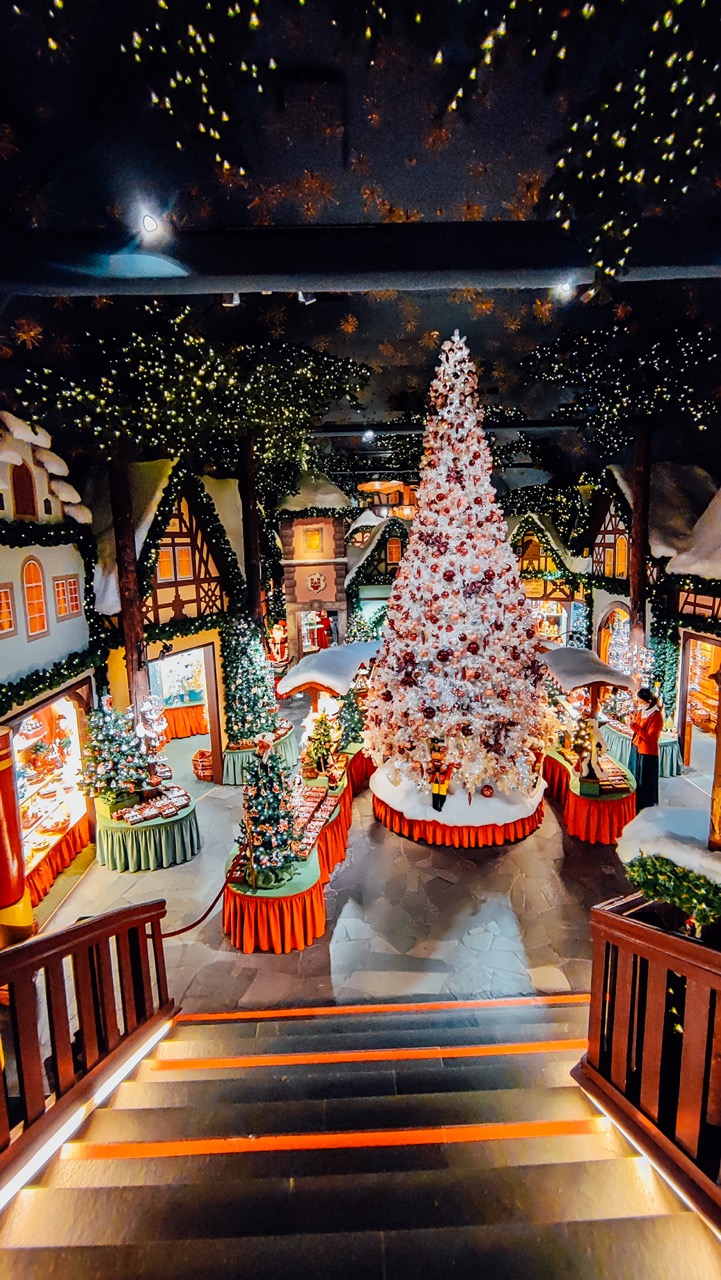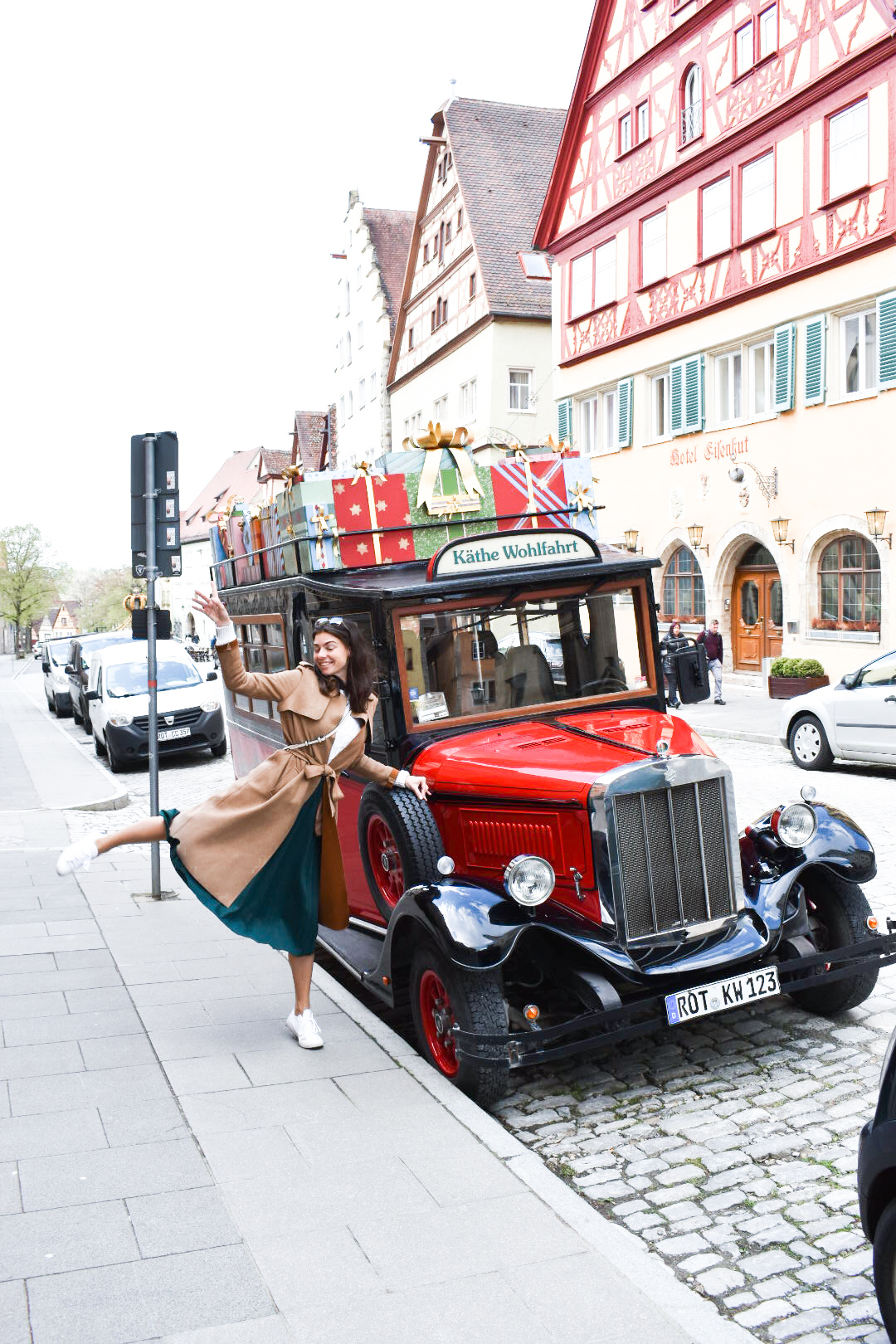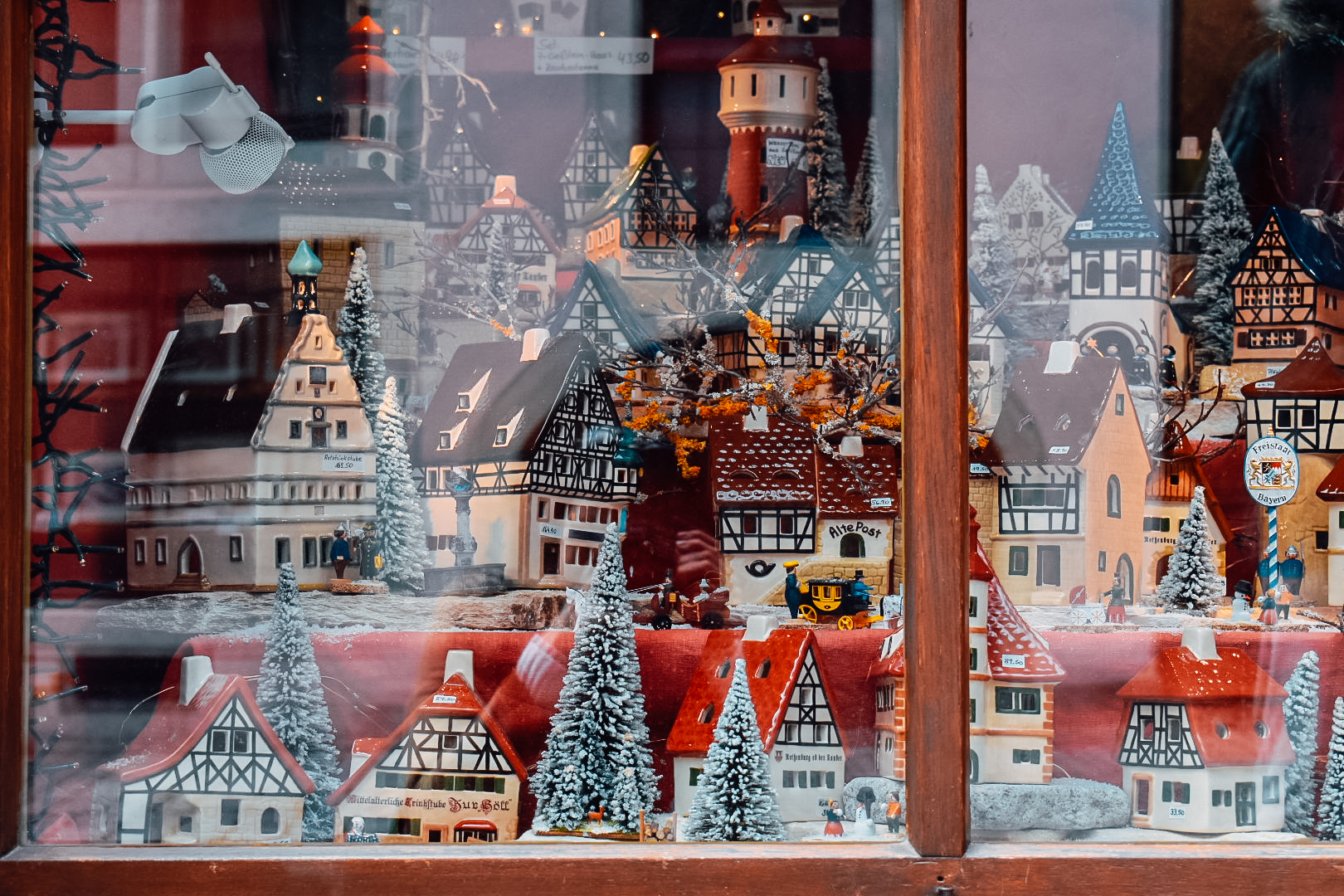 Then it was back to one of the castles. Mespelbrunn Castle attracted me with its reflection in the lake in front of the castle. The price of the guided tour is €5 per person (we did come across a tour in German, so about halfway through e "escaped" early), but the guide also speaks English, so probably for larger groups (or if we weren't there exactly when the German tourists came), the tour could be in English too.
The car park is a few hundred metres away from the castle and can only be paid for with coins, so make sure you have them (in fact, it's not even possible to get into one of the car parks without inserting coins).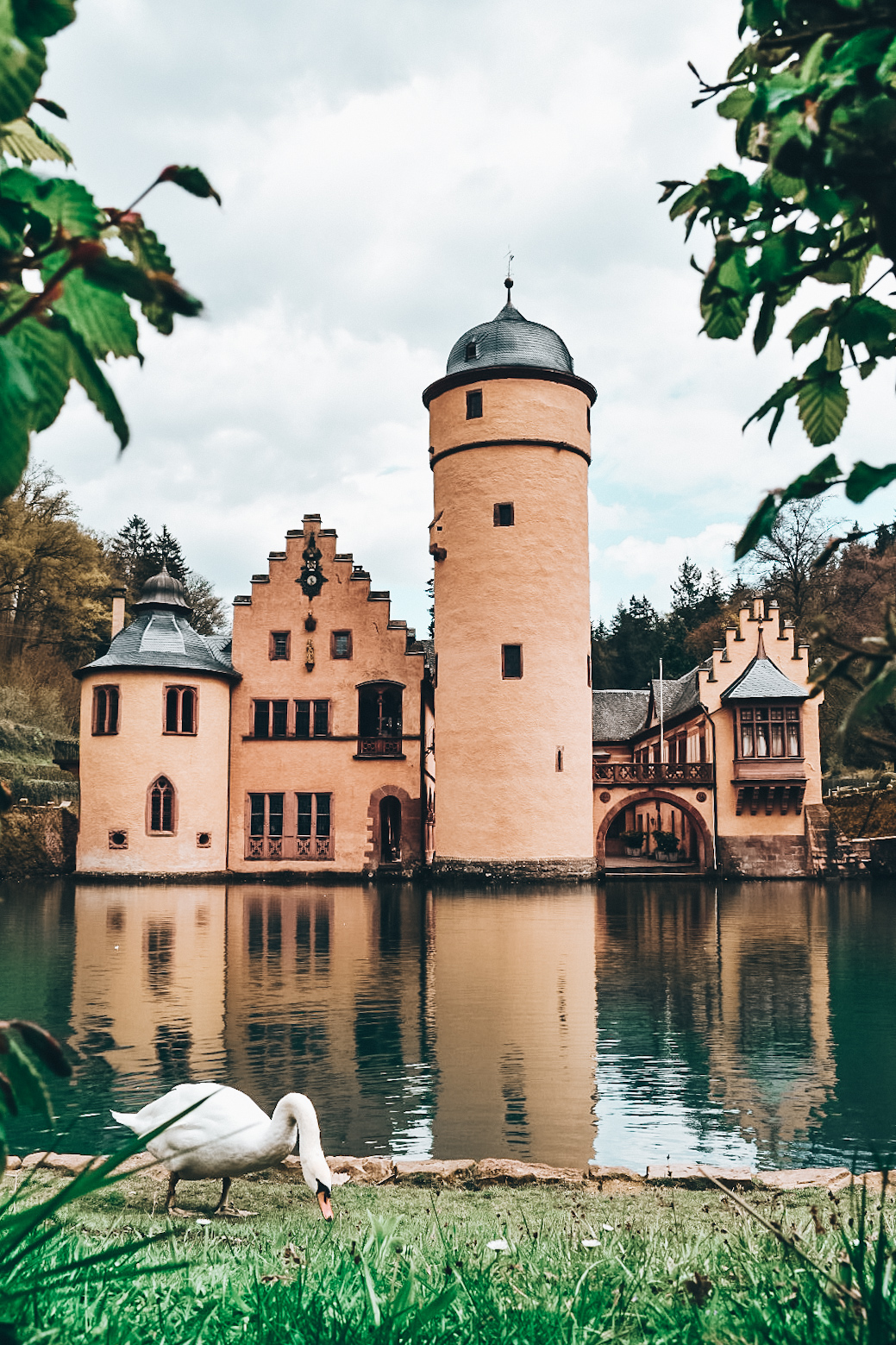 We made a quick stop in Frankfurt and walked along the Main River. Parking is quite accessible and easy to find for example at the Parkhaus Dom Römer.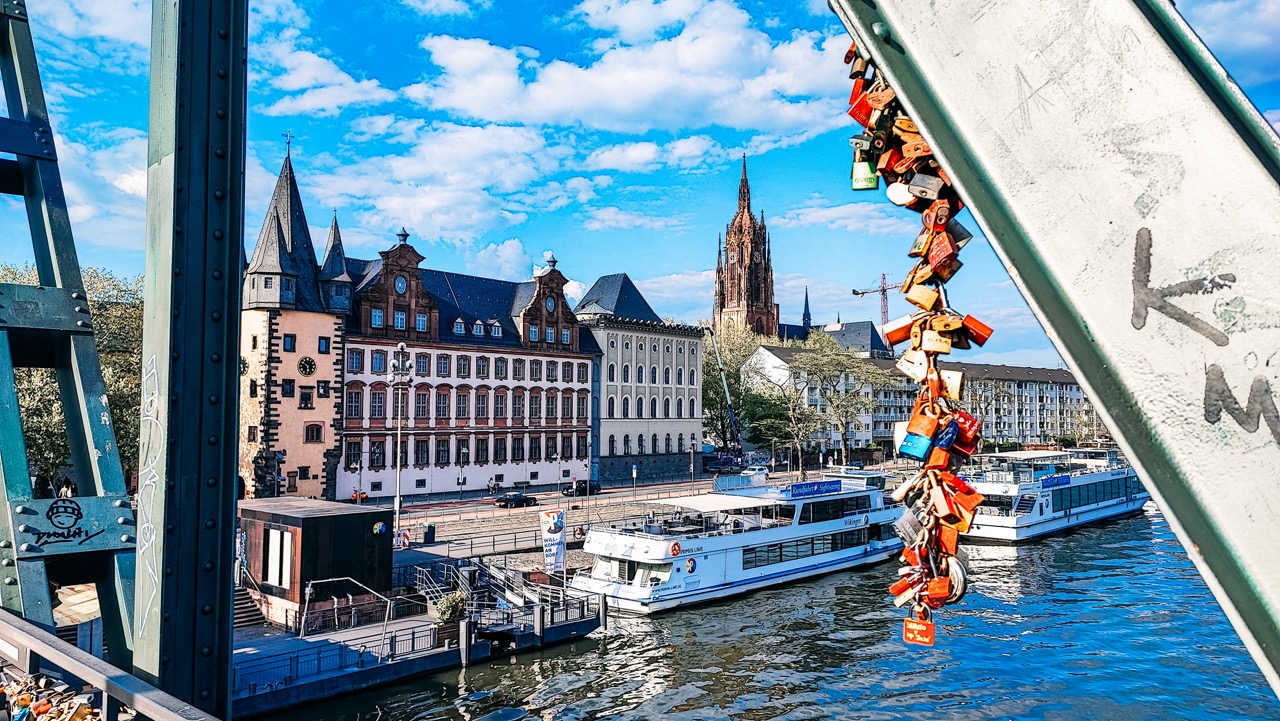 Sleep: Hotel Schöne Aussichten above Frankfurt. You might lose a hair (or get a grey one) on the way to the hotel and especially to their lower car park, as the streets are narrow, one-way and clogged with parked cars, but the hotel is beautifully decorated, the view of Frankfurt is divine, the breakfast is solid, and there's free parking (which I've never seen anywhere in the city centre).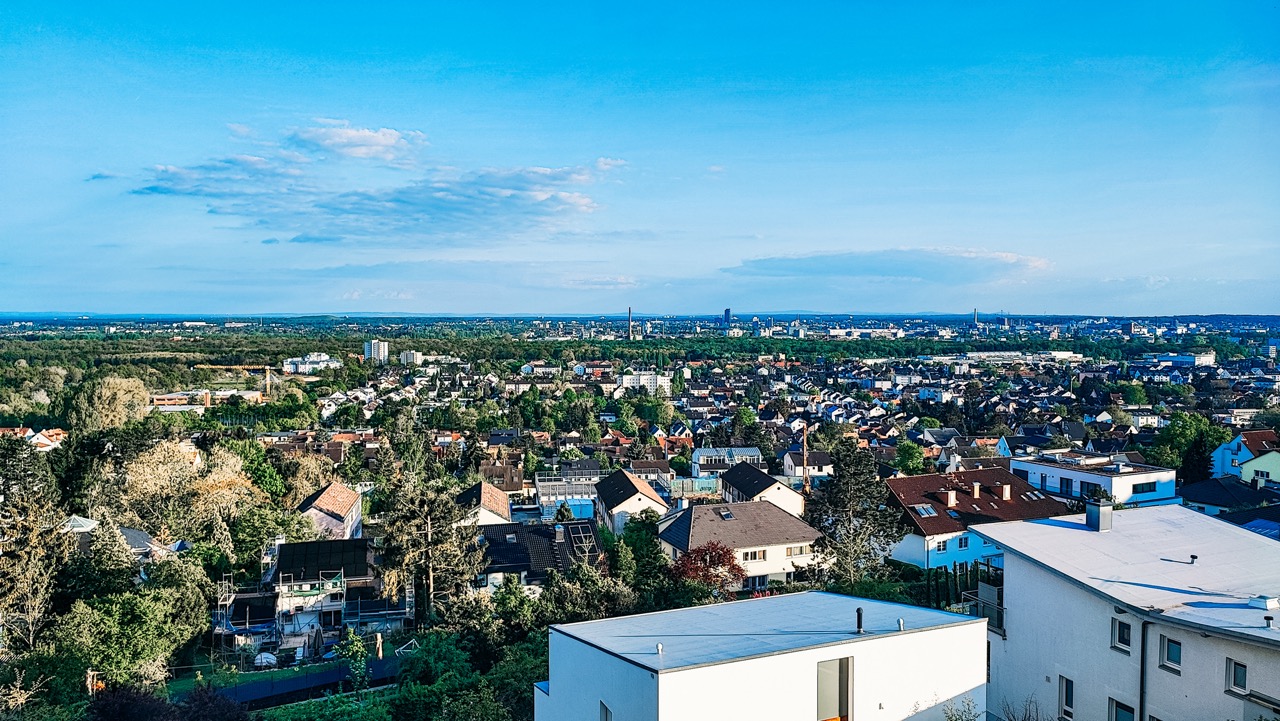 One of the highlights of the trip was undoubtedly Eltz Castle. For an entrance fee of 12 EUR per adult, you get a guided tour of the castle, which I think is one of the most beautiful and special castles I've ever seen. Just the view when you come around the corner and see it, is simply WOW. 
Park here for €4 regardless of duration, then take the forest path or shuttle to the castle. The path is pleasant, but it's still sandy, so good footwear is advised.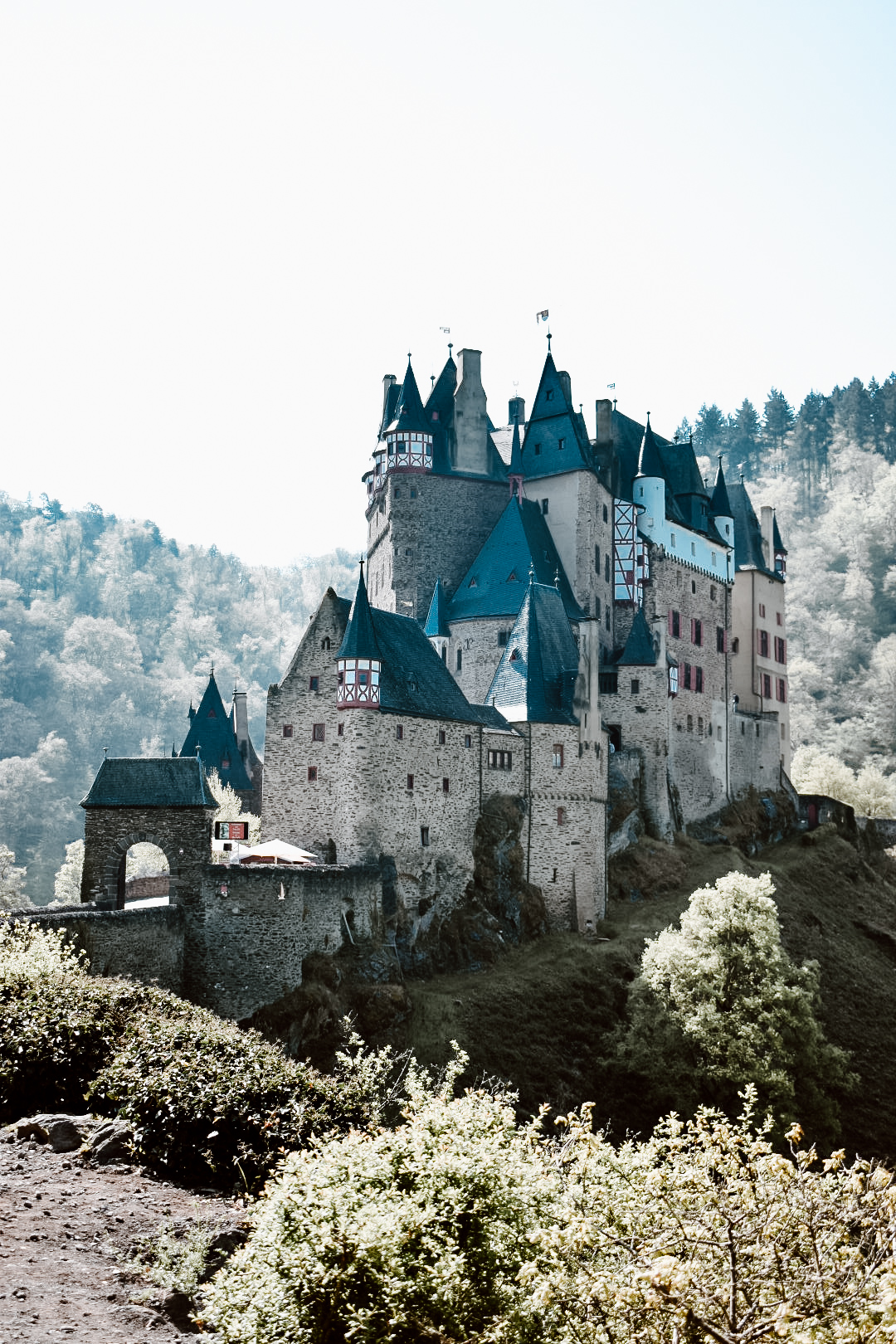 Geierlay suspension bridge
Somewhere in the middle of nowhere, west of Frankfurt, lies, or rather hangs, the longest suspension bridge in Germany – a whopping 360m long, and at its highest point, 100m high. The easiest way to reach it is to park in Mörsdorf (the other option is to park in Sosberg – in which case you'll get to the bridge from the other side), where there are quite a few parking lots – as someone wrote on Google maps – there are actually more parking lots in the village than there are houses or inhabitants. The parking prices are quite high (I think we paid EUR 5 for 2 hours), but crossing the bridge is free. If you visit the bridge in spring (April-May), you will be led to it by a path surrounded by endless fields of rapeseed oil, dotted with windmills. The path over the bridge is quite scary (if you're afraid of heights, I don't recommend it at all), but the views are divine.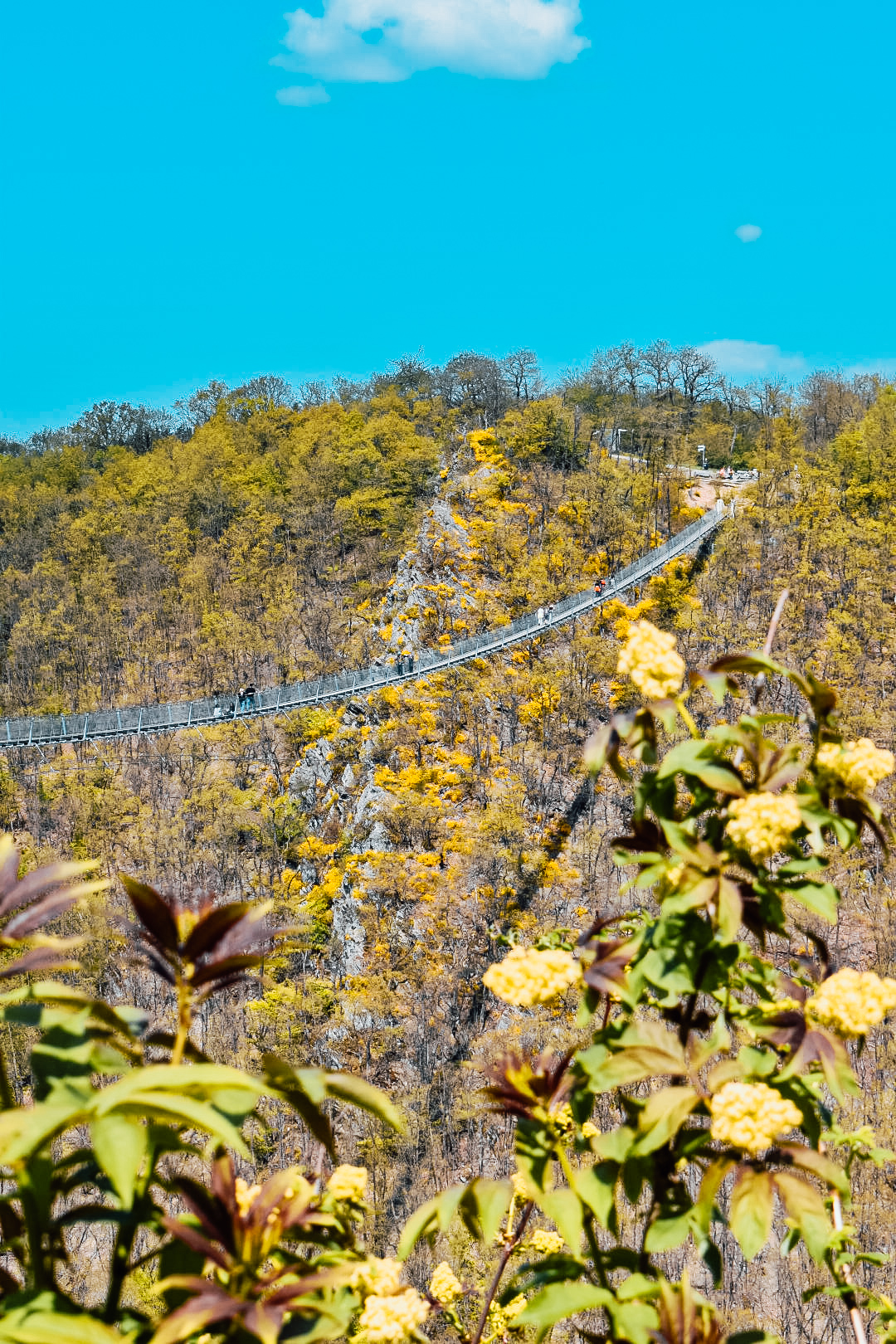 Cochem is a beautiful castle in the town of the same name. There are plenty of car parks in the town, all of which are pay-and-display. The guided tour of the castle was one of our favourites as it is actually very informative, but also interactive – opening secret doors, listening to how deep the fountain is and enjoying listening to classical music in the main hall. The price of the guided tour for an adult is EUR 7. It is not possible to visit without a guide.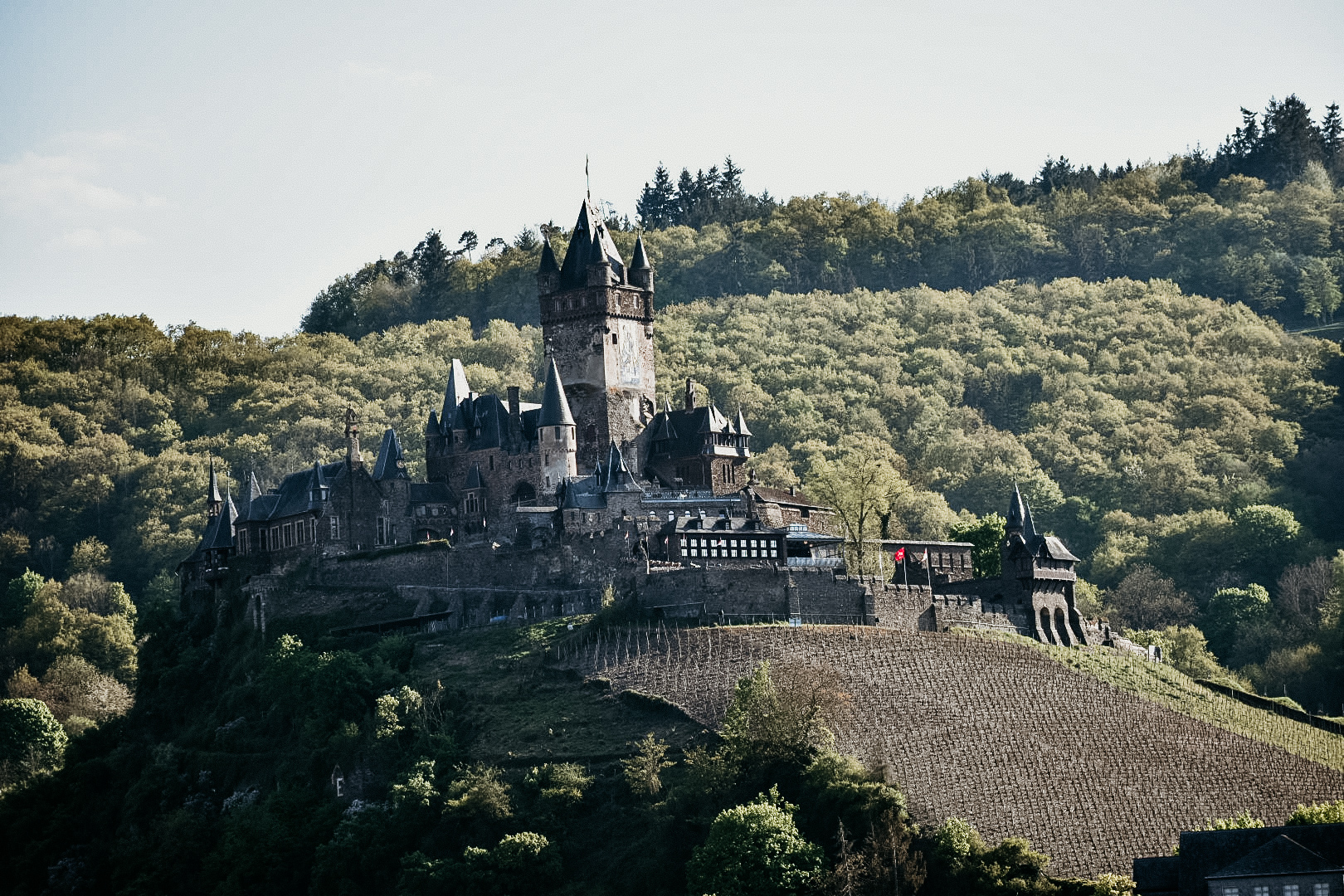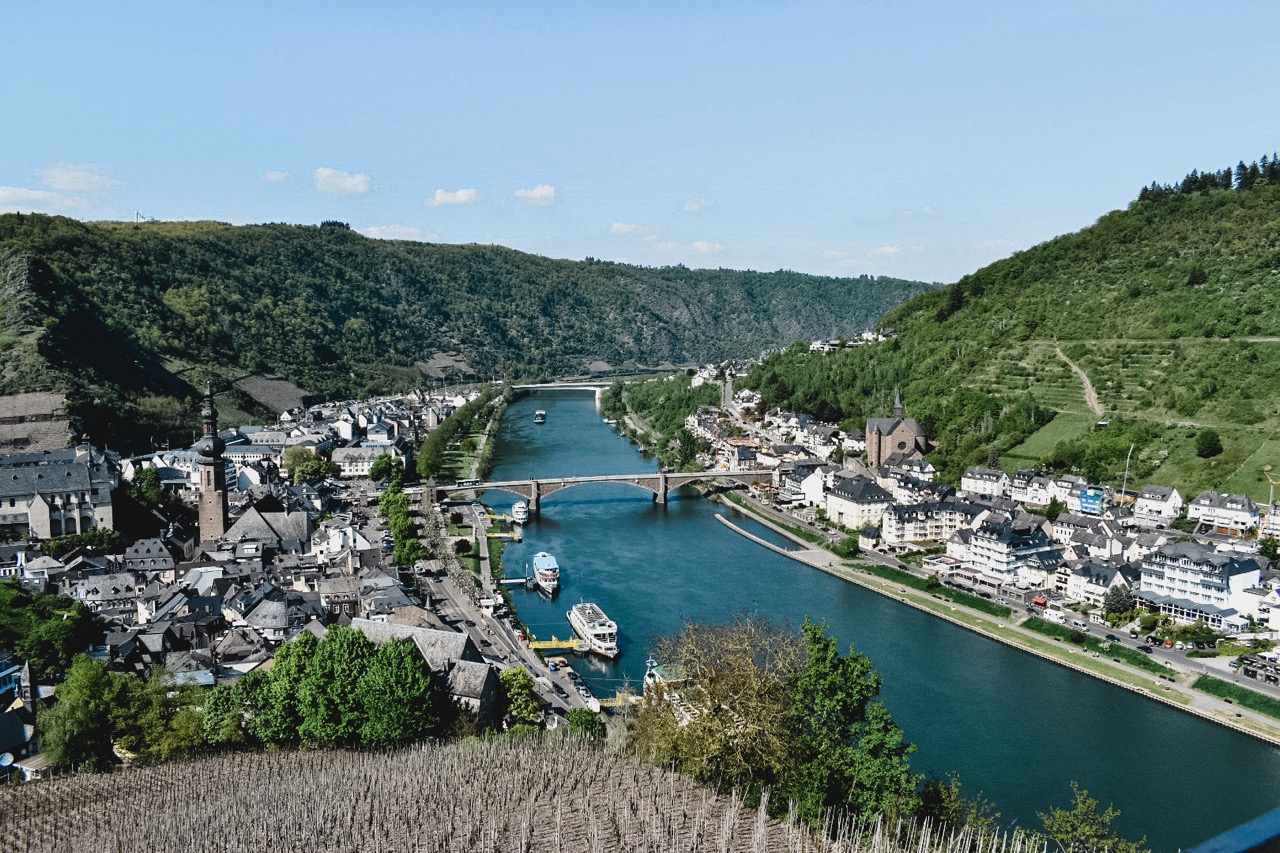 Unfortunately, we didn't get to see this castle, but judging by the photos it's gorgeous. We didn't see it because the parking lot is marked as a place where the parking machines also accept cards, but they refused to accept all of our cards. We were a full 20 cents short of the parking fee (out of EUR 2 for 3 hours). Despite our persistent pounding on the ground and searching for something shiny (like some magpies), apparently, no one dropped a coin on the ground that day that would have saved us from the torment. As it didn't seem worth the risk of an illegal parking fine, we went ahead and saw the castle only on the internet and really from a distance.
Bonn, Cologne, Dusserldorf or wherever the road takes you
We were in a hurry to get to Utrecht, so we just made a quick stop in Duisburg for lunch, but if you have more time, stop in one of these other cities, or head further north-east – Hamburg and Berlin, for example, are gorgeous cities too.
We spent the night in Bonn, at Tante ALMA's Bonner Hotel, which I didn't think was worth the money (€80 without breakfast), as the room was quite basic, didn't even have a kettle, for example, and you had to pay extra for parking. So if you can find something else, you can easily skip this hotel.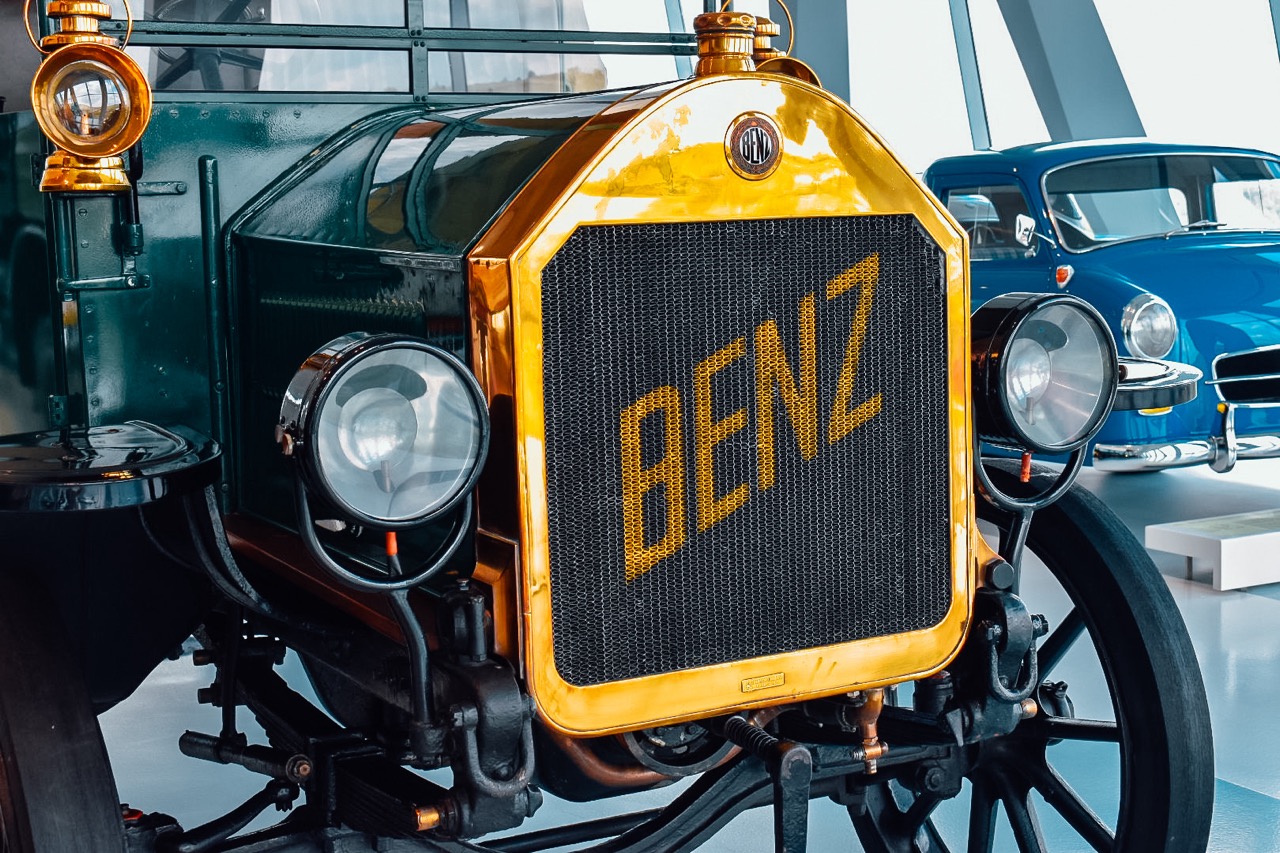 Just some quick tips:
To visit major German cities, you need to have an eco (UMWELT ZONE) sticker on your car, which in Slovenia, for example, can be bought from AMZS for €20 and is valid as long as the car has the same number plate. The fine for driving without a sticker is €80.

If you want to save a bit of money on the road (and not just money but also time), buy your snacks/lunches/dinners at Aldi. They have a really good range of sandwiches, pasta in pots and especially really rich salads. And you can eat it when you're hungry, so you run less risk of someone being hungry and grumpy on the way. 

Don't forget your Austrian vignette if you're travelling to Germany via Austria. 

Plan to fill up your tank somewhere off the motorway, as prices on the motorway tend to be higher than elsewhere. 

Parking in Germany is usually chargeable and not cheap.

Be careful on the road and have a lovely trip!
And cost-wise? The whole trip cost us just under EUR 2,000, but that includes three nights in Utrecht. So just to go to Frankfurt and then back, we would have spent 3 days less time (so 7 days), and at least EUR 600 less (maybe more). The biggest cost was the accommodation (now counting only for Germany, so without the Utrecht part) – about EUR 640, and then fuel about EUR 300, parking a few dozen EUR, eco sticker EUR 20, tolls in Austria between EUR 20 and 30, entrance fees to castles (if we had visited all of them by going on a guided tour, the entrance fees would have been about EUR 120 per person) and of course food.