Anyone else who orders breakfast/brunch based on how the dish looks? Guilty as charged! One such dish is eggs benedict, for example. Another is definitely the acai bowl. But in her case, it is not only that it looks really good, but also that it is tasty and healthy.
Acai berries are a tropical fruit that grows on palm trees in the Brazilian part of the Amazon rainforest and on the Colombian Pacific coast. They are renowned for being full of antioxidants, fibre, healthy fats and calcium. So combined with fruit, a tasty granola and some milk or milk substitute, it's a pretty complete meal.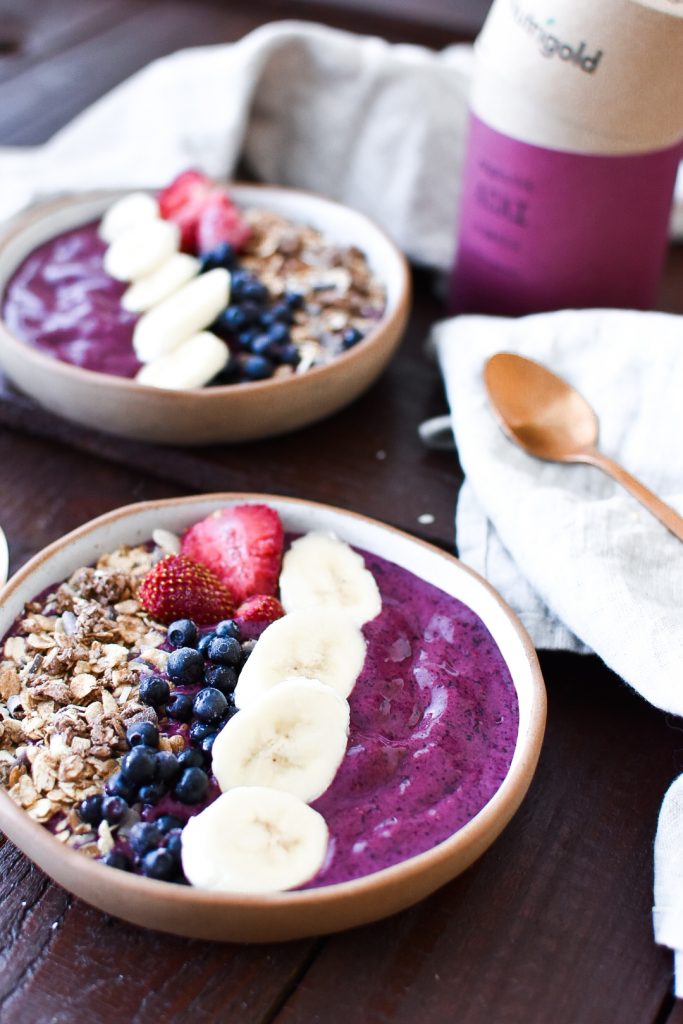 There are lots of combinations to make it, but the banana is a constant (probably because of its sweetness and the fact that it gives the dish a certain density). Acai also goes very well with various berries, so I made my own dish (for two people) like this:
Ingredients:
2 frozen bananas
2 large handfuls of frozen strawberries
3 handfuls of frozen wild blueberries
3 teaspoons acai powder
Milk to taste (can be substituted with any plant milk)
Granola, sliced fruit, or coconut flour for garnish
Preparation:
Put the frozen fruit, acai and some milk in a powerful blender and start blending. The aim with the acai bowl is to make it thicker than a normal smoothie, so that it can be garnished with granola and fruit. Since the texture depends on the amount and the frozenness (is that a word?) of the fruit, it is best to add a tablespoon or two of milk each time the blender can no longer blend the ingredients until the desired consistency is reached. Vanilla protein can also be added to the dish and more milk added accordingly.
Immediately pour the mixture into the containers and garnish as desired and to taste. I added chocolate granola, blueberries, strawberries and bananas, but coconut flour or chia seeds, for example, would also work well.