Cakes. Weddings, birthdays, anniversaries, random days.. there's always a reason to have cake. After all, there's at least always someone's birthday somewhere, right? Even if you don't know them.
Well, the last time I baked a cake, it was for a whole other reason. My brother makes these amazing cake toppers and he asked me if I could help him take cool pictures of them. And how better to do that then to go and bake a cake. Or two (the second one coming in a separate blog). I found a chocolate sponge cake recipe on MidvaKuhava page (and used their awesome cake calculator that helps you change the size of your baking pan), and just invented the filling and the results were.. yuuum!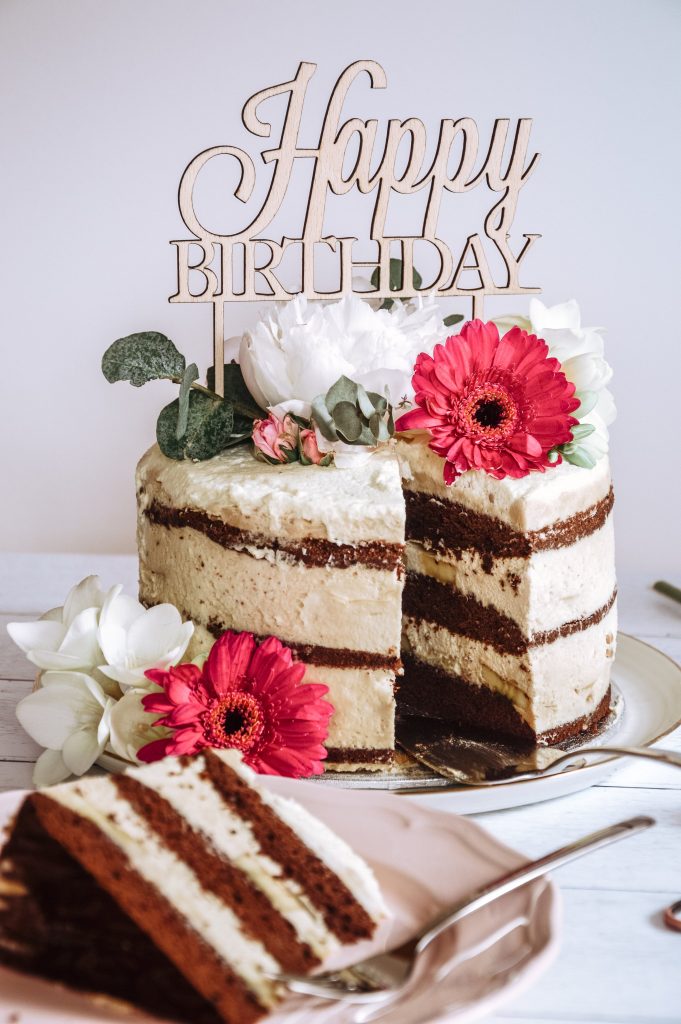 Ingredients (for one 20cm round cake, 10cm high – makes 14 to 18 pieces):
9 smaller eggs
108 grams of butter
144 grams of flour
54 grams of cocoa powder
108 grams of sugar
1 tsp baking powder
300grams BAM white chocolate with caramel (you can get it here)
2 tbsp of powdered sugar
750ml of whipping cream
6 gelatine leaves
2 bananas
some milk (for soaking the sponge cake)
How to:
Start off by making the sponge cake. Preheat the oven to 180 degrees Celsius (360 Fahrenheit) and line a 20cm round tin with baking paper on the bottom and grease it with butter on the sides. If you have three such tins, use them, if not, just repeat the process 3 times.
Beat the eggs and the butter until really fluffy and then whip in the melted butter. In a separate bowl whisk together the dry ingredients (flour, cocoa powder and baking powder), and then fold them in the egg mixture. Divide in three equal sized batches (I usually weigh the batter to get even sized sponge cakes) and bake each for 12 minutes. Let cool completely.
For the filing, heat 300 millilitres of the whipping cream and the chocolate at medium heat, while soaking the gelatine leaves in cold water. Once melted, mix the gelatine in the chocolate (drain it of any water before you do so) and mix until it completely dissolves. Whip the remaining whipping cream until stiff peaks form. Cool the chocolate mixture down (but not so much as to let it allow to start setting) and gently fold it into the whipped cream.
Line the baking tin (spring form) with acetate foil (this prevents the cake from sticking to the sides and allows you to create nice straight lines). Place one sponge cake on the bottom and soak it with a bit of milk. Top it with pieces of one banana and cover with almost a half of the chocolate mousse. Repeat with the second layer and top with the remaining third sponge. Keep just a little bit of the mousse for the top. Let the cake set overnight in the springform and decorate in the morning.