This past weekend was a very special one for me, which will definitely stay in my memory for a long time. Firstly, because we visited Graz, where I have not yet been (and also because I could cheer for Aljoša on the flag football tournament) despite a rainy and cold August Saturday, and secondly because it was my birthday. This special occasion called for a birthday lunch. Where? In Gostilna Grič (restaurant). I heard a lot about Gostilna Grič as a restaurant that is considered one of the better in that region of Slovenia, but also of Zlati Grič as a producer of wines that excite your taste buds so that you can not easily forget them. Although the restaurant and winery have separate owners, they are nevertheless very connected (it is food and wine we are talking about after all). Find out what we ate and what we drank below. 😉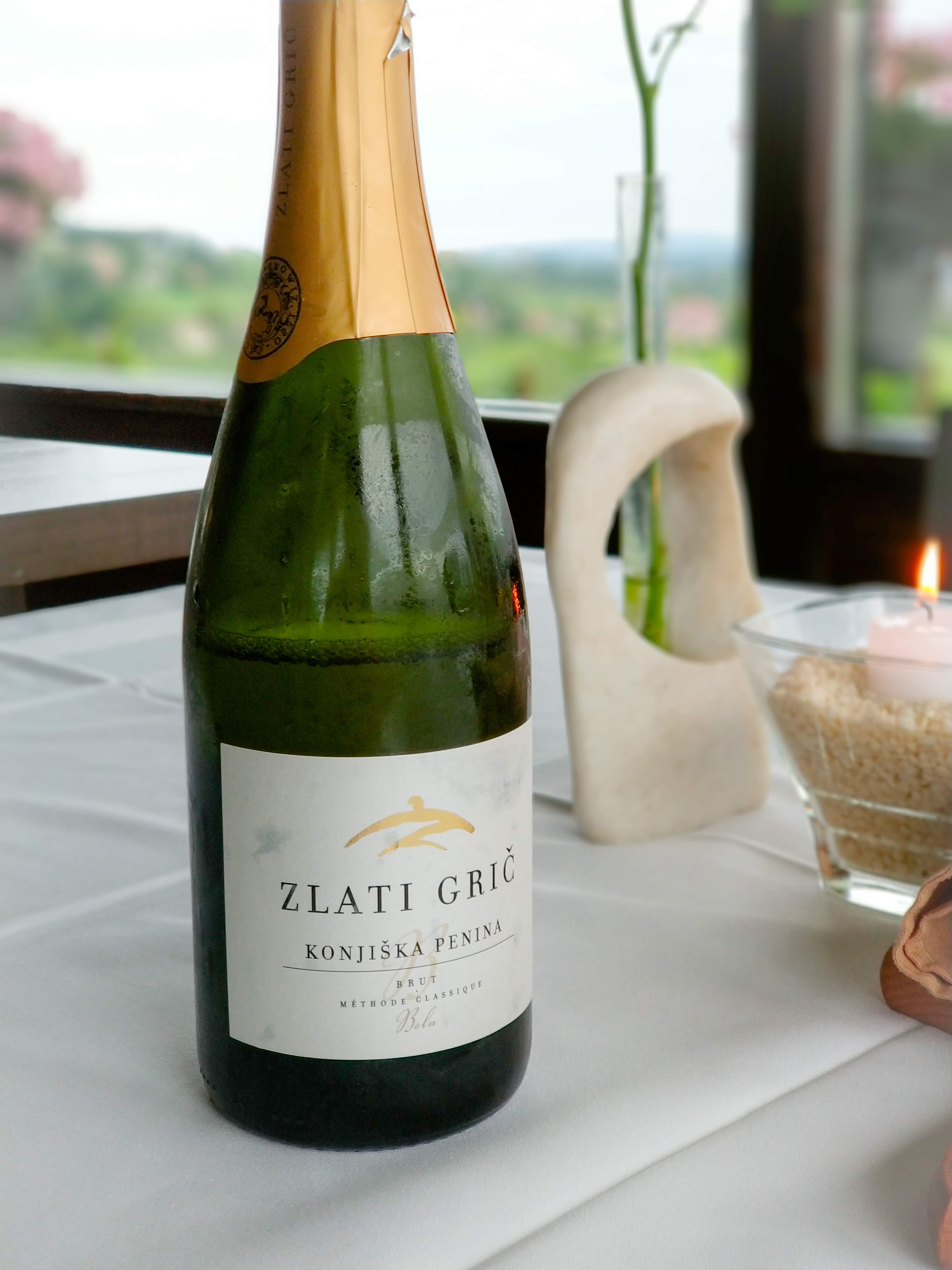 As it is appropriate (and almost mandatory) for every good, well-known restaurant, we decided to go with the tasting menu this time as well. We were excited about the culinary birthday journey through 6 plates of delicious dishes that we knew nothing about. As appropriate for this opportunity, we were first served a glass of sparkling wine from Zlatni Gric. While Aljoša would prefer a strong aperitif with a slice of lemon and a cube of ice (he really doesn't like sparkling wine, rose and sweet wines), I enjoyed the sparkling wine. And they served in a glass with 6 small dots that channeled the bubbles to them and forced them to go up only there.  And since it was my birthday, it's important that I liked it. 😛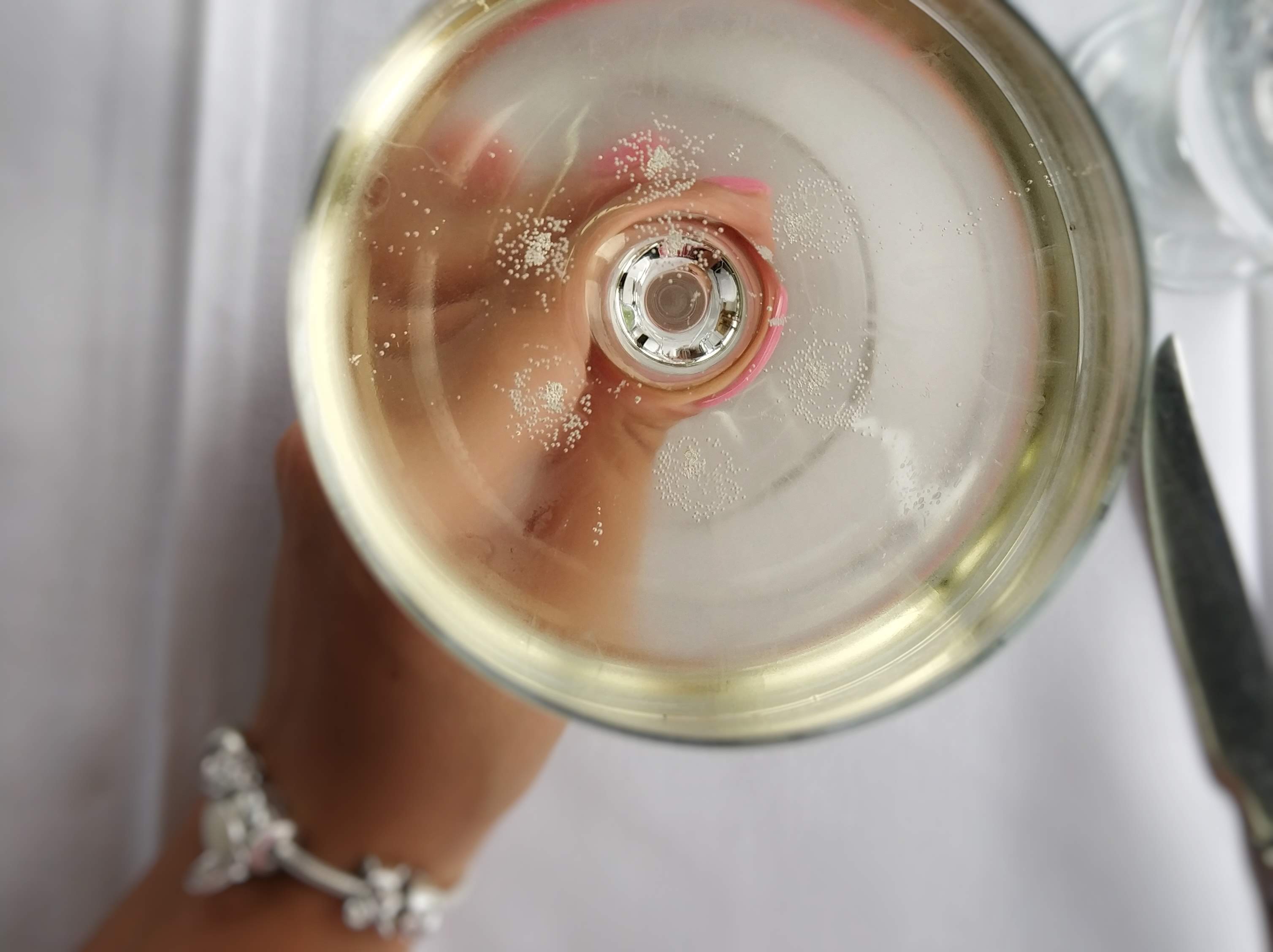 After a slight laugh (after the first wine arrived – rose), the first plate quickly followed. I have to admit that I was just a bit impatient because in the tasting menus you never know what is waiting for you (but that's just a part of the whole charm). And what an amazing plate it was! Matured beef, kept for three weeks at one degree of Celsius ("home-made, from the chef from Pohorje", they told us), which turned into a divine carpaccio with raspberries, trout caviar, quail eggs and Tropaeolum majus. How the flavors intertwined was just magical. And what a gorgeous food plating! Score of food 10/10. At the meal, we served the Zlati Grič Rose, which is not exactly a typical rose, both in color and in taste. The wine rating is 8.5 / 10 in my taste, Aljoša would say that it was not good. But that's because he does not drink rose. It was great for me. Especially because of the intense aroma in which the flower of rose, raspberry and berries can be detected. I have not seen any rose so far with such a taste, and I really liked it. If it wasn't for the cold and rain, it would be ideal for a hot summer day. 🙂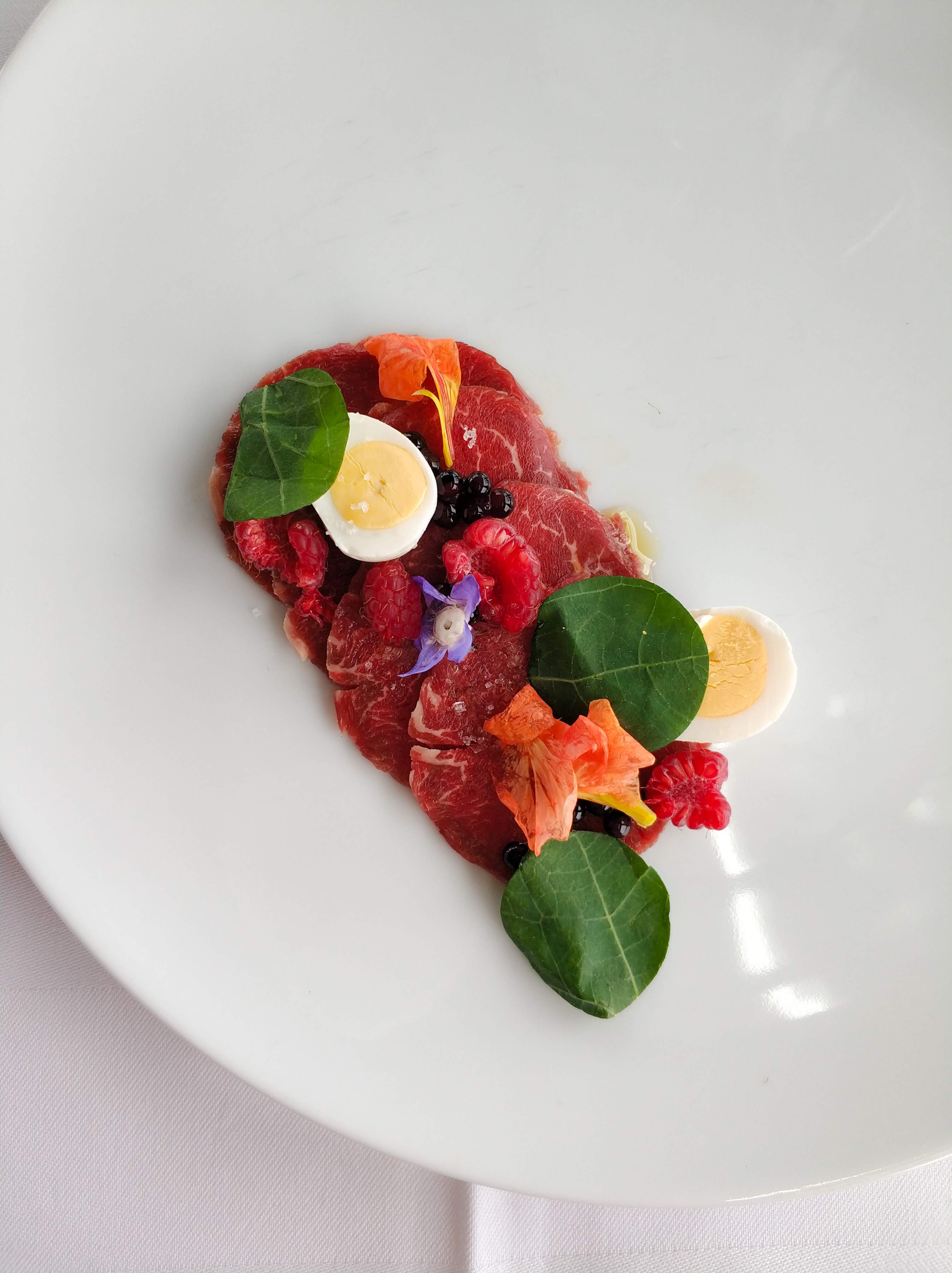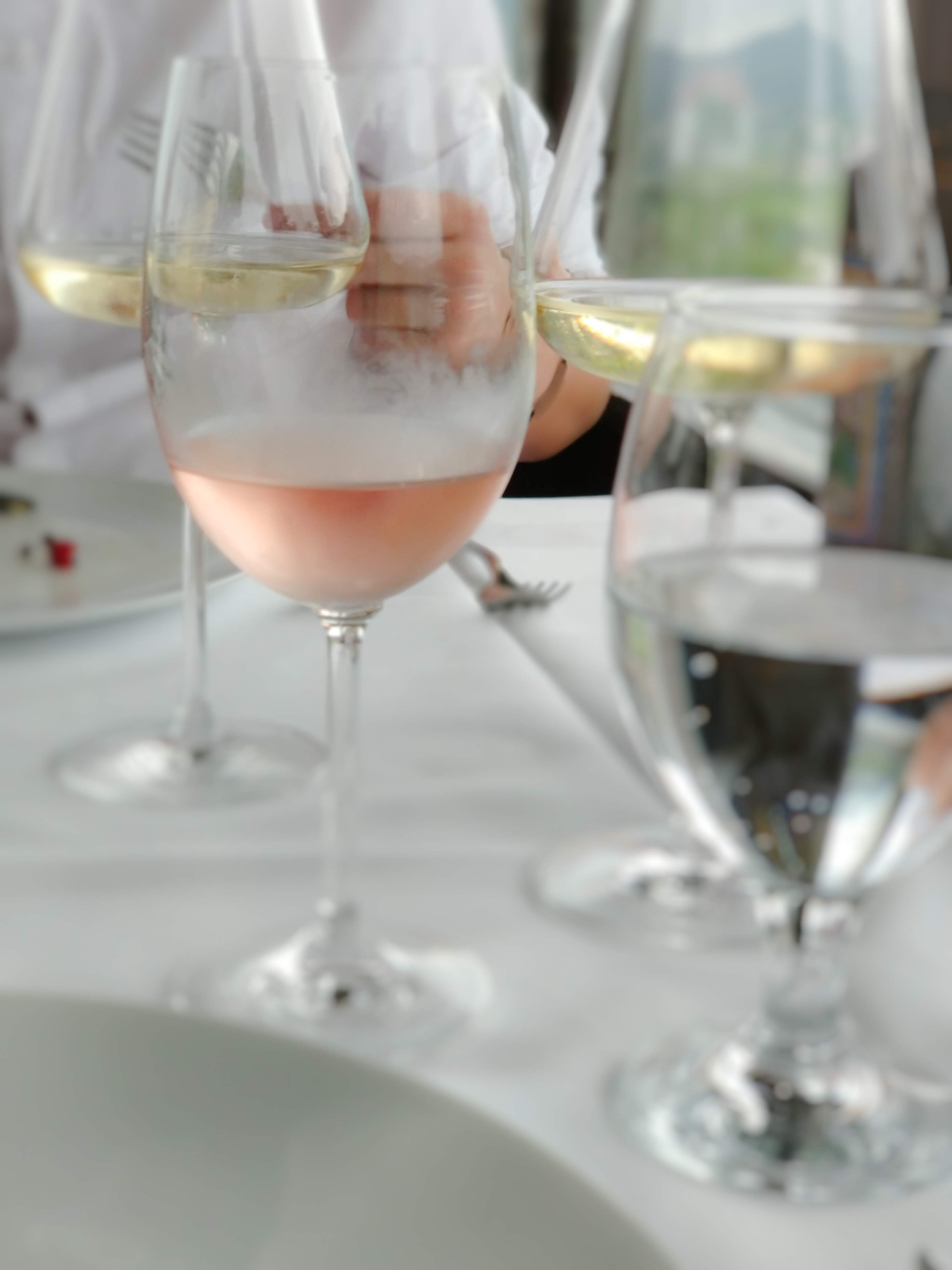 Up next came a warm appetizer. The dish contained green beans (called "bob"), poached quail egg, a prawn, a powder made of pumpkin oil and chives foam. A friendly waiter pourer over some thick pumpkin soup, which really had a taste of fresh and homegrown pumpkins. Despite the fact that Aljoša is not exactly a fan of pumpkins in any for, he liked this plate so much that he "cleaned" it with some pumpkin seed bread. 😉 This soup was like from another planet. And how did they make that powder of pumpkin oil?!? Dish score 9.5 / 10. Since we drank a little slower because of all the delicious dishes on the plates, we were accompanied by the rose at this meal as well.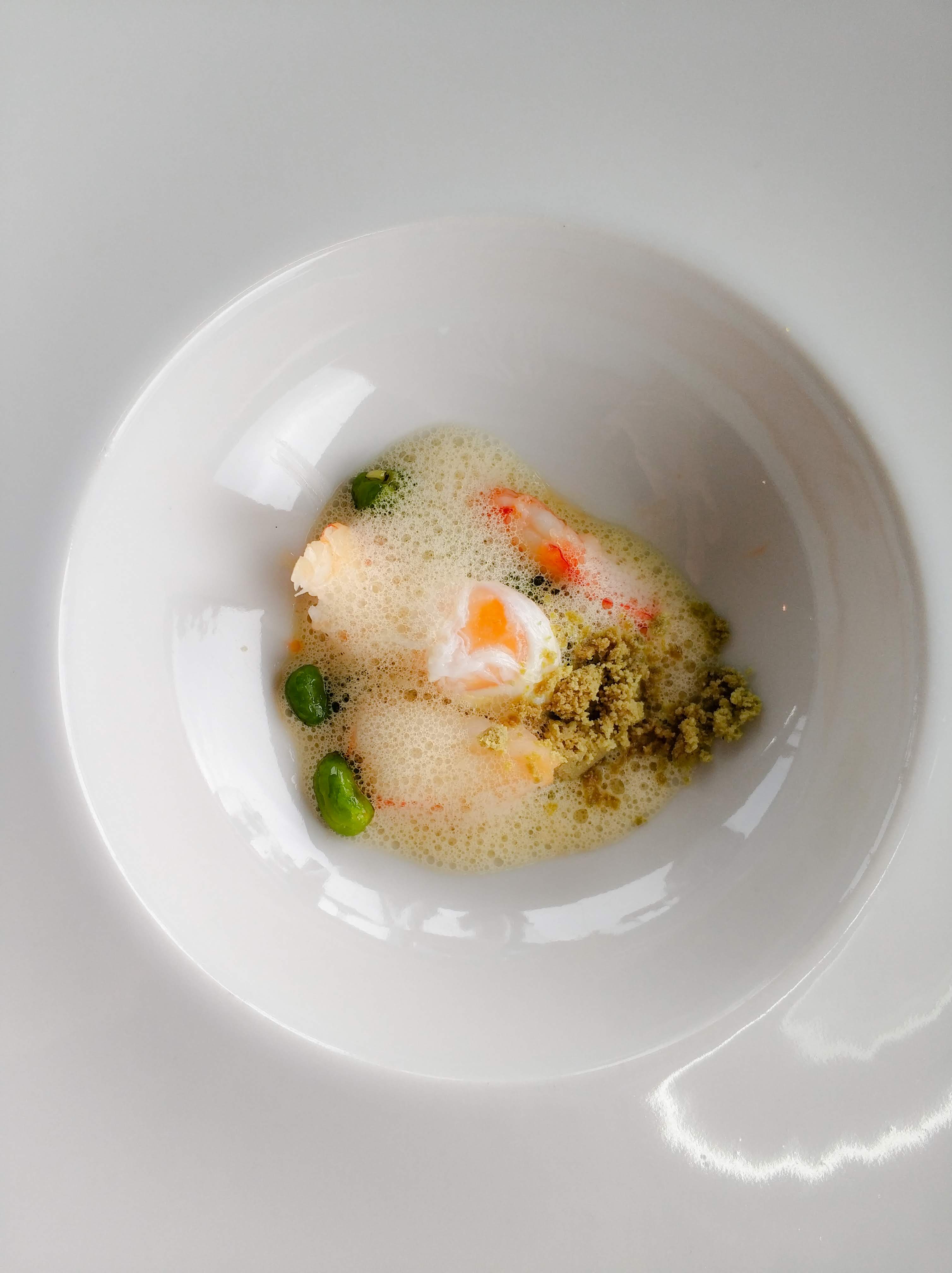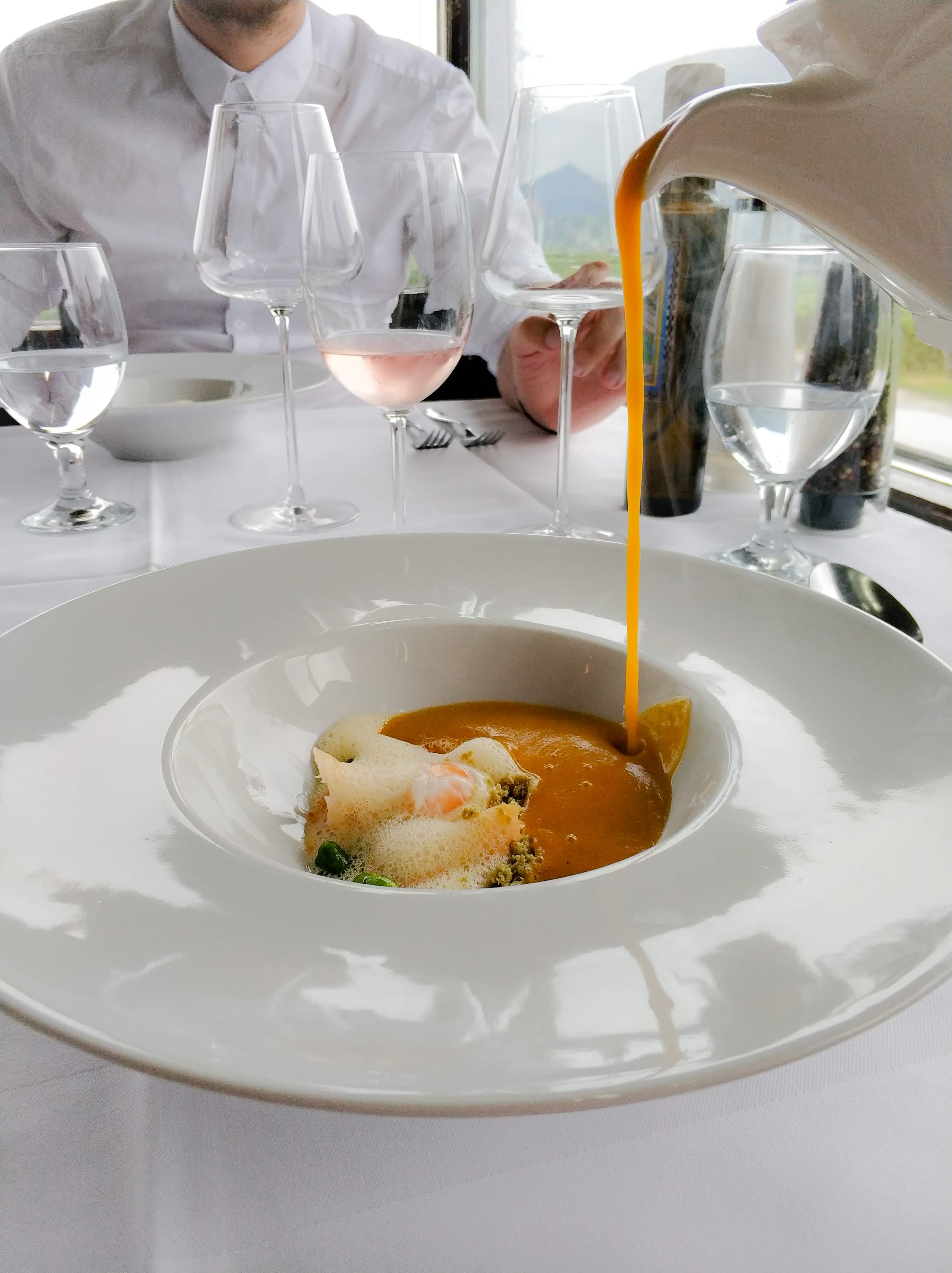 The next warm appetizer was a bit "special". Duck breast, cooked at 60 degrees in sous-vide for 2 hours, served with ravioli, fried potato dumpling, and duck sauce. The flavors were good, only the duck left us with a taste in our mouth that we didn/t quite like. Who knows why. But the ravioli looked very pretty and the sauce and the fritter were very delicious. I would have personally filled the ravioli with some  cottage cheese and herbs to make it a little fresher, but that's just my opinion. Dish score 5/10. The wine accompaniment contained a special variety of Zlati Grič wine – Konjičan + Sauvignon. Such a wine offers the scent of white peach fruit, apple and a typical note of elderflower. The wine works full, elegant, fresh and delicious. Interesting character of wine, you might say. Wine score 8/10.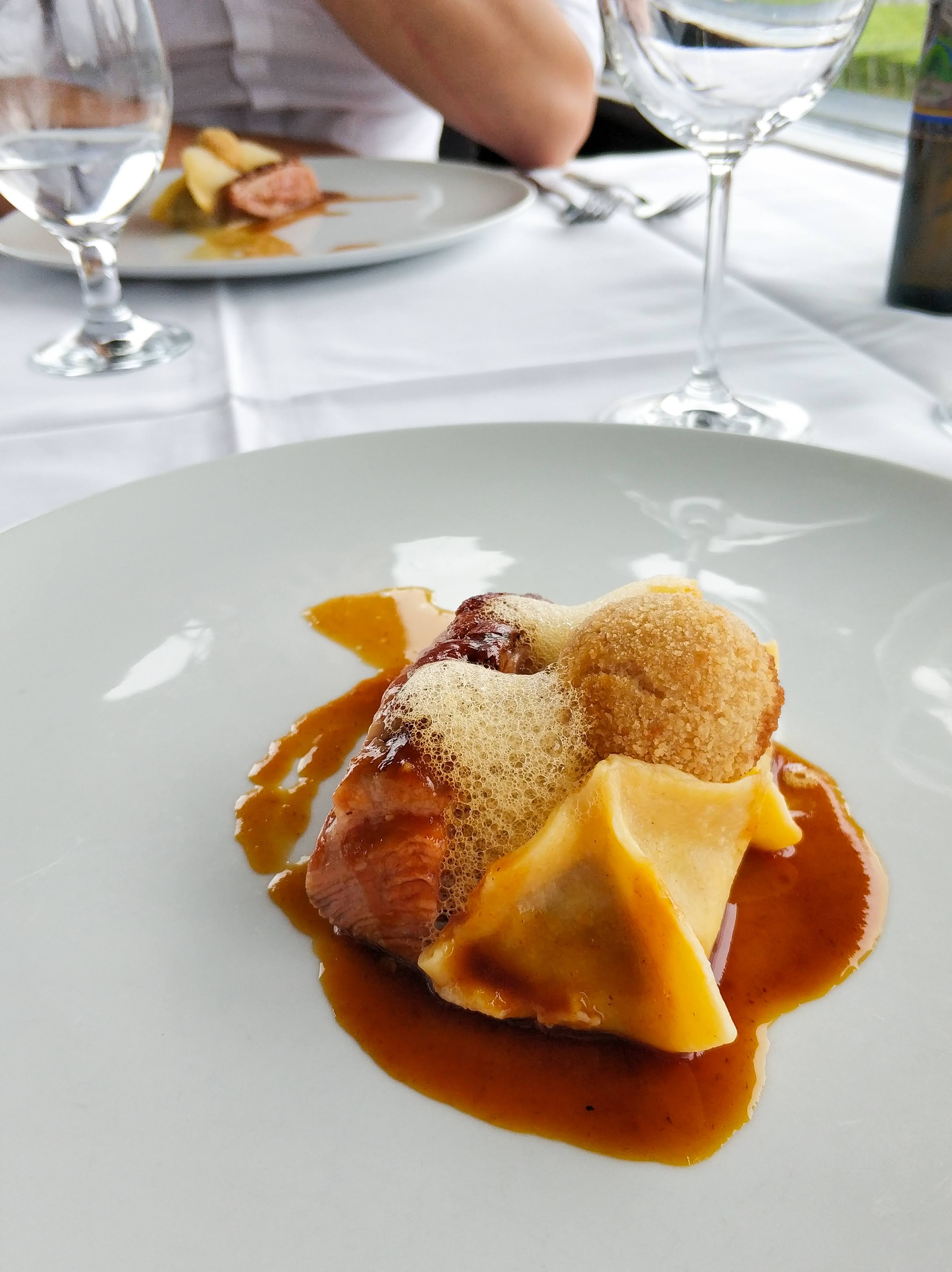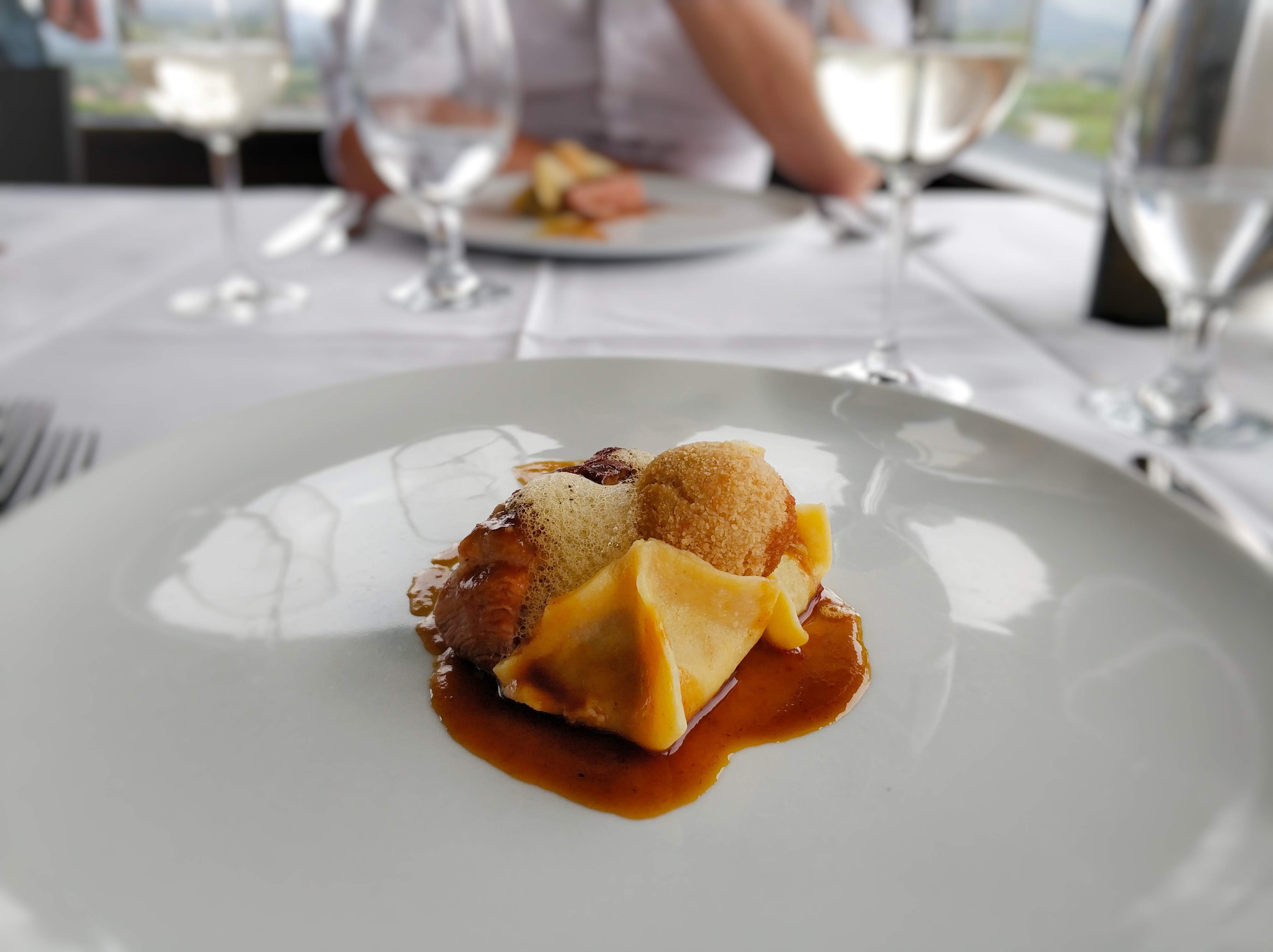 Two main dishes followed (or another appetizer and then the main dish – we could not really tell, since the portions were "of a proper" size). One meat and one fish. First, they served us with a fish dish consisting of green pea purée, fresh peas, lard – made of wild hogs from Spain, and a fillet of sea bass from Zadar. The flavors were incredible, so much freshness, so much connection, perfection on the plate. How smooth was the pea puree. And how yummy was the lardo! Score of food 10/10. We were served with the Sivi pinot (Pinot gris) of Zlati Grič as the wine accompaniment. Wine score 8/10. Especially because of the fermentation at a lower temperature and a grape must, which was compressed only from hand-picked berries, which gave the wine open, fruity and varietal odor.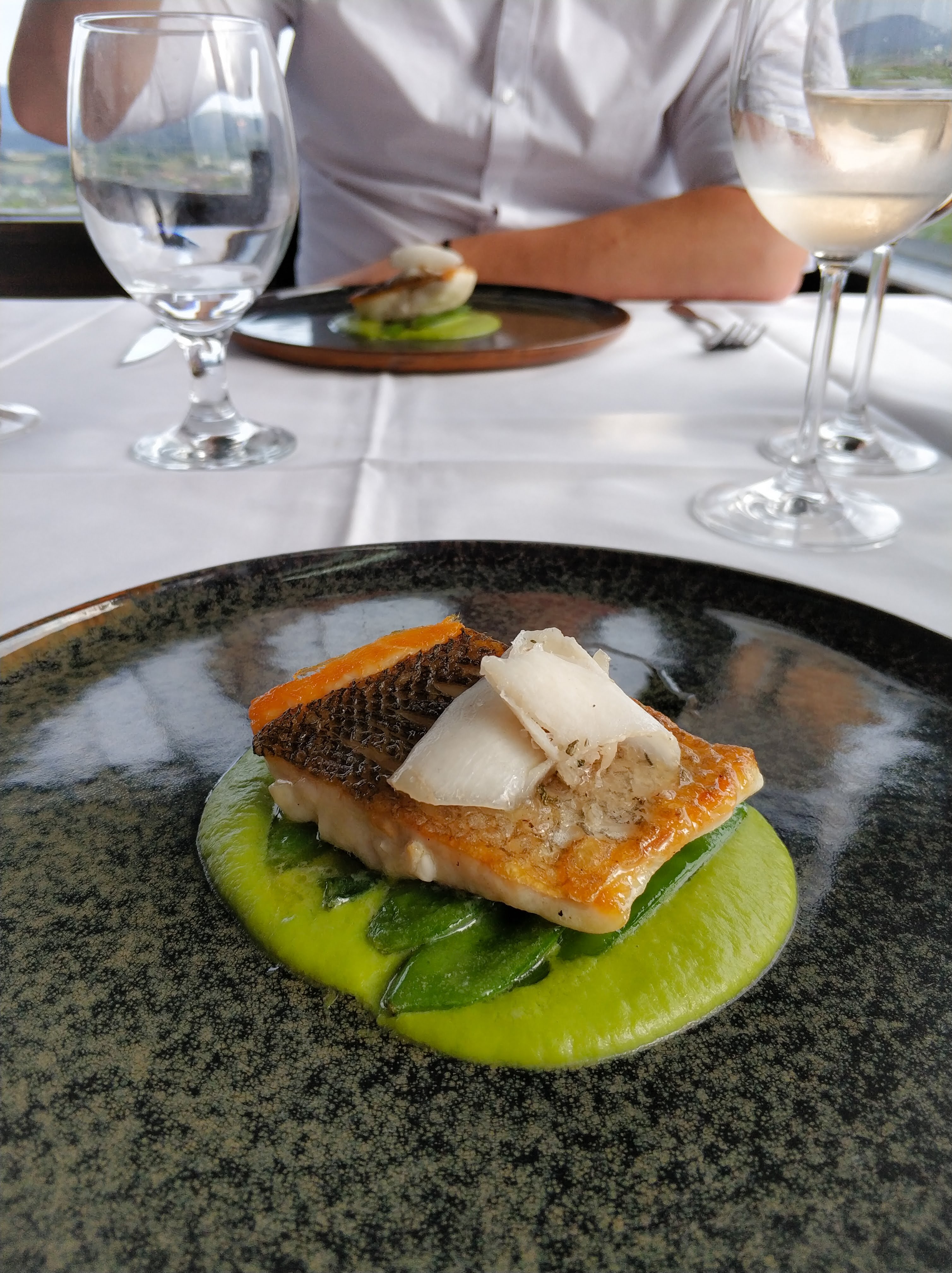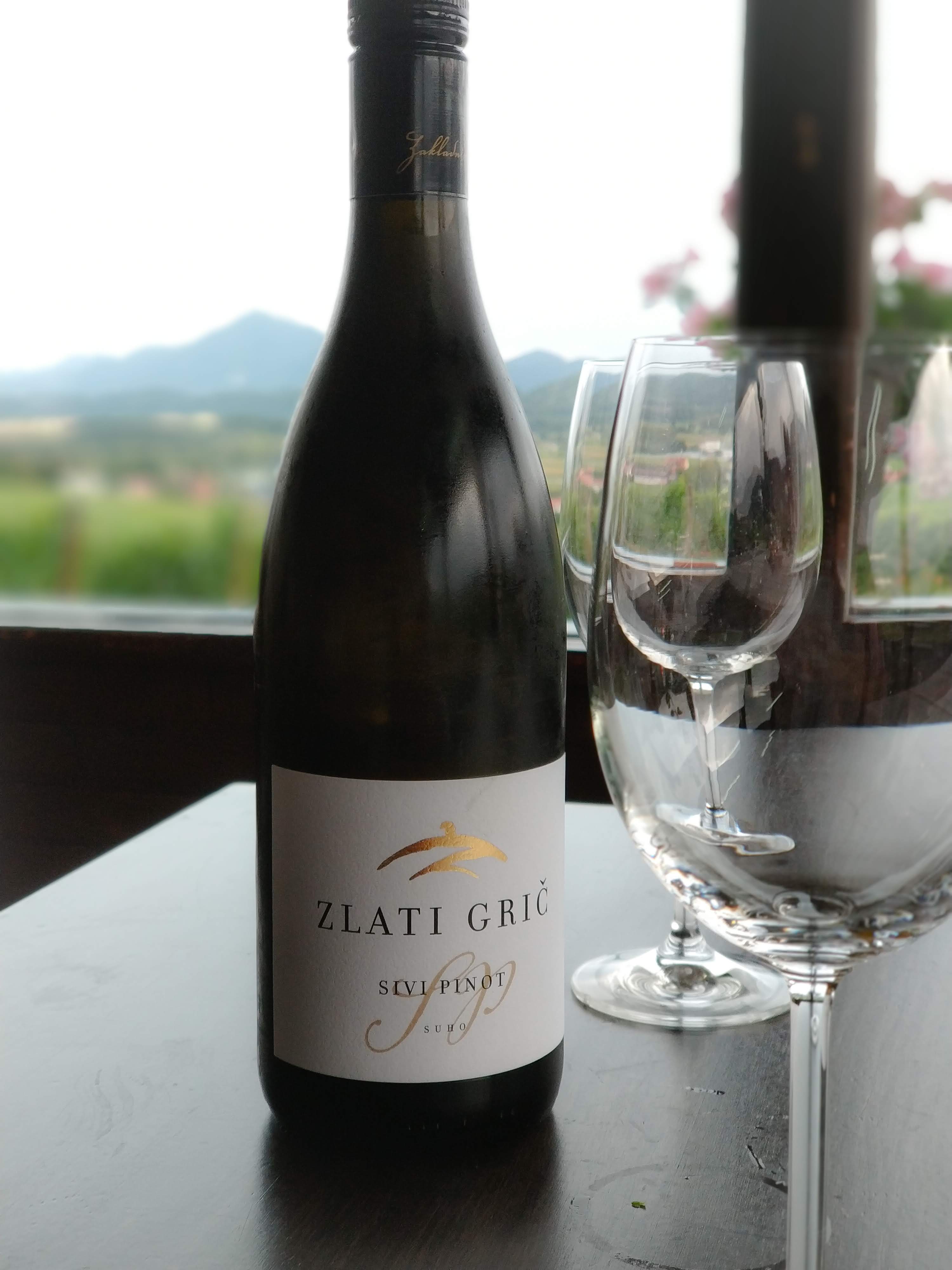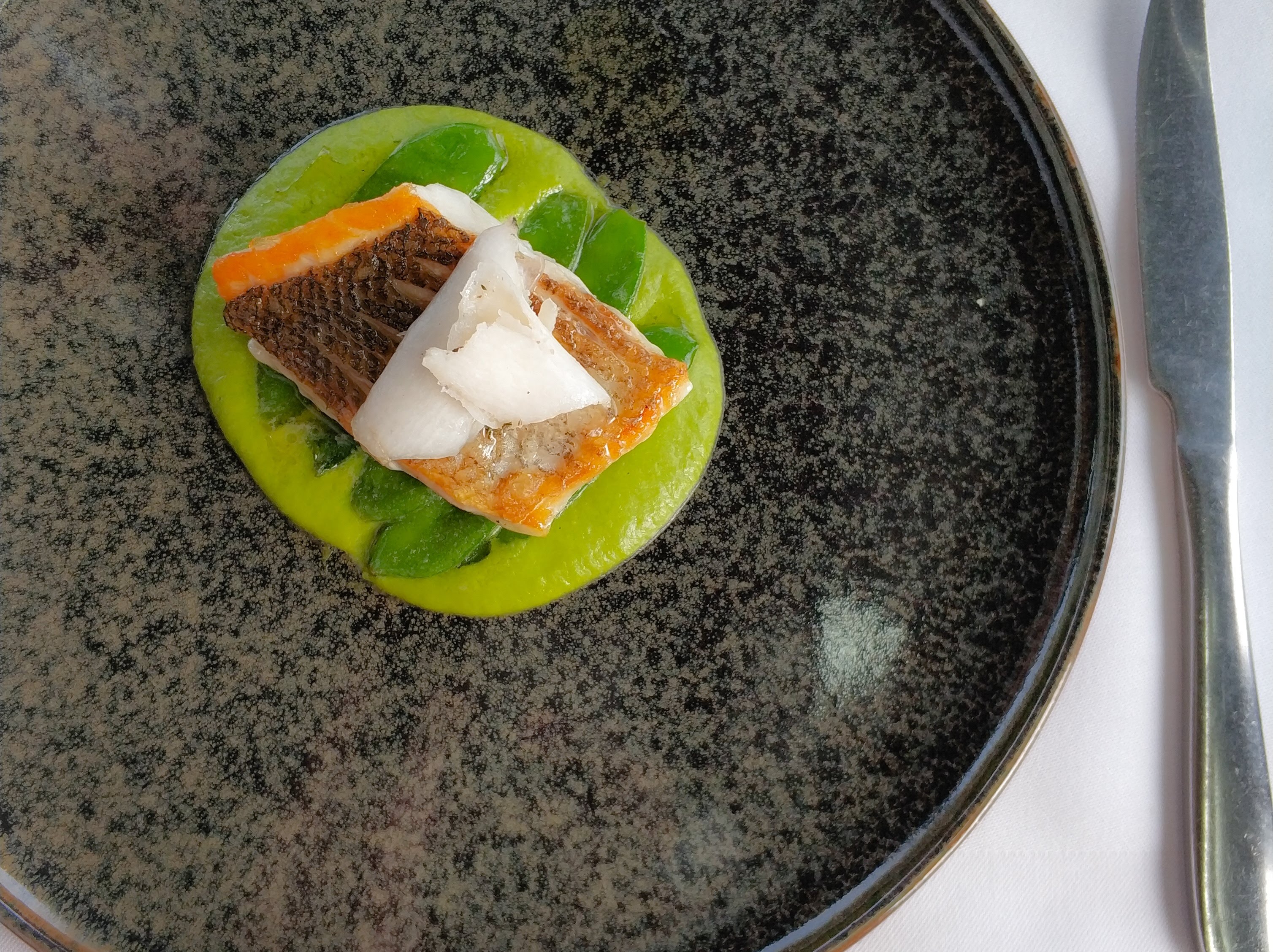 The last main dish, and therefore the last dish before the dessert (which I admit, is always hardest to wait for), consisted of a pure of sweet potatoes (which I simply adore), white polenta with herbs, which was also fried, roasted carrot, asparagus and calf fillets. The plate was fantastic. But not as good as the previous one, so we give it a score of 9/10. But the wine deserves a 10/10. They served us a Pinot Noir, year 2015, which was stored for one year in a barrel. The wine is full, rich and elegant, it does not have too much or too little acid, it is slightly tartly and harmonious. Aljoša says that wine should go on our wall of top 10 wines we tried so far, despite the fact that we usually prefer white wines from the Primorska region.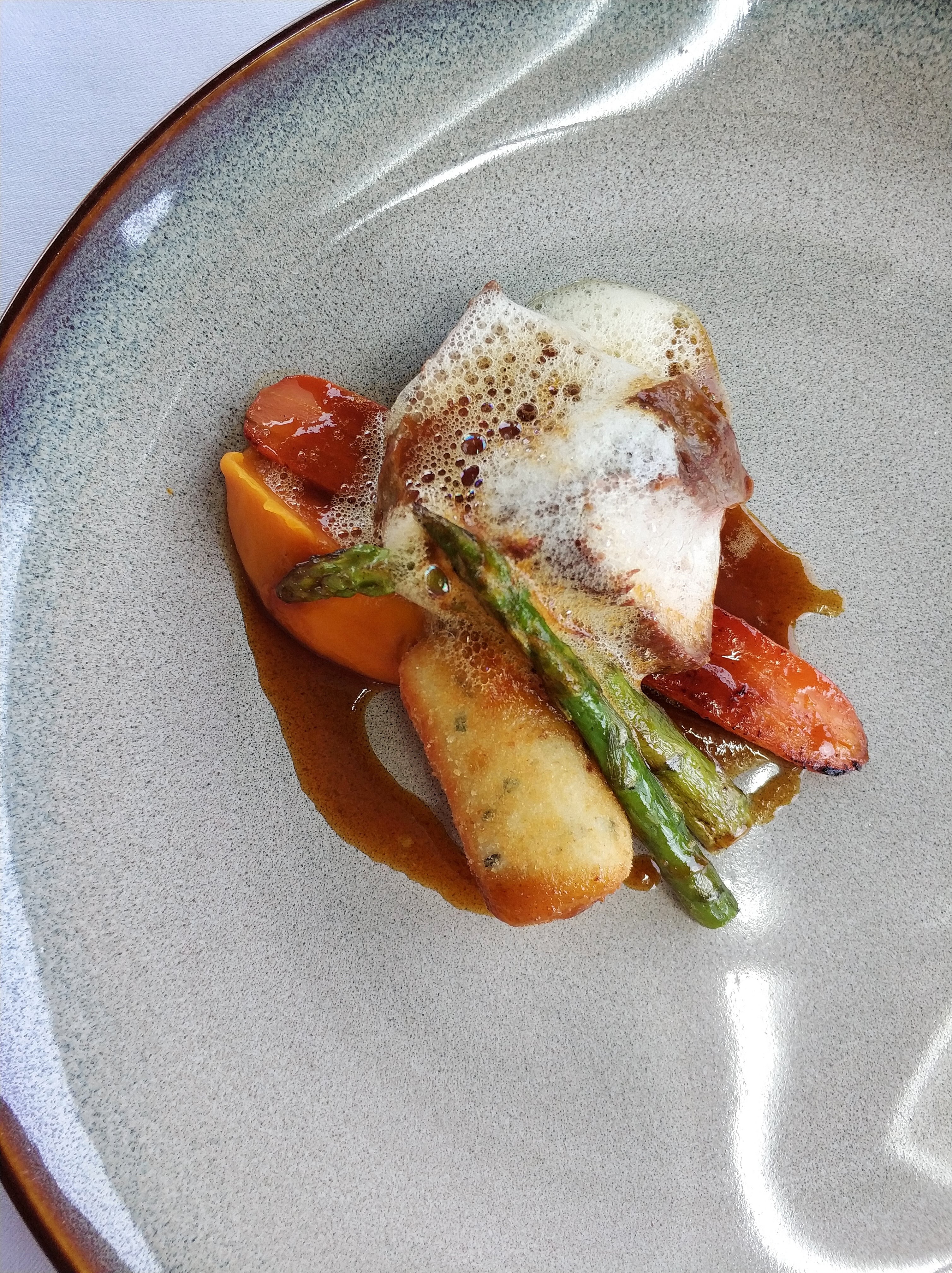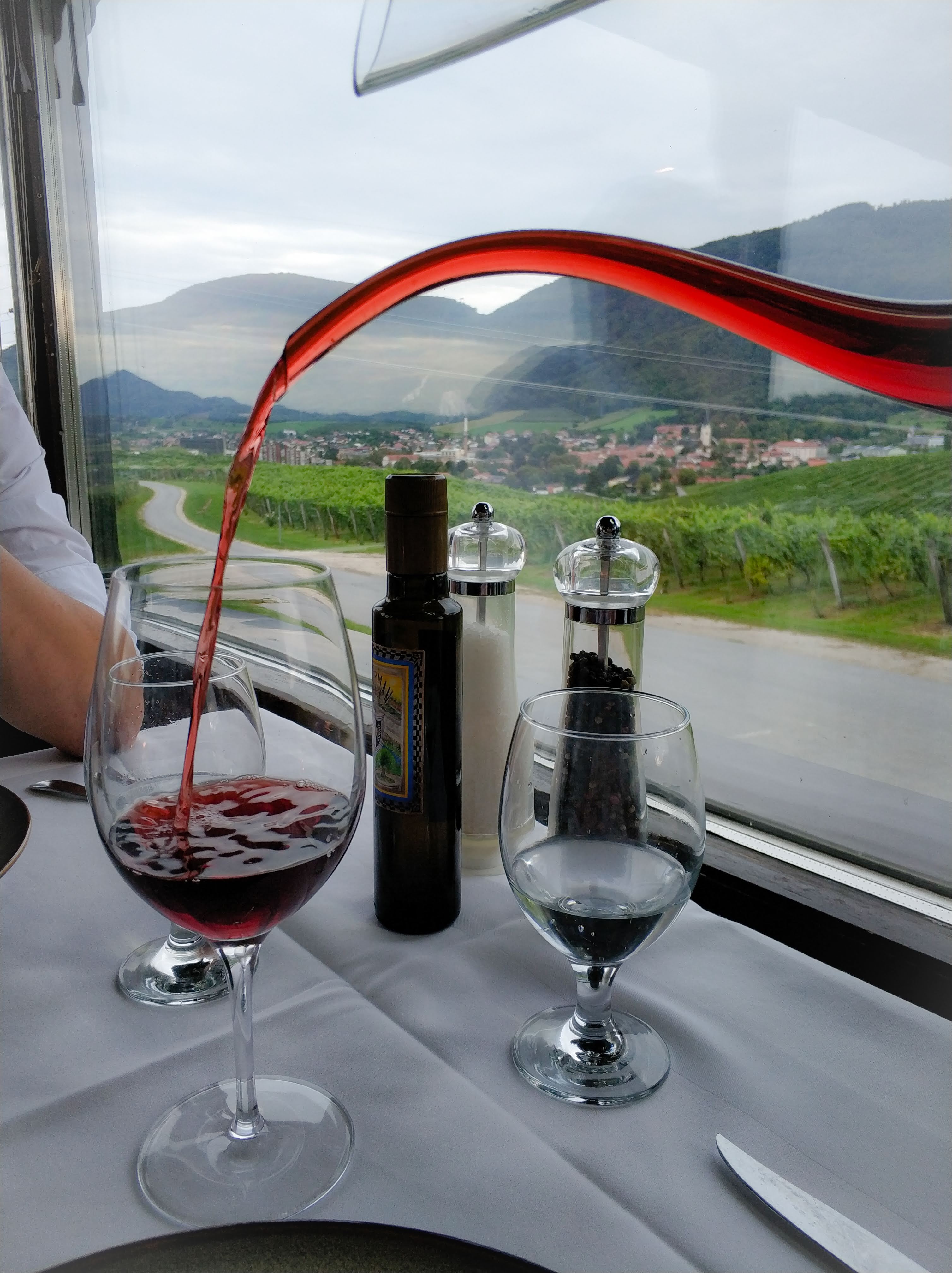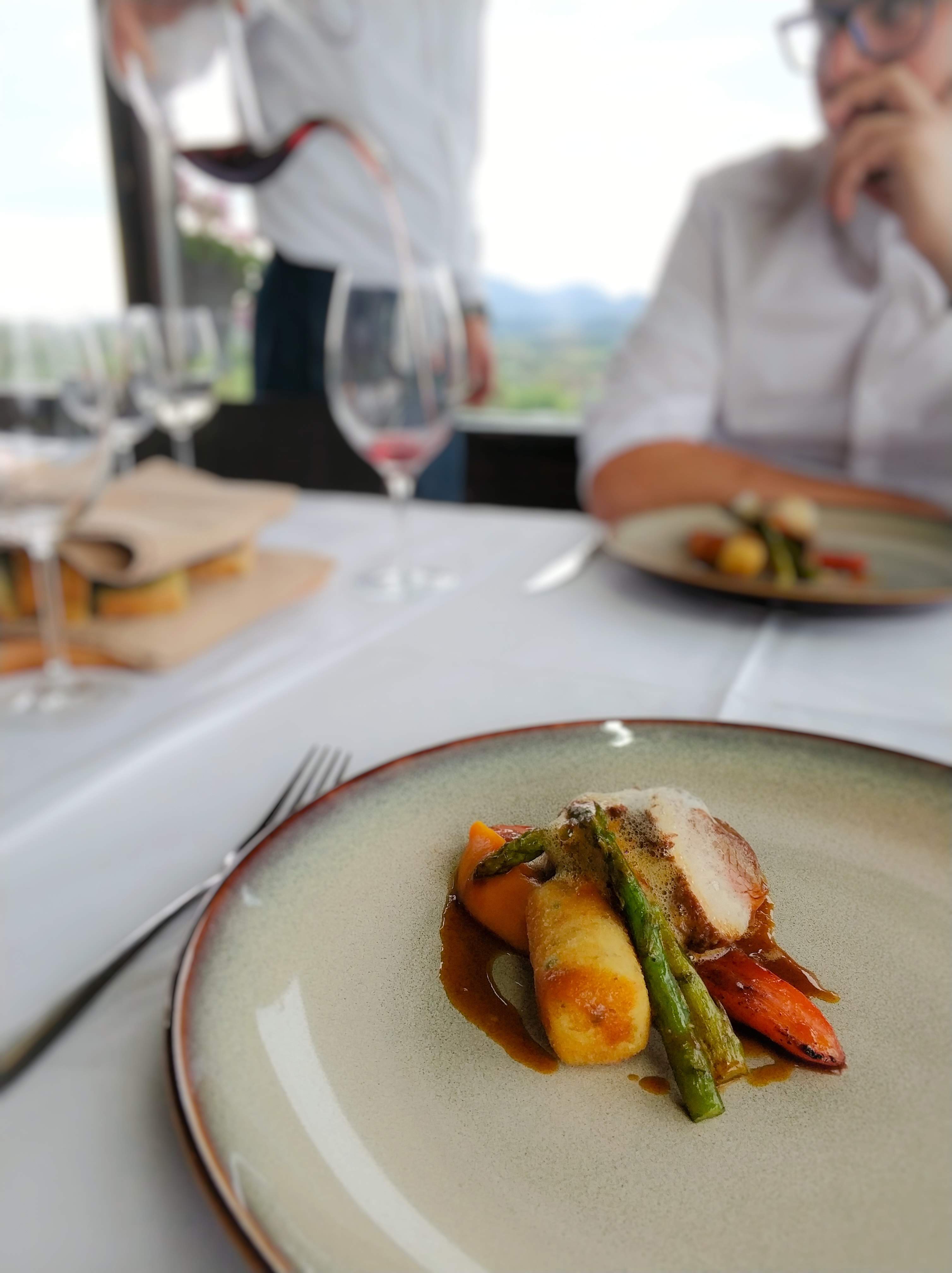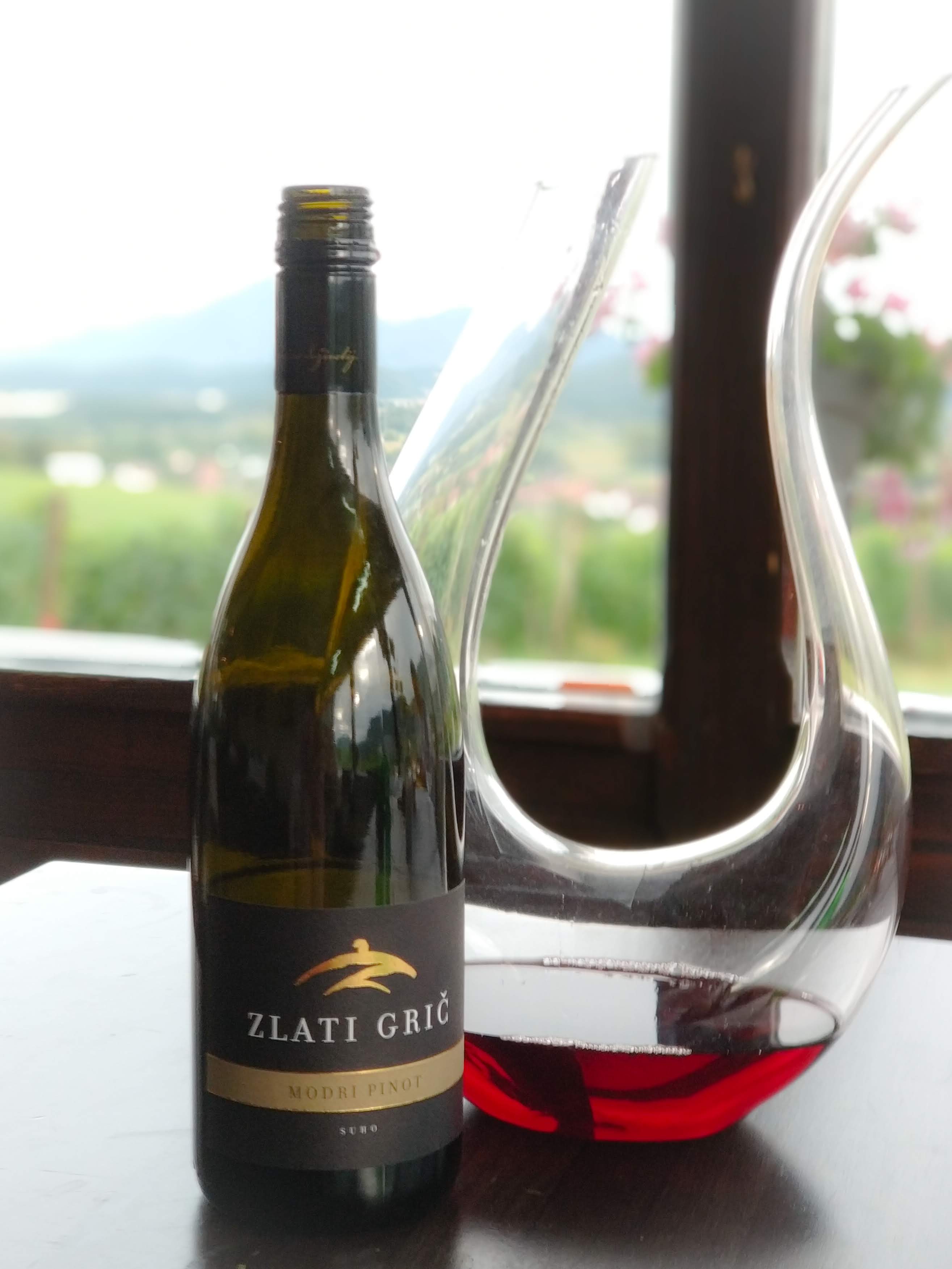 And for the end, of course, dessert. Zlati Grič has proved to be a type of restaurant that's to my taste Why? Because they got us a double dessert. Or better said pre-dessert and dessert. How cool is that? 😀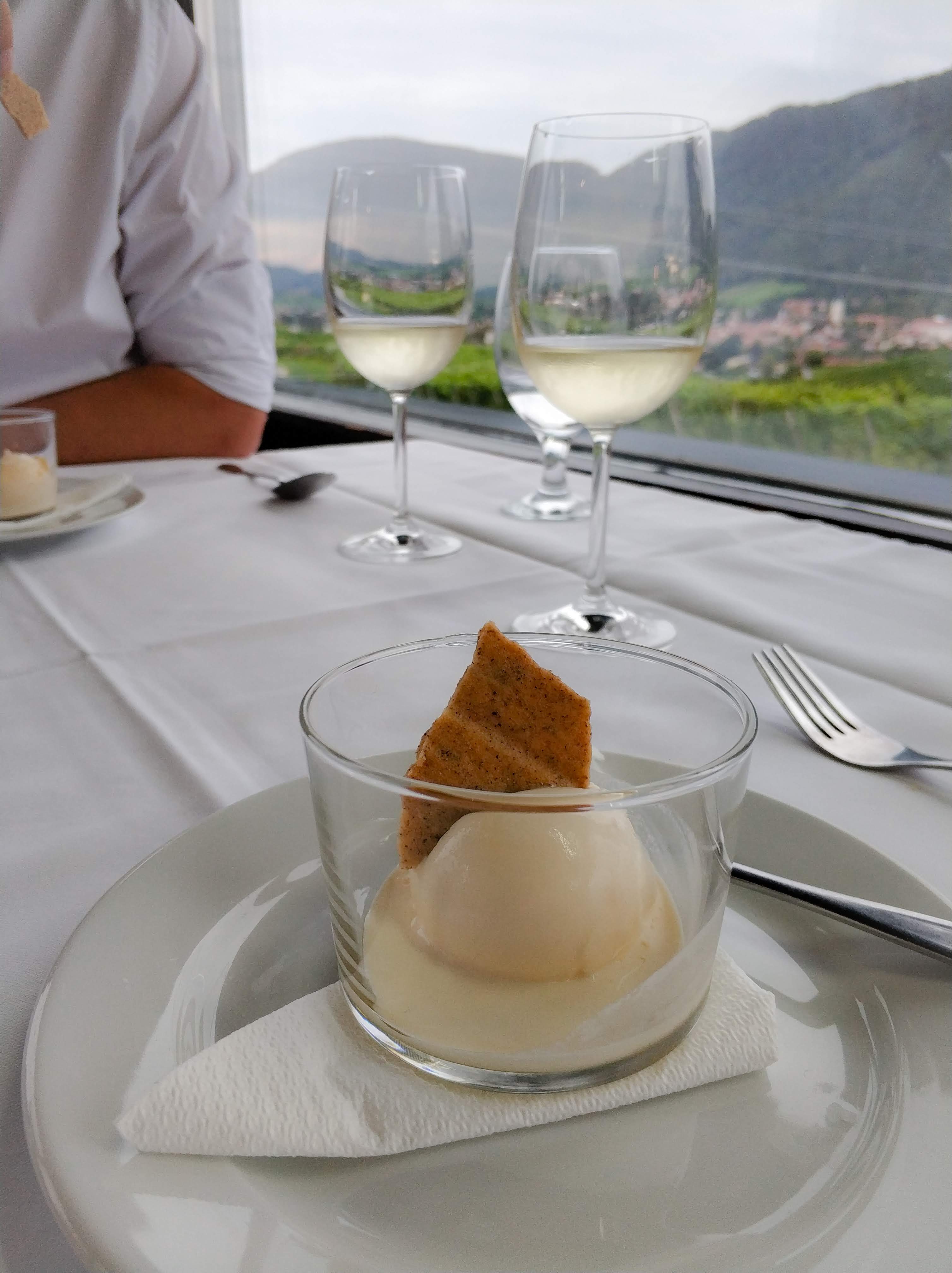 For the "appetizer", we got sage ice cream with grated, baked hazelnuts. Aaaaaaaaaaand for the main dessert…
… Raspberry sauce, raspberry mousse, plum ice cream, peppermint, fresh plum, baked hazelnut crunchie and crumble. The picture says more than 1000 words so you can see how amazing it was. Dessert score 12/10. The Zlati Grič Traminer also earns 11/10.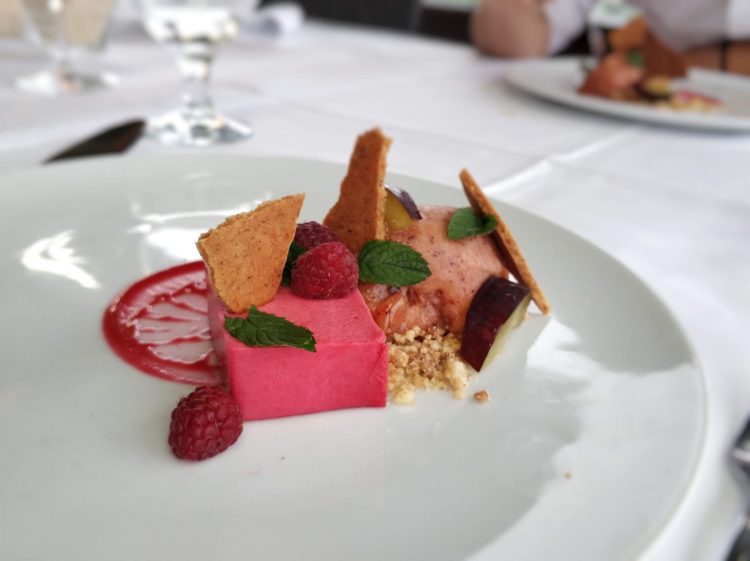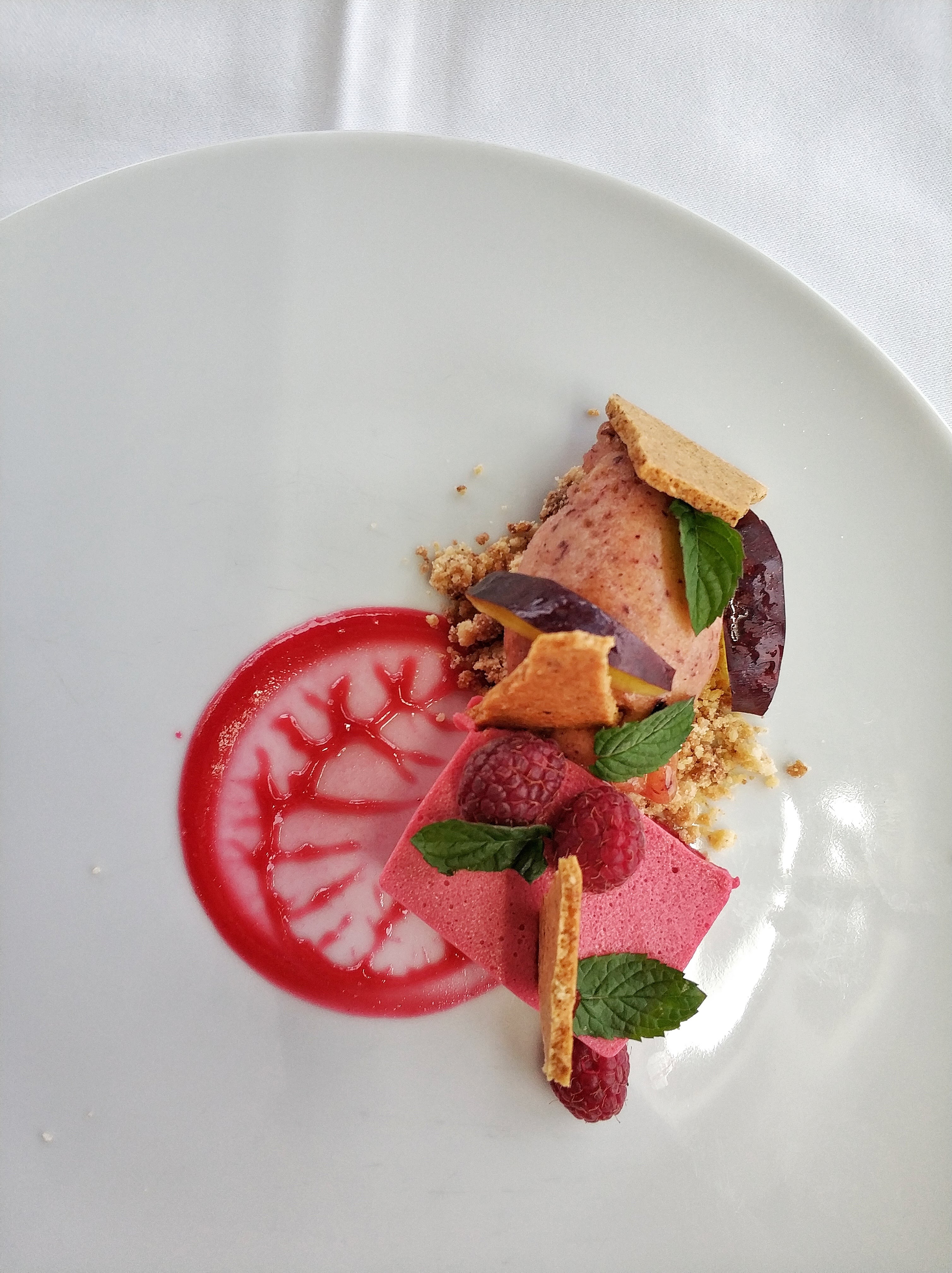 In short: Gostilna Grič (including the Zlati Grič wines) is currently one of the top 5 restaurants we've visited recently. In addition to Repovž, Rajh, and Ambar (Serbia), Gostilna Grič pushed Gredič to the fifth place. Why? I'll tell you in the next blog. 🙂
In addition to excellent food and wine, they also offer accommodation; but if they are all full, do drive to the Small Farm (Mala Kmetija; really cute!) so you can enjoy food and drinks and see these beautiful part of Slovenia. We guarantee that you will not regret it if you spend two days in that area. You can even see the ZOO and give the long-nosed bears some peanuts 😉
Love Urša