Ljubljana, as tiny as it is, always has some new foodie spots opening up that call for you to come see them. Landerik is one of them. And it didn't disappoint.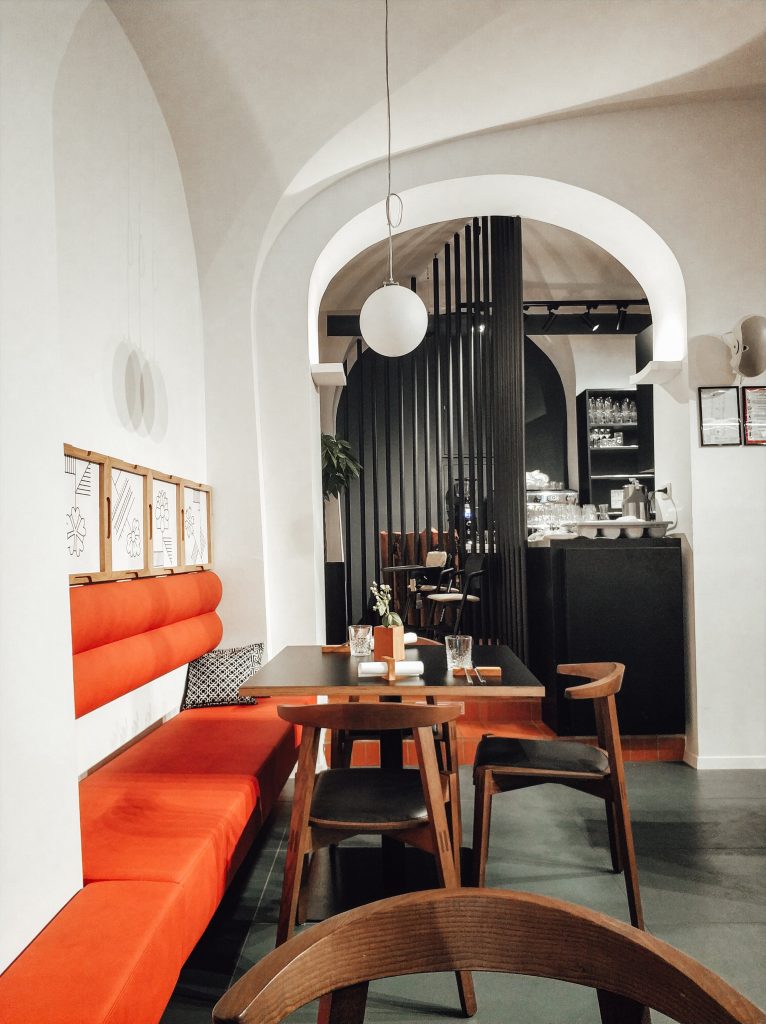 They offer both lunch menus as well as a la carte dishes and breakfasts. Once we saw you can get a 4 course menu for just EUR 17 per person (I think they raised it to 19 by now), we knew we had to go and see what they offer. Their Facebook pages promises that "every single dish served here begins its journey somewhere in the wide countryside of our beautiful Slovenia, where, with the help of dedicated local growers and farmers, a key ingredient is selected – and it forms an important part of the whole plate, which is then tasted by Landerik guests." The first thing you notice, however, is the gorgeous interior they have Orange seats, loads of wood, and some fresh flowers, make for a great start of your visit.

A very friendly and welcoming waiter welcomed us to our seat and before he got to ask us what we wanted to order, we already told him. That's the great part about restaurants posting their menus online. I always love them – and don't really see a reason for hiding them until the guest walks in. Really, why? The only additional thing we decided for was a glass of the white wine they offered at lunch (Šumenjak, Sauvignon, 2 EUR per glass) which was really delicious and well-priced. I find it very rare these days that the service is friendly and that you feel welcome in a restaurant (or bar) so Landerik's staff was a very welcome chnage.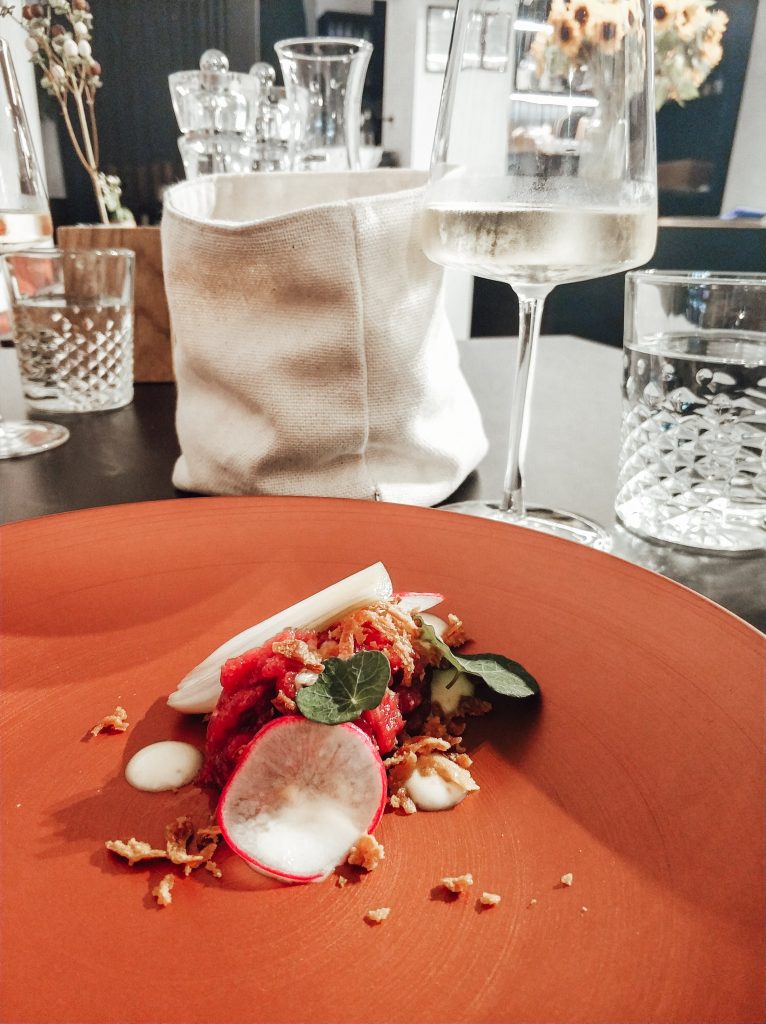 We started of with beef tartare with some fried onions, pickled young onion, onion mayonaise, and radishes. The flavours mixed perfectly and if I could, I would eat so much of it, I wouldn't have space for anything else. So it's a good thing the portion was small to medium sized. And I'm not saying that's a bad thing since in the end this was an appetizer and after the whole lunch, I was more than full and Aljoša was not hungry anymore (you know, the difference between boys and girls).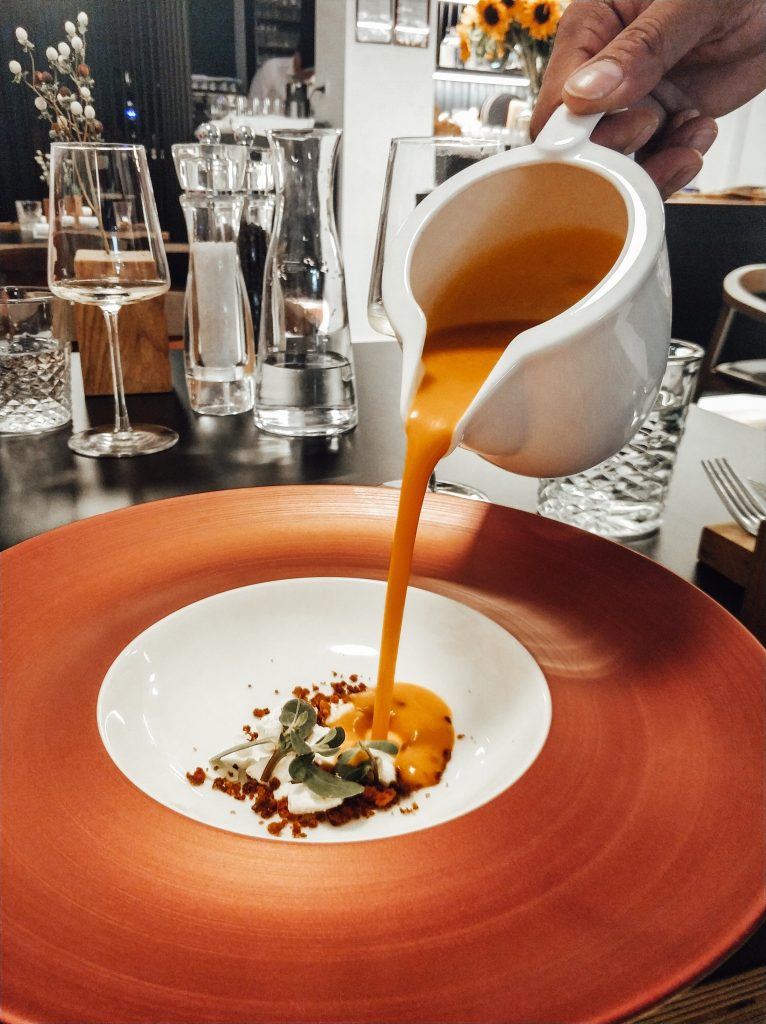 Next "stop" – soup. Creamy carrot soup with sour cream and crumbs was the soup of the day and it was served in the currently modern way of plating the "toppings" in the plate and pouring the soup over at the table. Very delicious and filling.
For the main course we decided to taste two of the three they offer each week. Our week was (i) veal fillet with celery puree, roasted celery, celery crumbs and porto sauce, and (ii) sea fish fillet with potato puree with peas, samphire and buttered crumbs. Both dishes were very delicious. If you put the some veal, celery, puree and crumbs all on one fork, the bite was PERFECT! And the celery pure was sooo good. Oh and the fish, very tender and flavorful – you could see that it was fresh and local. Overall both great dishes.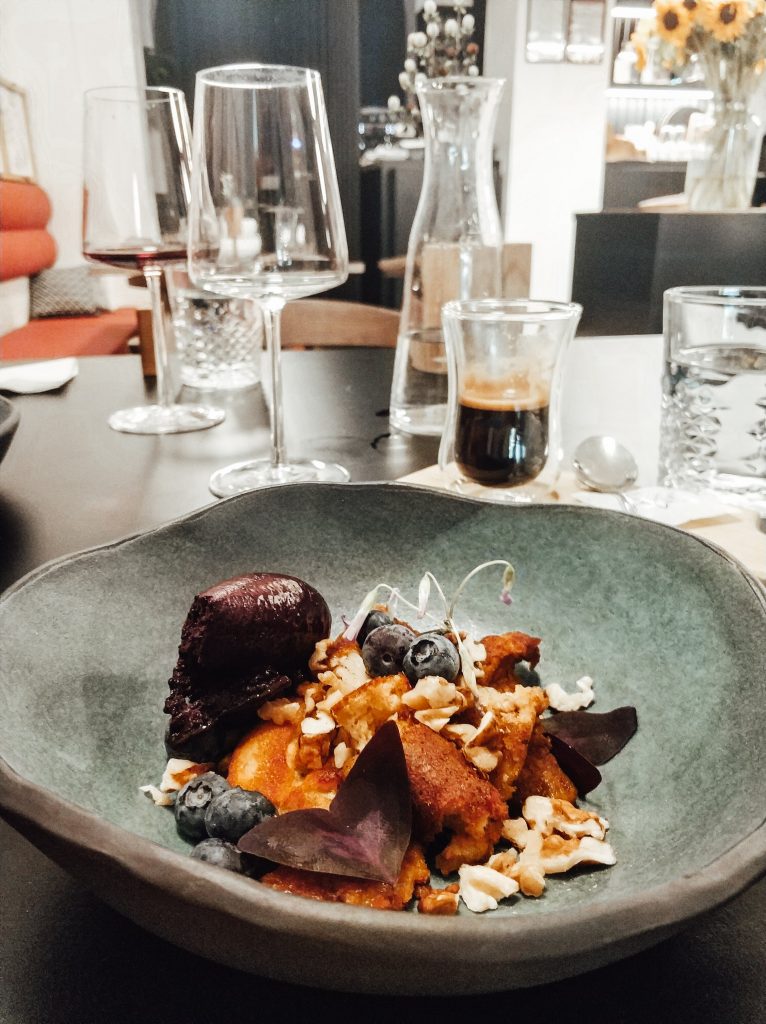 Dessert – Landerik is known for their kaiserschmarrn – I think the best way to describe it is as if someone would have torn apart an (American) pancake. They served it with blueberries, blueberry ice cream (sorbet) and walnuts. The best part was the ice cream but I wasn't such fan of the kaiserschmarrn itself. Maybe it just lacked some sort of sauce – I heard their kaiserschmarrn with vanilla sauce is to die for, so I guess we're going to have to come back for that. And their breakfasts. So, see you soon Landerik! Oh, and they have the cutest way of serving coffee!