What would you expect if you applied for dinner and only got information on the location (a food styling studio) and that it will be a 7-course menu, which is only described with quotes by famous philosophers? Don't know? We didn't either and that was part of the charm.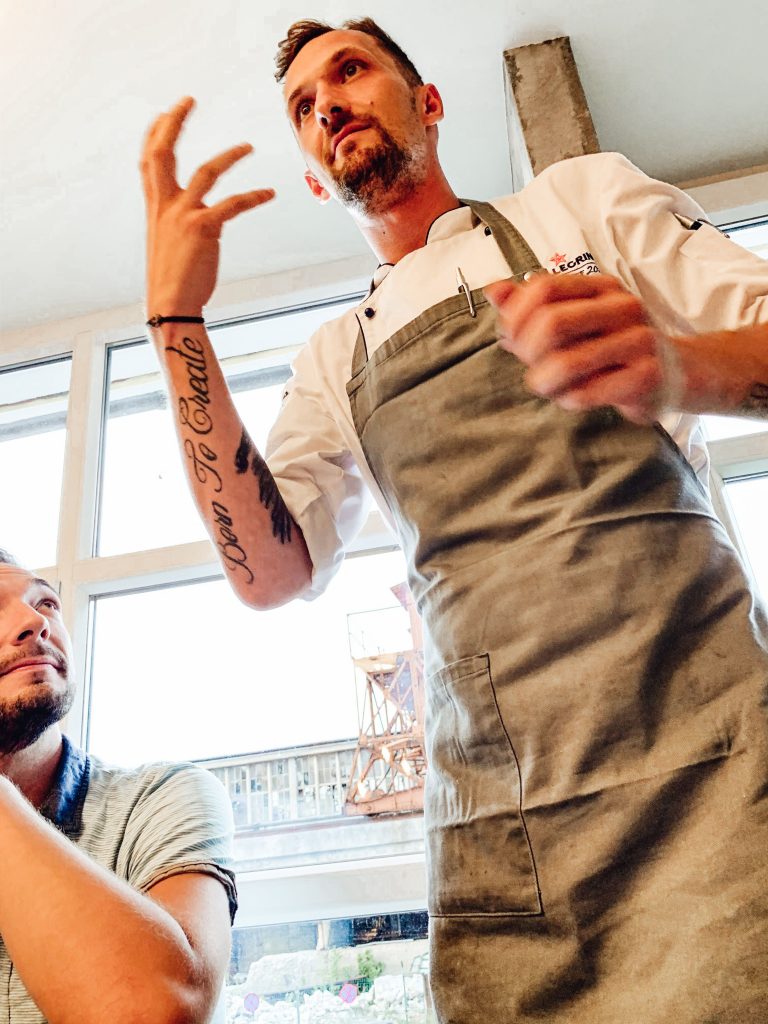 The dinner was one of the many events organized by NoirFood – a community which promises the following:
"With us, you will receive limited bottles of wines and culinary goodies that are hard to find on the market. Through our exclusive content, you will learn things like how to act when the waiter wants to put a coat on you, how to recognize the smell of cork and what are the common mistakes you are making when buying a bottle of wine.
That, and much more, are the things we are focusing on to make the journey of becoming aficionado the journey, you will never forget."
They offer membership to a club (without any negative connotations clubs get these days) in which you receive amazing bottles of wine, some cool stuff, books, culinary-related content and discounts to events like this one. For example, we got this dinner for 36 EUR per person for 7 courses and all the accompanying wine. Pretty neat, right? And a little birdy told me that they received funding from the UK because of their cool ideas, and they will start a sort of "Etsy for food and wine" where (local) food and wine producers will offer their products directly to us users. Pretty awesome and just what we (culinary freaks) need.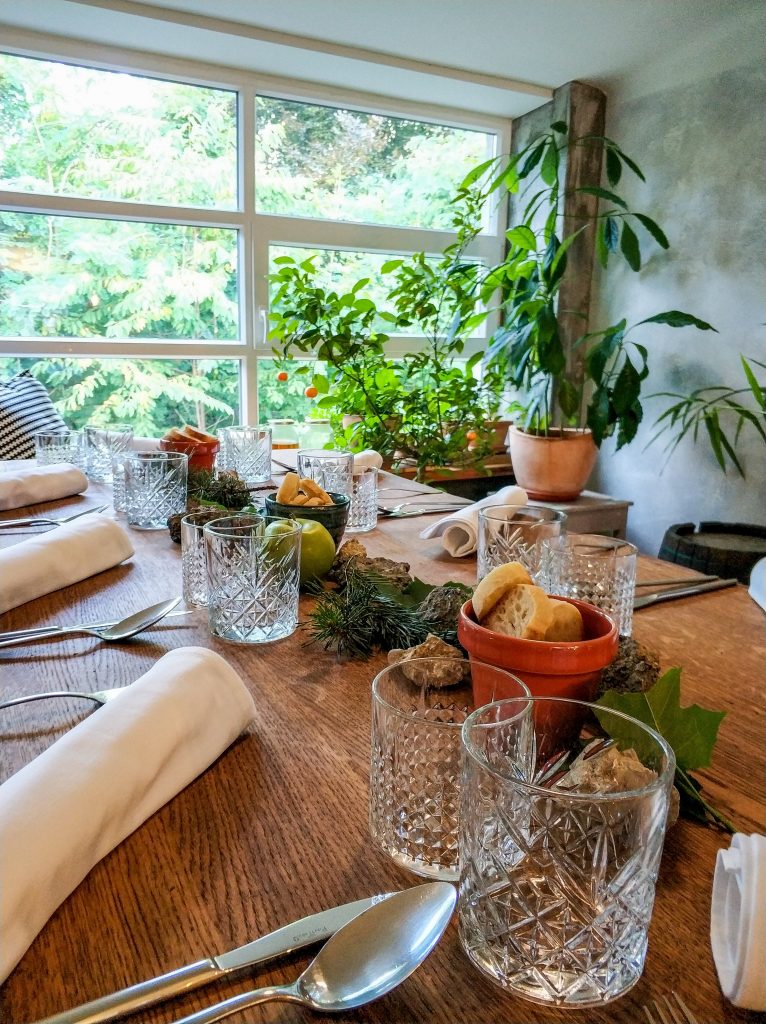 And now to the main event – the dinner. We were invited to a beautifully decorated food styling studio with a kitchen in the middle and served some Puro from Movia. Delicious, if I might say. We were then told that the event has no official photographer because – wait for it – we should take as many photos as possible and compete to make the best one. An event truly made for me, always secretly taking pictures of my plates. And we could look under chef Mojmir Šiftar's hands all the time and he was not allowed to complain. Heaven!
The first course was roughly chopped Amber Jack with torn sea fennel, ground pine nuts and foam of coastal forrest.  
It was served with a delicious Pinela from Štokelj, a refreshing and tasty wine that I could keep drinking.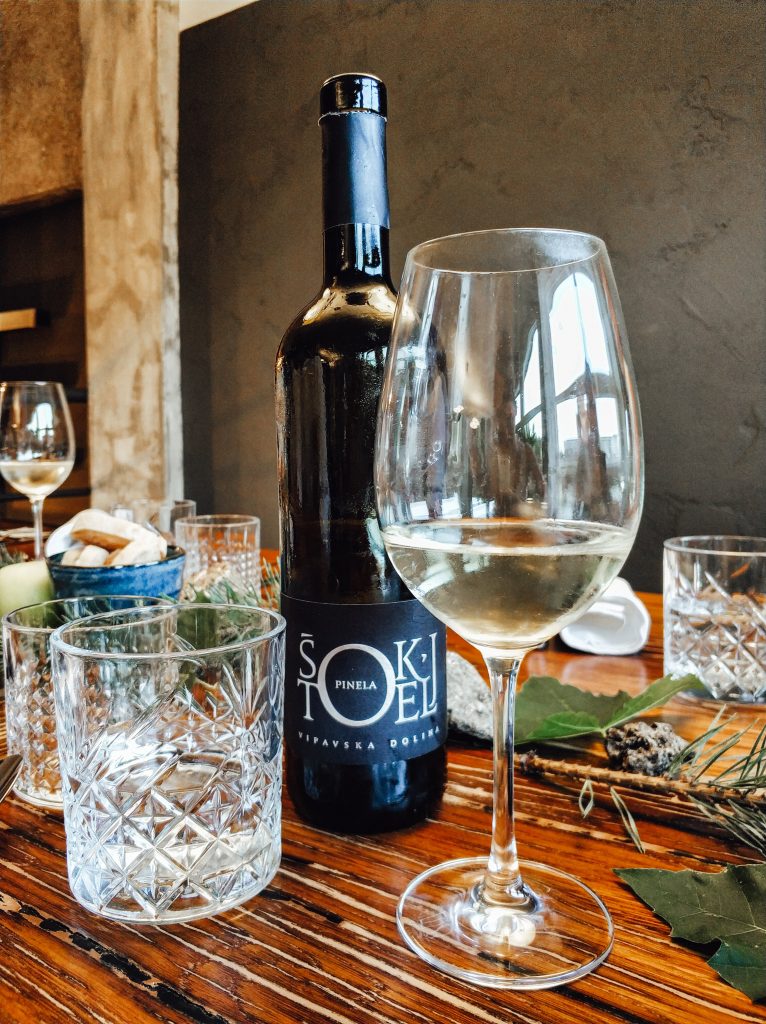 The second course was a shrimp with Sichuan pepper and green tea, crab with orange emulsion, prawns with fried polenta and cucumber, and red shrimp (gamberi) with fresh strawberries and lemon. All raw and all oh so delicious. Pinela was still the wine to have and I was not complaining.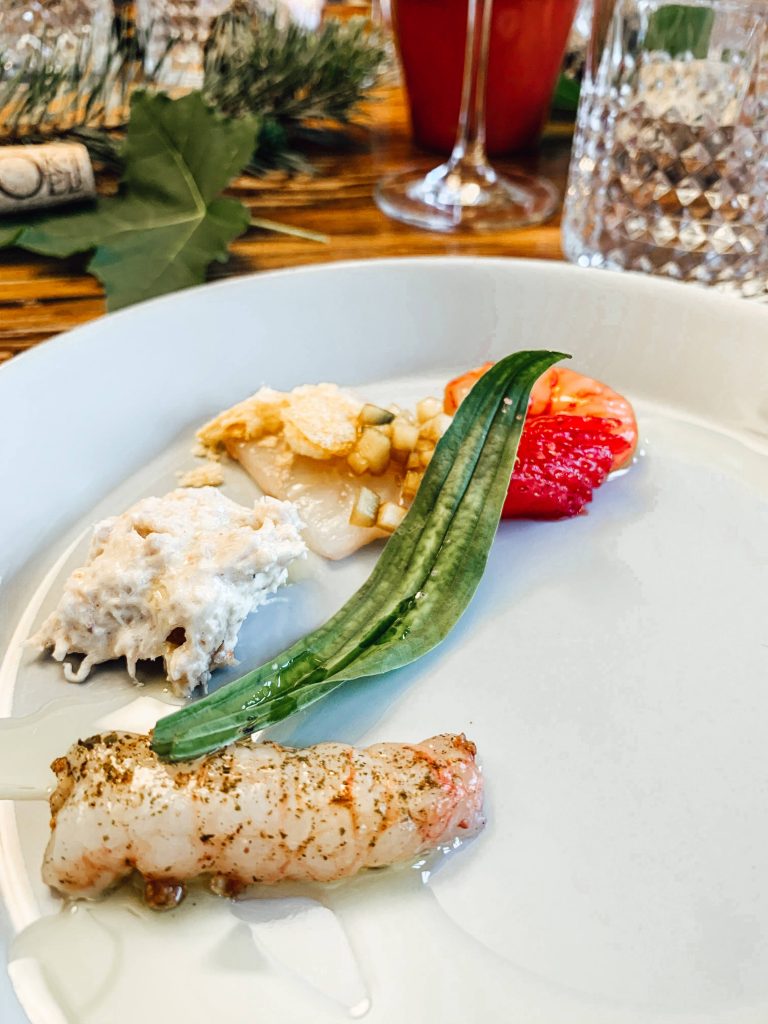 Next course showed us how we really waste way too much food. Chef Mojmir Šiftar served us fish bones and potato peels soup over fermented cherries with a friend anchovies bone and burnt carrot peels. All waste but all perfect. Just goes to show that one mans' trash truly is another mans' treasure. 
Waste nothing!
After that, it was time for new wine – the Jakot Plešivo from Blažič. Wine of golden yellow color with an emphasized characteristical varietal scent, reminiscent of lemon peel, ripe white fruit and field flowers. Its taste delights us with elegant freshness, minerality and a nice aftertaste. And the dish – fried barley with celery and almonds, with celery foam, green apple in vinegar and basil. Another amazing creation I would not have thought of myself.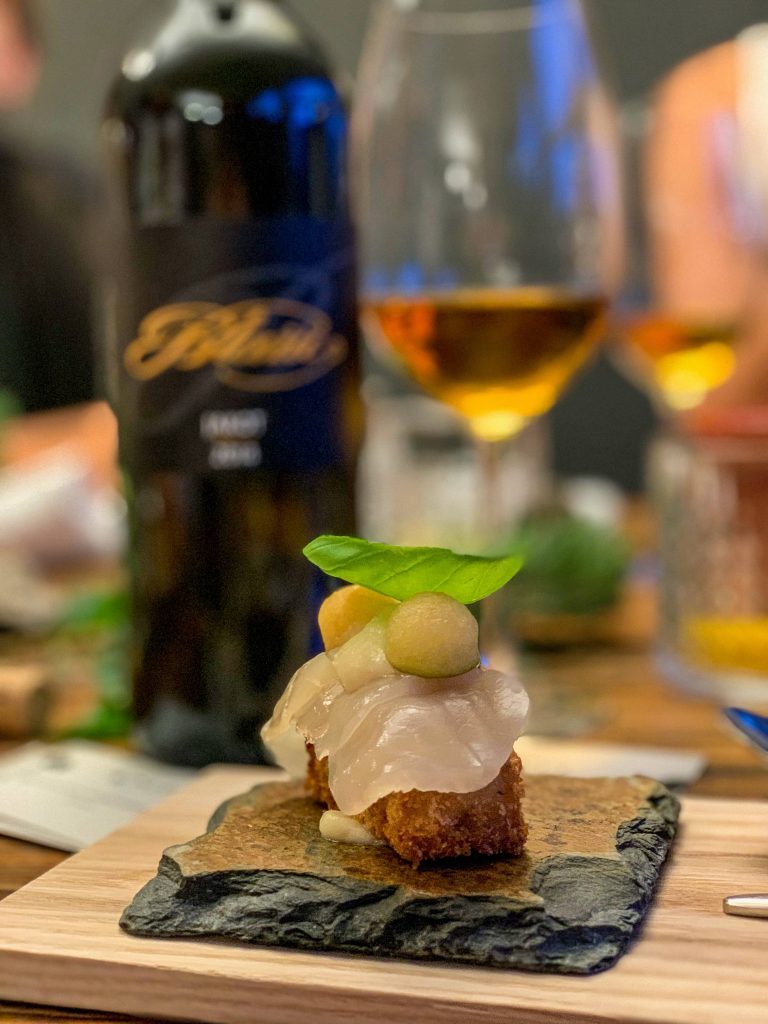 Fifth course at the first glance appeared to be quite simple and nothing really special. Some John Dory with parsnip chips, fermented tomatoes, Capuchin leaf and what appeared to be some herbs or hay around it. But it was far from the usual. Chef Mojmir told us it was actually herbal tea which he poured boiling water over and made some tea "soup". Surprisingly delicious and something I wouldn't have thought of in a million years. The wine to go with it was Atimo, wine made with the following procedure: "After having manually picked mature and healthy grapes of Chardonnay and Malvasia, we macerated them for nine months in used wooden 500-litre Tonneau barrels, where alcohol fermentation with natural yeast and malolactical fermentation took place. After nine months of maceration at the uncontrolled temperature, the first racking into used 500-litre Tonneau barrels followed at the full moon, without crushing the berries. Subsequently, the wine matured for 16 months in the barrel on lees." A cloudy wine with a strong and heavy taste, a little to strong for me, but a great opportunity to try and taste this rare wine with very limited number of bottles.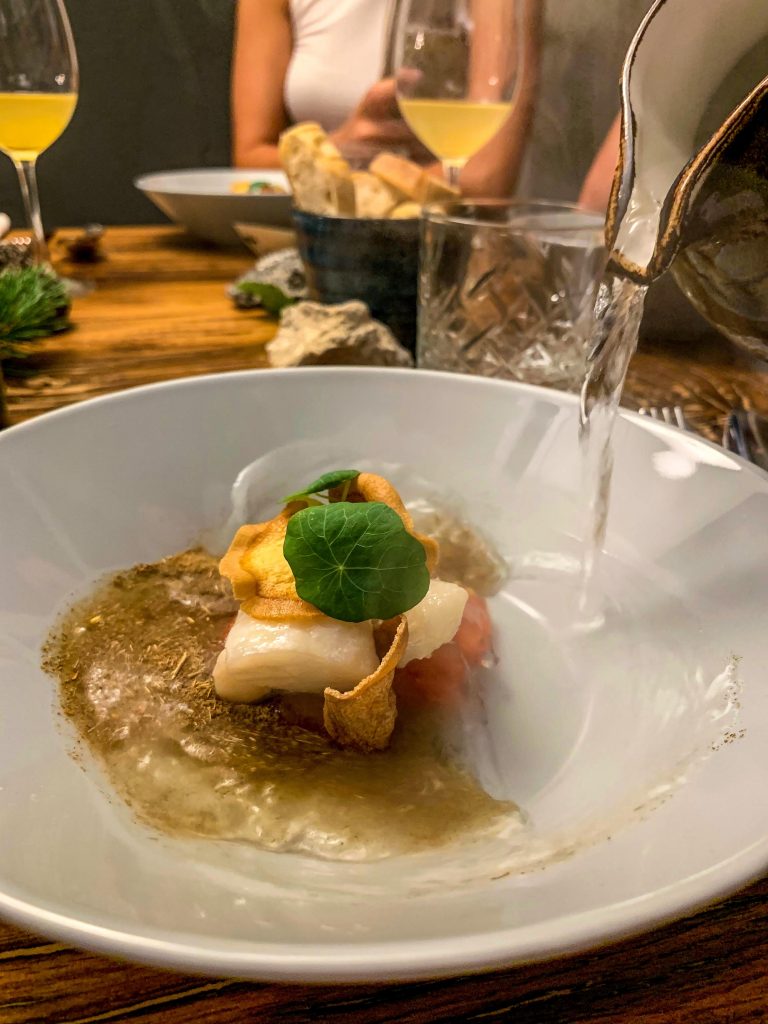 Atimo
It was now time for a break from the food to allow the chefs to prepare the dessert. We weren't left unentertained, though. Sommelier Žiga poured us some Movia Lunar wine under the lights to prevent any of the sediment to get into anyones glass. And the wine: "Late harvest, hand-picked, short vine-to-fermentation times (max. 2h). The grapes are destemmed by hand and placed in new oak barrels with custom caps. Fermentation begins in the berries themselves, which gradually release the wine. After 8 months of maturing, at full moon, the wine is gravity racked into bottles, no added sulphur, no filtration, no pressing. This is as close as it gets to the wine ancient man found in nature." Another very special wine.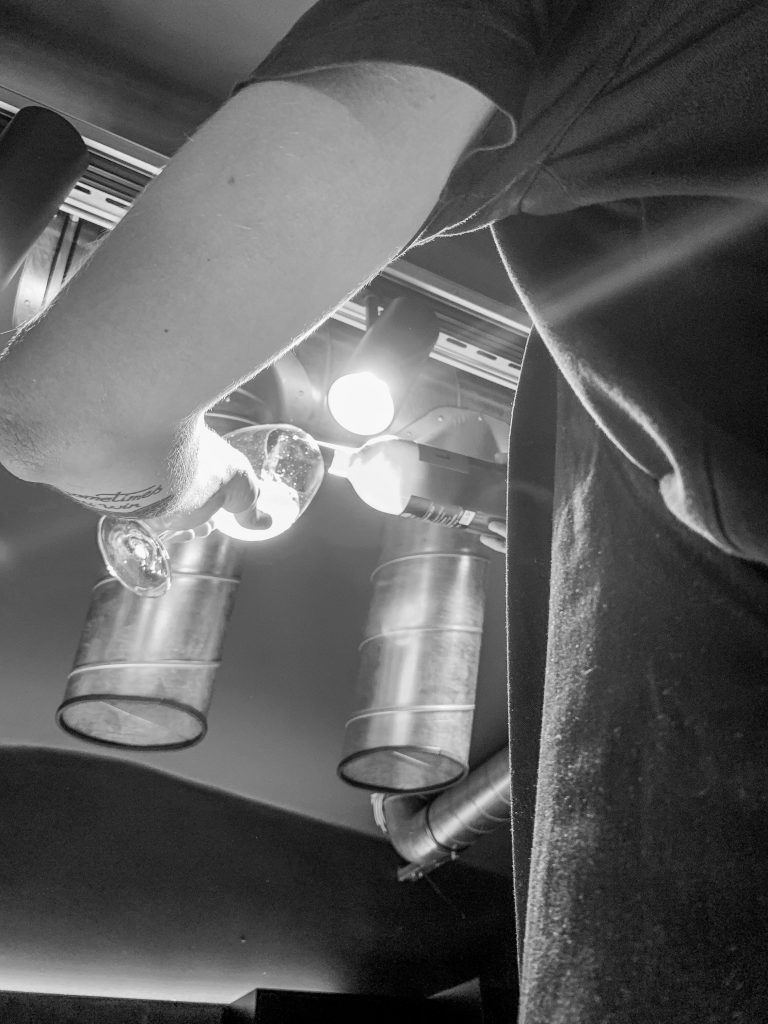 Next course was the sweetest moment of our dinner – dessert. The preparation itself was mesmerizing to watch and the dessert was even better. It was a rainbow of gels with a cream cheese ice cream like a little leprechaun under the rainbow and with golden chocolates around. Loved it!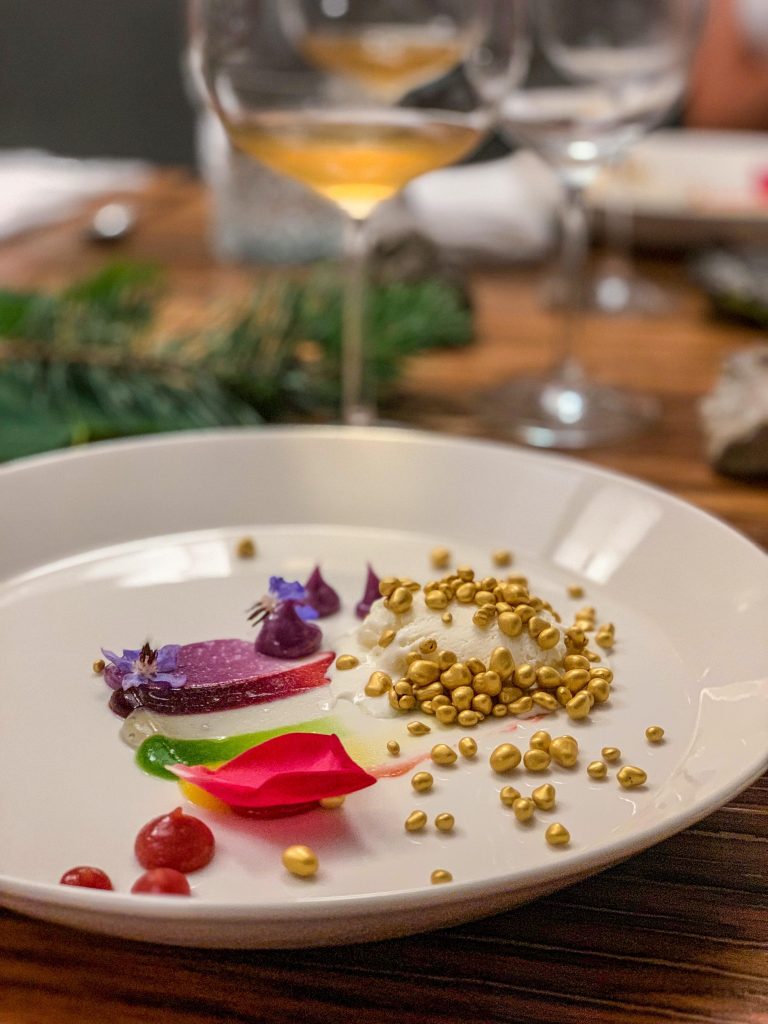 For the grand finale, we received a sea urchin shell filled with salt and with some little flower bud on top. What is happening? Chef Mojmir quickly "calmed us down" by saying that we should just chew it and it will taste funny but after a few minutes it will start to make our tongue feel numb. Wait, what? But we all did it anyway and while it tasted horrible (kind of bitter kind of sour), it made the gin and tonic we got after that taste super delicious. So I would do it again.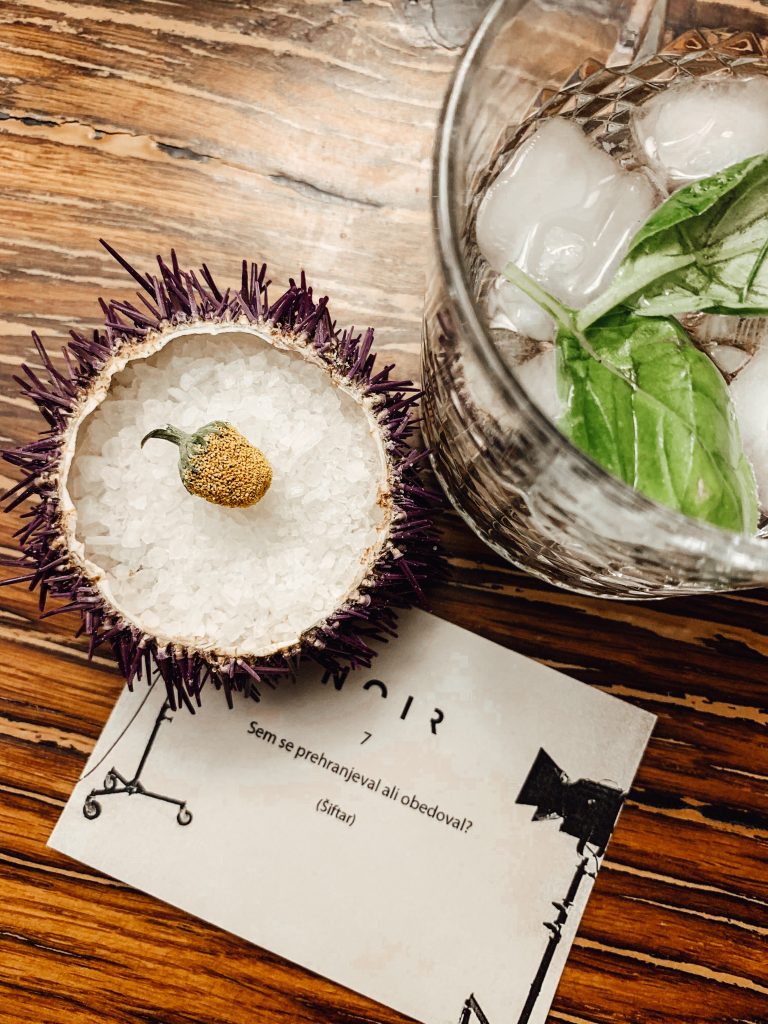 It's hard to choose the favorite part of such an amazing evening but if I had to choose three it would be the dessert, the "soup" and the flower bud. And the company was great too! The cofounders of the NoirFood (the ones who weren't already busy working in London) and Nejc (who jumped in for Jaka who was in London) were awesome hosts, which we hope to see again. 
All in all a great experience and I will keep an eye on them posting about the next dinner and make sure I'm there. And so should you. And I will be there with a discounted price as I have joined their "club" after this event.