Describing Morocco in one sentence would be really, really hard. You can't even fit all the words that describe their landscapes in one sentence, let alone all the flavours, markets, souks, riads, and people. But you can see most of Morocco in 2 weeks and here's the (in my opinion) perfect itinerary.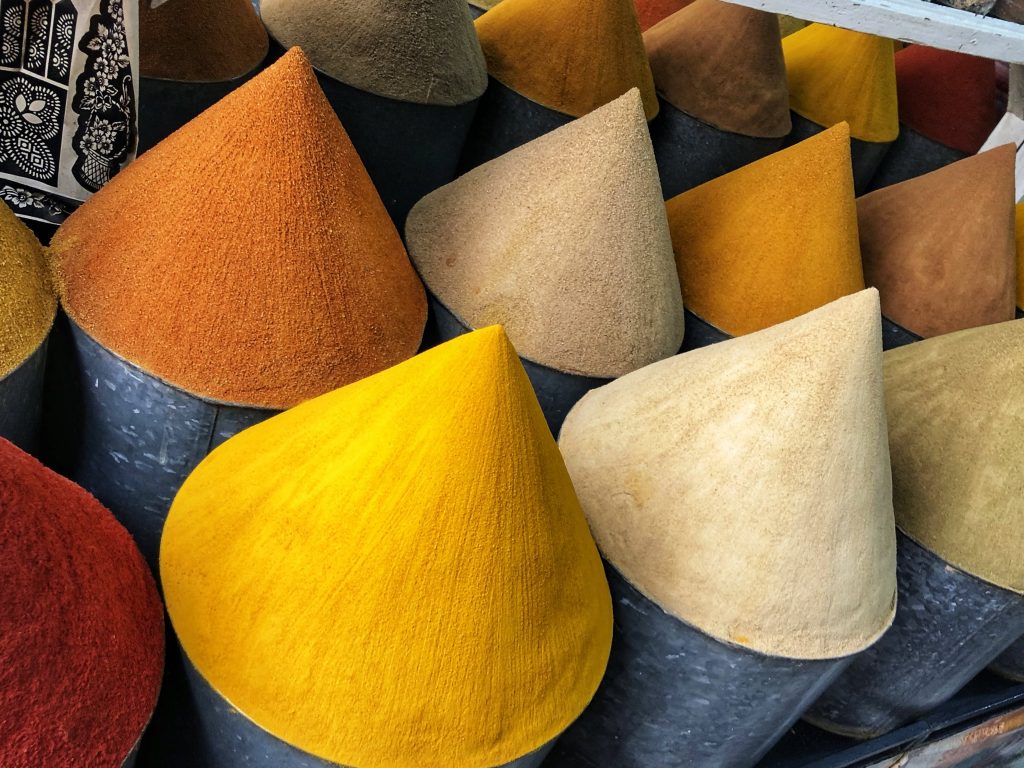 Day 1
Fly to Marrakesh from the nearest airport. Ours was Milano, Italy, at that time, because we also did some price comparison, and we were not flexible at all with the dates. Otherwise, you can get cheap flights from many airports, just search kayak.ie or for example RyanAirs webpage. Our flight was in the afternoon so we arrived there in the evening. Book your stay in advance and arrange for a transfer to your hotel or riad (I suggest you choose a riad, though, because of their nice inside courtyards). It's the safest and easiest way, and in Morocco also not expensive at all.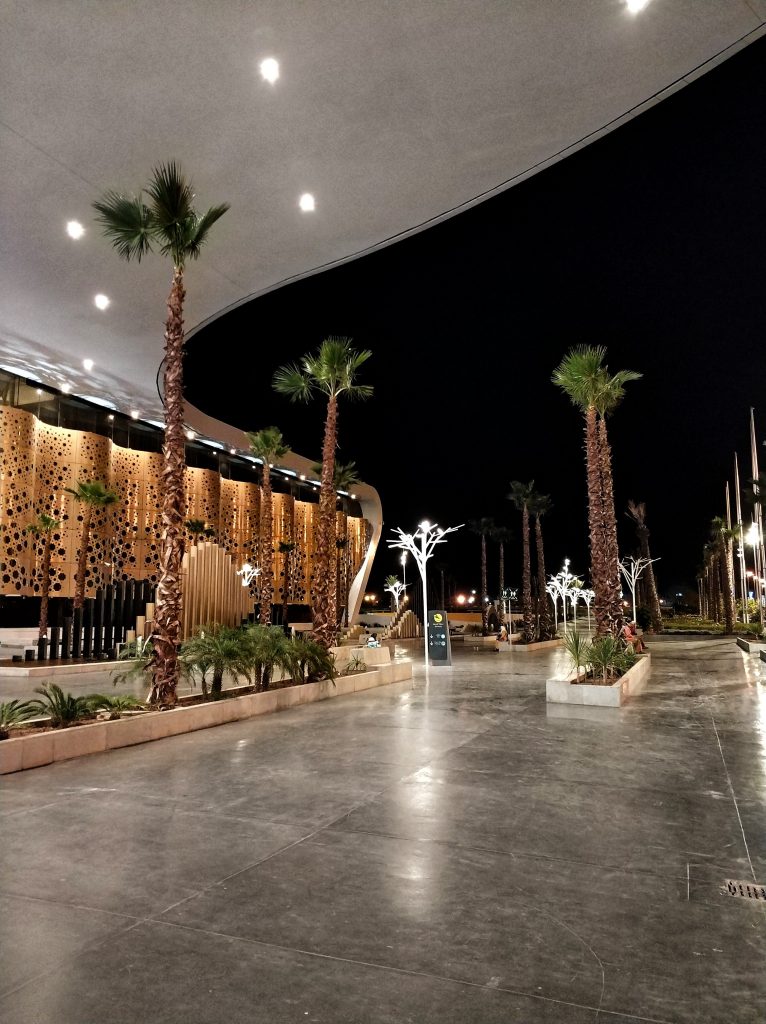 You can visit the Marrakesh Jamaa el-Fnaa, their main square and market, the first night already, since you'll probably get there really hungry, and this is the place for you to be, if you are. Look around a choose a place where a lot of local eat. A place full of tourists is usually a tourist trap – they only need to fool each tourist once, to make a living.
Day 2
Day two is reserved for exploring Marrakesh. Enjoy your breakfast at the riad, and make your way to the city center. Take a walk around the city – make sure to include all these, but adapt the order to the location on which your riad is.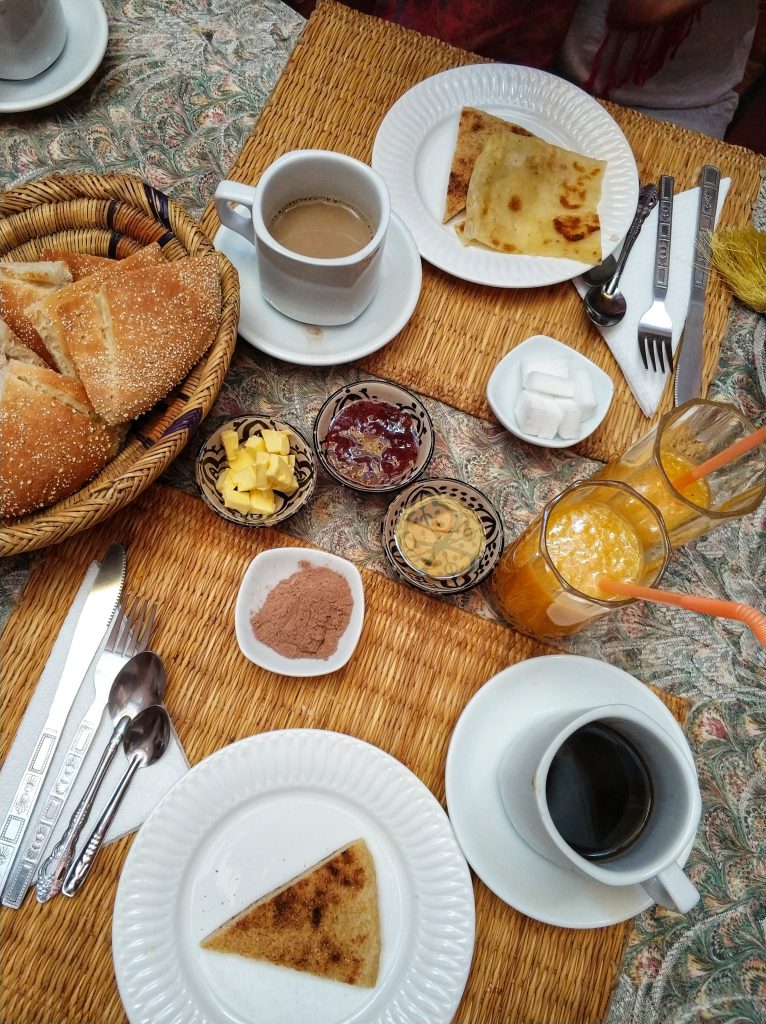 Riad rooftop

Inner courtyard

Shisha at the rooftop
Visit the Bahia Palace, which has quite a few photo-friendly spots, and it just feels very calm and nice. Wander around the narrow streets and enjoy the little markets. Your destination is the Secret gardens – Le Jardin Secret. It's a small garden in the middle of the city, and the entrance fee is only 50 Dirham (which is around 5 EUR). Keep walking through the souk (market) and decline any camel offers, despite the fact that (as we found out) a camel is worth quite a lot. Take into account, that everyone will be offering you their stuff, especially if you stop for a second to look at them, but just ignore them, take some pictures, or make a good deal for something you really want. Walk up to Jardin Majorelle – the Yves Saint Laurent gardens. If you're lucky, the line won't be too long. Otherwise, don't worry (we didn't get in, for example), you'll get another chance when you get back at the end of your trip.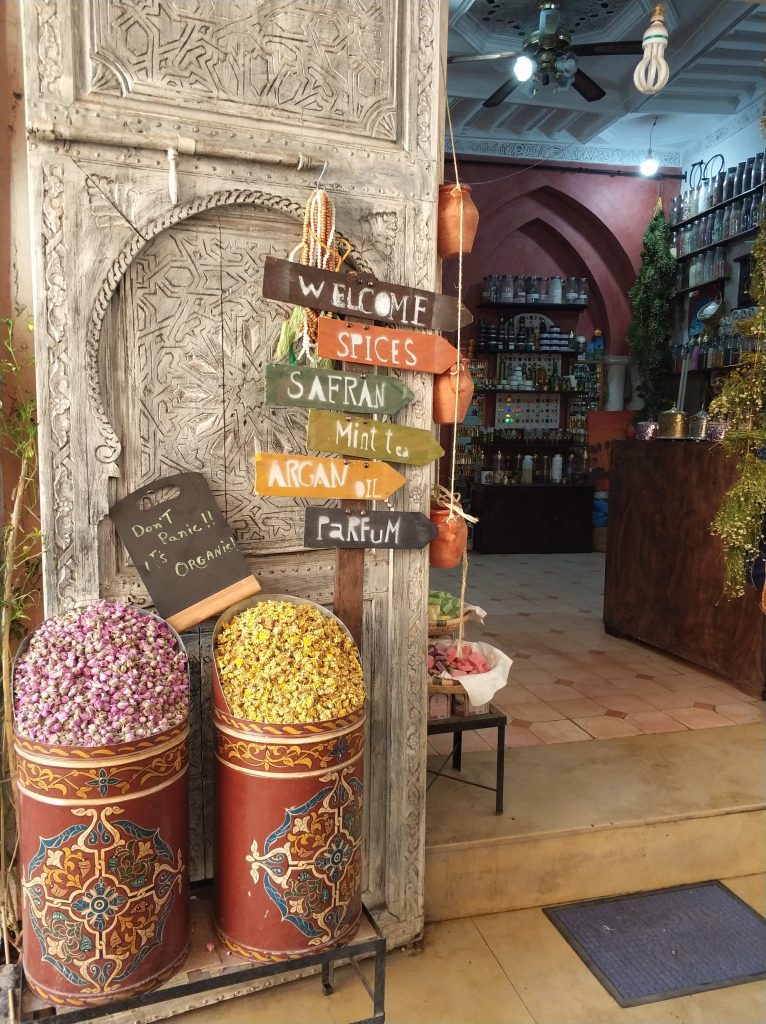 Instead, go the liquor store nearby (it's called Mini Marche Majorelle) and it' just about the only place where you can buy alcohol. Not to get drunk or anything, but just to have a sip after every meal just to be sure – better safe than sorry, and it's by far the best "disinfectant", better than any medicines you might have brought from home. Also, go and book a car for tomorrow – we chose the Kat Car rental company, and we were very satisfied. You never know in Morocco, but our car was brand new, and we got a good price. They will also want a deposit (credit card) but you can make a deal with them to leave some money there instead, and get it back when you get back. Make a good bargain for a horse-drawn carriage ride back to the center and enjoy the views. Finish with a coffee at the Cafe Kif Kif and dinner in a restaurant around the main square.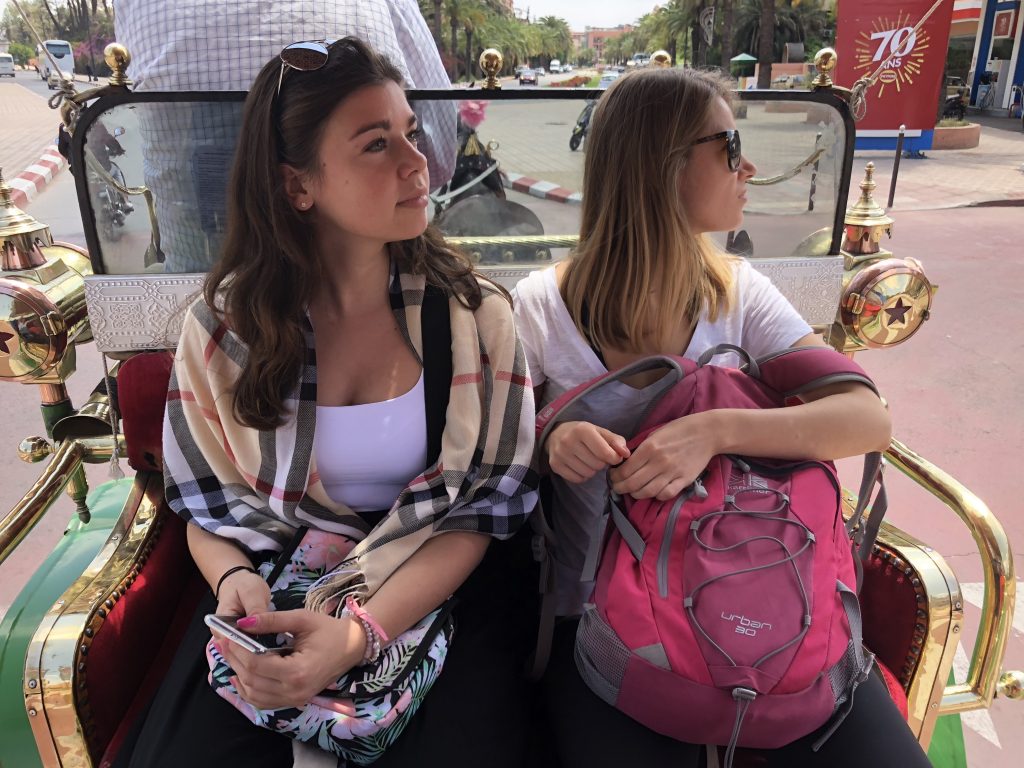 Day 3
After breakfast, make your way South East. Destination: Game of Thrones. Just kidding. But you'll feel like you're there because Ait Benhaddou was the location of the city of Yunkai. It's a four-hour drive according to Google maps, so allow around 6 hours at least. The roads in Morocco can go from great to horrible in a few meters, plus you'll want to stop a lot along the way. Today, the journey is just as important as the destination. Today you'll want to ignore the navigation system just a little (not all the way, because then who knows where you'll end up), and take a longer, more picturesque road. Once you get past the Tizi n' Tichka pass, take a sharp turn left towards the villages of Adaha and Tighza, and then continue like the GPS will tell you to get to Ait Benhaddou. The views are really breathtaking there, but the road is more mud than road, so go slow.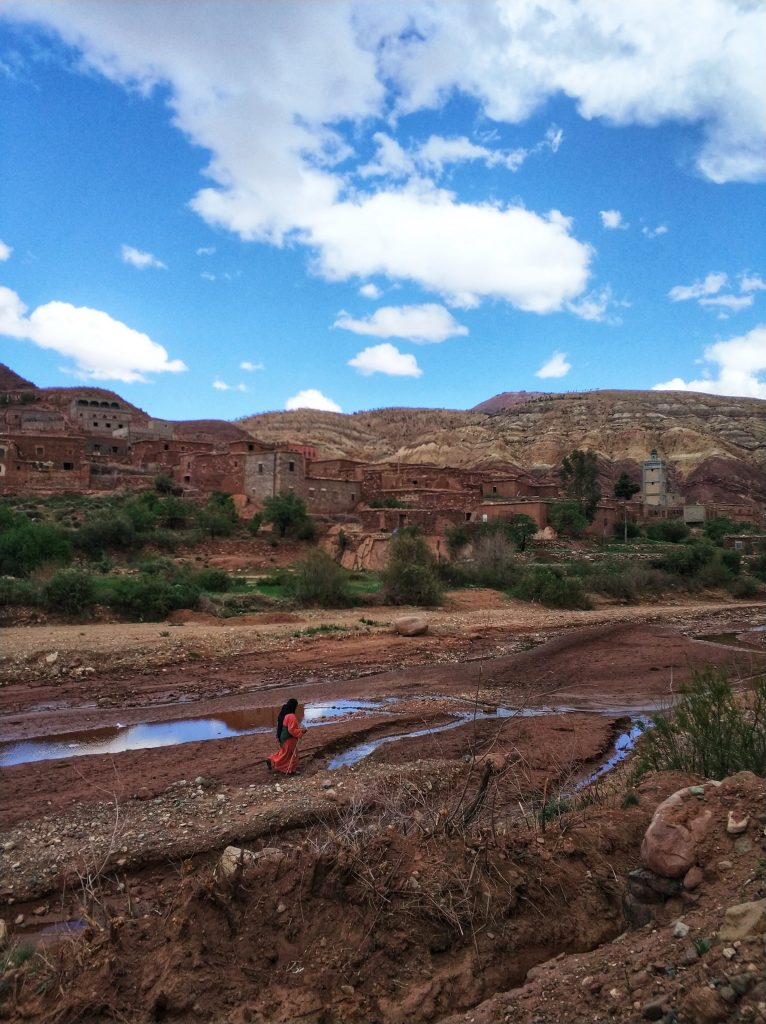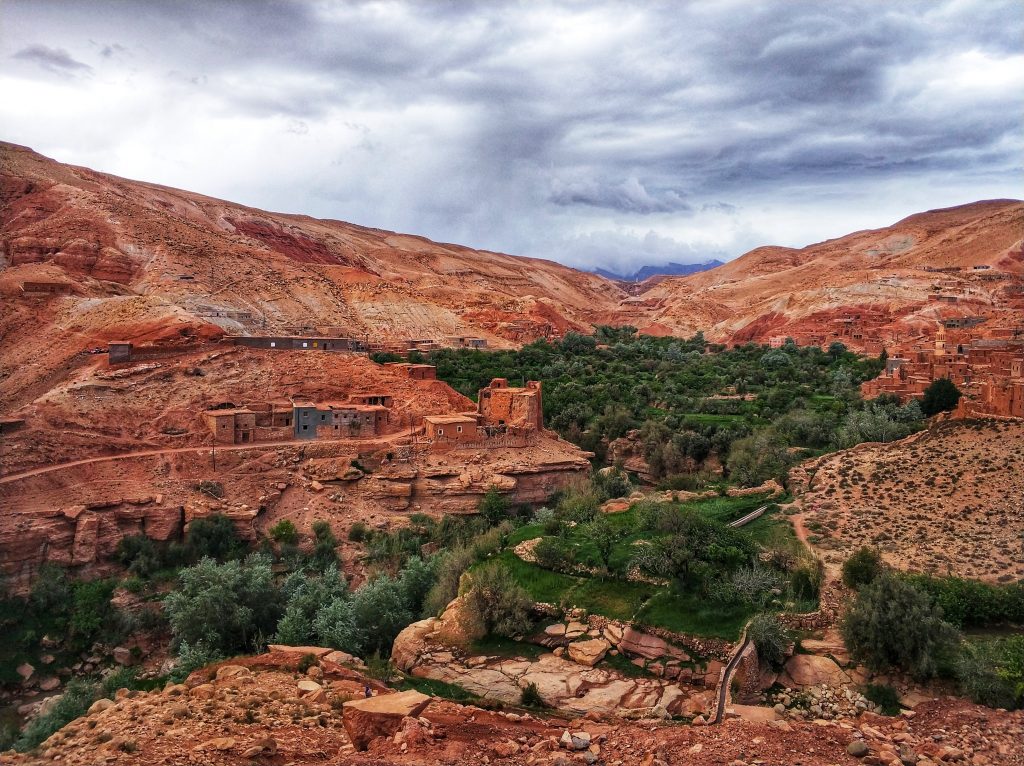 Ait Benhaddou looks like it was made as a screen for a movie, but it really is/was a city, and it's a classic representation of the Moroccan earth clay architecture.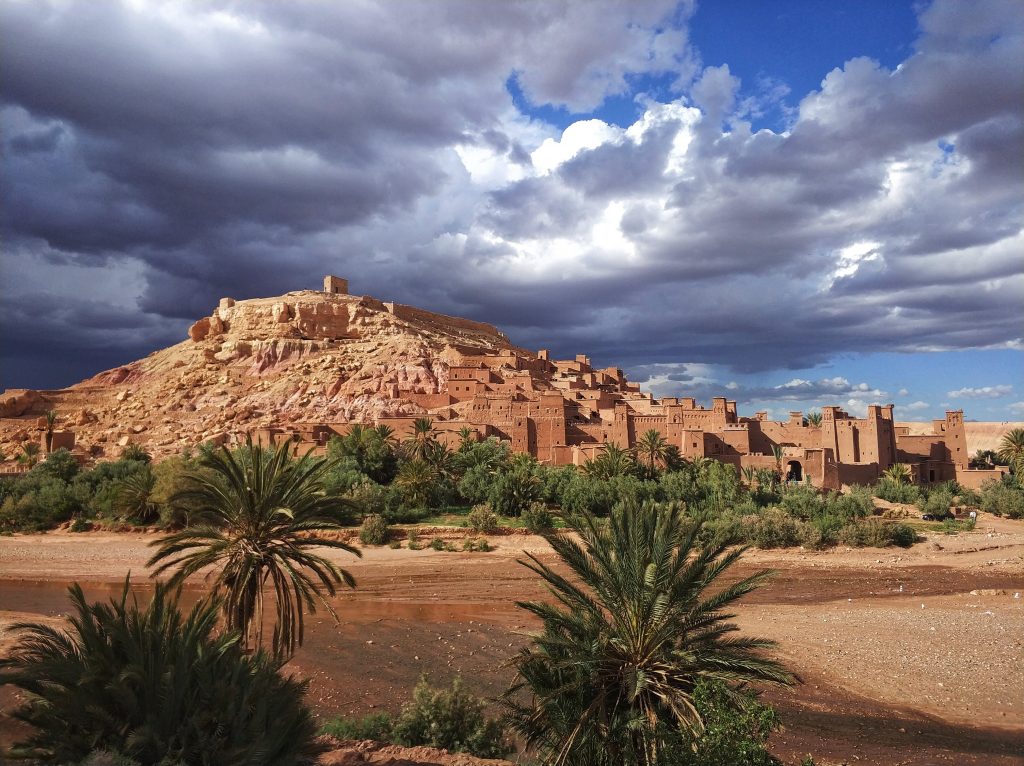 Spend the night in Camping de l'escale – make sure you book in advance as this is primarily a camping site so they don't have many rooms. But it's a perfect location for an overnight stay and they make a really good dinner.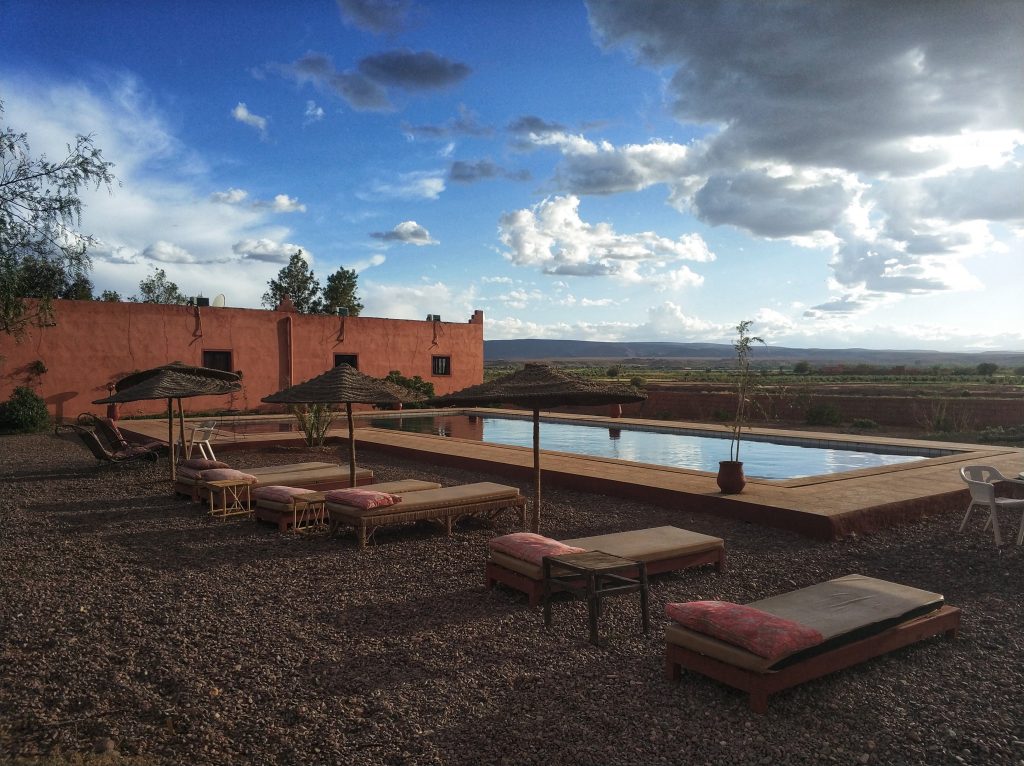 Day 4
On day four, you'll make your way to the Sahara desert. But there's one more stop waiting for you on the way. Gorges Dades. You may have seen some pictures of it before, but I for one didn't know this was in Morocco. But luckily the lovely ladies on my "travel team" did, so we drove up there just to be rewarded with some amazing views. There's a restaurant at the top that in a way claims the view to be theirs – namely, they want you to buy something if you come to their terrace to take a picture. We therefore asked for some freshly squeezed orange juice and since they didn't have it, we said we didn't want anything then. Free views!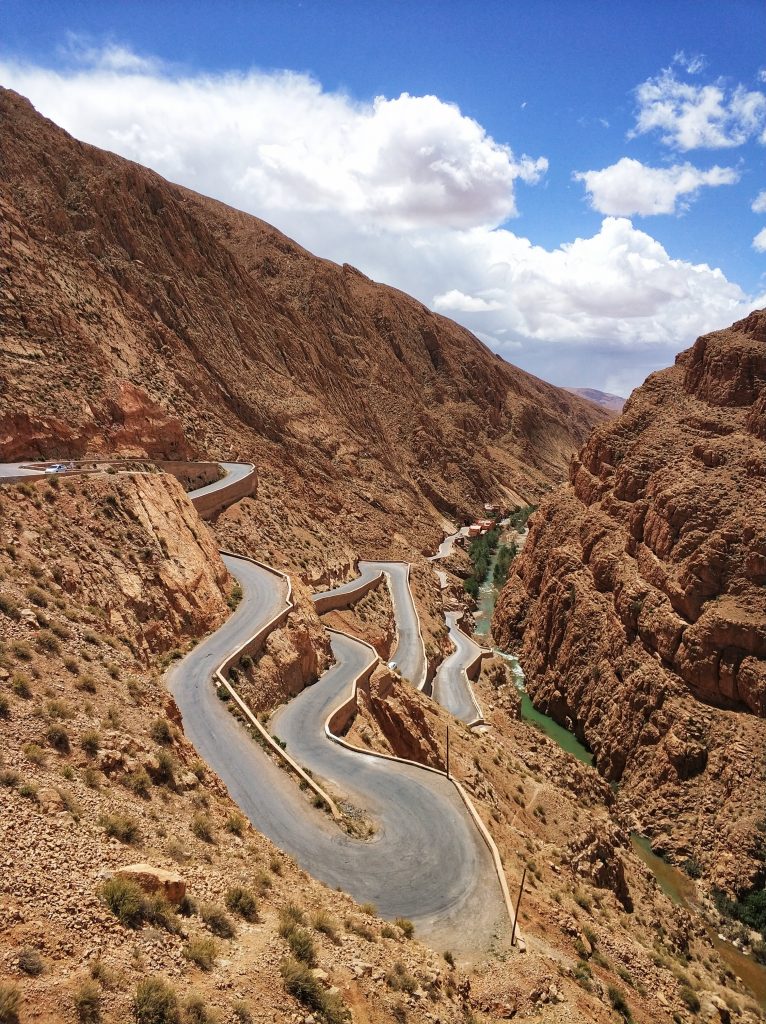 On the way down, we stopped at a restaurant with quite awesome views and really delicious, freshly made food.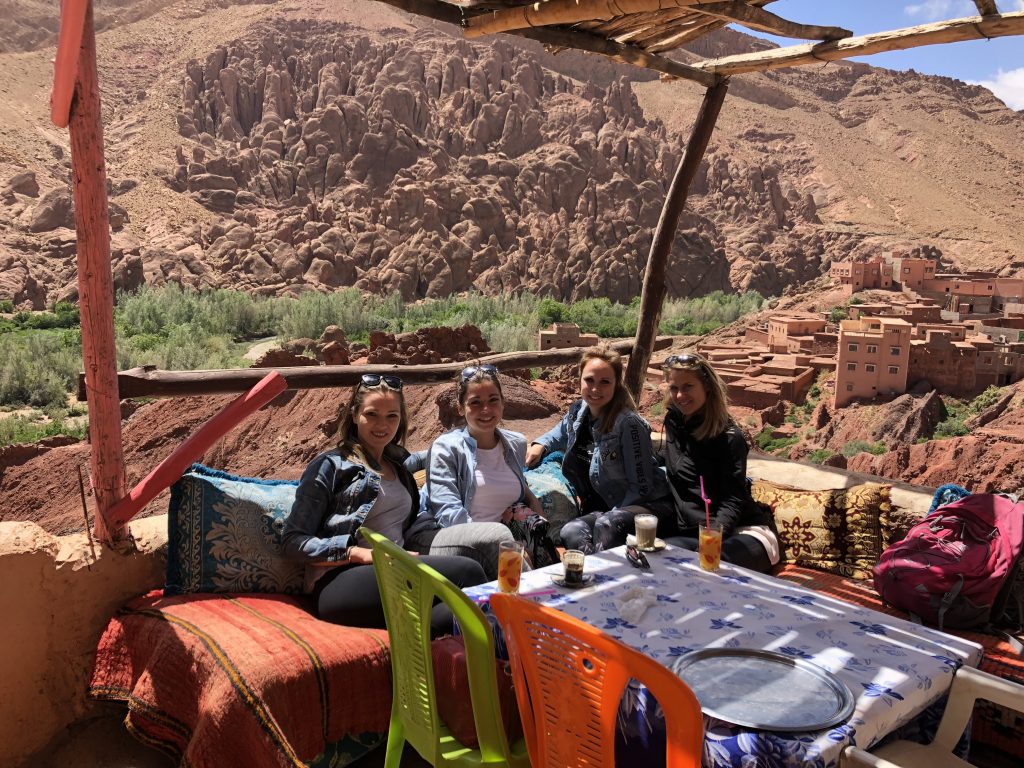 Rested and fed, we continued our way to the Sahara, and I suggest you do the same. Keep driving East, with Merzouga set as your final destination for the night. You can book in advance or you can try and get a good deal for accommodation once you get there. Just keep in mind that either way, they will probably charge you more than they should. Stay at Palais des Dunes – it was the best option at the time and they have a pool and delicious dinners.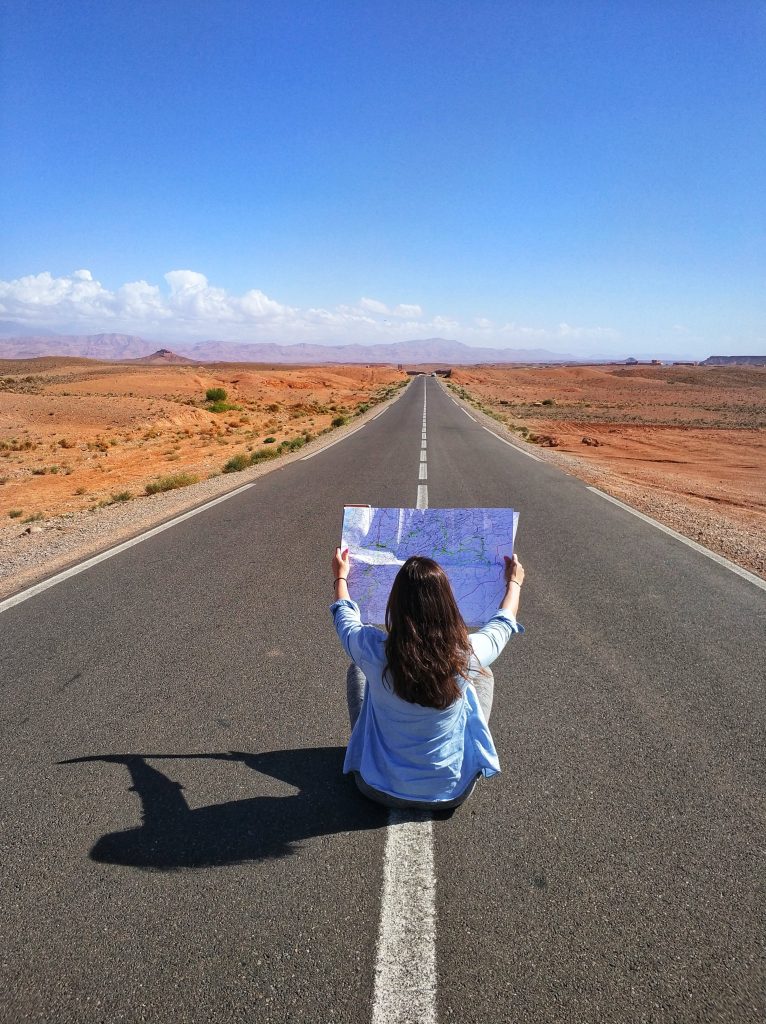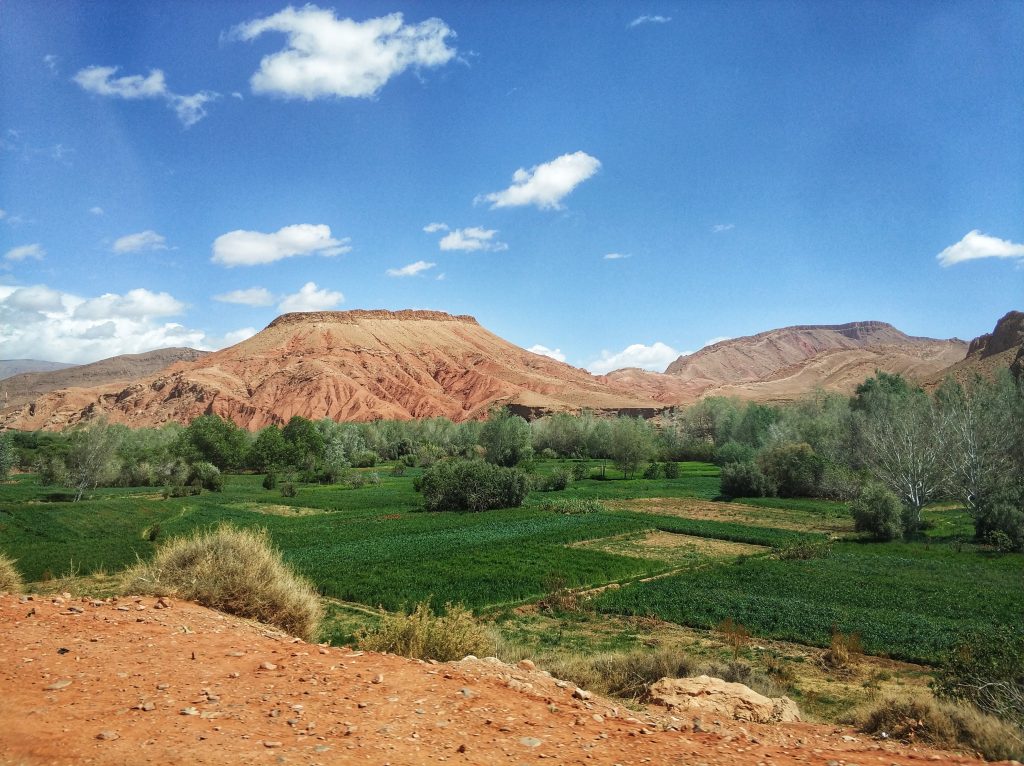 Arrange for a trip to the desert with the camels for the next day. The tours usually start at around 5 p.m. just so you get some light during the camel ride and then have dinner and music in the desert.
Day 5
Since the camel ride starts in the afternoon, you can spend the entire first half of the day by the pool, enjoying some sun and shade, relaxing from the busy four days and planning the next few days.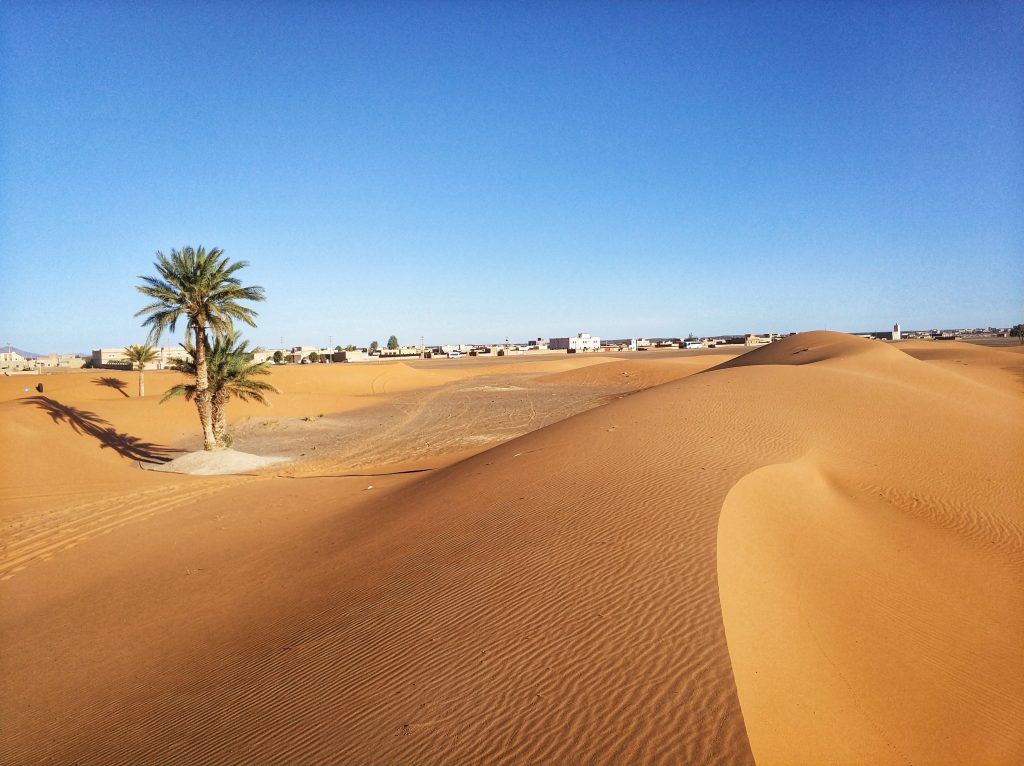 Before you leave to the desert make sure you've packed the following: sun screen, long but light top (shirt), long pants, a hat (or you can ask them to put their scarf on your head to make it look like a turban), and a bag with extra underwear, a toothbrush and toothpaste, pajamas, and something to wear the next day. The camel ride is amazing and awkward at the same time. The camel getting up and walking is like sitting on a wobbly, unpredictable ball made of jello, but at the same time sitting in a hard wooden chair. Sometimes you'll feel like the camel is about to fall down the hill and you with it, but don't worry, they've got you covered. The views very stunning all the way to the camp and our guide kept taking amazing photos of us.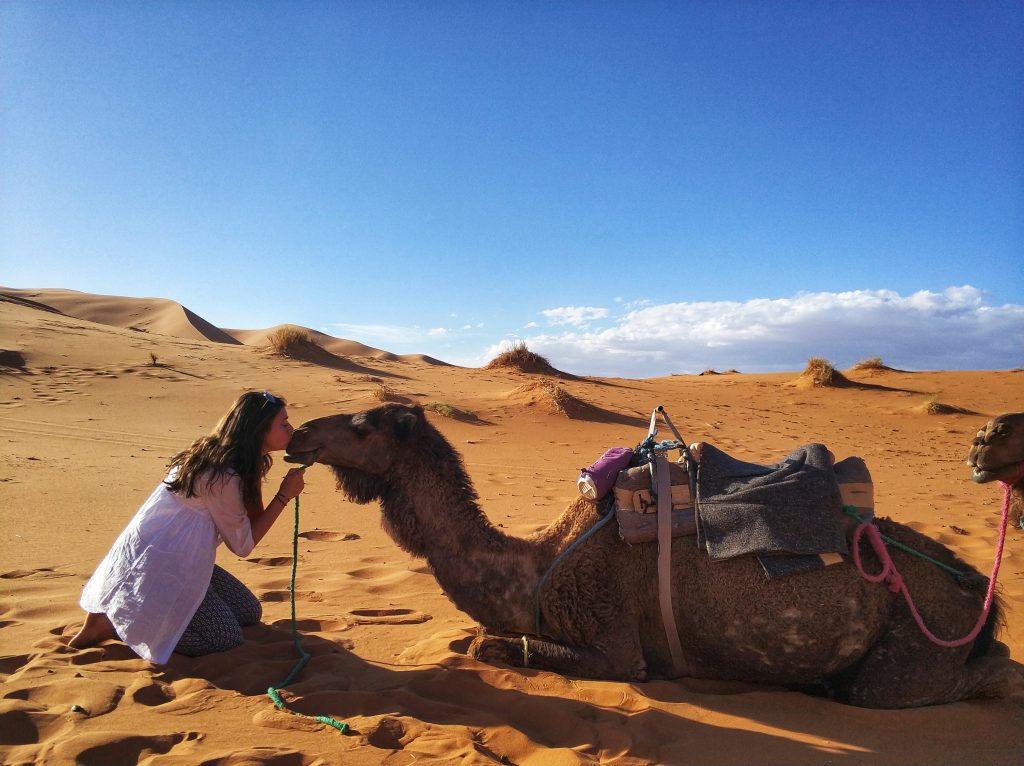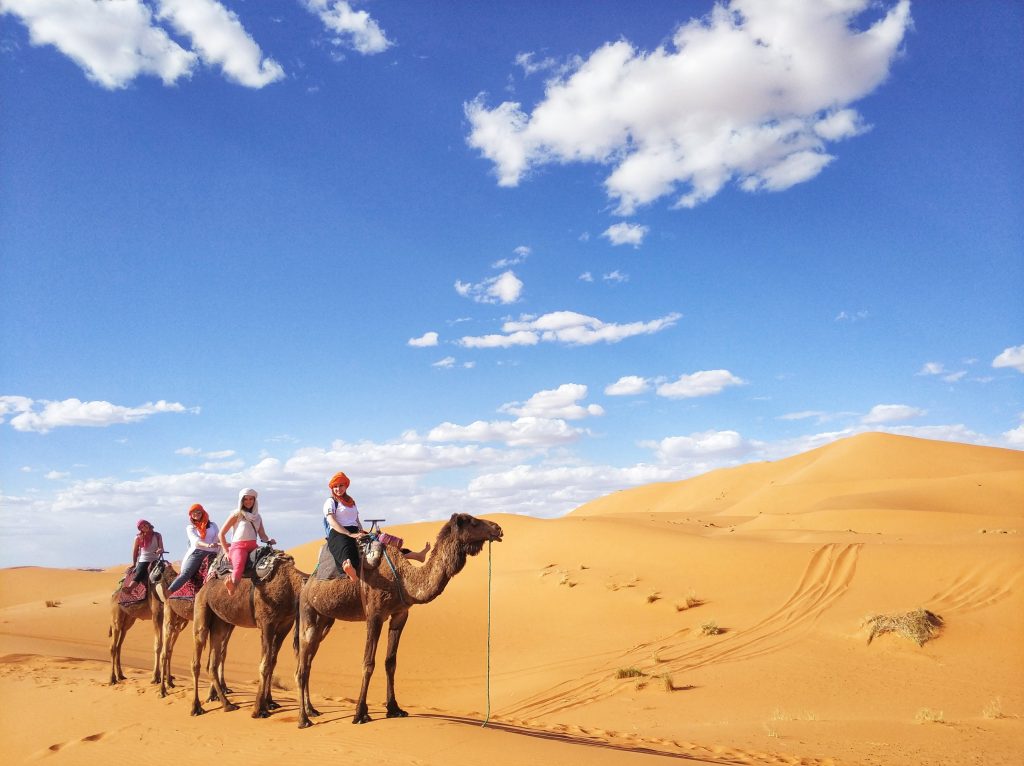 We finished the night with a dinner and music on drums in the camp, and sleeping in the already built tents with even a real bed and a toilet.
We booked the tour with Said, or as Zvone Šeruga calls him, Srečko (Slovene for lucky) and we were not disappointed. It's best if you contact him here (saharamoroccoexcursion@gmail.com) – since a lot of Moroccan tour guides appear to depend on a good word rather that creating a website – you can also say that Zvone and I recommended him, he should know. Said is a funny guy with a "life goal" of getting to Europe to live here. He believes that this is the promised land and that his life will be so perfect here.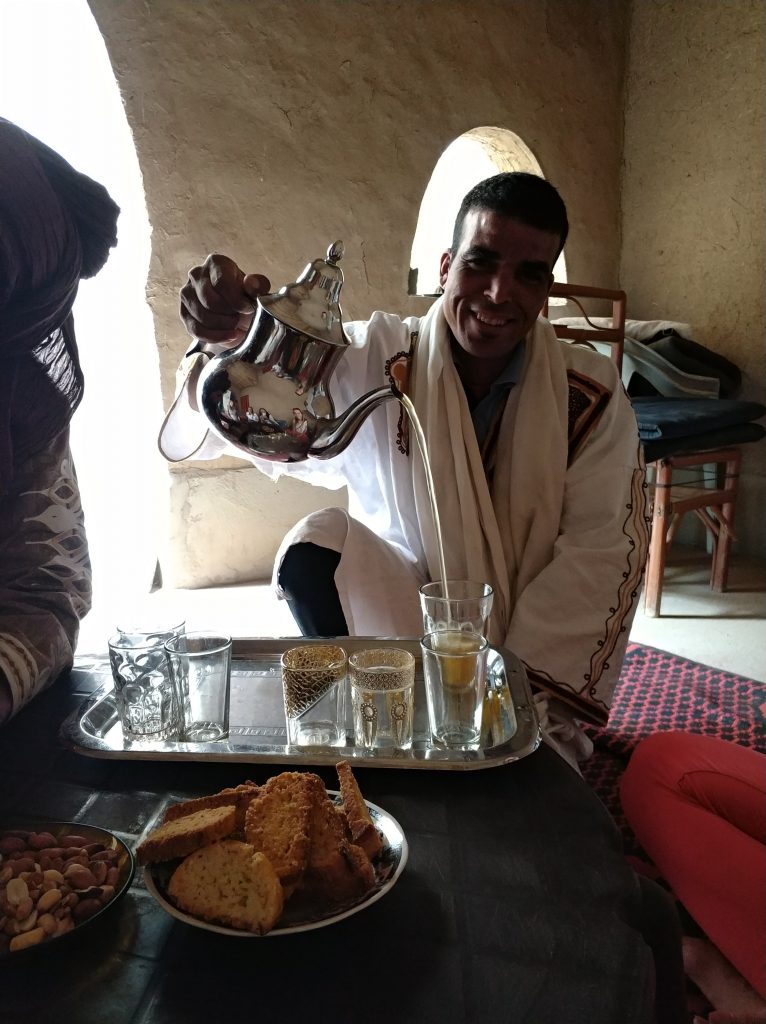 Day 6
Wake up in the desert and have the most fun and calm breakfast in the middle of the camp. Our hosts really took their time so by the time we finished breakfast it was around 11 a.m. We decided to take a desert adventure with the same host but we had different understandings as to what "adventure" means as we expected to be racing on the dunes but in fact got a tour of the black-ish desert. We did visit the nomads which was super interesting to see, and of course, got some tea and peanuts as is customary in Morocco. We also got to see baby desert foxes which are the cutest!
In the evening, drive up to Zaida. There's nothing to do there, but it's a good and cheap option for a sleepover, and a good starting point for visiting Fes the next morning.
Day 7
Start your day early because distances in Morocco are quite big and you should try not to drive around in the dark. Not because it's dangerous but because there are almost no lights along the roads and the condition of the roads can change in a second.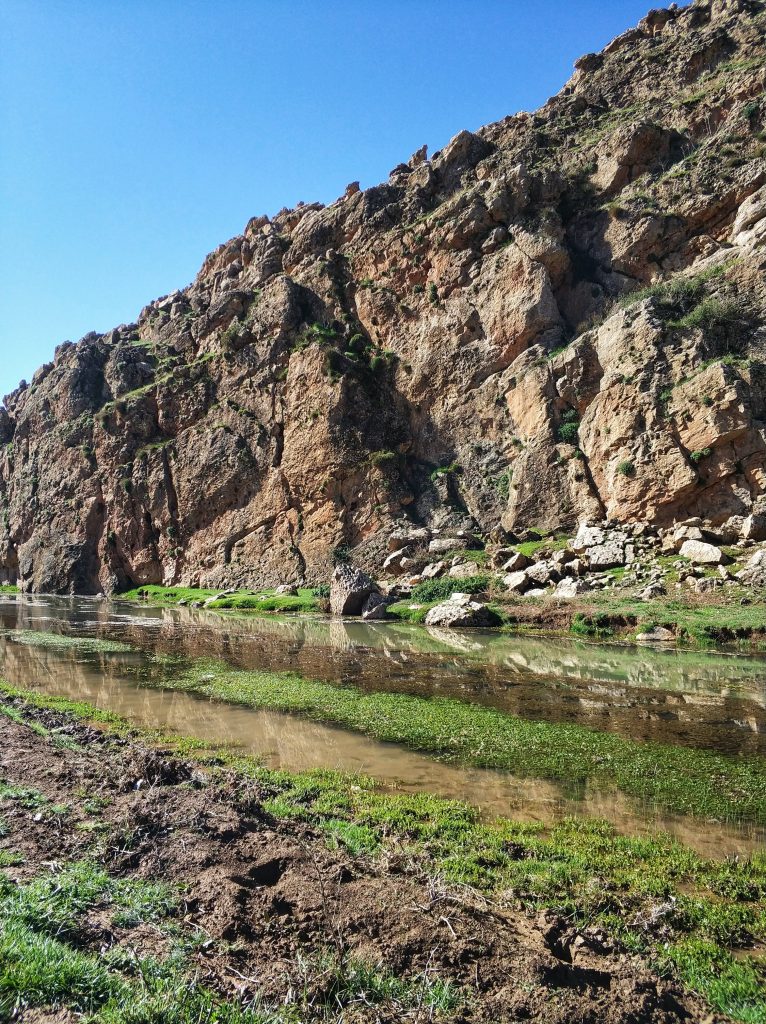 The road is taking you to Fes today. Fes is the second largest city in Morocco, right after Casablanca. It has a very strategic position and is almost a must stop for all travelers. Fes is most famous for it's Medina, the inner city with no cars and lots of markets. It's also the place for scams and trying to sell tourists expensive stuff but if us four girls handled them, you shouldn't worry yourself. Just say no politely and leave.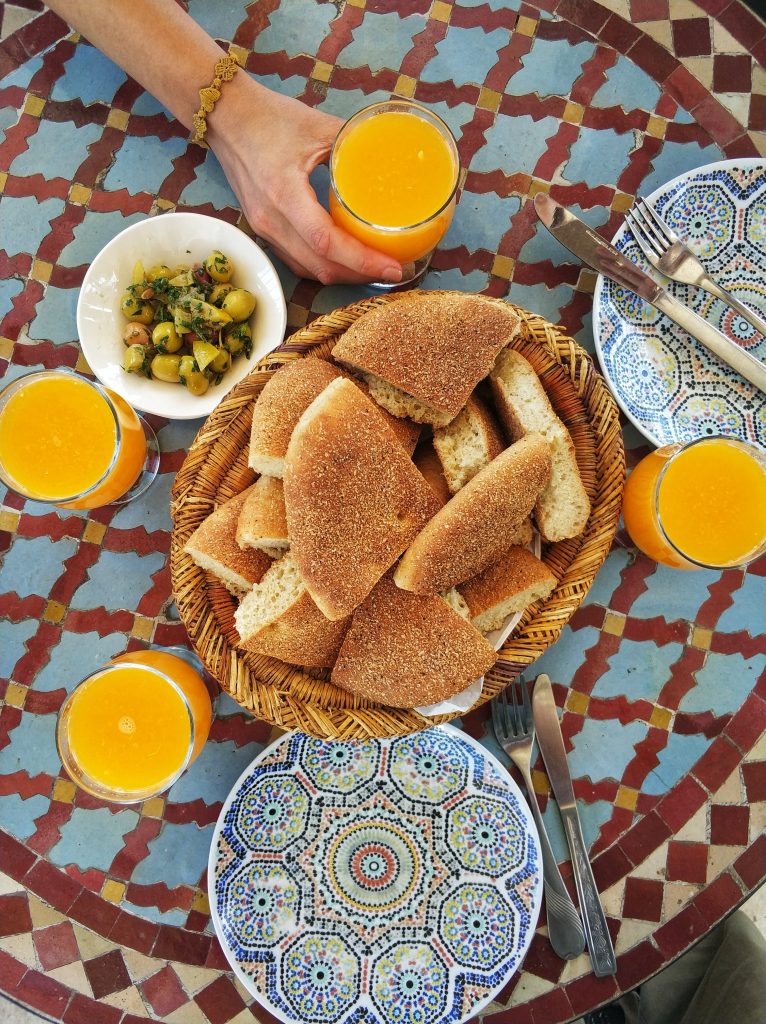 We took a tour guide – well, he kind off found us, when we parked at the entrance of the Medina, but we got a good price (around 5 EUR per person, or even less – you shouldn't pay more than that though) for a guide who took us around Medina, to a lovely and delicious restaurant and to the famous leather coloring "factory". The smell there are horrible (don't be fooled that the mint leave they give you will help for a minute) but the view is quite breathtaking.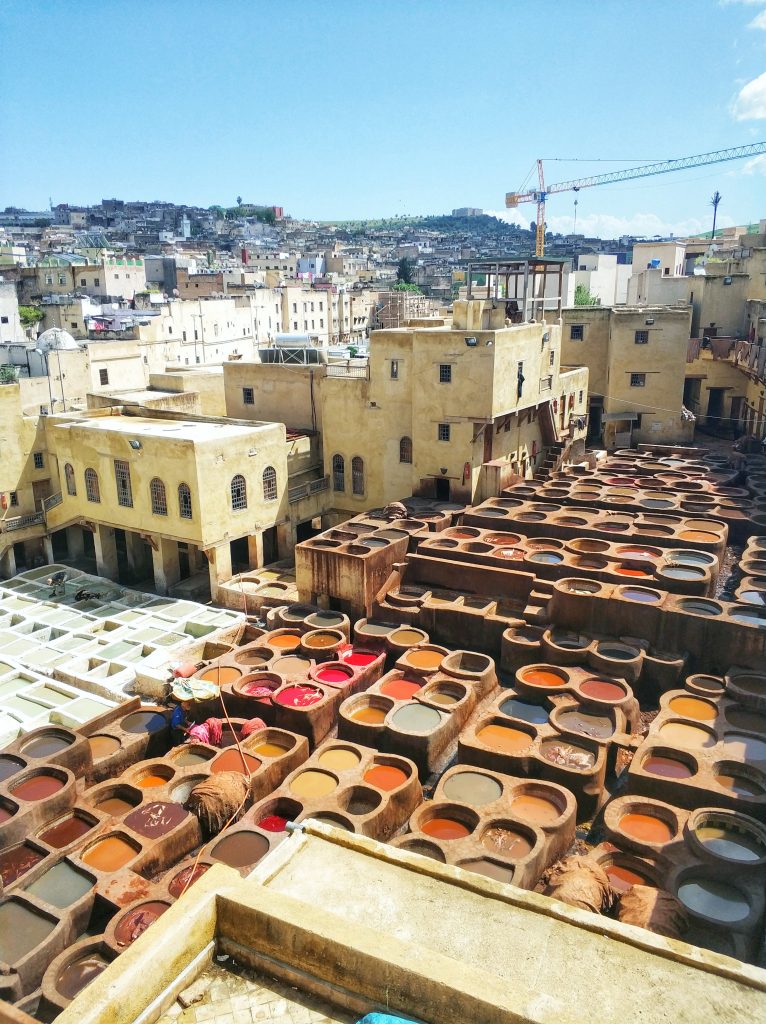 Finish the day sleeping at Motel Rif. It's basically in the middle of nowhere but it's a great starting point to visit an amazing place tomorrow. Which? Hint: it's blue and very photogenic.