Day 8
Early in the morning you'll drive up to Chefchaouen. The blue city. "There are several theories as to why the walls were painted blue. One popular theory is that the blue keeps mosquitos away, another is that Jews introduced the blue when they took refuge from Hitler in the 1930s. The blue is said to symbolize the sky and heaven, and serve as a reminder to lead a spiritual life. However, according to some locals, the walls were mandated to be painted blue simply to attract tourists at some point in the 1970s." (source: Wikipedia). If the later is true, it sure is working.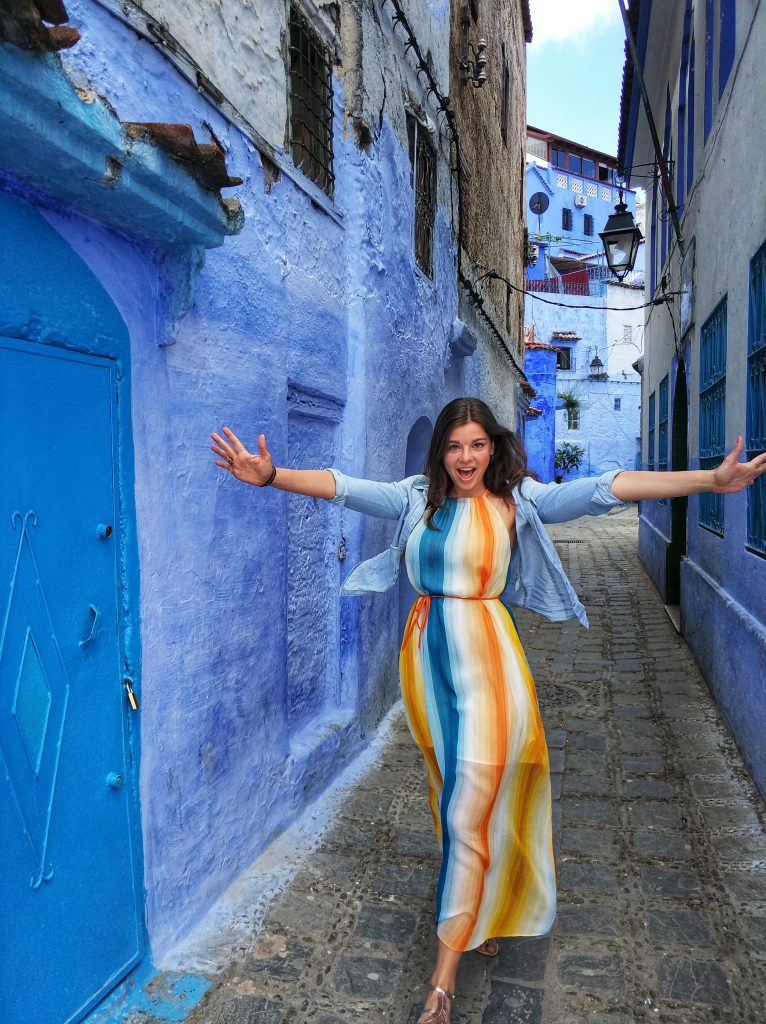 Be advised that it might be very cold there in the beginning of May. We could not believe it but we actually couldn't find enough warm clothes to wear. It did get warmer later on, so this is just to let you know that it is completely acceptable to go back to your car in the middle of the day and change into a dress that goes well with the blue walls and have a photoshoot. It really is!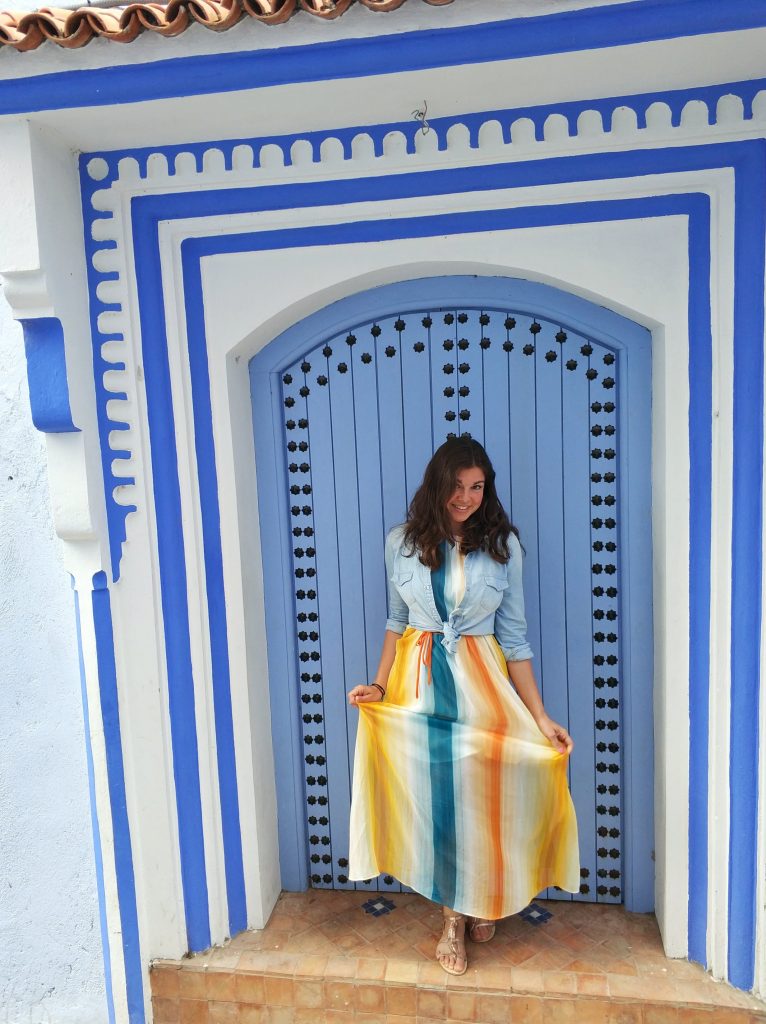 Drive down south again but don't make the same mistake we did. We decided to skip Casablanca as we've heart from many that it's just a big modern city, that has nothing to do with the soul of Morocco but maybe wanted to just sleep there anyway. The mistake is not skipping it, the mistake is the following: we didn't book a hotel. We ended up calling a place just outside Casablanca we thought was a hotel but turned out to be a campsite (almost abandoned to be exact) so we had to keep driving. Our batteries almost dead and our GBs on our local SIM card almost gone, we kept driving and driving and driving until we came to El Jadida where we (after a potentially dangerous search for an Airbnb) got the last two rooms at the Ibis Hotel at 3 a.m. in the morning. So, drive to El Jadida, but book in advance. Or book in advance in Casablanca and drive to El Jadida in the morning.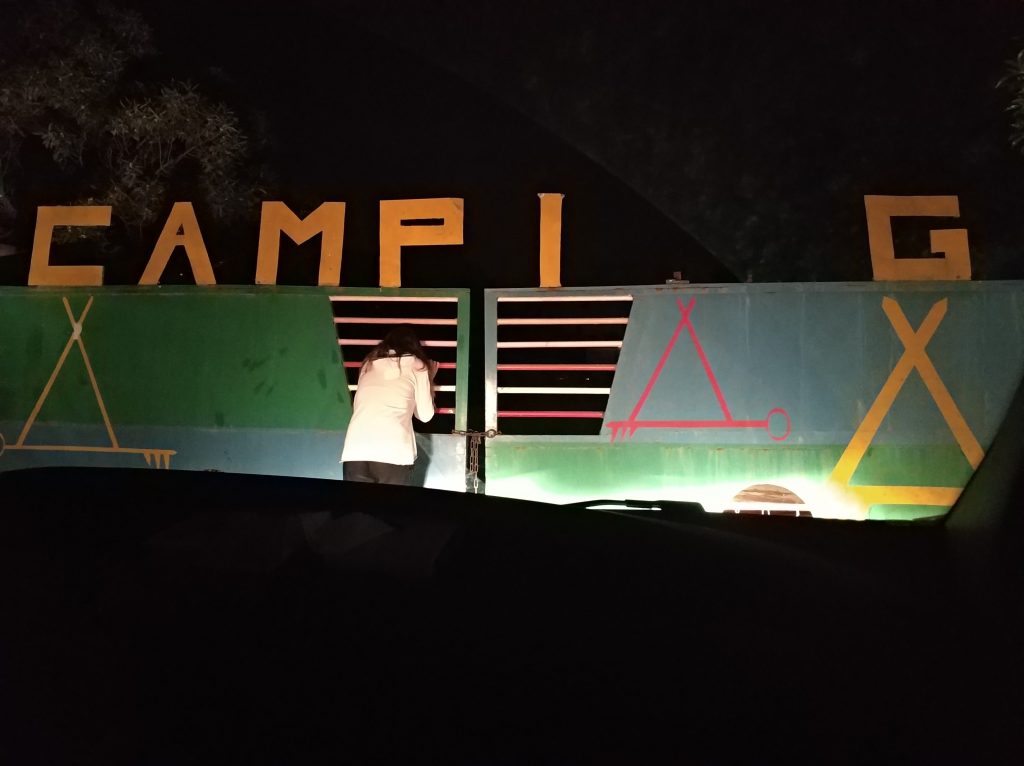 Day 9
After you wake up – as opposed to us, well rested, spend the first half of the day exploring El Jadida which is almost like a resort town for rich Moroccan people. It's located by the sea but for some reason, it is way warmer here than in Chefchaouen. Take a stroll along the beach and dip your toes into the ocean. The old part of the town, behind the city walls is extremely charming.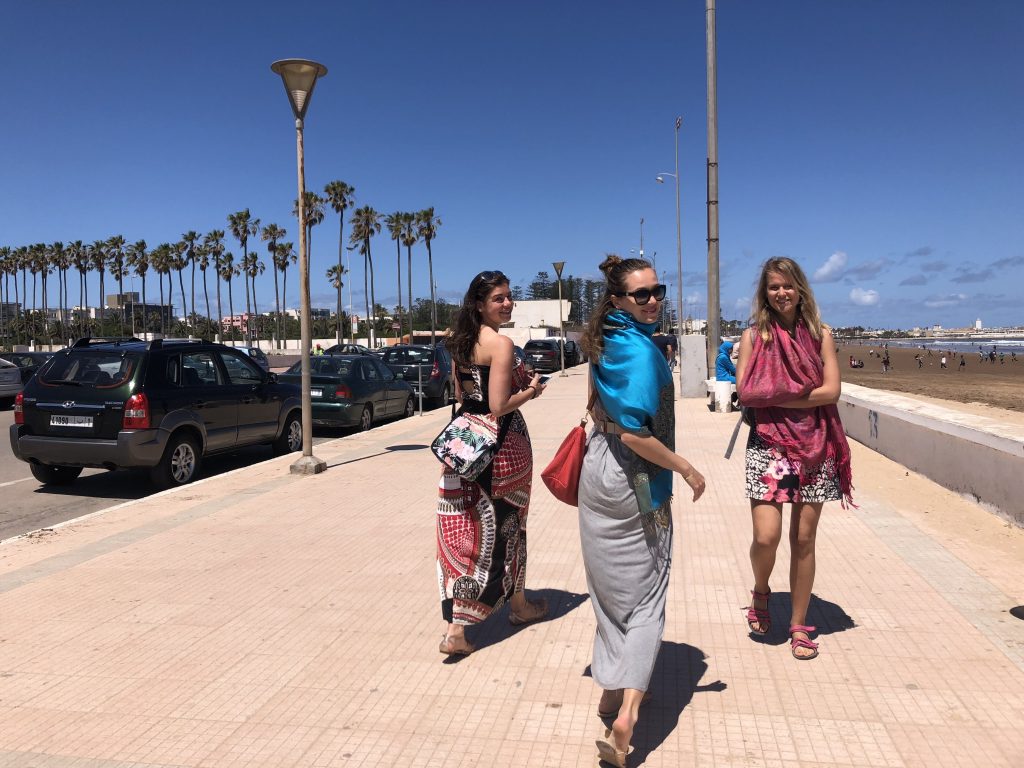 There is also a Manueline Cistern in the center of old town.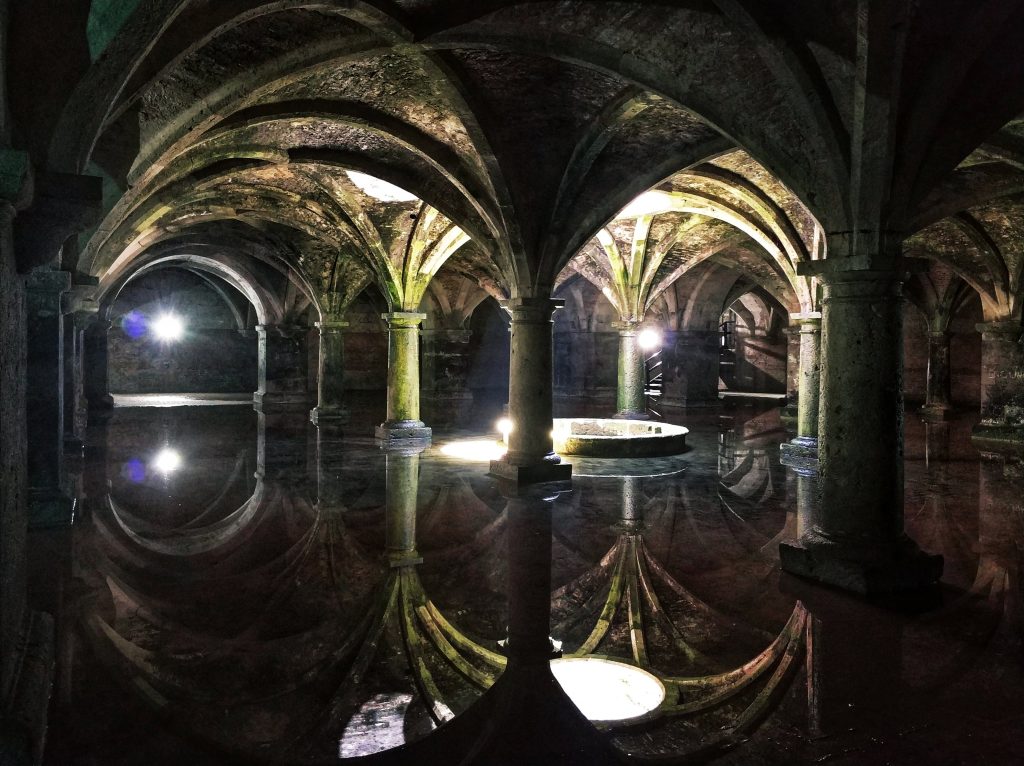 The other half is reserved for photoshoots. Just kidding, it's reserved for a drive to Essaouira – the second Game of Thrones location. We booked two nights at Le Bastion and we couldn't be happier with the location and the breakfast space!
Views on the way

Again, photoshoots are totally acceptable
Day 10
Today is all about Essaouira. Start your day with a breakfast at Le Bastion. The breakfast spot is so charming we spent a whole 10 minutes just walking around the table, trying to get the best possible picture.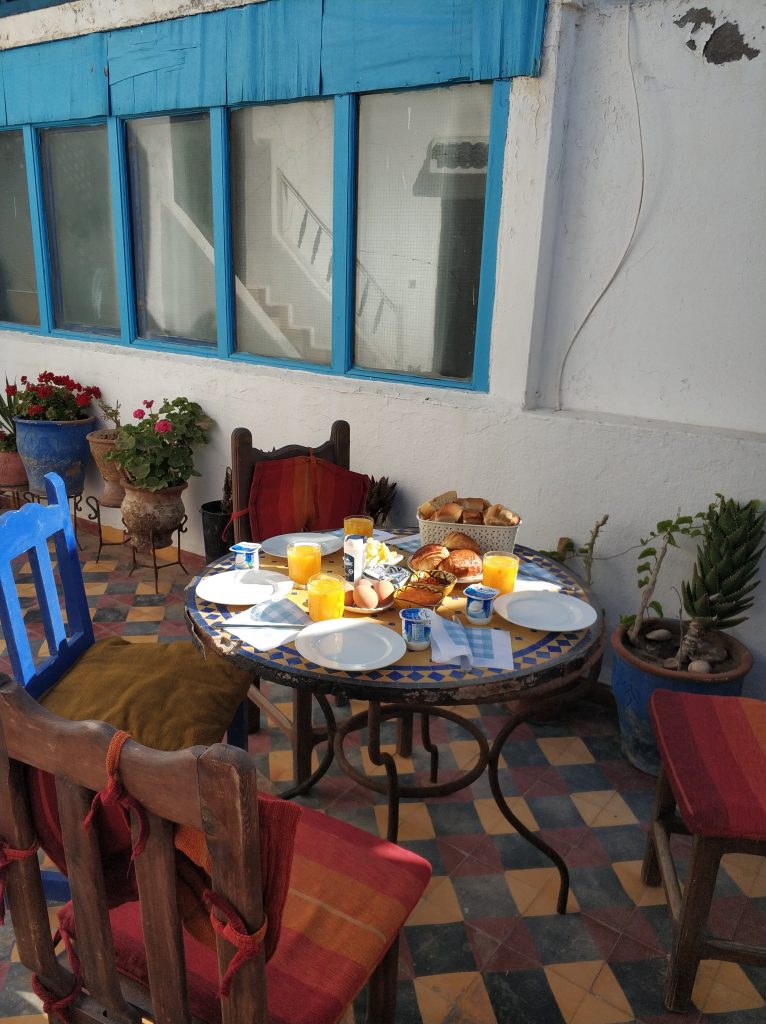 Essaouira is a fishing town with a rich history, allegedly popular with the hippies in the 60s and the place where Daenerys meets her loyal army of Unsullied for the first time. One of the best parts of Essaouira are it's fish markets, where you just say the number of people that will be eating and they grill a bunch of fish for you and bring you some sea urchins as well. Just walk around the market and check who's fishes are the most fresh. It's real nice experience, hearing all those guys screaming at the tourists to come eat and at themselves when the food is ready to be served, combined with a mix of smells of fresh and grilled fish and the sea.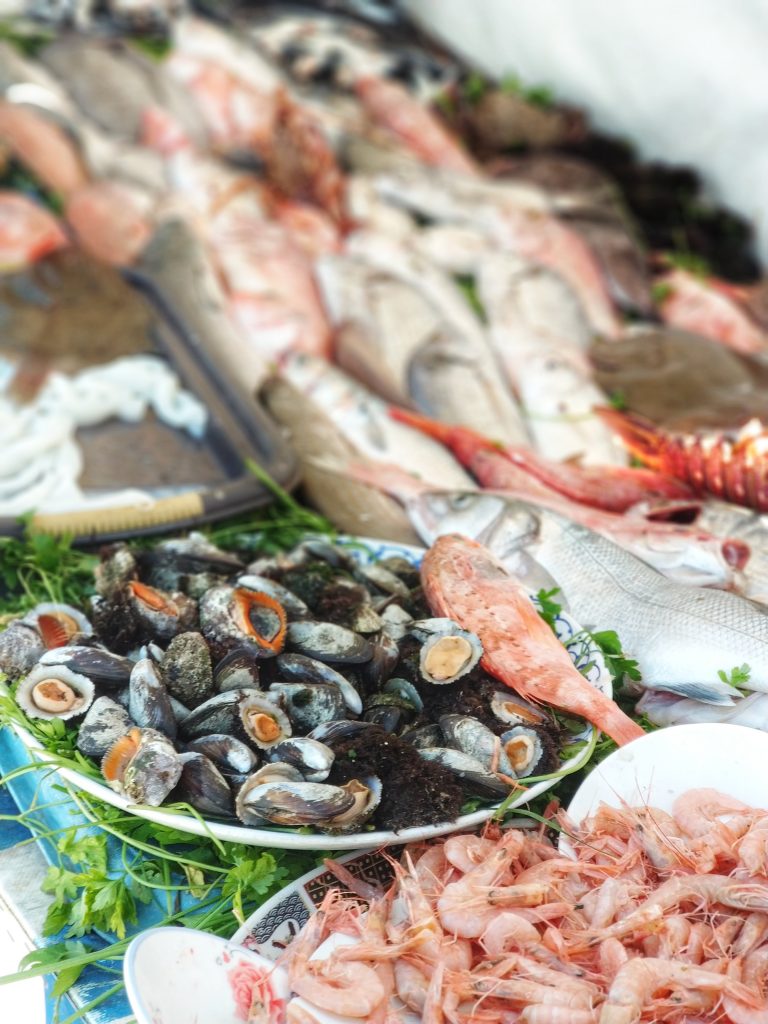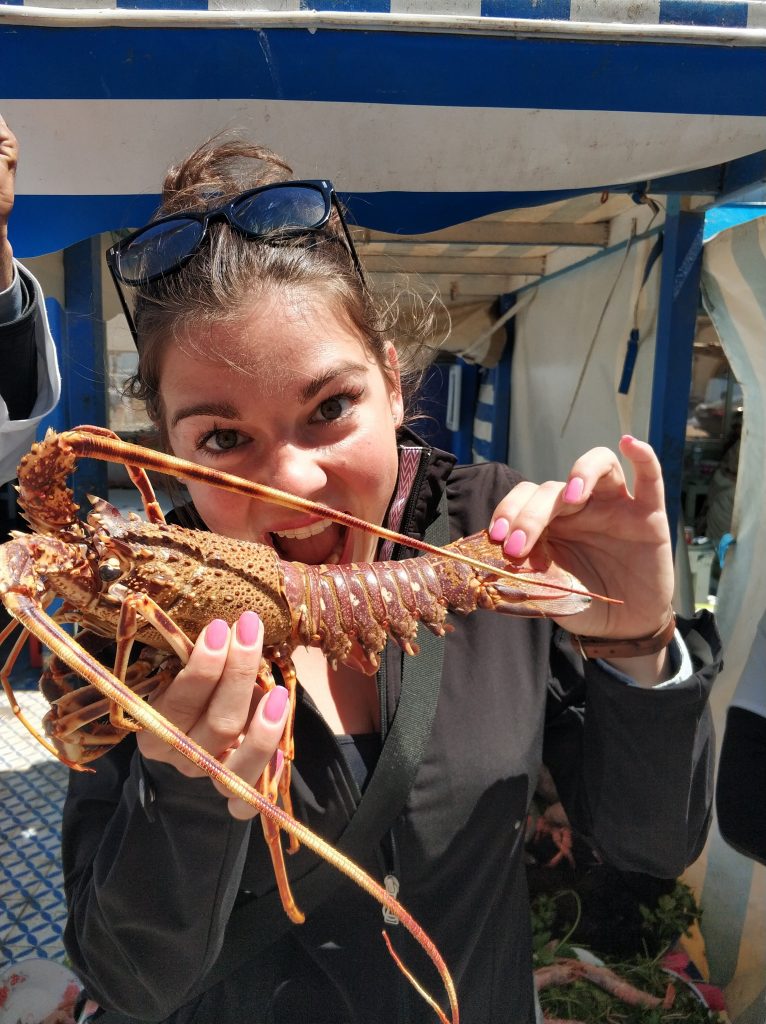 Essaouira is also one of the rare spots where you can get a decent cocktail, so we ended up chilling in the sun on the rooftop.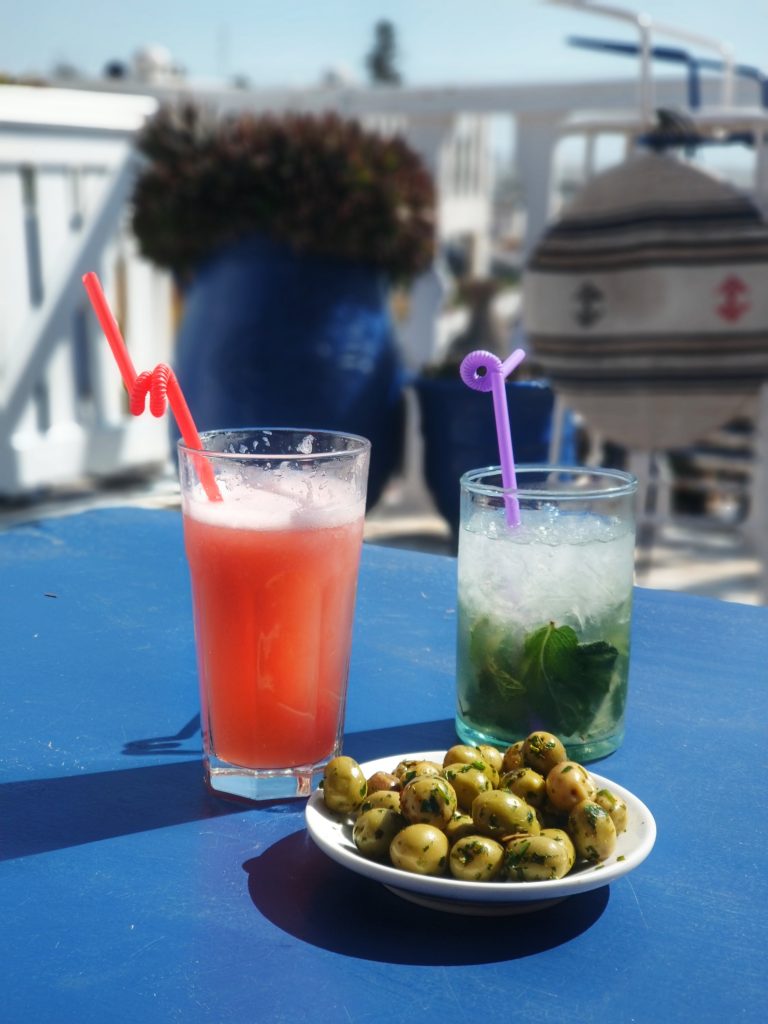 Day 11
On day eleven, you'll be on the move again, this time kind off back east towards Marrakesh, but not just yet. You have a few more things to see and one of them is the tree climbing goats. There's no way of telling their exact location but if you head southeast towards Hotel des Cascades, you'll most likely see them along the way. They are where the Argania trees are, the trees from which they get the oil they try to sell you for as much money as possible. The tree is endemic to southwest Morocco and it's fruit is apparently so appealing to the goats that they will even climb trees for it.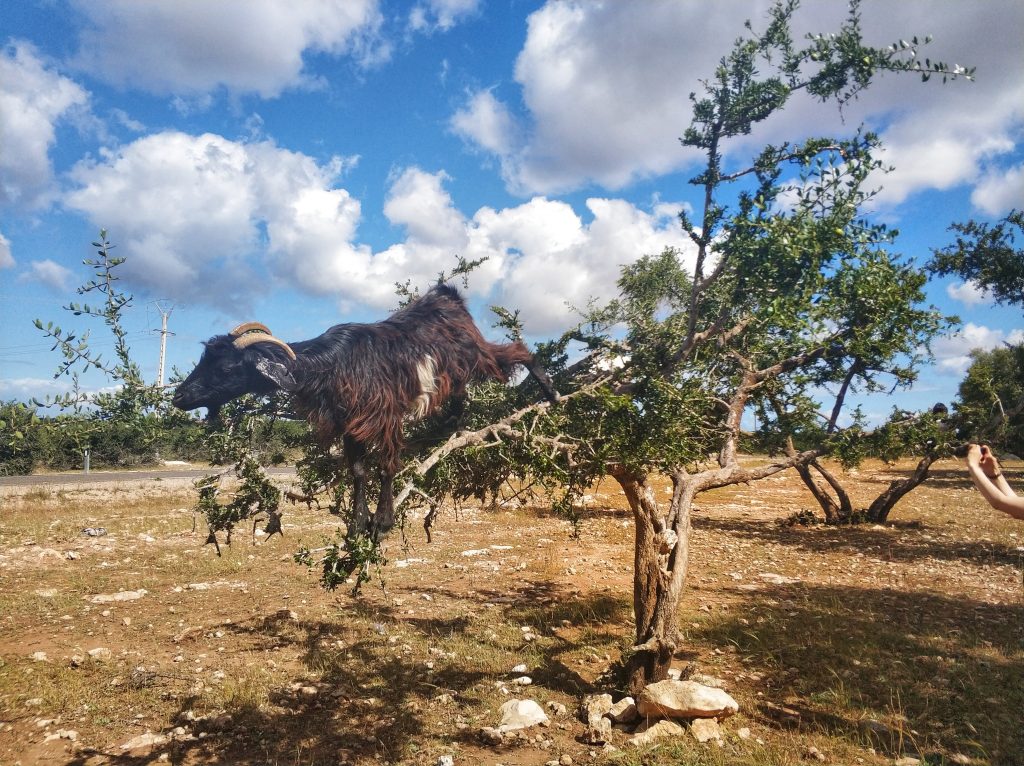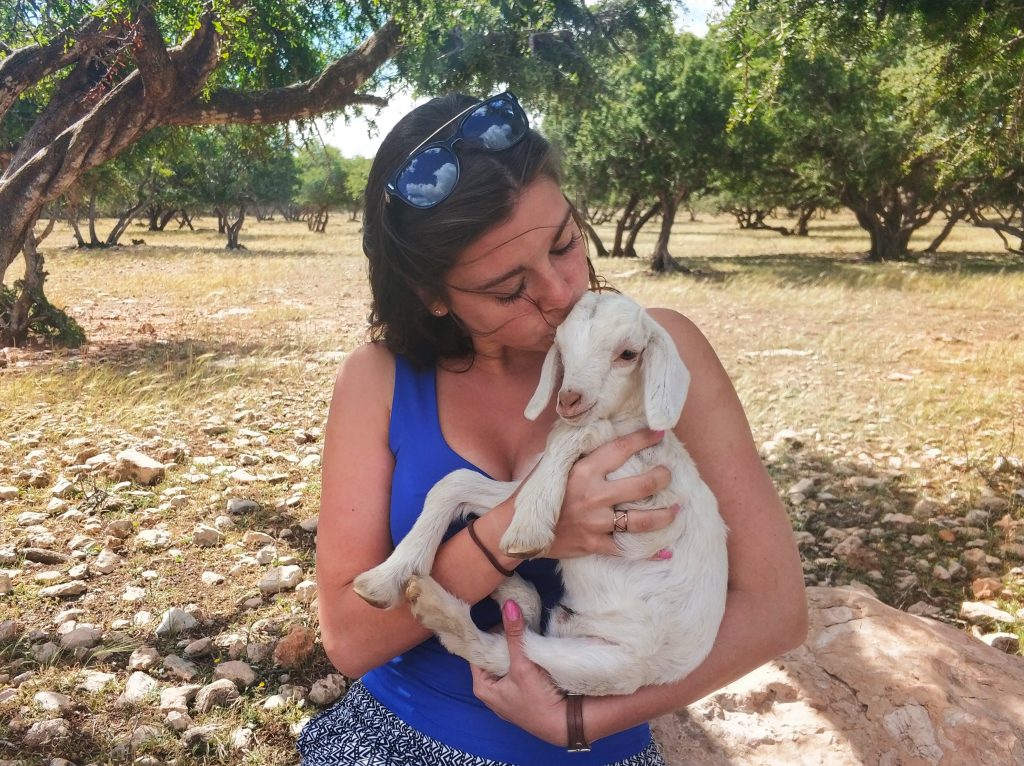 Next destination is the Hotel des Cascades, a good starting point for either the Paradise Valley (all landscape there is a paradise though) or the Immouzer Ida Ou Tanane – the waterfalls. You'll pass a lovely valley on the way to the hotel and there's a really small restaurant in the "village", looking almost deserted, with some really delicious food.
Hotel des Cascades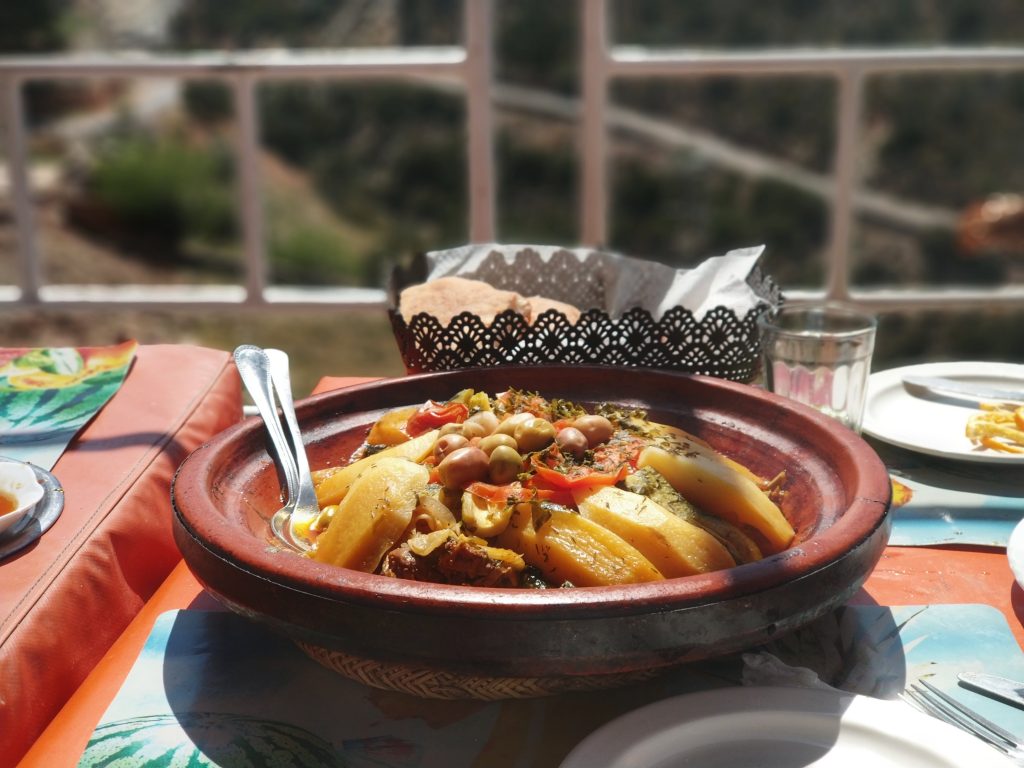 If we stop here for a word or two about the food, I can start by saying – try as much as you can! Moroccan food is very very flavorful and both carnivore as well as vegetarian friendly. They use a lot of spices, and I mean A LOT, all consisting of their special cumin, which flavour wise reminds me a lot of what they sell here in Slovenia as curry powder. They also use a mixture of 35 spices for all kinds of meat. One of their most famous dishes is tajine, which is also the name for the special, dome-like, dish in which they prepare it. The special dish makes sure all the flavours stay inside and make the dish even more delicious.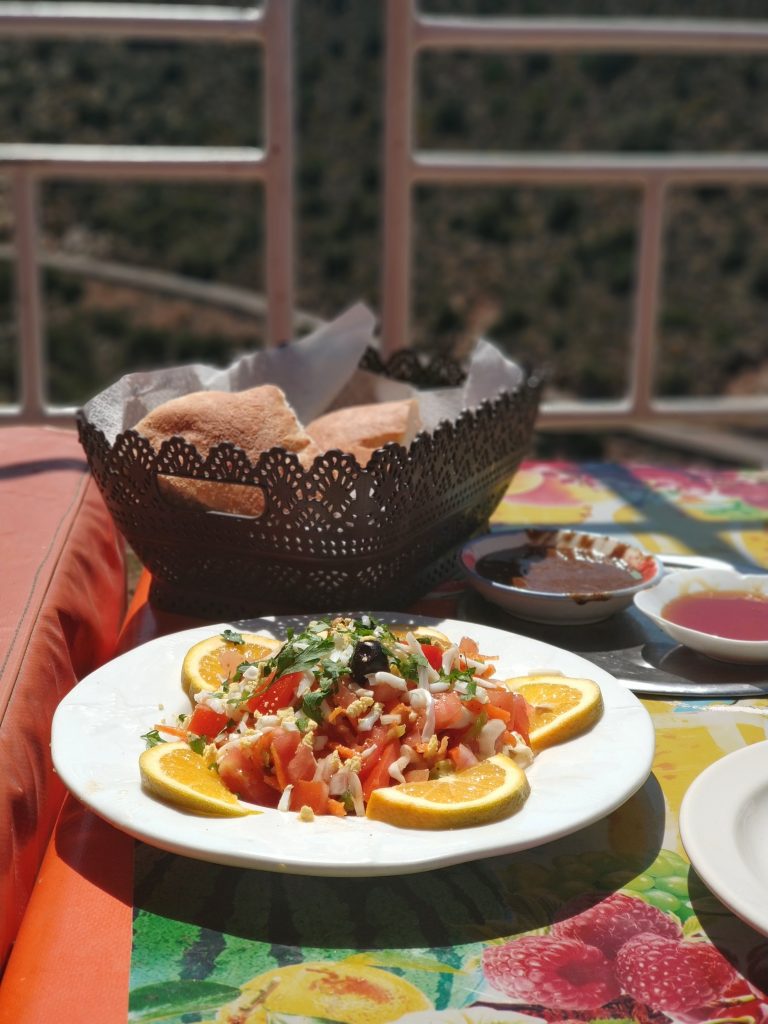 Day 12
In the morning, head over to the waterfalls. They are very close to the hotel and easy to reach all by yourselves. We did get a guide, though, and by get, I mean he waited for us at the parking spot and just followed us until we agreed he can guide us because "we could really not find the waterfalls by ourselves".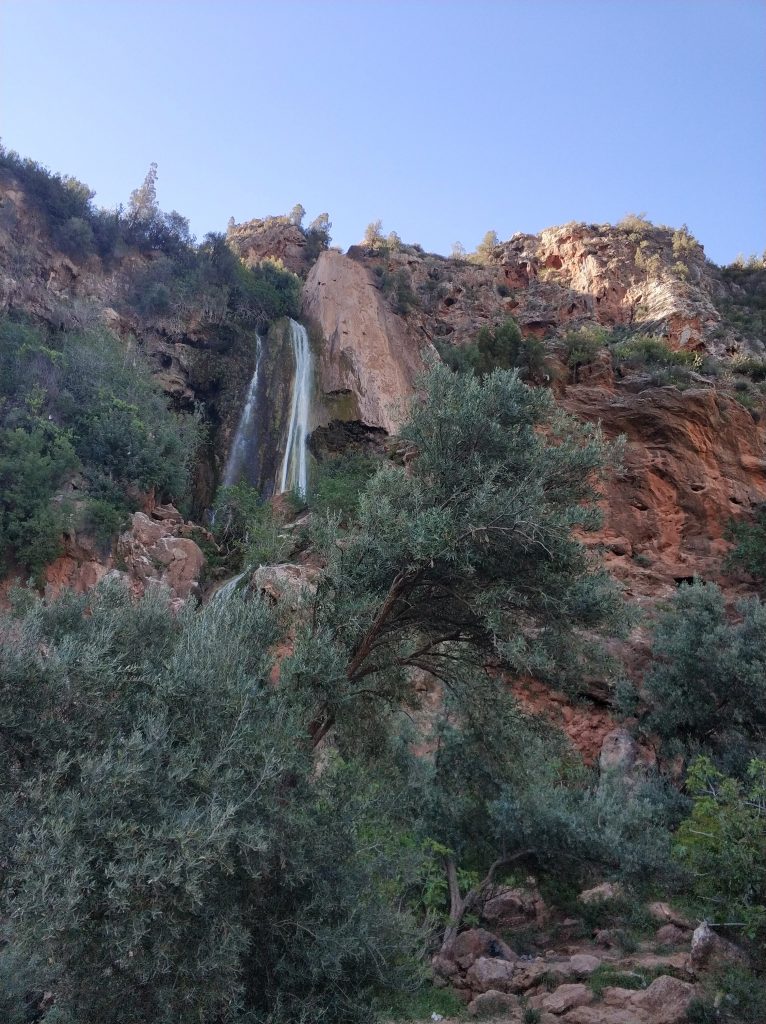 Drive back to Marrakesh and stay at Riad N10. It's quite hidden but it has a really good central location for exploring Marrakesh some more.
Day 13
Use the last day to go visit the Jardin Majorelle if you didn't get the chance to get in. It's nothing special, if you ask me (at least not so special that it would call for 2-hour lines) but if there is almost no line, the entrance fee is not that high (around 7 EUR) and there are some last minute photo options there.
We were all quite tired the last day so we really took it easy. You'll most likely feel the same, so do some shopping for spices, souvenirs, and gifts at the bazaars and have an early night. We enjoyed some tea at one of the restaurants around Jamaa-el-Fnaa just to soak in some more of Morocco and went to bed early. It really is a lovely end to a great trip.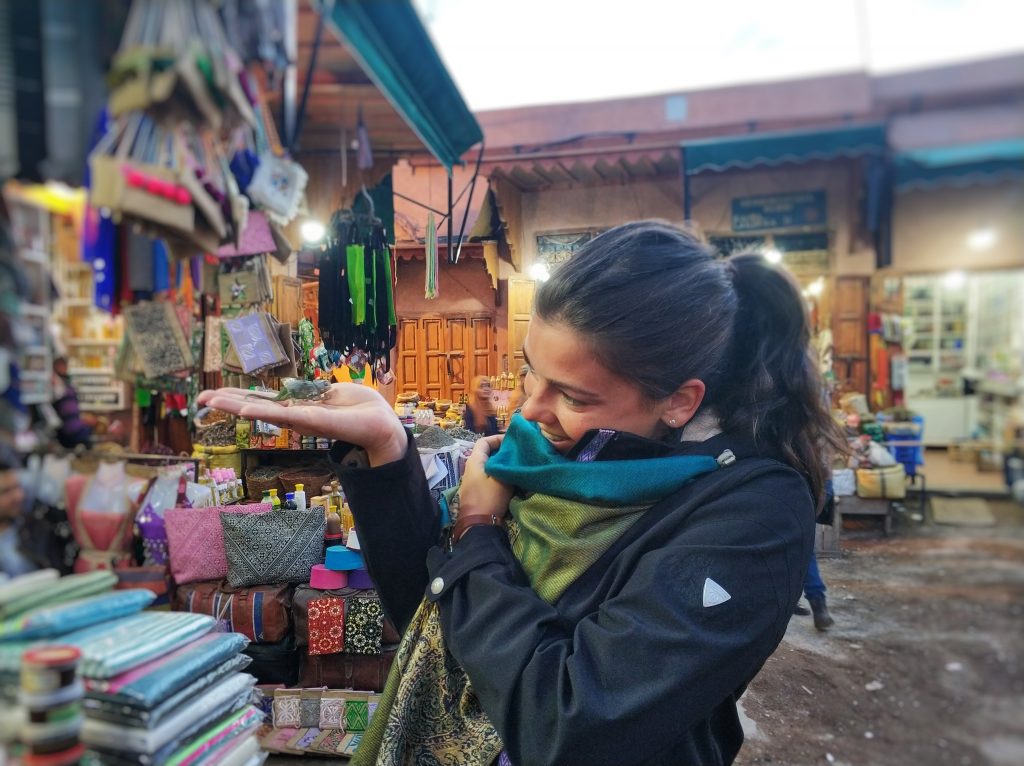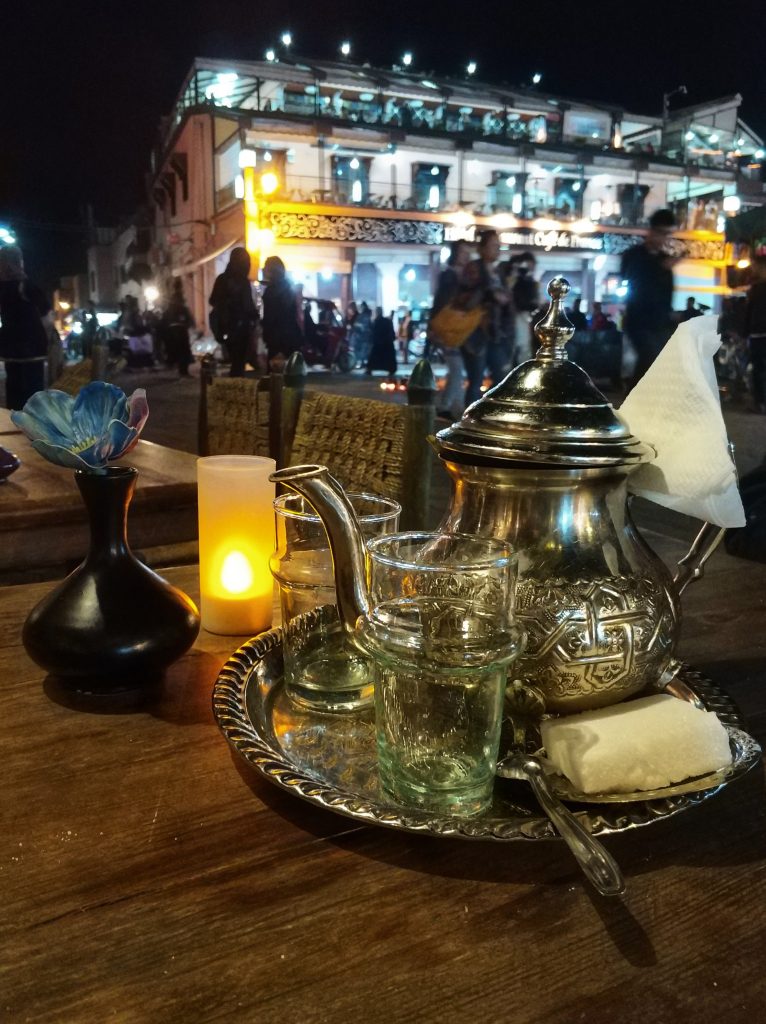 Day 14
The flight back was super early for us, I think we needed to get to the airport by 5.30 a.m., so book a taxi/driver a day in advance to make sure you get to the airport on time. One last advice – always try to negotiate and get something out of Moroccan people. I don't mean that as a bad thing, but I think they actually enjoy bargaining! We for example left some more gas in the car than we got, so we "annoyed" the poor guy until he promised us a free ride to the airport in return.