You may know me for my healthy meals and desserts. But with this recipe here I'm finding it really hard to find something healthy I could say about it. Maybe dark chocolate could qualify as healthy? Or maybe that it's gluten free? Or as my friend put it really nicely: "Chocolate makes you happy. Happiness is healthy. There you go." So yes, this recipe is chocolate with some chocolate and with some more chocolate. But it's really delicious and that's just what we all need from time to time. It's all about balance so in order to prevent my page from being to healthy, I was obliged to post this recipe. And also, this cake looks so good it would be a crime not to share it, right?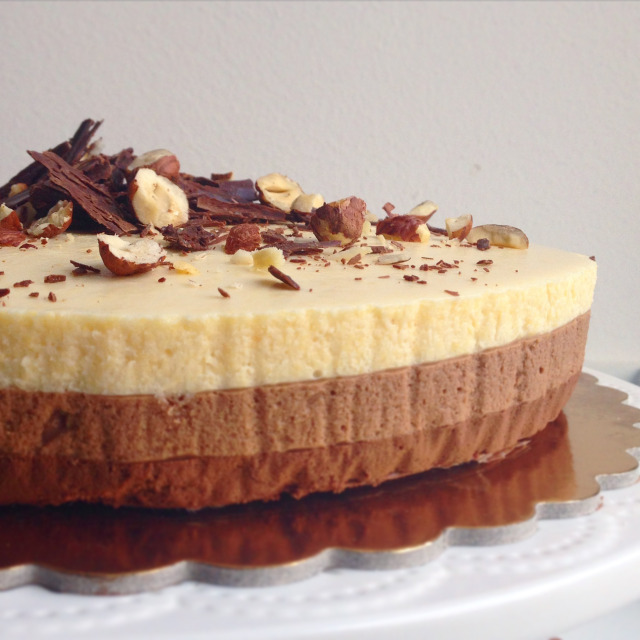 As complicated as this cake may seem when you first look at it, this is actually a very simple recipe. I got it from a friend on Instagram and I have no idea where she got it from so this is as much as I can do about giving credit for this recipe. Enjoy!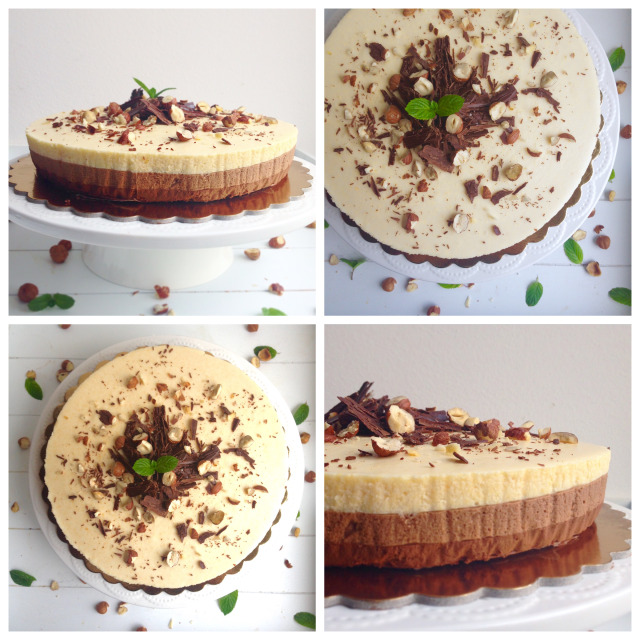 Ingredients:
5 egg yolks
1/4 cup Xylitol (or just go with the same amount of regular sugar; with this recipe, there is no point in trying to make it "healthy")
1 cup milk
8 sheets or 15 g powdered gelatin (soaked in warm water)
1 3/4 cups heavy whipping cream
150g dark chocolate (65 – 75%)
150g milk chocolate
150g white chocolate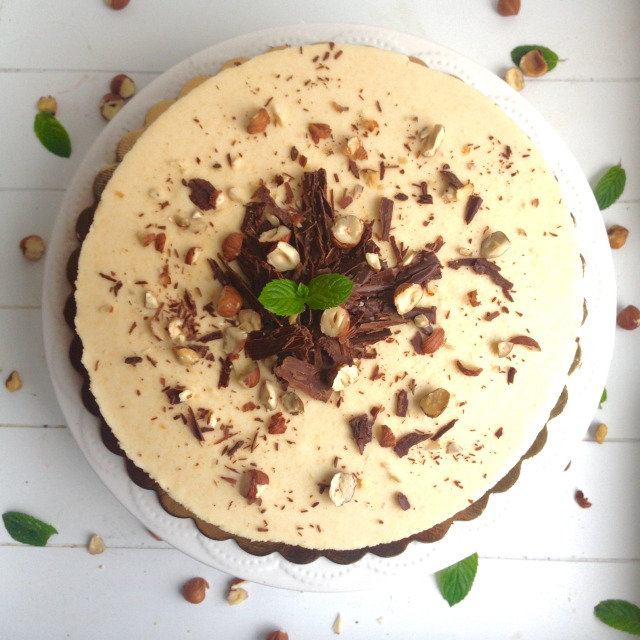 Instructions:
Start by preparing all the ingredients and utensils. Grease a 20 cm spring form baking pan with butter and line it with baking paper, both on the bottom and on the sides.
Chop all three kinds of chocolate into small pieces, each in a separate medium sized bowl.
Whisk the egg yolks and xylitol/sugar until pale yellow. Place the milk in a medium pot and bring it to a boil. Reduce to medium heat and mix in the egg mixture. Keep whisking until it thickens a little (be careful not to leave it on too long since the eggs will start to cook and separate from the mixture).
Transfer to another bowl and whisk in the soaked gelatin sheets or soaked powdered gelatin.
Distribute the milk mixture into three equal amounts and pour each over one flavor of chocolate. Let sit a little to allow the chocolates to melt, then mix mix mix until all chocolates are melted and incorporated in the egg and milk mixture.
In a separate bowl, whisk the whipping cream until hard peaks form. Distribute evenly between the three chocolate bowls and mix in carefully.
Pour the dark chocolate mixture in the spring form pan, make sure it's evenly spread and place in the freezer for 10 minutes. Repeat the same with milk chocolate and then with white as well.
Remove from the pan and peel off the baking paper. Decorate with more chocolate* and crushed hazelnuts. Keep refrigerated.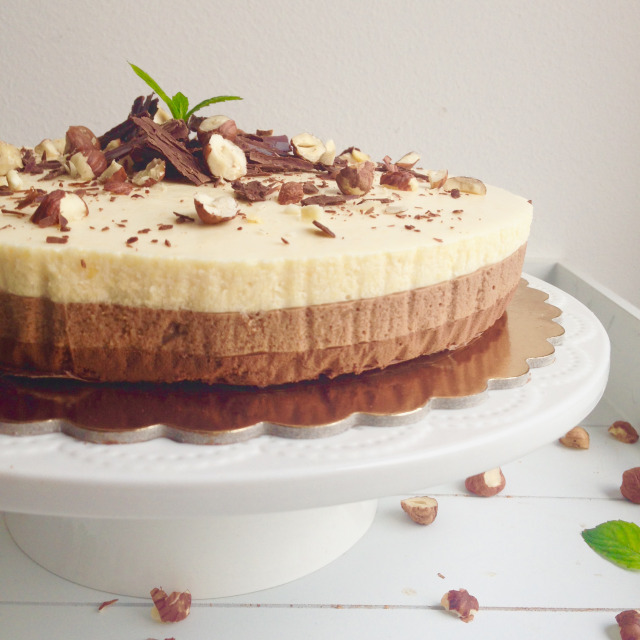 *to make the chocolate shavings, simply melt some dark or milk chocolate and spread it on a glass chopping board or on a baking tray. Allow to dry and harden completely and then simply "shave" it with a knife. Voila!