Tiramisu pancakes? What is that? Well, one thing is for sure, it's a lot more simple than it sounds. Remember those really popular banana pancakes? If you do, go on with the reading, if you don't, click the above link and then come back to this post. Or just keep reading either way. The point is, these pancakes are just as simple to make as banana pancakes, but have a few additional ingredients to make them taste like tiramisu. 
What is added to these tiramisu pancakes is, of course, coffee flavor, and something to "replace" the mascarpone filling. The coffee flavor I used in my recipe is actually the Mocha flavor. While the drops are not meant to be consumed as such due to their intense flavor, a few drops will add a delicious kick to raw or cooked dishes. The smell alone is amazing – exactly like freshly brewed coffee! So beware, you will be tempted to drink them (I was, for sure!).
For the filling, I went with a more "fit" version and used Greek yogurt with vanilla FlavDrops, but you can easily use the filling you use in your favorite tiramisu recipe or simply mix mascarpone and some whipped cream. This way the pancakes will be a little less "fit" but just as delicious!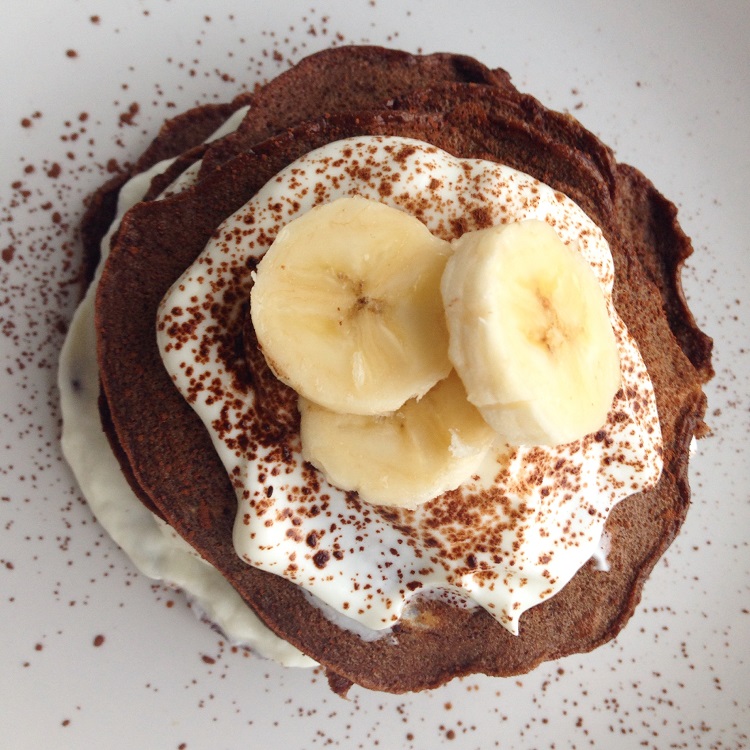 Mash one banana and add the cocoa powder. Mix well before adding the eggs. Whisk well and in the end add the Mocha flavored drops to taste.

Heat a medium pan with some coconut oil and bake the pancakes - about two tablespoons per pancakes. Bake a few minutes on each side and repeat with remaining batter.

Mix Greek yogurt with Vanilla flavored drops and then layer the pancakes and Greek yogurt to get a tiramisu-like pile of pancakes. Sprinkle with some cocoa powder and serve warm.