Easter is just around the corner so I wanted to prepare these cute little cupcakes a few weeks early in order for you to have enough time to fall in love with them and create them for your family on Easter weekend. Cool, right?
Inspiration for the muffins is from The Comfort of Cooking – I just added some calorie free sweetener and replaced some flour with oats to reduce the amount of gluten in the muffins. With the frostings and decoration I just followed my inspiration and what I know about them and they turned out great. Everything but the eggs and the sprinkles is completely sugar free so by omitting those you have yourself a perfectly healthy and guilt free treat 😉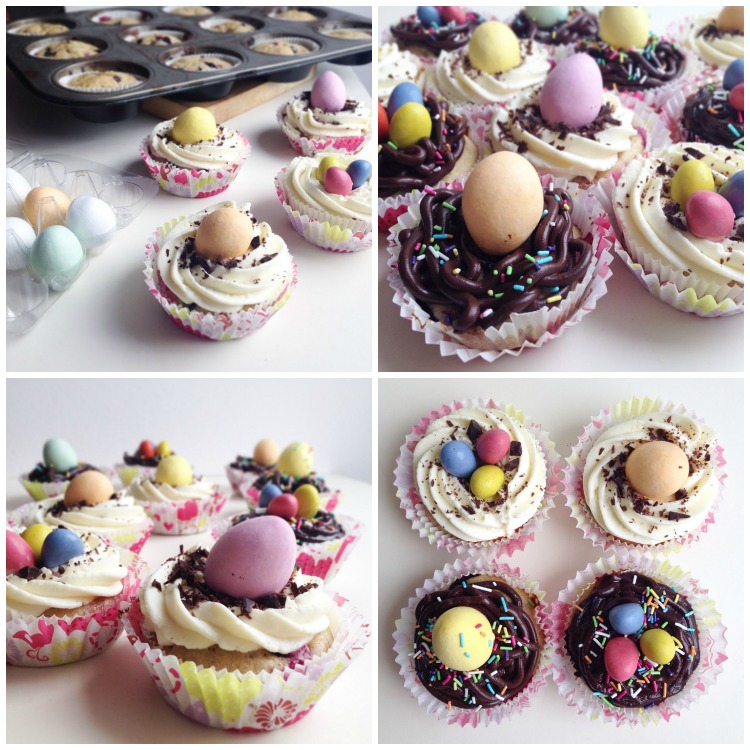 Muffins:
1/2 cup + 4 tbsp spelt flour
1/2 cup oat flour
1 cup almond flour
1 tbsp baking powder
1/4 tsp salt
2 small ripe bananas
3 large eggs
1/4 cup vegetable oil
1 cup milk (any kind)
1 tsp vanilla
1 cup frozen or fresh berries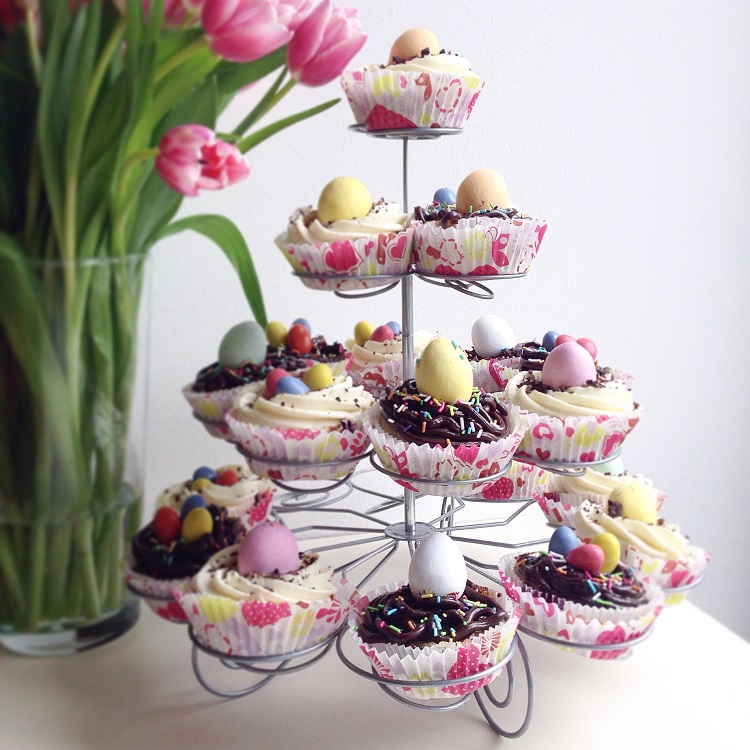 Frosting and decoration:
200 g cream cheese
100 g Greek yogurt
1 1/2 scoop Vanilla Micellar Casein MyProtein (optional and can be replaced with vanilla and sweetener of choice)
150 ml whipping cream
150 g dark chocolate (I used one sweetened with fructose)
chocolate eggs, chocolate shavings and sprinkles (optional)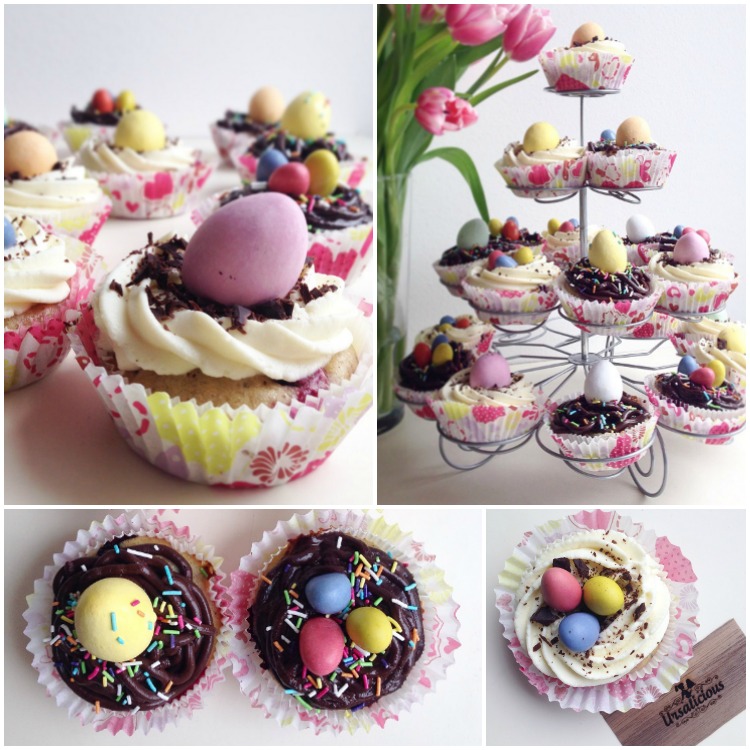 How to make them:
Preheat the oven to 200 degrees Celsius and line a muffin tin with paper liners.
In one bowl, mix the dry muffin ingredients, and in the other mash the bananas with a fork and then whisk in the eggs. Once well combined, add the oil, milk and vanilla and mix well.
Mix in the dry ingredients until just combined. Carefully fold in the berries of your choice.
Fill the tins about 3/4 full and bake for 17 minutes. Repeat with remaining batter and let cool completely before frosting.
While you wait, prepare the two frostings. For the white one, mix cream cheese, Greek yogurt and vanilla casein and save in the fridge. For the brown nests, heat whipping cream until just below boiling and pour over chocolate. Mix well, transfer to a piping bag with a small hole and let cool until hard enough to pipe. Decorate the cupcakes with either frosting, chocolate shavings or sprinkles and chocolate eggs. Happy Easter!