It's been a good month since I turned 30 and one of the amazing gifts I got was a brand new Nikon camera. So this is now the reason for me to randomly stroll around just to be able to take photos. Also, the reason for me to take photos of random stuff and plants around our apartment. And also the reason why I made this cake. Simple as that – I wanted to take pictures of it. Luckily my family did not complain 🙂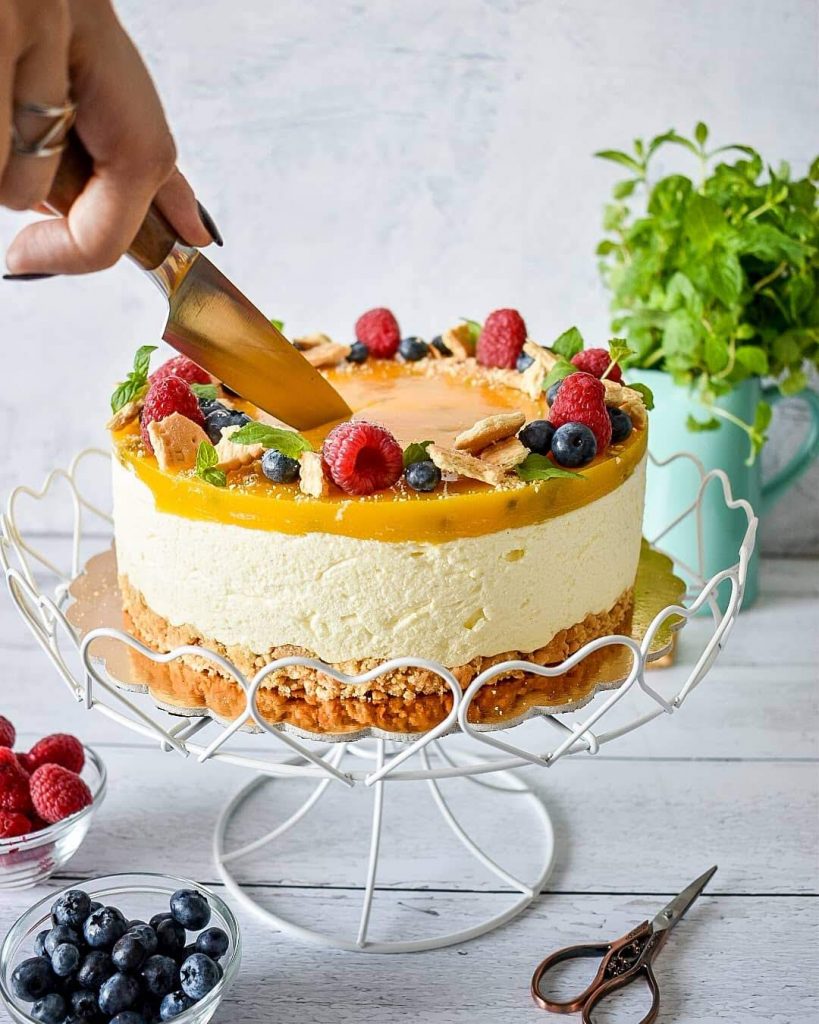 What you'll need:
150 g Petit Buere cookies
80 g melted butter
500 g mascarpone cheese
500ml heavy cream
250 g white chocolate
1 splash of vanilla
4 gelatin leaves
650g frozen mango
2 whole passion fruits
1-2 tbsp Monin passion fruit syrup
2 tbsp powdered sugar
3 gelatin leaves
How to:
Start by making the base – grind, smash, beat, whatever you need to do with the cookies to turn them into crumbs. I like larger chunks of cookies in the base so I crushed them by hand, but you can also use a food processor to make the crumbs really tiny. Pour melted butter over them and mix until well incorporated. Transfer to a springform pan lined with acetate foil and push down with a bottom of a glass until nice and straight. Place in the fridge.
Place ¾ of the mango in a pot and slowly cook until soft. Add the syrup and sugar and mix with a stick blender until smooth. Strain through a strainer to remove any chunks and place back on the stove. Cook on low fire and mix in the "meat" of the two passion fruits. In the meantime, place three gelatin leaves in cold water to soften them and then mix them in the mango mixture. Set aside.
Now it's time for the cream. This part is a recipe from Midva Kuhava. Place the 4 gelatin leaves in cold water. Whip the whipping cream until hard peaks form. In a separate bowl, whip the mascarpone cheese with the vanilla. Over low heat, melt the chocolate slowly (be careful, white chocolate is a very delicate and sensitive kind of chocolate so keep an eye on it at all times). When melted, mix it in the mascarpone, then melt the gelatin over low heat. Mix it in the mascarpone mixture and finish by folding in the whipped cream.
Take the spring form out of the fridge and pour in the white chocolate mascarpone mixture. Grab the remaining mango chunks and just push them in the mixture randomly. Then straighten the top.
Once the mango syrup mix is at room temperature (keep mixing it from time to time to prevent any lumps), pour it evenly on top of the cake and place in the fridge overnight. Decorate according to your current inspiration and enjoy!