You guys may have heard of "potica" – a walnut roll, typical for Slovenia (if not, check out my post with a recipe). It's especially popular around Easter and I think there is not one household that wouldn't make at least one at this time of the year. My favorite part about potica is the filling. But not when it's baked – before, when mom is still making it and I steal it from the bowl. My favorite part about the baked potica are the rum soaked raisins – not everyone adds them but to me, there is no walnut roll without them.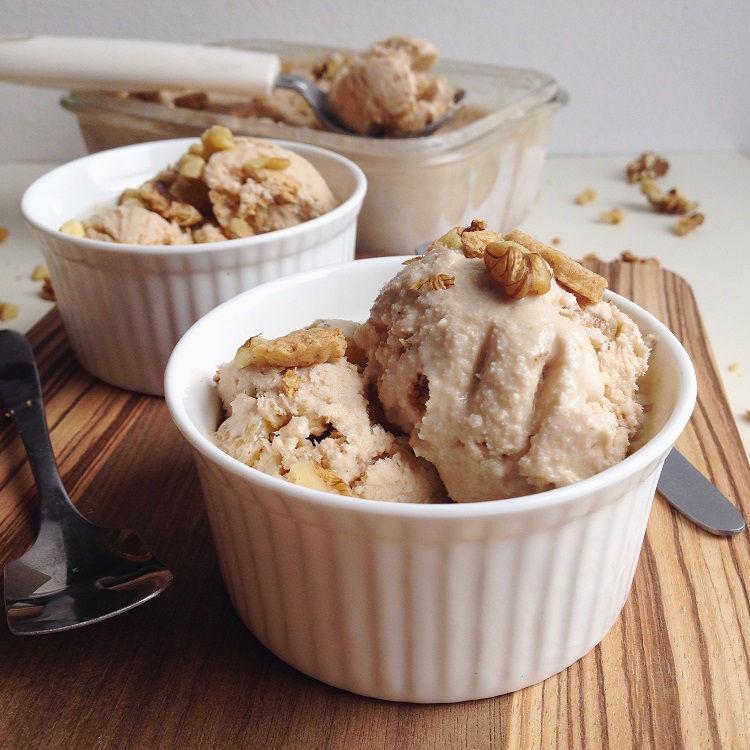 This weekend was the first weekend this year that really felt like spring. My boyfriend and I decided to spend in Opatija, Croatian seaside, which was all ready for Easter this upcoming weekend. They even have their streets decorated – just like for Christmas, but with eggs and bunnies instead of Santa and gifts. It was so warm there that we had to get some ice cream. My boyfriend went for the walnut flavor and as soon as I tried it it reminded me of the walnut roll filling. So good! So what else was I to do than to decide that the only logical thing to do was for me to make a walnut roll flavored ice cream. Walnut ice cream with cookies (to "imitate" the dough) and raisins. With Easter just around the corner, I had to hurry up, so I found a recipe for walnut ice cream that didn't require an ice cream machine, replaced the sugar with healthier sweeteners, added some rum soaked raisins and sugar free spelt cookies and got myself a walnut roll flavored ice cream. Yum!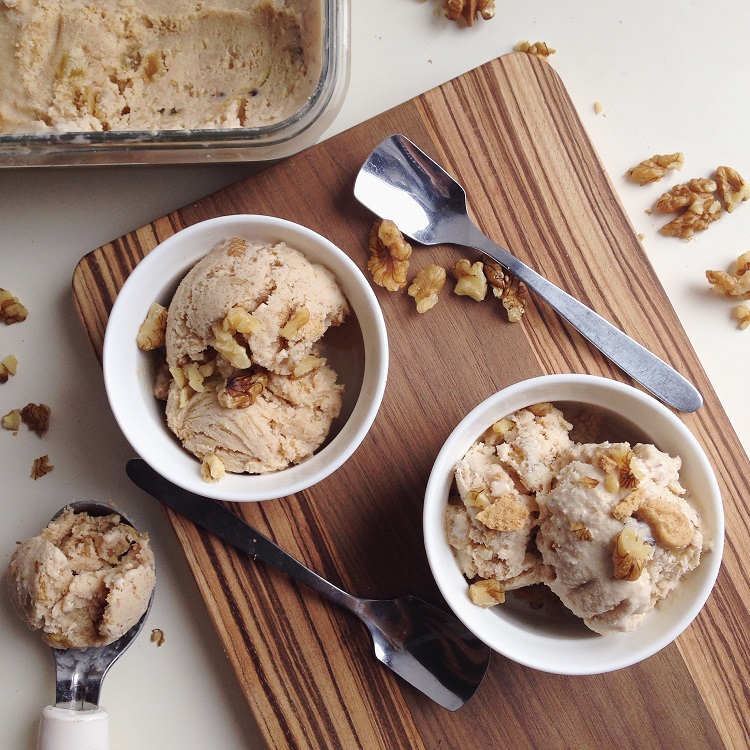 What you need:
1 egg
1 cup Whipping Cream
1 cup Milk
1 cup Walnuts
1/4 cup Xylitol (or any other sweetener of your choice)
1/4 cup maple syrup (or any other sweetener of your choice)
1/2 cup raisins, soaked in rum
1/2 cup sugar free spelt cookies (or any other biscuits)
1/2 cup chopped walnuts
Step by step process:
In a pan, break the egg and slowly mix with some of the milk. When it is evenly mixed, add the rest of the milk, whipping cream, and sweetener and mix well.
Boil on low for about 15 minutes and stir occasionally. It is important to keep the temperature low, or the egg will make the ice cream lumpy. This step is just for making the egg safe to eat.
Grind 1 cup of walnuts in a food processor with 1/4 cup water or soak the walnuts for 30 minutes before you grind them to make it easier to make a walnut "paste".
Add the walnut "paste" to the milk mixture after 15 minutes and remove from heat. Mix really well, then pour into glass container in which you will freeze the ice cream. You can strain the mixture if you don't want the walnut parts in it, otherwise simply pour it.
Add raisins and walnuts and freeze for 2 – 3 hours. Then mix the ice cream with a fork and repeat so every 2 – 3 hours. Once the ice cream has hardened enough, mix in the cookies (if you do so at the begining, they will get to soft). Keep mixing the ice cream every 2 – 3 hours until completely firm. You can let the ice cream machine do this job for you if you have it.