Yaaay, spring is here! And with it sunny days,  thoughts of summer (and that scary thought of wearing swim suits again!), the return of our determination to live a healthier life and, for some, gardening. And this dessert incorporates all of the above!
I must admit that the original plan for this dessert was totally different. I wanted to make Oreo cookies with a few twists – gluten and sugar free and with a pretty green matcha filling. The cookies turned out too soft and crumbly to make a cookie sandwich so I had two options – either to throw the cookies away (or secretly eat them) or to create a different dessert. Since both the cookies and the cream were waaaay to delicious, I went for the second option. I just love it when a dessert gone wrong turns out to be a dessert so right! Yummy!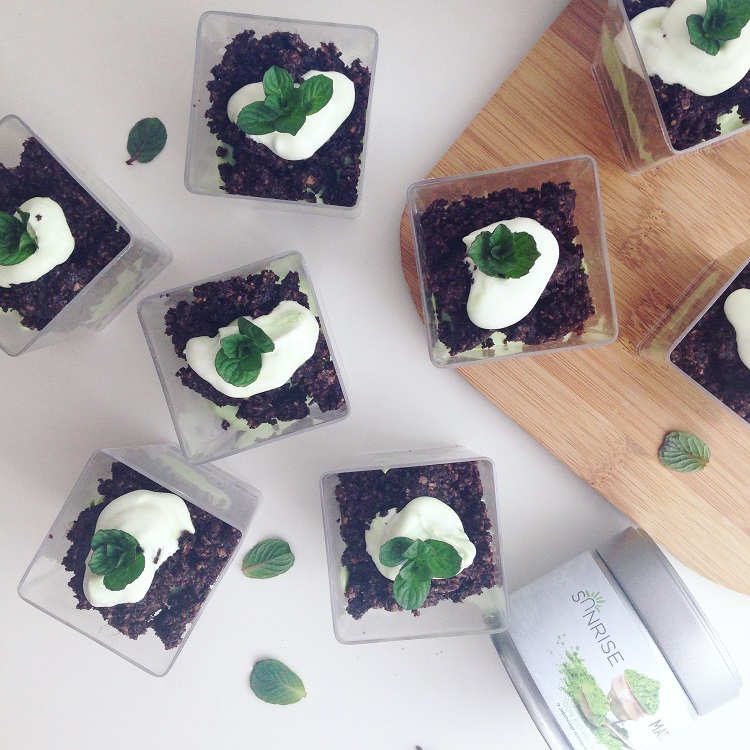 You may have noticed that the cream is such a lovely green color. How come? Because I used Matcha! What is that, you might ask? It's getting more and more popular lately because it's so healthy. It's basically "powdered tea" which is why we ingest a lot more beneficial green tea components that by making green tea and then tossing the leaves when it's done. Awesome, right? Plus the desserts are so nice and green!
What?
Oreo dirt:
140 g almond meal (or ground almonds)
60 g oat flour (make sure to find a gluten free one if you are gluten intolerant)
40 g unsweetened cocoa powder
40 g Xylitol
100 g unsalted butter
1/2 tsp salt
Matcha cream:
300 g mascarpone
1 1/2 tsp Sunrise Matcha powder
1 tbsp Vanilla Casein powder (or about 1/2 tsp vanilla powder; in this case the cream will be a bit more runny)
at least 5 tsp Xylitol (add more if you like sweeter desserts)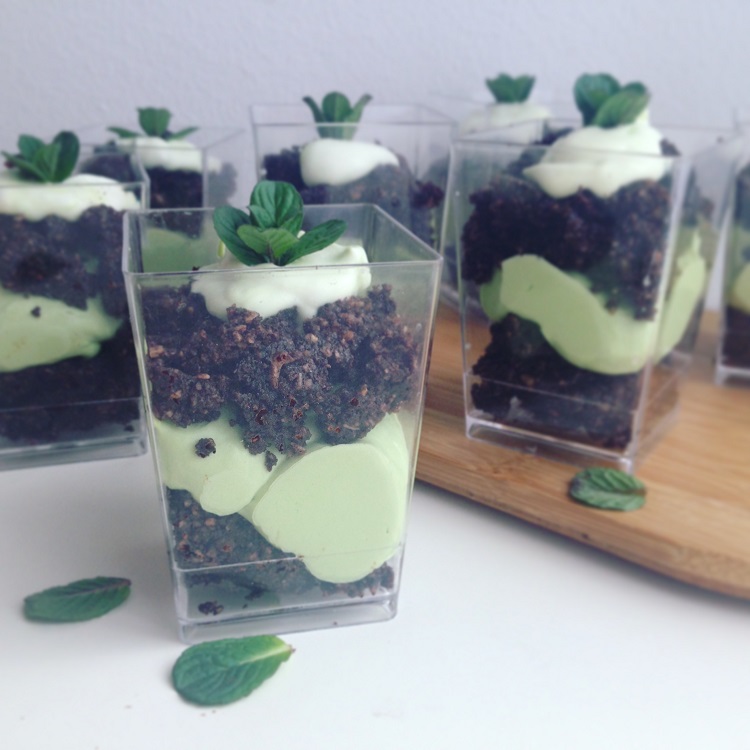 How?
To make the chocolate dirt, mix the dry ingredients well. Add softened butter and knead well and fast with your hands. Once incorporated in the dry ingredients, create a log from the dough, roll it into some baking paper and freeze for 30 minutes.
Preheat the oven to 150 degrees Celsius and line a baking tray (or two) with baking paper. Cut the log into 7 mm thick circles and place them on the baking trays. Bake for 15 – 20 minutes, switching the trays half way through to ensure even baking.
Let sit for about 5 minutes before transfering the cookies onto a cooling rack. Allow to cool completely and, in the meantime, prepare the filling. Mix all ingredients but 50 g of mascarpone well, transfer to a piping bag and refrigerate.
Crush one cookie into each serving cup, cover with matcha cream and top with another crumbled cookie. Mix the remaining mascarpone with leftover matcha cream to get a light green mixture to top the dessert with. Decorate with fresh mint and refrigerate until serving time.