It's harvest time! Whether you have endless fields of vines or just a few in your back yard, this is a happy time of the year! We have a lovely little vine in our back yard that kindly provides us the much needed shade in the summer and in my opinion the most delicious grapes in the autumn – concord grapes. 
A few years back my boyfriend received a jar of concord grape jam as a gift. I loved it so much! But I just never got to making it myself. Until a few days ago, that is! The jam itself is not that jam-y but more liquidy, but it's super delicious. Plus it will run down your throat easier 😉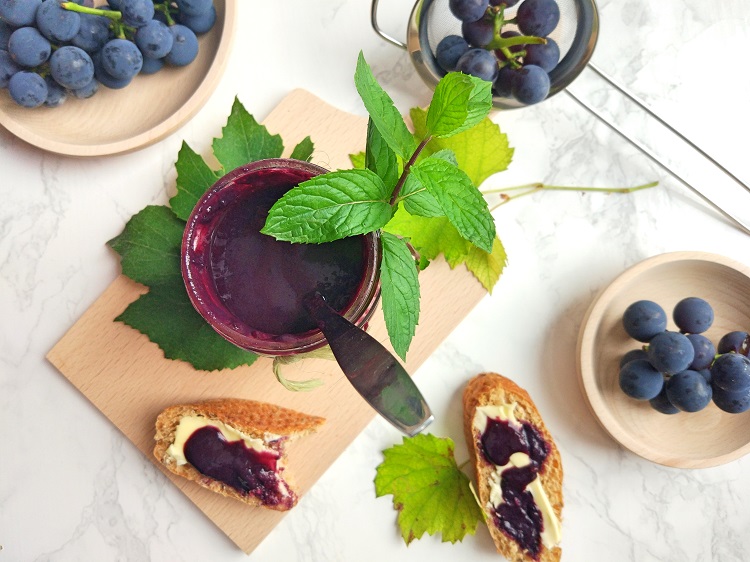 How to:
The process is fairly simple but can be a little time consuming due to all the seeds and peels. Firstly, wash the grapes well and separate the berries from the stems. Place them in a large (and I suggest deep) pan and cook them on medium heat until they start desolving. At this point, add desired amount of Sukrin or other sweetener to the mixture and keep mixing. Using a stick mixer, mix the grapes really well. Don't worry, the seeds won't break, but the delicious center and some of the peels will. When done, transfer the grapes to a strainer and help the delicious liquid get through by mixing vigorously with a spoon. Transfer back to the stove and keep cooking. The longer you cook, the thicker the jam will be. You can also help it by adding some agar-agar or gelatine.
Transfer to clean glasses (keep them at 100 degrees Celsius in the oven while cooking the jam) and close them well. Cover in a blanket and let cool down slowly over night.