So it's been quite a few months since we've been to Budapest and Prague but we just can't seem to forget about the Kürtőskalács (as they call them in Hungary) or Trdelnik (as they call them in the Czech Republic). For more on these little treats, follow this link, but for this post let it be enough that we just could not seem to get enough of them.
Of course I decided I wanted to try to make them at home. And what better time to do it than to surprise my boyfriend with them for breakfast as part of my 1 year anniversary gift for him. It ended up being a really great surprise, especially since just a day before I decided to make them, we were walking around Ljubljana and he said: "Oh, what I wouldn't give for a Trdelnik right now! I would eat one without giving it a second thought and without thinking about the calories!"
Now back to the recipe. The trick is, that Trdelniks are traditionally baked over an open fire. So that could be quite a big problem. The second, smaller one, was finding a recipe in English. So you can tell I was really happy when I came across
this recipe
which was (a) in English and (b) for Trdelnik made in the oven! Yaaay! I changed the recipe and used spelt flour instead of wheat, reduced the amount of liquid due to the differences in flours and used sukrin instead of sugar, and they turned out great. My boyfriend was super happy and he said they tasted just like the real deal! Great success!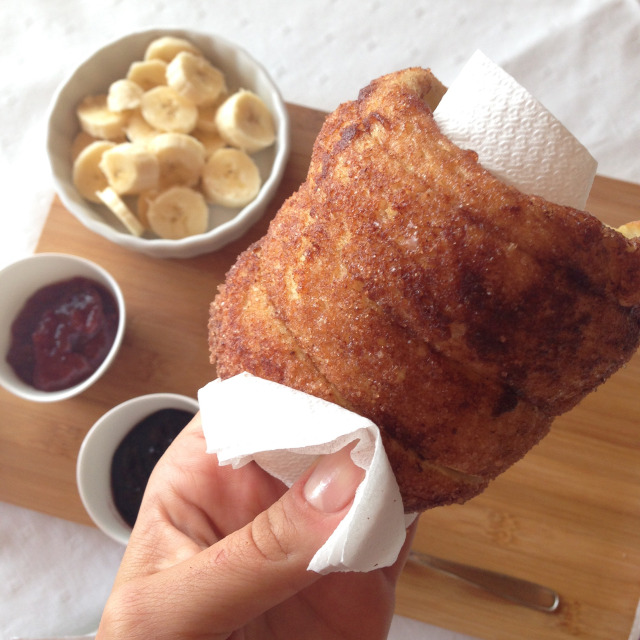 Ingredients:
Dough
2 1/2 cups spelt flour
4 1/2 tbsp Sukrin (1 : 1,5 to sugar)
1 tsp sugar
1/4 cup warm milk
1/4 cup butter, softened
2 eggs
2 1/4 tsp instant yeast (1 envelope)
Topping
1-2 tablespoons cold butter
1 egg
1 tsp water
1/4 cup sukrin
2 tbsp sugar
2 tsp ground cinnamon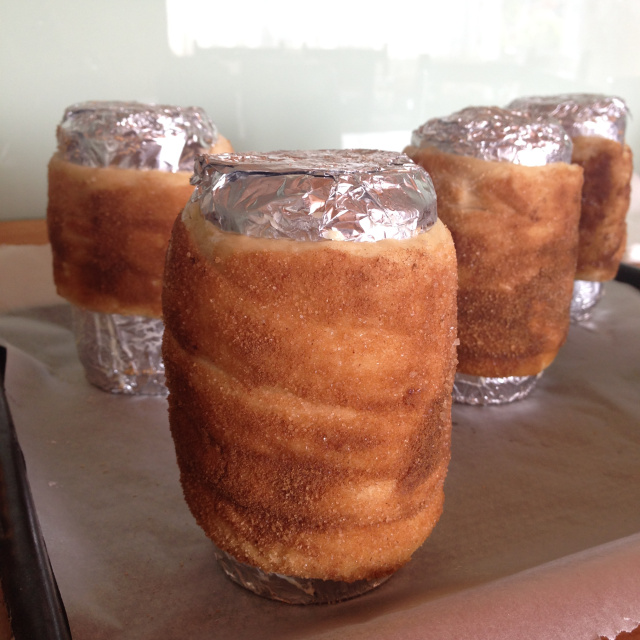 Instructions:
Combine yeast, 1 teaspoon sugar and 1/4 warm milk in a small bowl, stir just to moisten and let sit for 10 minutes. Until risen and bubbly.
In mixing bowl, combine flour, sukrin, 2 eggs, butter and proofed yeast mixture. Start mixing with your hands until combined and then knead on counter by hand for about 5 minutes. Until smooth.
Let dough rise in bowl for 45 minutes, in a warm location, covered with a damp cloth.
While dough is rising, cover 8 can sized jars with aluminum foil, set aside.
Make an egg wash by combining egg and 1 teaspoon of water, whisking until well combined.
Combine sukrin, sugar and cinnamon to make cinnamon sugar (it requires some sugar because you want it to caramelize a little while baking).
Once dough is risen, turn out onto counter, roll into a thick log and divide into 8 equal pieces. Roll each piece into a long rope.
Rub each foil covered jar with cold butter then wrap 1 rope of dough around each jar. Dough should go around the jar about 3 times.
Spread cinnamon sugar out on a larger plate, brush pastry with egg wash and then roll pastry in cinnamon sugar to coat, pressing down as you roll. Place pastry covered jars on a parchment paper covered baking tray, open end down. Make sure to space jars as far appart as your baking tray allows you.
Bake in a preheated 200 degrees Celsius oven for about 15 minutes. Remove from oven and carefully slide warm pastry off jars.
Best eaten while still warm.