Chocolate is one of my favorite desserts. I will admit that I used to love all sorts of milk chocolates but I've really learned to love the dark chocolates and I now find the milk ones simply to sweet. As you can imagine, I therefore simply had to make Jamie Oliver's chocolate mousse as soon as I saw it on one of his shows. and ever since, it has been one of the most popular desserts in our house. It's chocolaty, creamy and just so delicious. Outrageously delicious! But you know me, it's hard for me to keep making the same dessert and not create something new. And this is how this chocolate mousse cake was created.
It all started with me buying a bag of sugar free spelt cookies. I was so happy to find them in a store because, well, sometimes even I don't feel like baking and sometimes I just don't have the chance to bake because I'm somewhere on the road, but I just really, really feel like having cookies. I was really happy with their taste and I immediately thought they would work great as a cookie base for a cake. At frist I was planning on making a kind of Ferrero Rocher cake, but after I tasted a really delicious dessert that combined cookie crumble, chocolate mousse, pears and walnuts a few weeks ago, my mind started working like crazy and this delicious cake came to life. In my head at first, but now also in reality.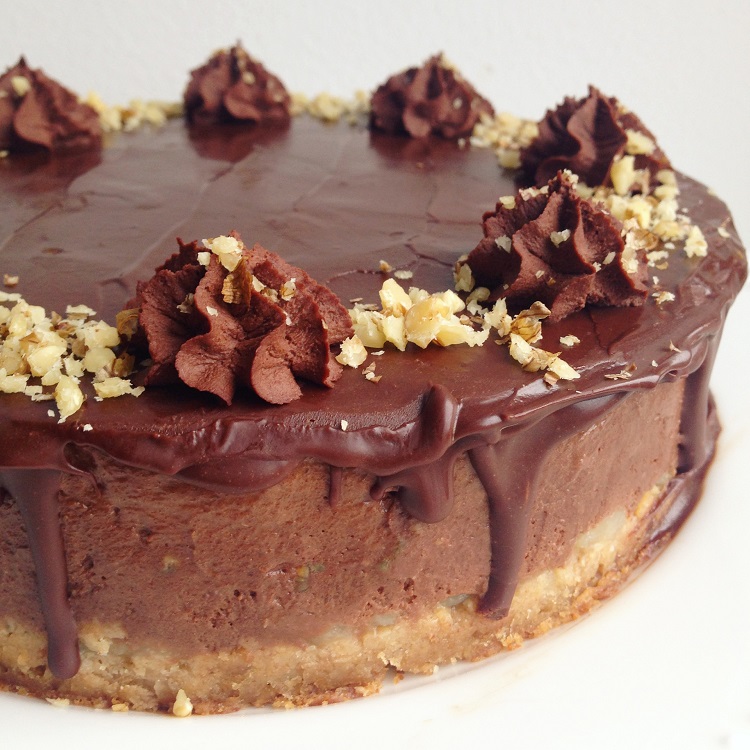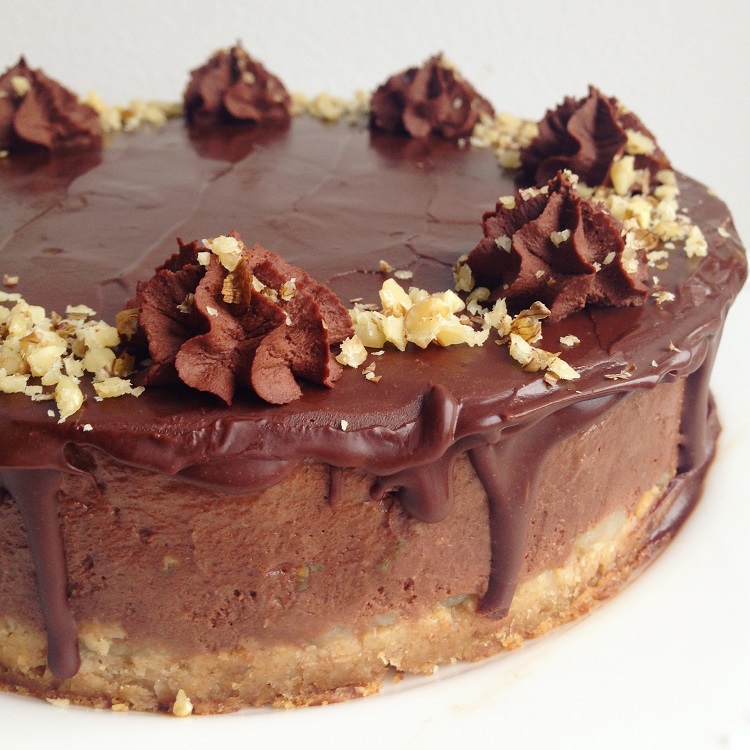 Making this dessert is so simple. I know, it's hard to believe because it looks SO good, but it really is simple! The cookie crust only has three ingredients and bakes for just 8 minutes. Plus you get to let out all of your frustrations onto the cookies. The pear puree is even quicker to make and it contains no added sugars so it's also super healthy (by the way, I'm already thinking about how I could make it into jam). The longest thing about making this cake is the overnight wait for the gelatin to do its job. But that shouldn't be to hard, since you'll be sleeping anyway, dreaming about this chocolaty, creamy, outrageously delicious chocolate mousse cake that you get to decorate in the morning and serve to your loved ones. Or eat it all by yourself, if that is how you feel at the moment.
Cook the pears, apple-pear puree and vanilla on medium heat until very soft. The fruit should start to dissolve and you can help it a little with a hand stick mixer. Mix in the gelatin powder and let it cool a little before you spread it evenly over the cookie crust. Place in the fridge while you make the chocolate mousse.
Melt the chocolate and butter over a water bath. Set aside and let cool a little.

In a medium bowl, whisk the whipping cream until soft peaks form. In a separate bowl whisk the eggs and honey until foamy, then add the rum and mix well.

Carefully mix the gelatin in the chocolate mixture to prevent any lumps from forming.

Pour the melted chocolate in the egg mixture and top it with whipped cream. Fold carefully to prevent losing too much air. Once completely mixed, add walnuts and mix well.

Pour the chocolate mousse in the cake form and spread evenly. Place in the fridge over night and decorate in the morning.