I've been on a no sugar (or better put: no desserts) "diet" since I came home from Macedonia (you guys have seen what I ate there and what the wedding looked like!) but I just couldn't stop myself from doing some baking. It's such a nice way to relax and take a break from studying. A few days ago I came across a recipe by Teresamisu for healthy chocolate chip cookies. After going through the ingredients I decided I wanted to give it an additional health twist by completely removing any kind of sugar (except the one coming from the fruit) since I've been reading on how coconut sugar (or other sugar replacements) is not that much better for us than regular sugar. Since bananas are naturally sweet and are often used as sweeteners, they seemed like an obvious choice. I also added some dried figs and gave it a try.
FAIR WARNING: The cookies turned out to be more like a breakfast snack (such as elVita cookies that are currently quite big in Slovenia) rather than a classic dessert. I therefore suggest having them for breakfast with some fruits and yogurt or maybe with some jam or banana ice cream. And for those of you looking for something sweeter, either add a few tablespoons of sukrin to the mix or follow the original recipe. You can also go for one of my other chocolate chip cookies recipes by clicking here or here.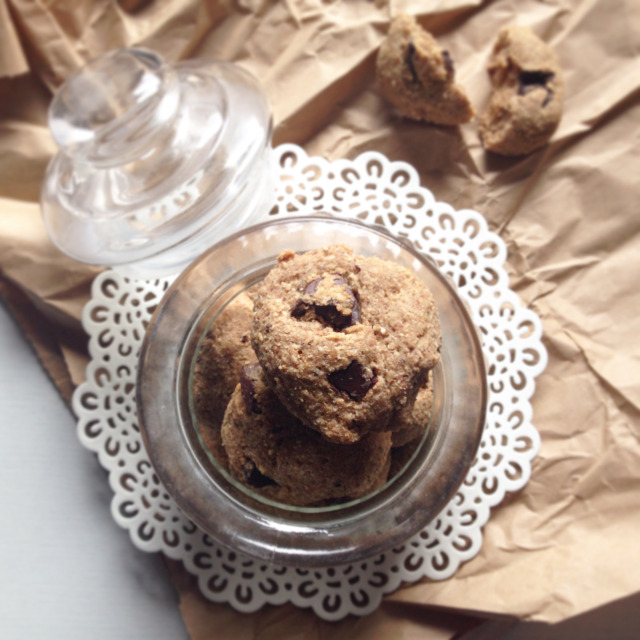 Ingredients (makes 34 cookies):
2 cups oat flour (you can just grind a bit more than 2 cups rolled oats)
1/2 cup spelt flour
1 cup almond flour
1/2 cup + 3 Tbsp brown rice flour
1 tsp baking powder
pinch salt
1 tsp vanilla
1 tsp cinnamon
½ apple
1 banana
3 dried figs (if not soft enough, soak for a few hours before use)
½ cup milk
60g 85% dark chocolate, chopped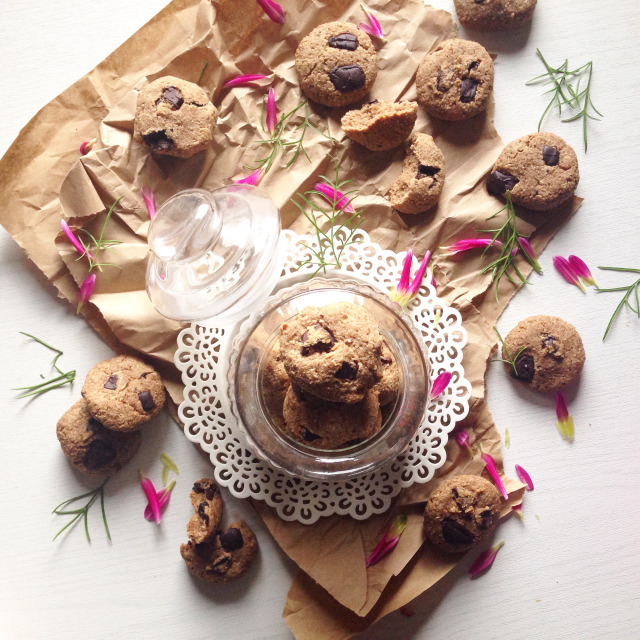 Instructions:
Preheat the oven to 150 degrees Celsius.
Mix together all the dry ingredients – oat, spelt, rice and almond flour, baking powder, salt, vanilla and cinnamon.
In a blender or smoothie maker, mix together the apple, milk, banana and figs (chop all the fruits before you place them in the blender).
Mix the fruit and milk mixture in the dry ingredients than add chopped chocolate.
Form into medium sized cookies and place onto a prepared baking tray. The cookies don't spread at all during baking so you don't have to place them far appart.
Bake for 24 minutes, remove from oven and let cool down to get a bit more crispy.