If you have ever been to Ljubljana, Slovenia, you probably crossed the Prešeren Square at least once during your visit. Well, then you also probably know who France Prešeren was – but if you don't, he was one of our greatest poets if not the greatest and verses from his poem Zdravljica are the national anthem of Slovenia. For us, one of the first things we think about, when someone mentions Prešeren in relation to food, are dried figs. He was known for always having dried figs in his pockets for children asking him for a little treat. Most of us think about dried figs in chocolate, but I personally love incorporating them in savory dishes. When the editors of Radegunda magazine -the first and really lovely culinary & lifestyle magazine in Slovenia – asked me to contribute a recipe for an appetizer for their section called "Dinner with bloggers", which should be inspired by Prešeren Day, dried figs were of course the first thing that popped into my mind. This dish perfectly combines the sweetness of dried figs with the saltiness of prosciutto and creaminess of cream cheese. They all lay on a delicious, crunchy on the outside and soft on the inside, herb couscous cakes – simply divine!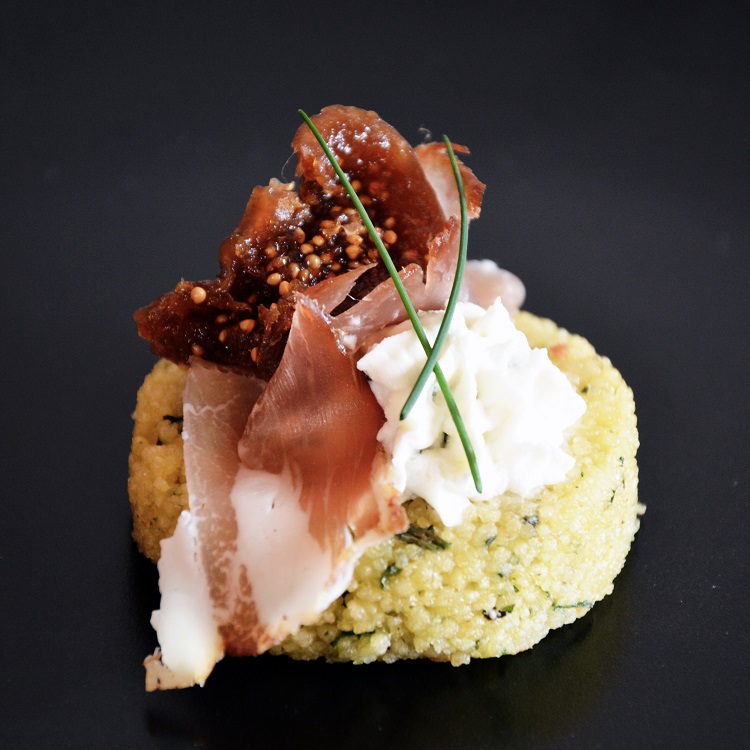 As you may have noticed, my recipes are mostly about healthy desserts, followed by breakfasts and then main dishes, but appetizers are not something I prepare often. Actually, the only time I do make them, is for special occasions like Christmas or New Year's dinners for example. So making a delicious and at the same time photogenic appetizer was a bit of a challenge for me, but nothing I couldn't handle. It was actually quite a fun experience. I am used to taking pictures of my food (some might even say I do that too often) and I am used to creating new recipes, but this time I was really nervous about how it will all turn out. It all just had to be perfect! After all, I would be featured in a magazine, known for its amazing design and perfect food photos.
I ended up creating these cute little couscous cakes and tested them with my family and boyfriend – they gave me the thumbs up! Yay! I was pretty happy with the photos as well, so all that was left for me to do was to wait for the magazine to come out. Now that it is (finally!) out, I can share the recipe with you here on the blog as well. But do check it out in the magazine if you have the chance – it looks so cool in print!
Pour salted boiling water over couscous and cover the dish. Let sit for about 5 minutes or until the couscous has absorbed all the water. Fluff it with forks and add the rest of the herbs and spices (thyme, chives, parsley and pepper). You can of course add as many herbs as you like.

Beat the egg and add a heaping table spoon of cream cheese. Whisk well and mix into the couscous. Add grated cheese if you like, but you can also completely omit it. Mix well until you get a mixture that you can form into little cakes.

Use your hands and a measuring cup (or a regular small cup or cookie cutter) to form small couscous cakes. Fry them on a little bit of olive oil on medium heat, until slightly brown on both sides – each side should take about 5 minutes - then transfer them to a paper towel and let cool a little.

In the meantime, mix four heaping tablespoons of cream cheese with some salt and a lot of dried chopped chives. Mix well and transfer to a piping bag.

Once the cakes have cooled, top them with some cream cheese, half a dried fig and a slice of prosciutto or smoked ham. Add some fresh chives for decoration and serve immediately.