I always loved the tradition of giving thanks to a person who kindly helped you in any way by giving them a box of homemade sweets such as cookies or pie. Especially our grandmothers are luckily still keeping that tradition very much alive.  This is how we (well, my father to be exact) got a box of the prettiest cookies ever. Dressed in ground hazelnuts with lovely little chocolate "hats", they were just calling me and telling me to forget they were made of sugar and white flour and to simply enjoy. And so I did, with a side of the most delicious cappuccino to go, on our way to a weekend getaway in Rovinj, Croatia. Perfect combination!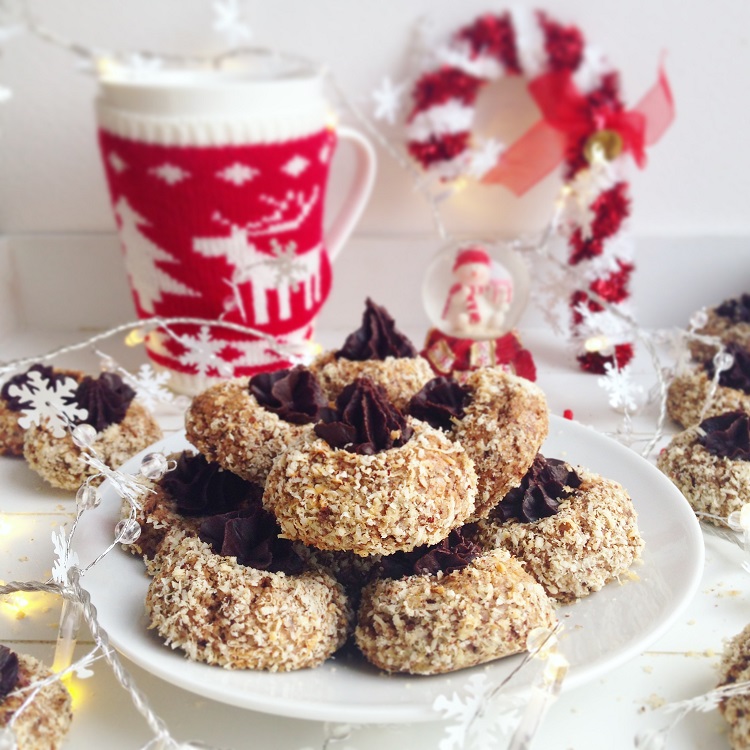 The lady was kind enough to share her recipe with me and I had an easy job changing it up just a little by replacing white sugar with Xylitol, white flour with spelt and chocolate with dark, fructose sweetened chocolate. It is really easy to make any dessert healthier this way and you can do it with almost any recipe you like – Xylitol has a 1:1 ratio with sugar, so you won't need to do any calculations and you also don't need to be scared of ruining ingredient ratios. White wheat flour is also easily replaced by spelt flour in the same ratio; sometimes, spelt flour requires a bit more liquid so just start with the same amounts as the recipe calls for and add some liquid if necessary. It's that simple!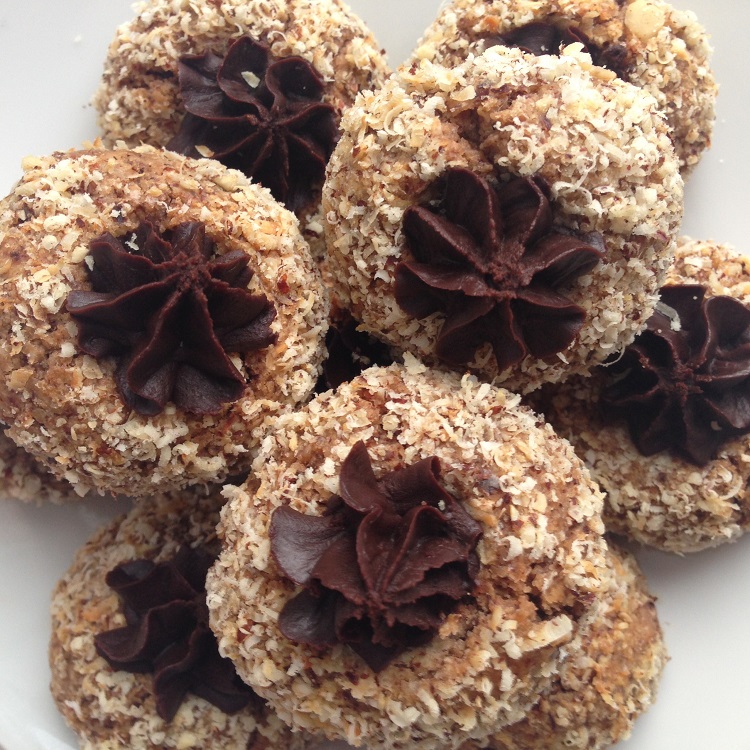 First, prepare the chocolate ganache in order for it to set a little before you start piping it on the cookies.

Melt all the ingredients and mix well. Make sure you really use the amounts stated, to reach the right consistency - when it sets, it should be hard enough to be able to stack the cookies but still soft enough for that perfect bite. Let the ganache cool a little while you make and bake the cookies.

Preheat the oven to 180 degrees Celsius.

Knead all cookie ingredients with your hands into cookie dough that is not sticky (add some more flour if necessary). Form small balls from the dough (no bigger than Ferrero Rocher).

Dip the cookies into egg whites and then roll them in ground hazelnuts. Place on a baking tray covered with baking paper and press a hole in each with your finger.

Bake for 18 minutes. After you take the cookies from the oven, they will still be very soft, so let them cool a little before you transfer them to a plate. Let cool completely before decorating with chocolate.

Pipe chocolate ganache on each cookie and let them cool down and set.