There is something about creamy soups that just keeps me wanting more. Just thick enough to border on puree, but thin enough to slide of that spoon like poetry. Full of vegetable flavour. And most importantly, without added flour or similar things that just should not be in soups, trying to make them thick, when veggies are the ones that can do so. My inspiration for this soup was Darko and his workshop, but I just had to work with what I had in my fridge, freezer and pantry. And guess what? It was delicious!
Ingredients (for 1 very hungry person):
For the soup:
olive oil
1 onion
1/2 garlic clove
10 small cauliflower floretes and a few slices of celeriac
200 g frozen green peas
250 ml cooking cream (don't worry, you won't be using it all.. or maybe you will)
a small knob of butter or a spoon of mascarpone
nutmeg
salt
For the prawns:
olive oil
3 – 5 prawns
freshly ground chilli flakes
salt
For the croutons:
one slice of gluten free toast
1 tsp butter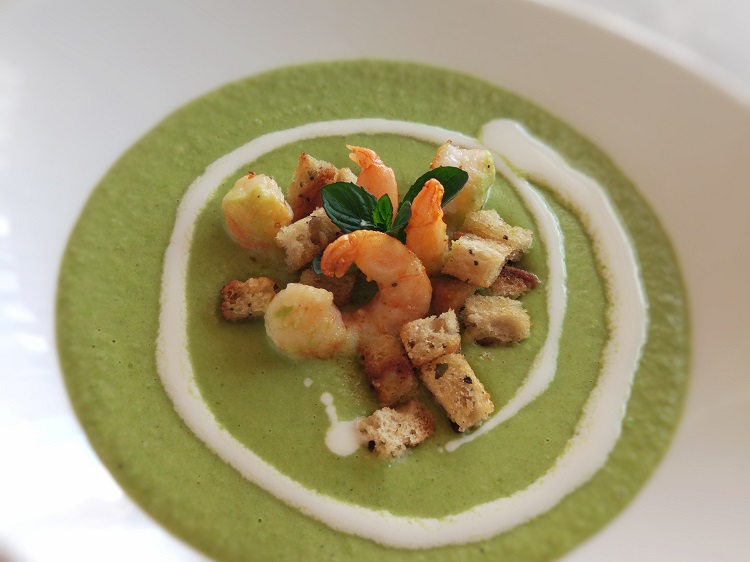 How to:
Start by cooking the sliced onions in some olive oil. Add chopped garlic, give it a quick cook and cover with cauliflower and celeriac. Cook until almost tender, then add the peas, some water and half the cooking cream. Season with salt and nutmeg and cook for 5 – 10 minutes.
In the meantime, slice the toast into cubes and grill it on some butter.
Heat a pan with olive oil and grill the prawns, season them with salt and chilli flakes to taste.
Pour the vegetables into a food processor (or Thermomix) and mix well until smooth. Add some more water/cooking cream if needed. You want the mixture to be runny enough to be able to sift it next, in order to remove any pea shells. Don't toss these, eat them up or use them to prepare a spread or something.
Pour the soup back into the pot and cook a few more minutes, seasoning some more, if needed. Add the butter or mascarpone and mix until they desolve.
Serve with prawns and croutons and decorate with some cooking cream.