Summer. Seafood. A glass of good wine. Sunset over the sea. Sounds like a fairytale but you can easily make it happen right in you kitchen. You might not be at the beach, sunbathing or watching the sunset, but the flavors will all be there! Best of all? It's so quick and easy to make that you can even make it happen during the week. And of course, since you'll be using wine in the dish itself, the dilemma of which wine – red, white or rose – to serve with dinner will solve itself – simply use the type of wine you used in the dish, just maybe use one of a better quality. If you're worried that the wine will go bad because you only drink it on special occasions, maybe opt for one in a box – they can last up to a month.
I had the chance to try out Cubiton wines to serve with my dish this time. I used the white one, which comes from Côtes de Gascogne. In my opinion, the wine is really refreshing and easy to drink, and goes really well with seafood. And it's so practical to serve at summer parties or picnics in this cute packaging, don't you agree?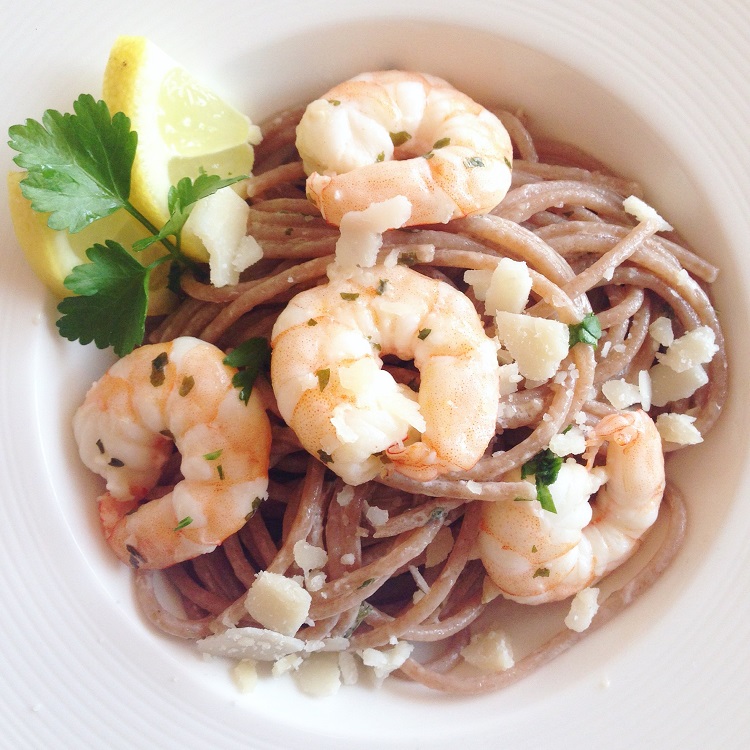 Ingredients per person:
60 – 80 g spelt spaghetti
a tablespoon of butter
1/2 garlic clove, finely chopped
6 – 8 king prawns
lemon juice
1/2 dcl dry white wine
2 tbsp cooking cream
salt
parsley
grated parmigianno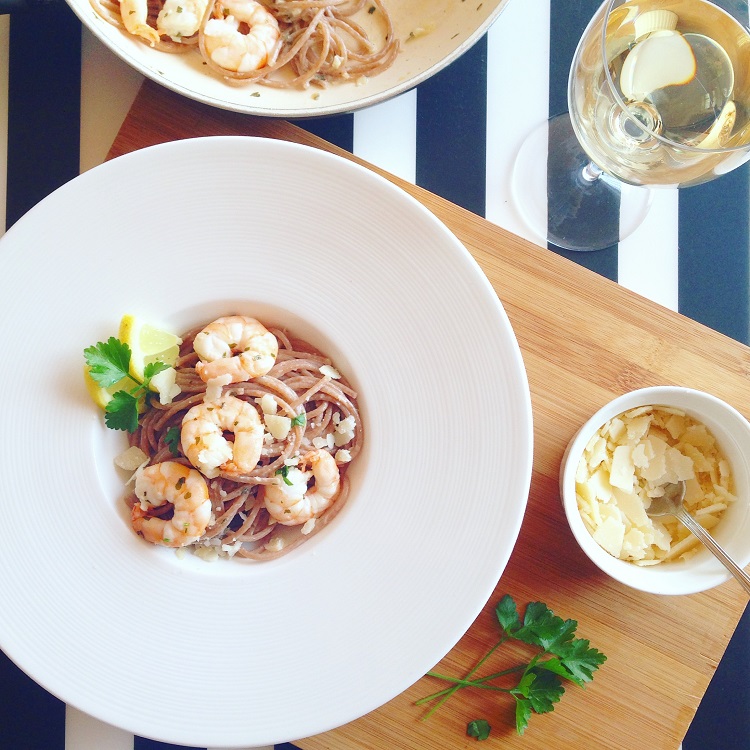 How to:
Boil salted water and cook spaghetti according to instructions.
Meanwhile, prepare the sauce by heating butter on medium heat. Add chopped garlic and cook just until it starts to get a strong garlic-y smell. Add the prawns and cook on both sides until they turn nice and red. Pour over the lemon juice and wine and salt to taste. Cook for a few minutes and add more water and/or wine if necessary. Finish by adding parsley and cooking cream.
To finish the dish, drain the pasta and mix them with the sauce. Serve in pasta plates with a generous amount of parmigianno and a glass of white wine.
*** DEAR READERS! If you would like to use this wine to serve with your dish as well, use CUBITONURSA with your online purchase and get 10% DISCOUNT!***