There's almost nothing more like Christmas than cinnamon and cranberries. So there's no better combination for a Christmas-y dessert in a cup than this one. Cinnamon apples at the bottom, a delicious panna cotta in between and some sweet but sour cranberries on top. While this is not a dessert to make if you have unannounced guests coming in an hour (it takes a few hours or overnight to really set), it is one you should plan ahead and make to impress your guests.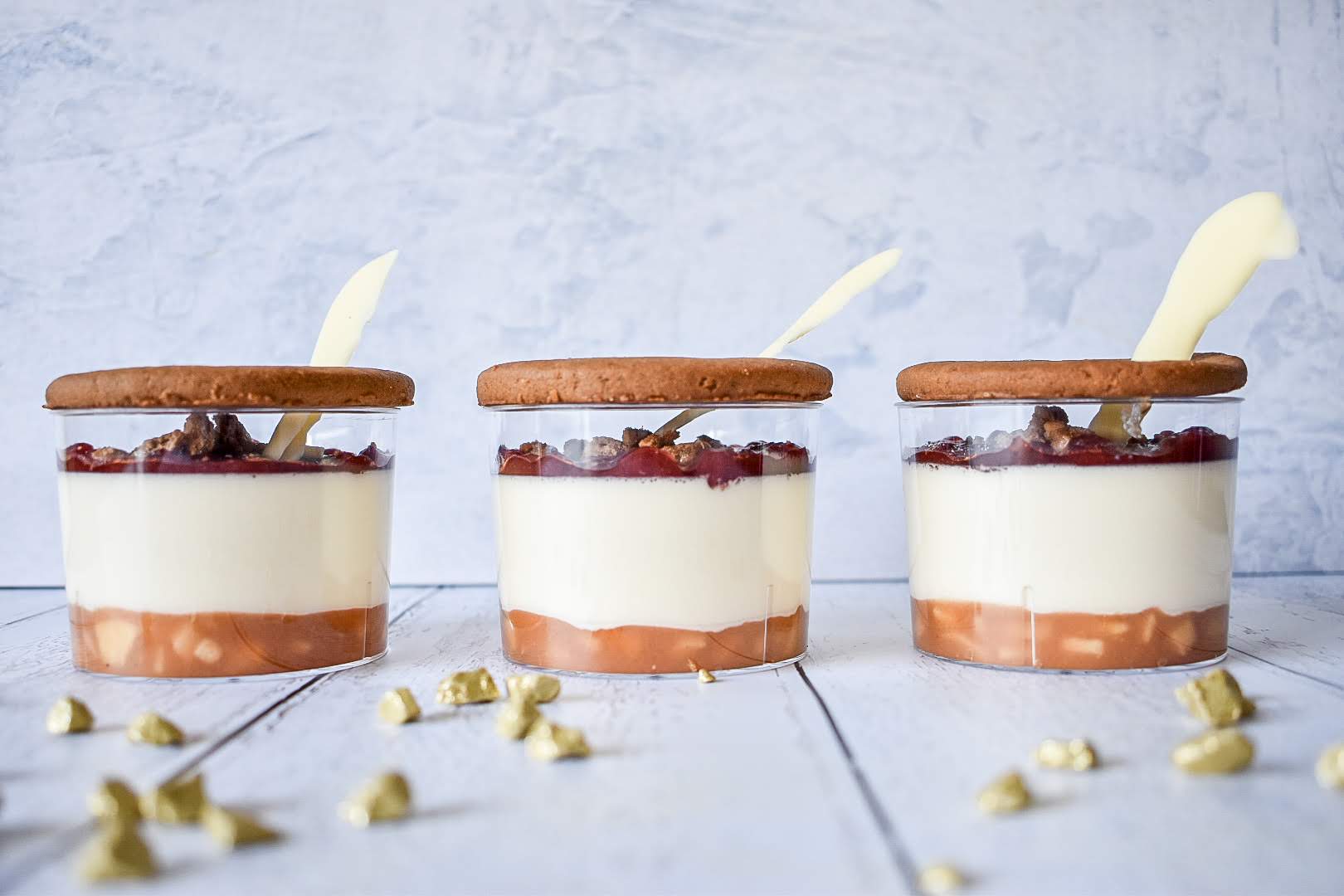 INGREDIENTS:
For the apples:
140g peeled and roughly chopped apples
½ tsp cinnamon
2 tsp water
2 tbsp water
14g liquid glucose
3g pectin
½ tbsp lemon juice
60g peeled and chopped apples, covered in ½ tsp lemon juice (to prevent them from browning while they wait)
For the panna cotta:
750ml heavy cream
4 gelatin leaves
1 tsp vanilla extract
Also:
Cranberry jam with ginger and cloves
White chocolate
HOW TO:
First, prepare the apples. Add 140 grams of apples, water and cinnamon in a small pan and cook covered on low heat to allow for the apples to soften. Transfer them into a food processor, add 2 tbsp water and process into a smooth "paste". Pour back into the cooking pan and add the liquid glucose. Cook for a minute or two. Now mix in a mixture of pectin and powdered sugar and mix well for them to dissolve. Finally, add the chopped apples and lemon juice and cook for about 5 minutes. Let cool down a little and distribute between 4 cups evenly. Place in a fridge until set.
Heat up the cream until almost at a boil, then add the sugar and the vanilla. Mix in the gelatin leaves which you have previously soaked in cold water. Mix well so all the gelatin dissolves, and then let it rest a little before pouring in in glasses. Pour it over the apples gently, though, using a teaspoon to "break the fall" of the panna cotta, pouring it on the tablespoon you place in the cup, to let it slowly glide over the apples. Place in the fridge overnight.
Before serving, heat up the cranberry jam and distribute it between the glasses. Crush some gingerbread cookies on top and decorate with a round gingerbread cookie and some white chocolate. I used the same cup as I used for the verrine also as the "cookie-cutter" for the cookies that go on the top.