Yaaay! I finally took the time (thanks to Masterchef Slovenija) to visit another culinary workshop. And not just any culinary workshop but a workshop with the winner of last year's Masterchef contest in Slovenia – Darko Klemen. I've religiously been following the show and his creations anyway, but now I got to spend 3 hours in his company and all I can say is, he's so awesome! And all my "classmates" were so cool as well that the workshop ended up being super fun and educational.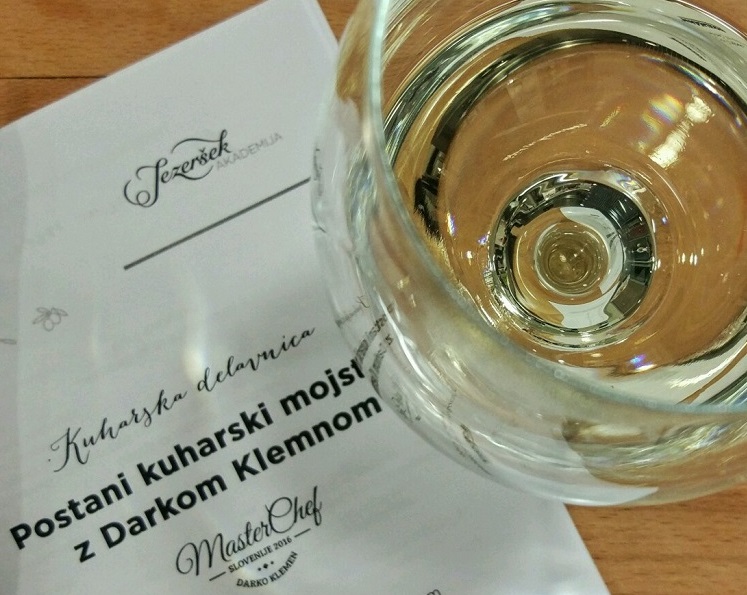 We started with a glass of wine (because who doesn't love to cook with wine) to toast to a great workshop. We were then divided into four groups, each assigned to prepare one of Darko's original recipes:
green pea soup with scallops and shrimp
barley "risotto" with dried fruits, horseradish and smoked seabass
ravioli with shrimp and truffle sauce
chicken breast in bacon and smoked goose breast with chickpeas and cranberry sauce with green pepper
Our work stations were full of ingredients and the recipes were already waiting for us. We started with the preparations – cutting, chopping, choosing herbs, studying the recipes and drowning Darko in questions.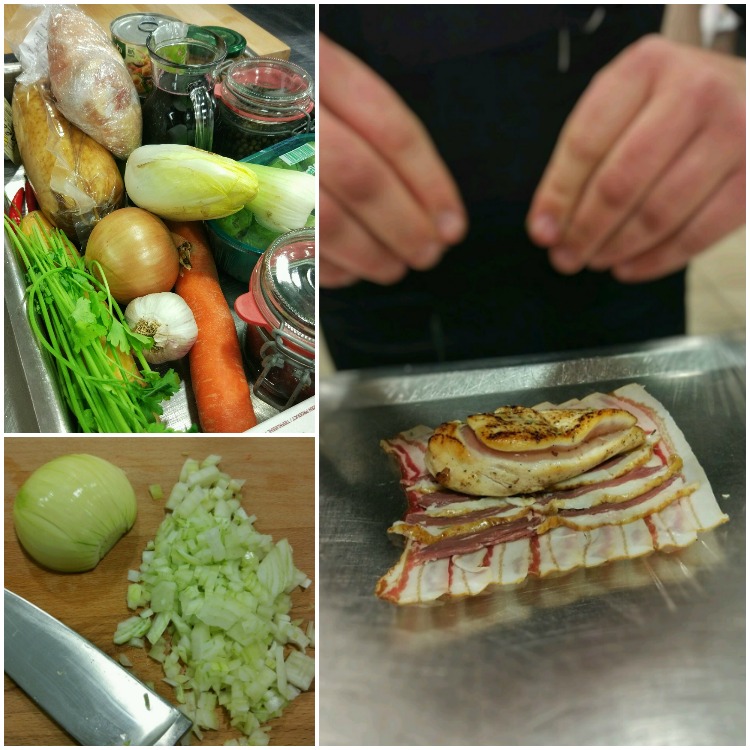 There was so much going on that we could barely follow who is making what, how, why this way.. but in a good way of course. I got so many cool ideas and inspirations and I also gave some good ideas on how to improve the flavour of some components. I "ended up" in the group preparing the chicken breast. To be honest, I stood next to that working station because I really wanted to make that dish and I was lucky to be assigned to that group.
So, what did we make? The dish itself already sounds complicated, so you can probably imagine that it's even more complicated to make it. First, we baked the chicken breast quickly on each side and set them aside. We lined some bacon and smoked goose breast slices on plastic foil and covered it with chicken breast. We rolled them tightly into a roll and fixed it with some aluminum foil. The chicken was then off to a boiling bath while we continued with the chickpeas. We placed bacon, onions and garlic in the pan and after the onions turned translucent, we added the chickpeas. Herbs and celery were next to follow and last but not least, a tablespoon (or two) of mascarpone! Yum! We mixed it all in the thermomix and it was so delicious I could easily eat it all with a spoon or some carrots and grissini as a dip. Well, if that wasn't enough, we covered small balls of this chickpea mixture with some kataifi (never heard of it before!) to create lovely little nests, which we then fried. Before that, we made a cranberry – red wine sauce with green pepper and sent the chicken rolls to a quick bake in an extremely hot oven.
Meanwhile we were also jumping around the kitchen to see what the other groups were doing, tasting their dishes, trying to help them improve their taste, and of course, making sure our wine glasses weren't feeling lonely.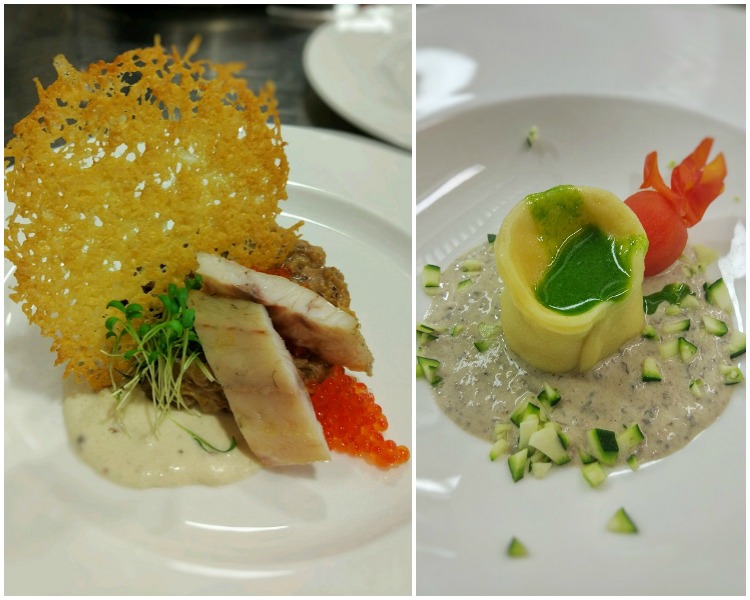 Darko demonstrated how he imagined his dishes to look on the plates and then allowed us to get creative with the food plating ourselves. I played a little with the plating of the pea soup and of course "our" chicken dish. What do you think, how did I do? Darko said I have quite the talent for food plating (as you can imagine, that made me blush.. :P)!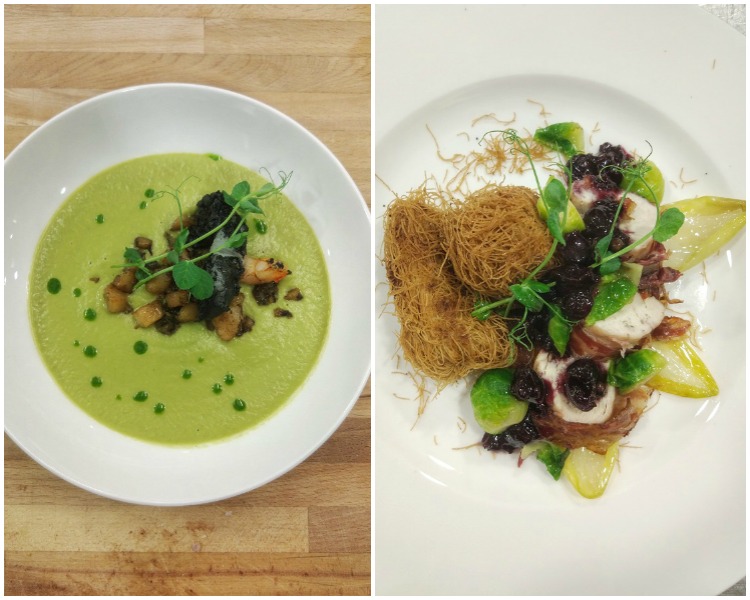 We then jumped right into the tasting – it's a tough job but somebody has to do it, right? And OMG was everything delicious! Individual components were super yummy when we tasted them during cooking but boy were they amazing when put together! The tasting was followed by a mandatory toast with another glass of wine, a group photo and some chat. We just could not make ourselves go home. At the end of the day, our bellies were happy and full, our heads full of new knowledge and ideas, and I even got myself a new "bestie"! 😀